The end is near my friends. And yet here I am perpetually finding new ways to make this existence less painful for myself and for everyone around me. Ooops, I didn't mean to sound nihilistic this end of the year lol. This is just the usual diabolical me!
Anyway, I thought planning ahead, setting goals, and visualizing my future in a cute way would be the way to go (Yup, diabolic but cute!). So today I'm excited to share my new hobby (I really hope that I'd be consistent though) which is Bullet Journaling. My friend who passed used to tell me whenever I feel lonely that a person should have a craft. So I figured this would be an interesting craft that will let me unleash my creative juices while practicing time management.
So what the hell is a Bullet Journal (a.k.a. BuJo)? And what makes it different from those typical planners, organizers and diaries? Obviously this is sort of a diary/journal/to-do list/ or a mix of a daily planner in bullet form. This is great for those who are lazy or don't have all the time in the world to write a lot of stuff on their journal and just want to summarize their plans/goals in bullet form. I find BuJo more appealing because it lets me record my goals, to-do list, and reflections in an organized and creative way. This is also one way for me to get off my phone and computer and just sit and write down stuff the old school way.
At first I was hesitant to get a journal as I'm a bit insecure of my handwriting all my life. I was told how ugly my handwriting was when I was kid. It felt like I was just wasting beautiful papers and stationaries. Time passed and there's almost no need to write manually all the time (thanks to computer and technology) so I didn't even bother improving my penmanship anymore. As you can see I don't have the most beautiful handwriting in town. But hey, this is not social media and no one will judge (that's the best thing about BuJo!). This space is just for me and me alone. I'm switching from FB to the old school way of writing down "What's on my mind?" now.
What are the things you need for your Bullet Journal?
Well obviously you need a Journal / Planner (I didn't get a fancy one from the mainstream Starbucks simply because I don't want to join the bandwagon. I'm actually more proud of this cheap but beautiful journal that I got from our bookstore (the best thing about living in the city is you have access to a giant bookstore with lots of choices!). You can even just get a plain notebook and design your own Bullet Journal from scratch. Pinterest has lots of beautiful BuJo themes and ideas.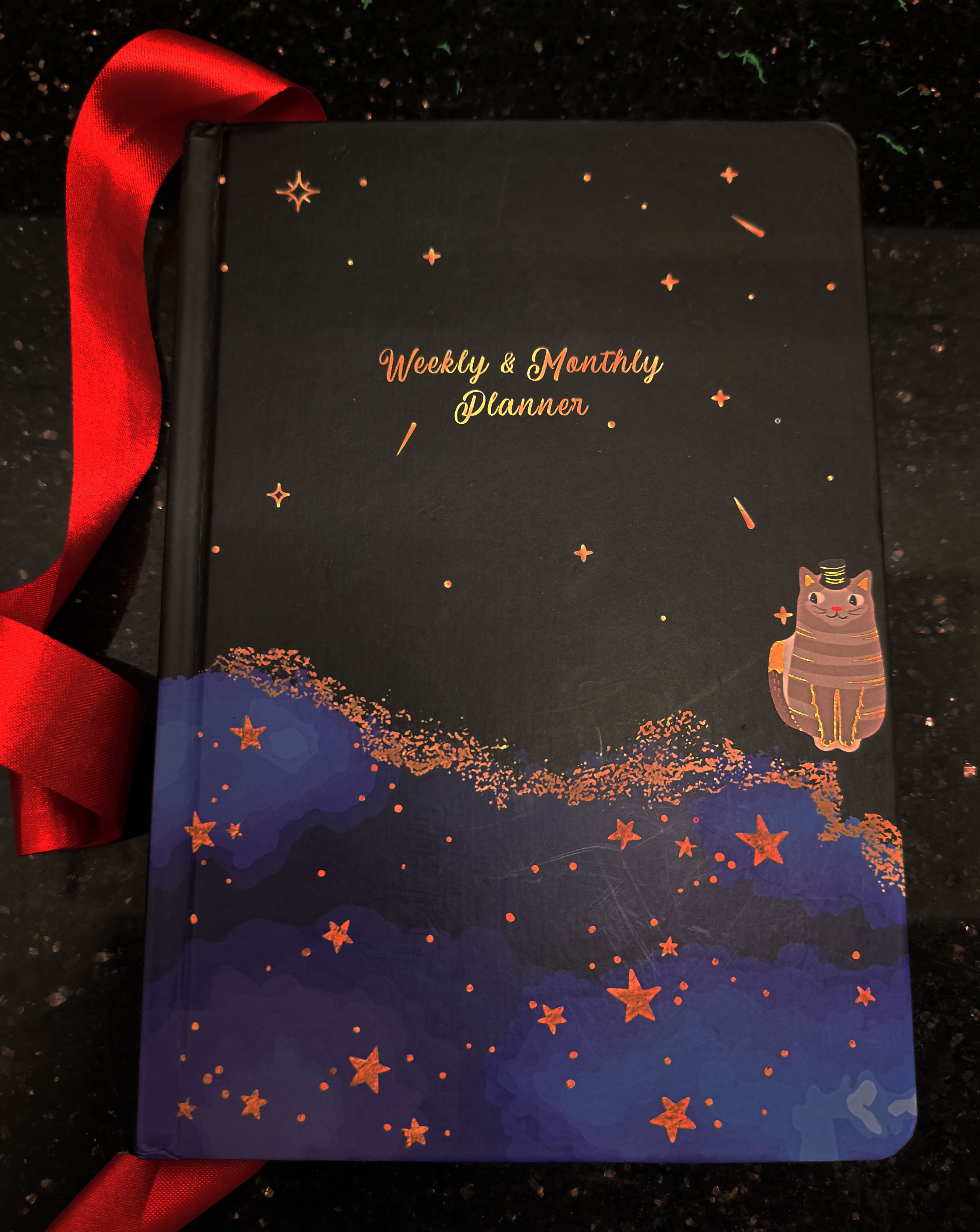 Colorful Pens and Highlighters (this is purely up to you but I like beautiful and bright neon colors. I want to be bright and positive at least on my BuJo lol)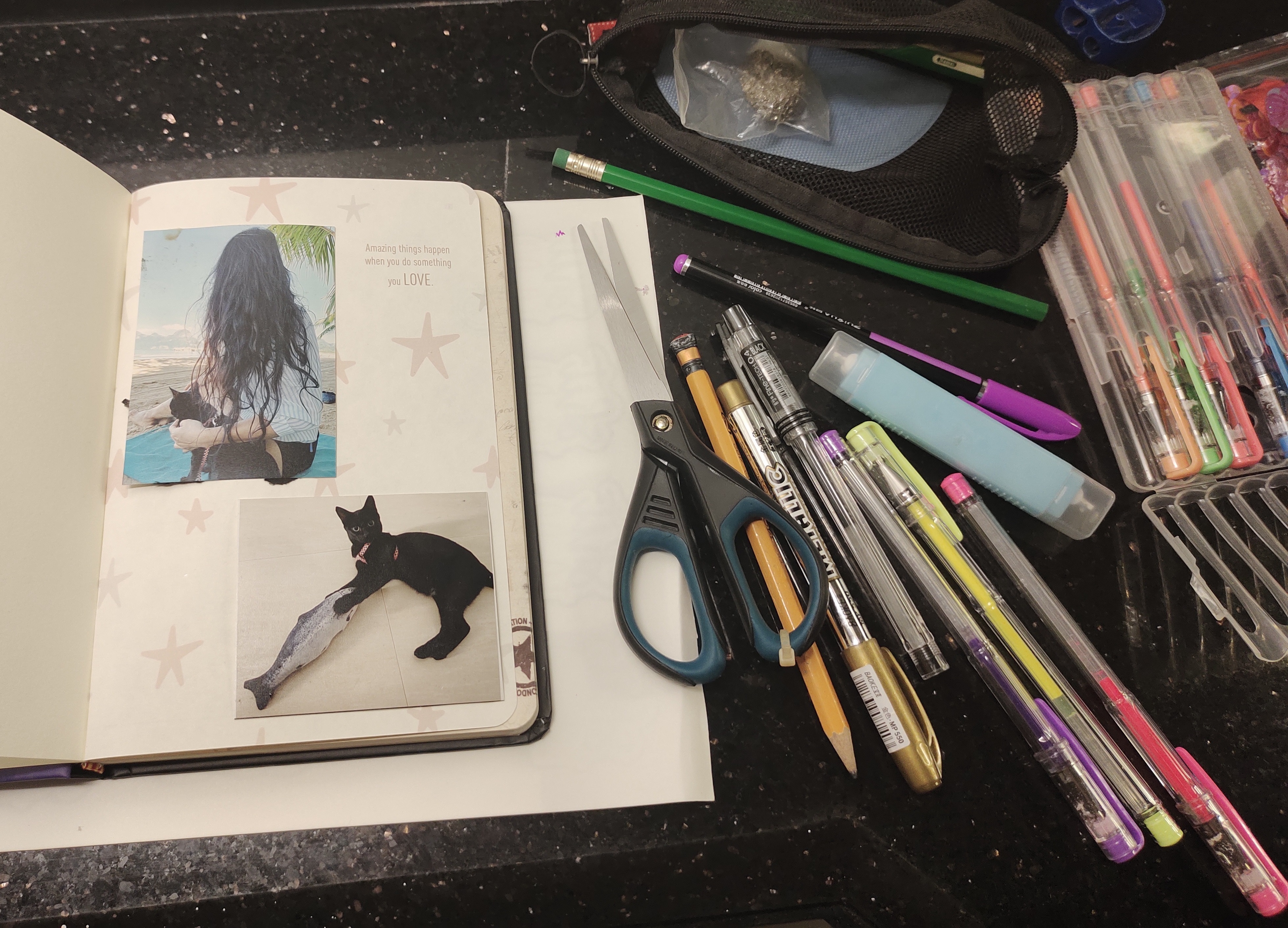 Cute stickers / emoticons (it turns out there's a cute side to diabolika lol)

Photos / Image Cutouts (this is also entirely up to you. I want my BuJo to be a mix of planner and scrapbook for added creativity!).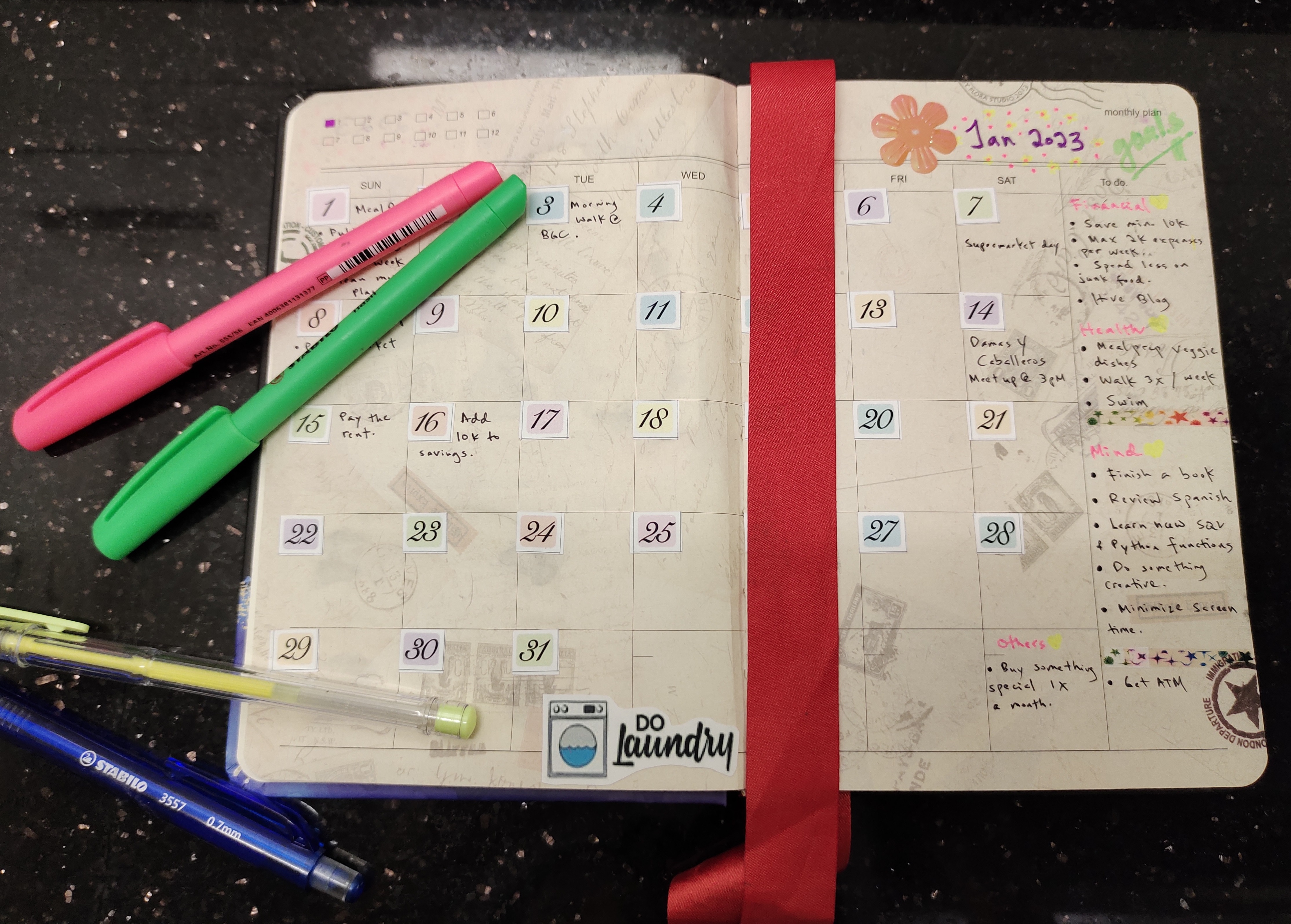 You can follow the usual system of BuJo (which is using different bullet symbols) or you can create your own. There is no single approach so be creative. The journal that I bought lets me freely set the year and months as those are not indicated here. You can also organize the page sections into "To-Do, Financial and Health Goals, Expenses Tracker, Weekly Spread, Daily Mood, Mindfulness stuff, etc.". Just maximize all that space! BuJo is really cool because I can express myself through simple art and colors while I practice being organized.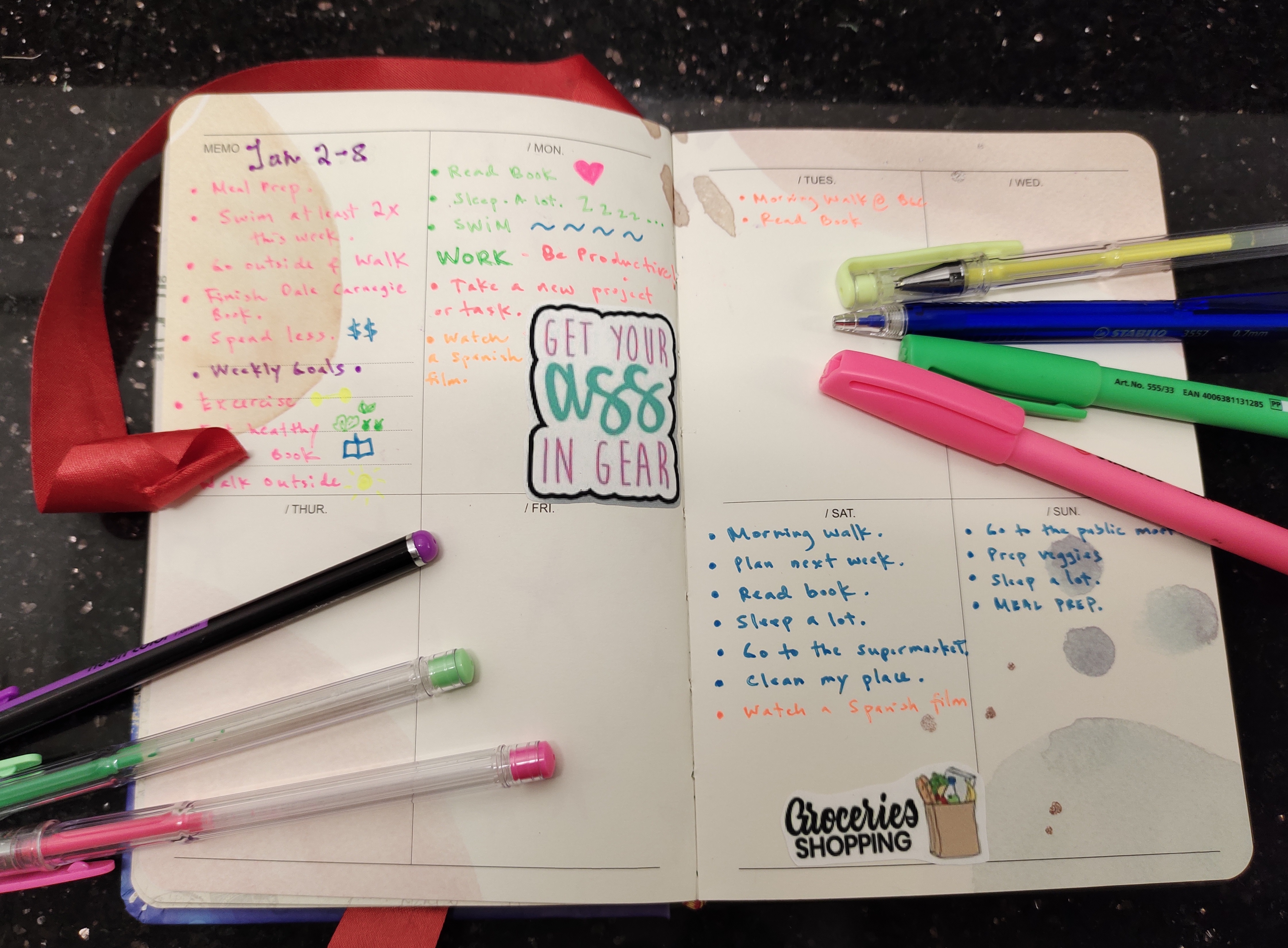 I find Bullet Journaling to be a relaxing activity as it keeps me busy and away from my phone and computer. Instead of being glued to the screen during my free time, I can just go to the nearest café and update my BuJo. It's really freeing as I find myself not scrolling through my feed and finding something to read on the internet all the time. So if you want some mindfulness activity, BuJo is for you!
What about you guys? Any new hobbies you plan to do next year (which is in a few hours where I am) ? Why not give Bullet Journaling a try and share it on Hive? I'm curious to see your BuJo design! 😊
Happy New Year everyone!