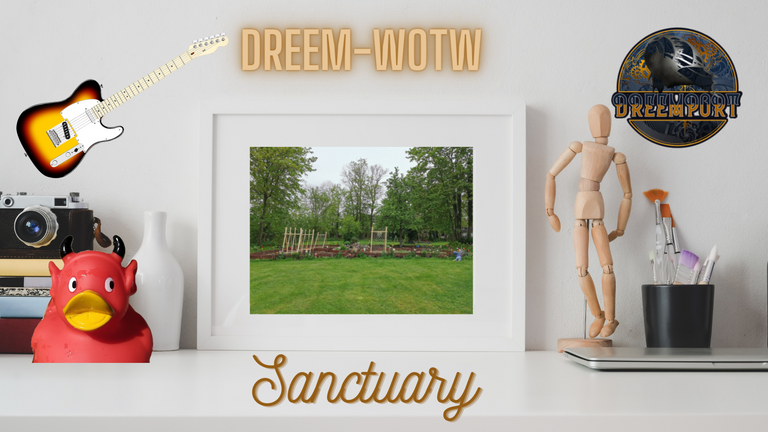 How to begin?
When I first thought where is my sanctuary I was thinking about places. And why would I go there? Or better ask when? Do I want it? Or do I need it? And many more questions came to my mind. At some point even answers started to form in my head and just like that, with a plop they were gone again.
So I decided I need to relax and take my mind of it, the answer will come to me eventually. And whenever I hit that stage in a thought process, I start making music.
Oh, there it is. The answer. Uh, and another one. With every beat, with every chord, this post took shape. Now I just hope I don't lose it until it's all typed out. 😉
We are all the same and yet different
Yes, we all are human. We have a lot of things in common. And yet, there are some things different, the little details, that make us special.
One of the common things is, we all need is a sanctuary. For some it is a place, for others an activity. Some people find it in their heads, others in their garden. And the most underrated but most valuable sanctuary is other people.
But why do we need it? Because we are human. We need to take a break from the world every now and then. We are stressed, we are exhausted, we are unhappy, we are tired, and so on. Whenever we encounter those feelings, we need to balance them. We need to relax, take a break, be happy and get rest. For that we need our sanctuary.
Know your sanctuary
The key for a healthy balance of those emotions is to know your sanctuary. But that is not easy. It comes naturally for a child, especially young ones. The need to hug a parent, to cuddle a stuffed animal, to sing a song, to hide under the bed are just a few examples of a child seeking its sanctuary.
But the older we get the more complicated the world and with it our problems get. We cannot do those things anymore or hide under the bed as our sanctuary. We develop new ones and most of the time we don't realize it while it's happening. Only after our new sanctuary is established we slowly realize how it feels good to take a walk, be at a certain place or do an activity.
And sometimes this process is flawed. There is no new sanctuary. But by learning from others we might find one.
My Sanctuaries
From all my sanctuaries (yes, I have more than one) I want to share three of them with you. Maybe it helps even one person out there still looking for theirs.
Making Music
I spoiled it a little up there, so don't be surprised. 😁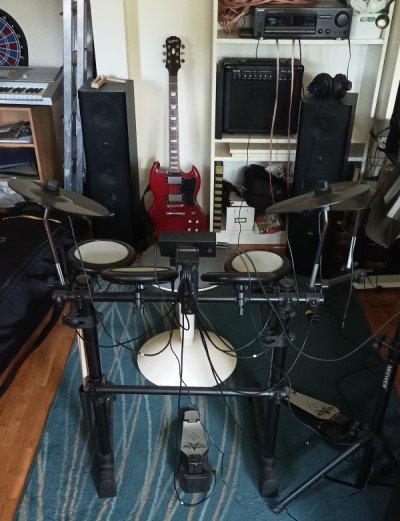 I taught myself to play the guitar when I was 13 years old, that was a long time ago. I never took it to a professional level, never played a gig. I only play for myself (or sometimes for my family). Why is that? Because it is my sanctuary. When I play for others there are expectations to fill and that beats the purpose of cutting off the rest of the world. I play when I want to isolate myself, to let my thoughts flow.
During Corona lock-down I decided to add the drums to my repertoire. I started with a relatively cheap e-drum set but found it serves a distinct purpose the guitar cannot (at least for me). I also emerge into the music, drumming along to the music. But with the drums I channel up excessive energy from negative experiences of the day and let it out.
My Garden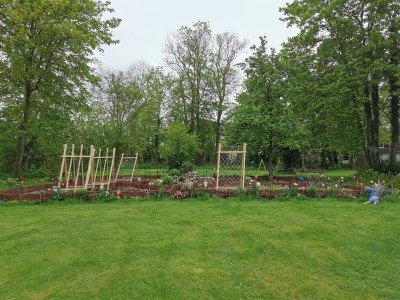 When we moved out to the countryside I first experience our garden as work to be done. Over time it developed into a sanctuary for me. First of all I can just sit down and enjoy nature. Secondly I grow vegetables and flowers there. I feed the birds and enjoy watching them from the window (so they don't see me as a threat). This sanctuary pushes my self esteem because it gives me the feeling of making a difference on this world.
Before I had a garden, when we were living in an apartment in the city, I had potted plants to take care of. I still do. I care for them, watch them grow, sometimes into bloom.
My Family
I will limit myself to one example. But whom to pick? It was a tough choice.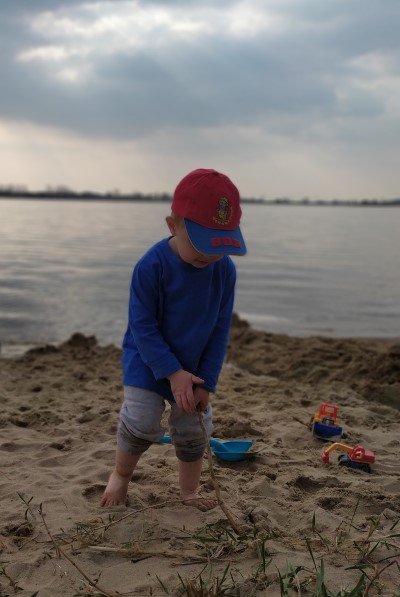 Remember, I mentioned the kids hugging their parents? It works both ways. Whenever my son wants to cuddle I can feel him relaxing in my arms. The world is less scary if you have someone to hug. And that relaxes me as well. Seeing the world through his eyes when he asks the questions of why, when and what about all things around us, it makes me reconsider my own thinking. I embrace the joy I see on his face from the (mostly simple) things in life.
Do not limit yourself
So as you can see, a sanctuary can take many forms. Three of mine are an activity, a place and a person. It is an important part of our live that must not be underestimated for the health of our mind and body. So do not limit yourself.


Header image created with Canva
Dreemport logo provided by Dreemport