After feeding the stray cats at the temple by the river, I would stop at the shopping mall, Robinson, to get some German rye bread and carrots. When I had more time on my hand, I would take a walk around the flea market next to the shopping mall. I'd like to survey how things have been picking up during the last few months. This area used to be full of backpackers and middle eastern tourists. But the cheap hostels near the mall were now closed; the cafe and French looking restaurants were gone too. Had there been a flood of Chinese tourists, things would have liven up a lot more. Chinese tourists were good at spending money on food and souvenirs.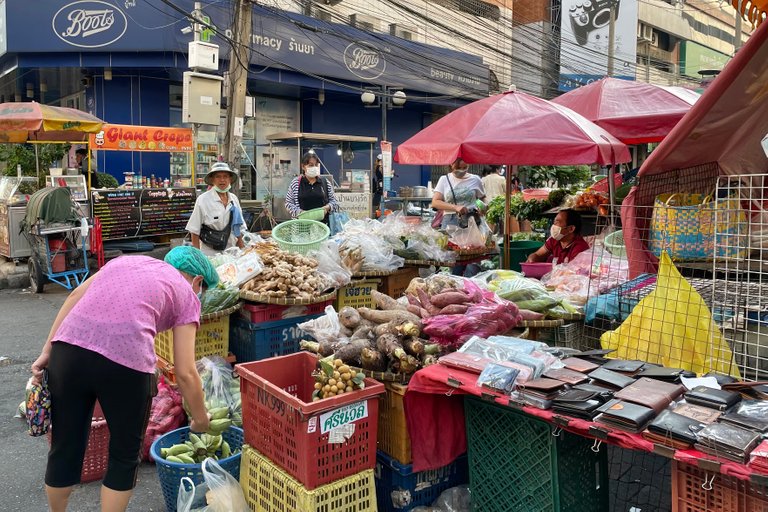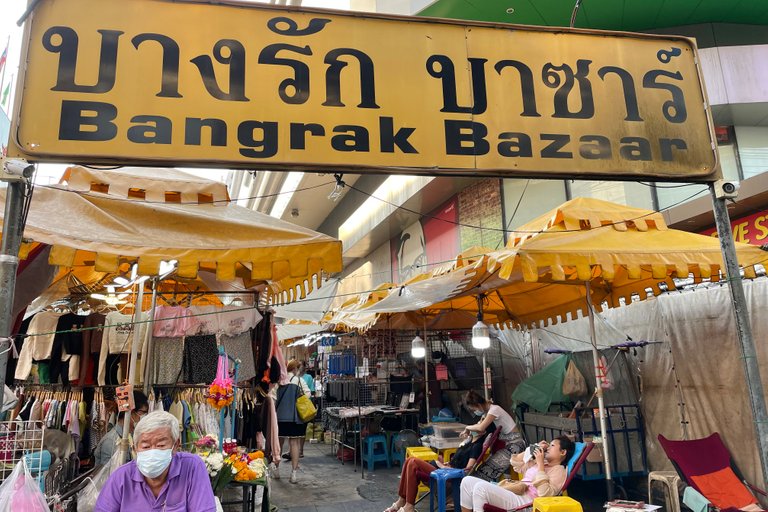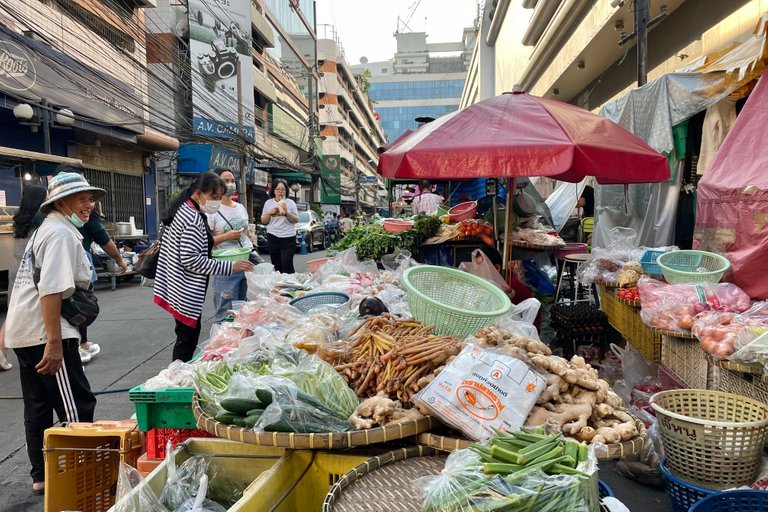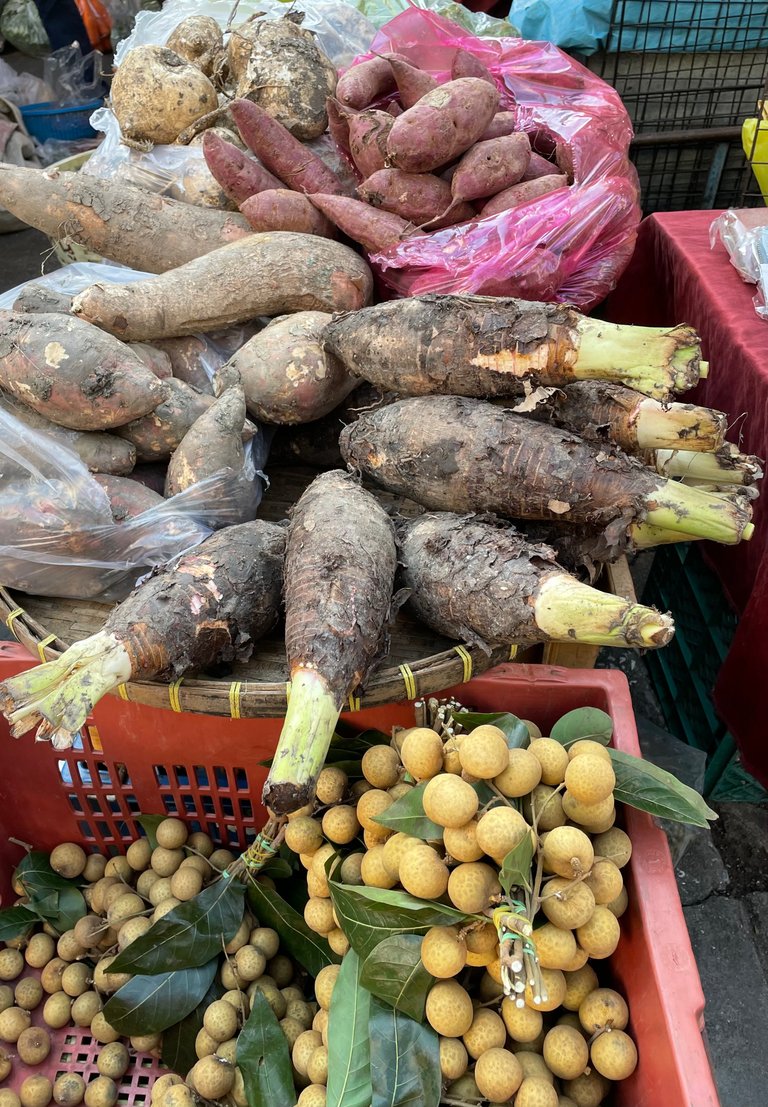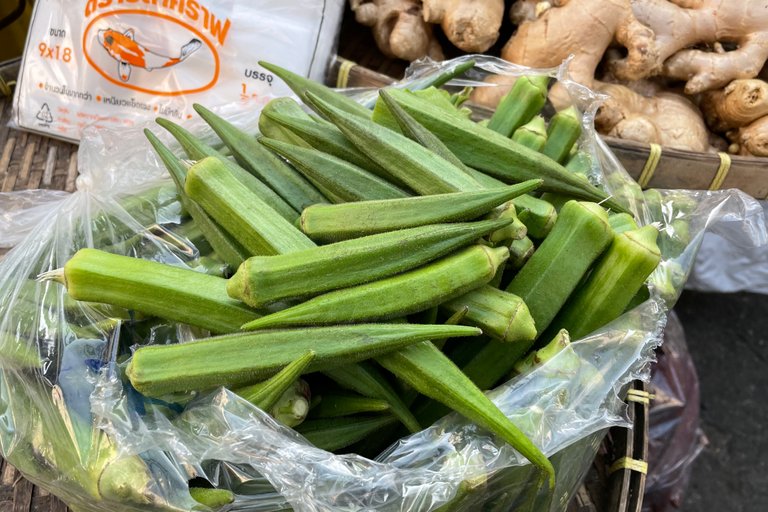 At least there are more signs of improvement in this area of Bangrak where my favourite mall, Robinson is still operating till 10 pm. I was a bit early as the activities around the bazaar wouldn't pick up till after 5pm. Working people, office staff and commuters would be shopping at the flea market or having dinner at the food stalls before catching the ferries across the river or late trains home. The fruits bad vegetables are much cheaper than inside the supermarket. The cheap street food are also quite good and offers plenty of choices.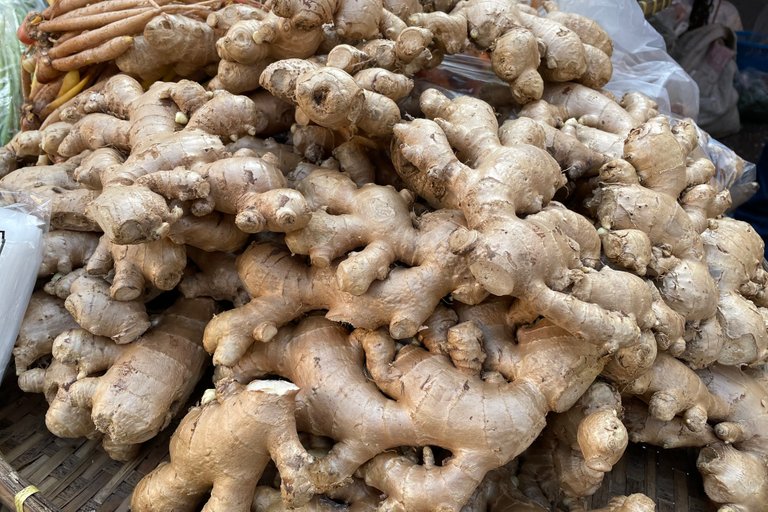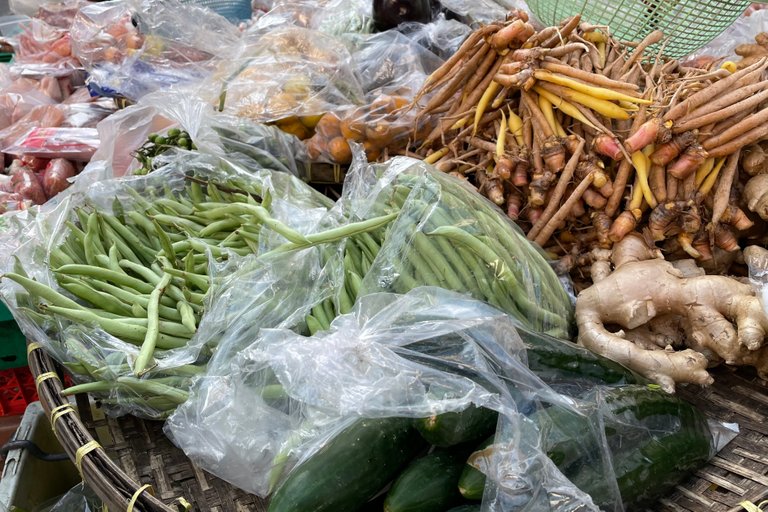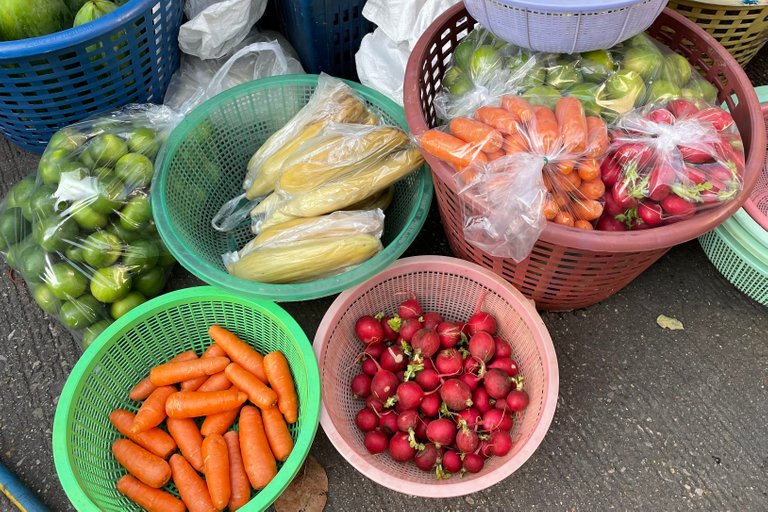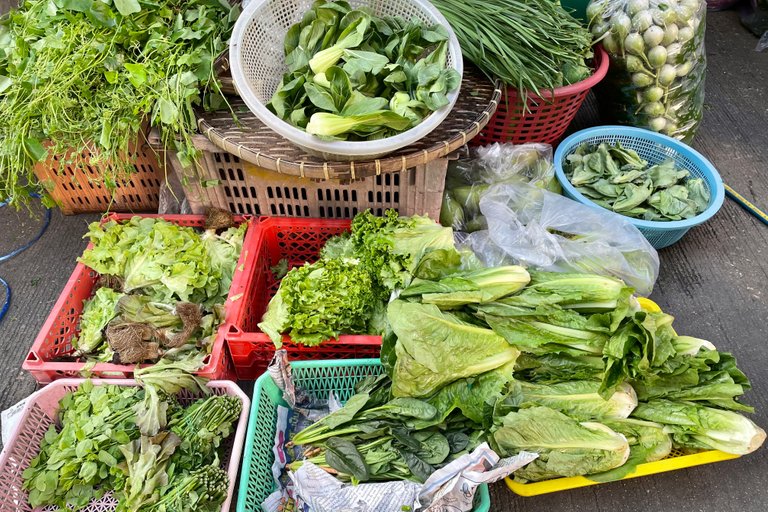 I had a good look at the elderly lady's vegetable stalk at the corner of the road. She has been selling vegetables with her mother since she was a little girl. So, I reckoned she didn't spend much time in schools. Her career was cut out for her by her family. However, she is much richer than me! She had a family and she supported all her grandchildren to higher education. I just hope that these youngsters with good jobs would look after their grandmother one day, so she could have a restful retirement.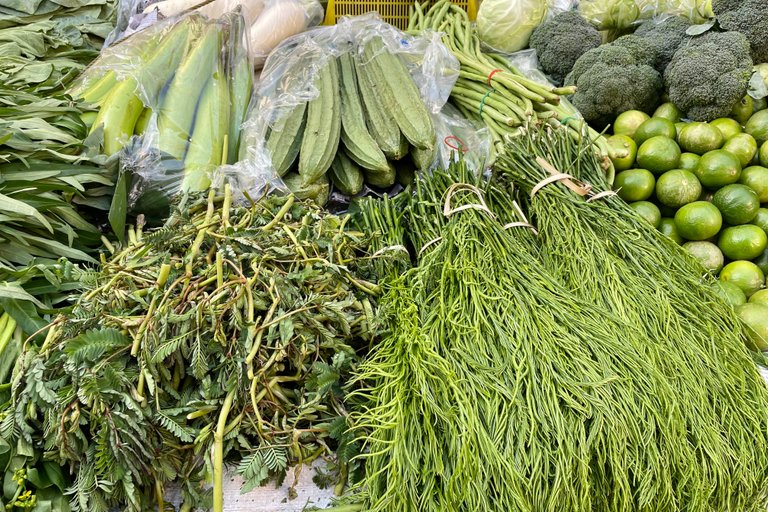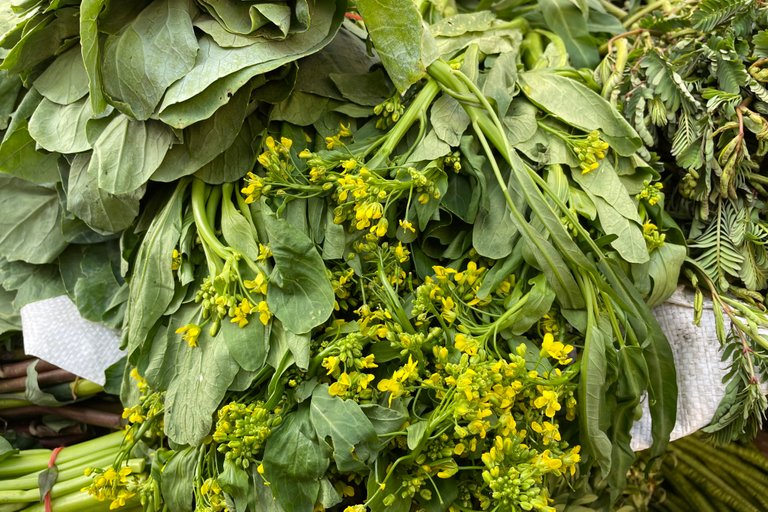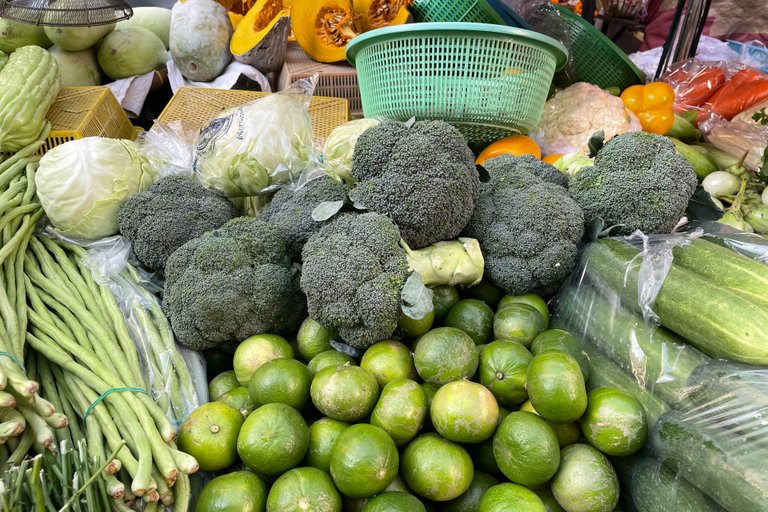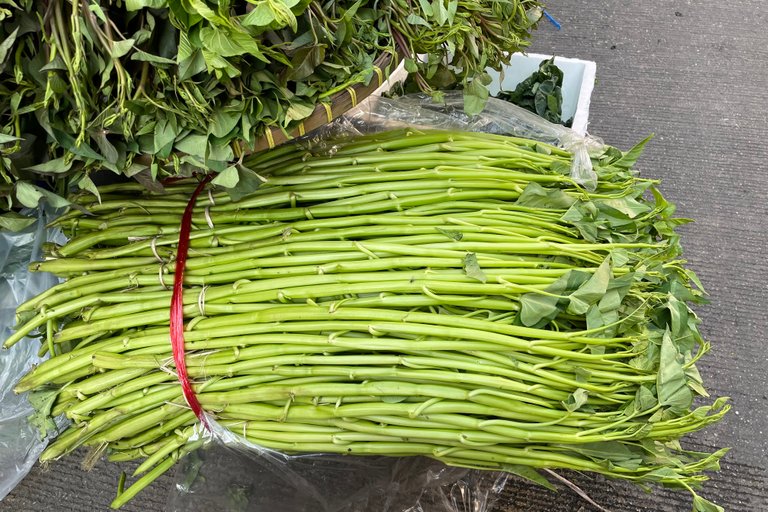 This lady must be almost seventy years old but she has very strong hands and fingers. She did test her strength on me once with bruises on my arms! Her calculations were super fast and she hardly needed a calculator; though customers could use her calculator for checking the total costs of their vegetables. She had always been very kind to me and gave me special reduction.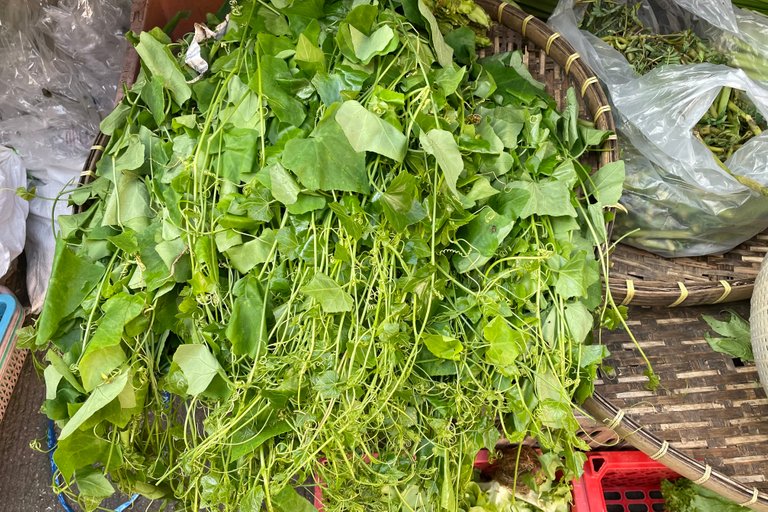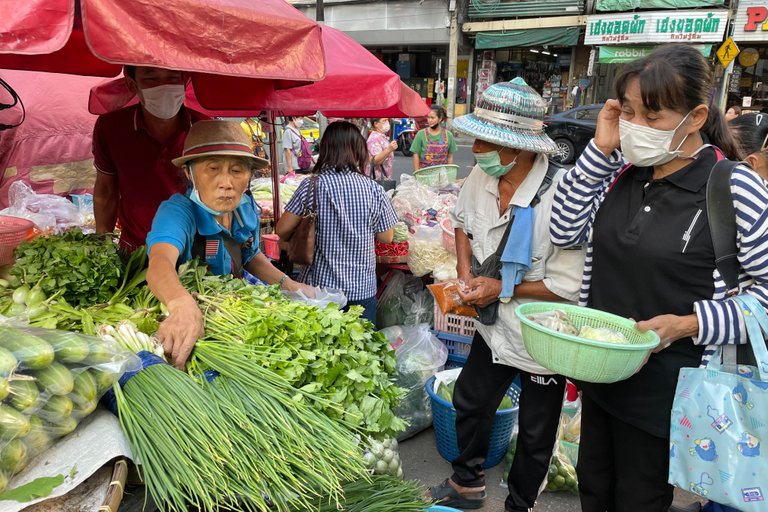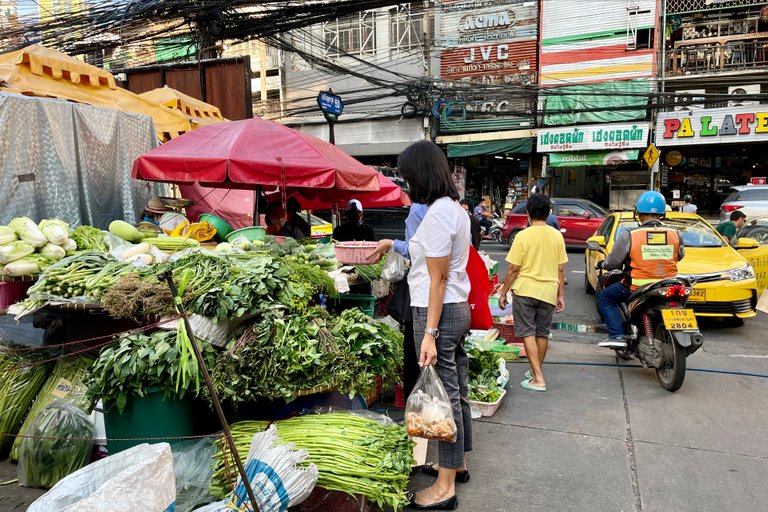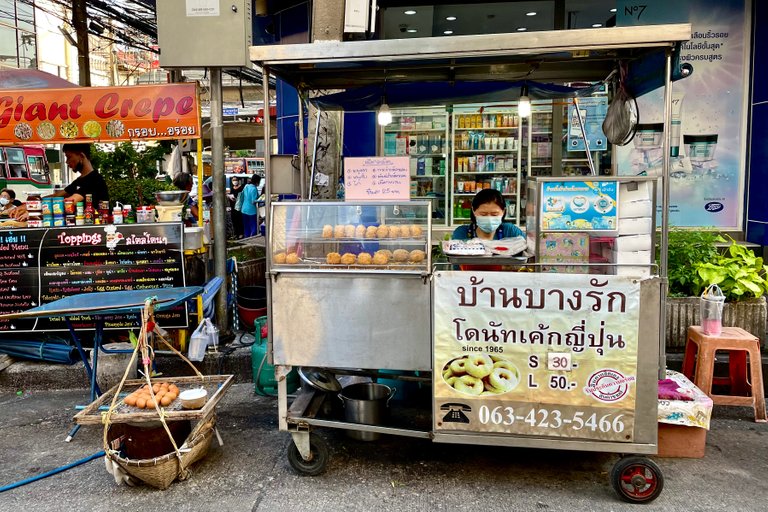 I looked at her stall in amazement of all the vegetables she brought to her customers. There were all the ingredients for cooking northeastern food or southern recipe with lots of spices. Luckily our food culture involves eating lots of raw leafy vegetables which have medicinal properties, people would be much healthier if they stick to traditional food than hamburgers! I wished I knew how to cook half of those displayed vegetables. Then, I could buy bundles of strange looking leaves to cook at home.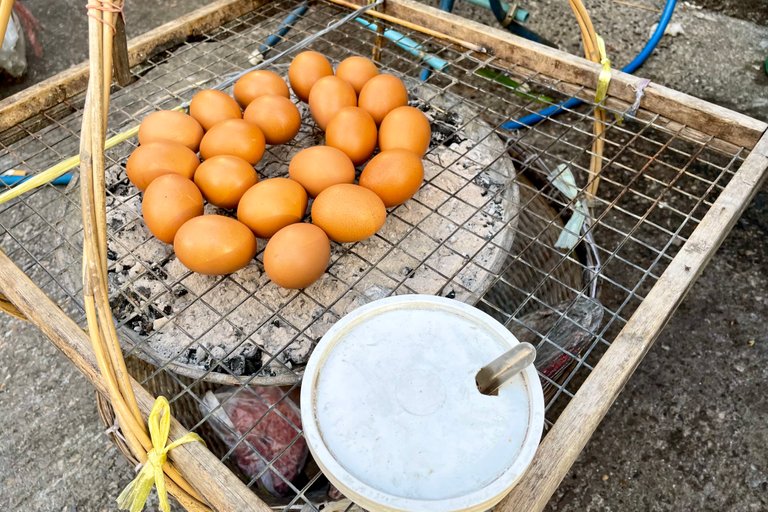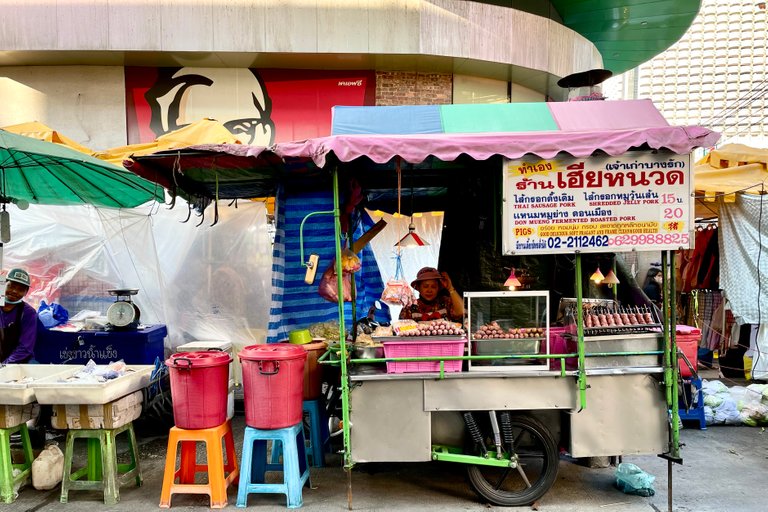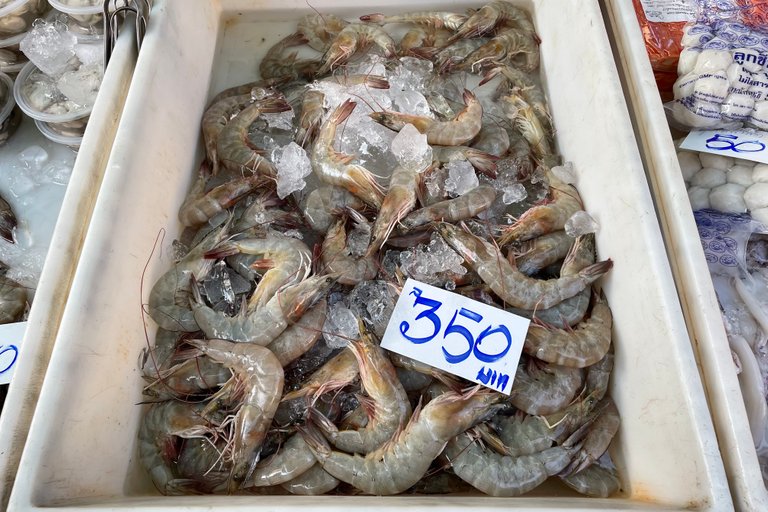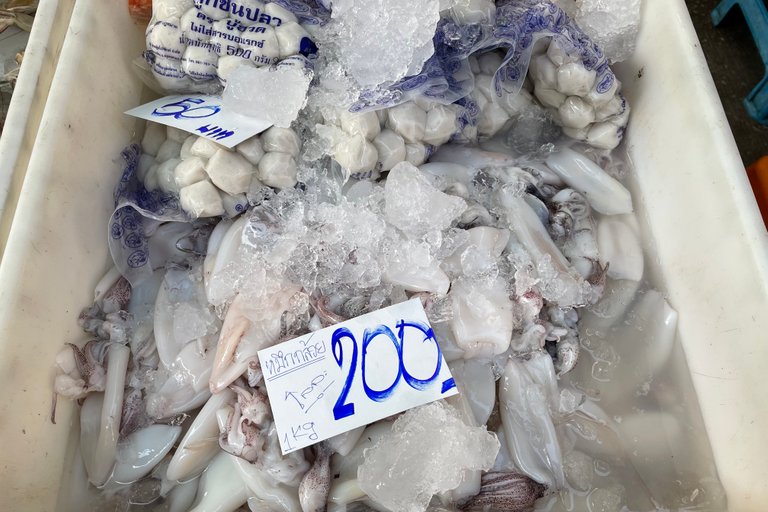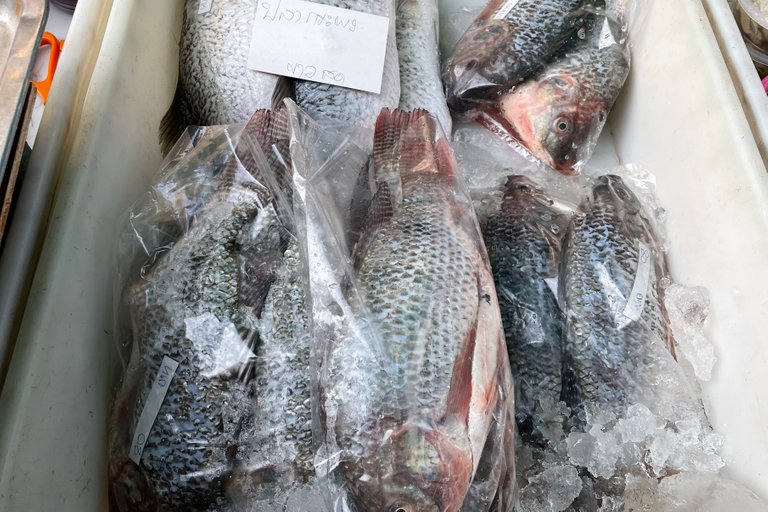 Several street food stalls would be setting up for customers in the evening. These stalls have been here long before the lockdown; I was so glad to see them back in actions once again. About twenty percents of the regular street food didn't come back after the lockdown was lifted. At least the friendly homemade donut lady has been back in business. This vendor used real butter in her donuts!! I used to grab a big bag home once a week. I ought to exercise more regularly before adding more calories to my diet.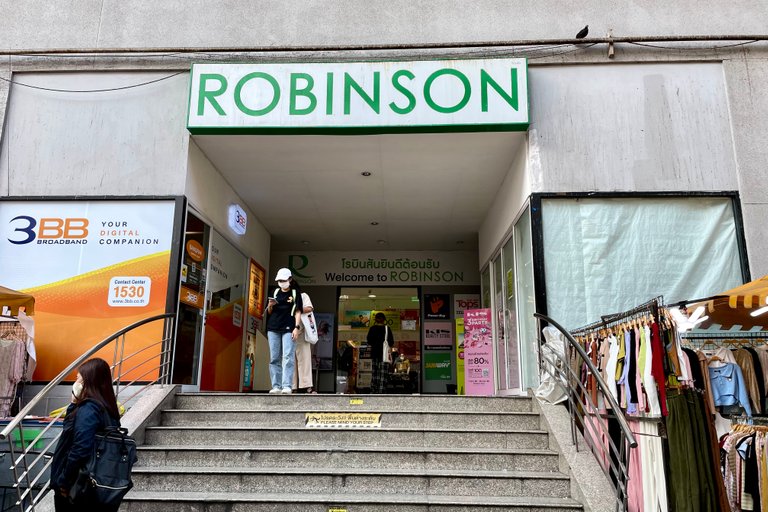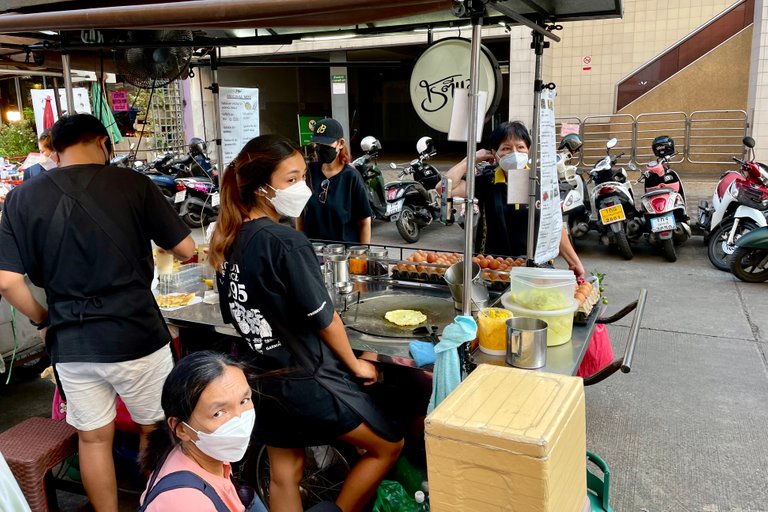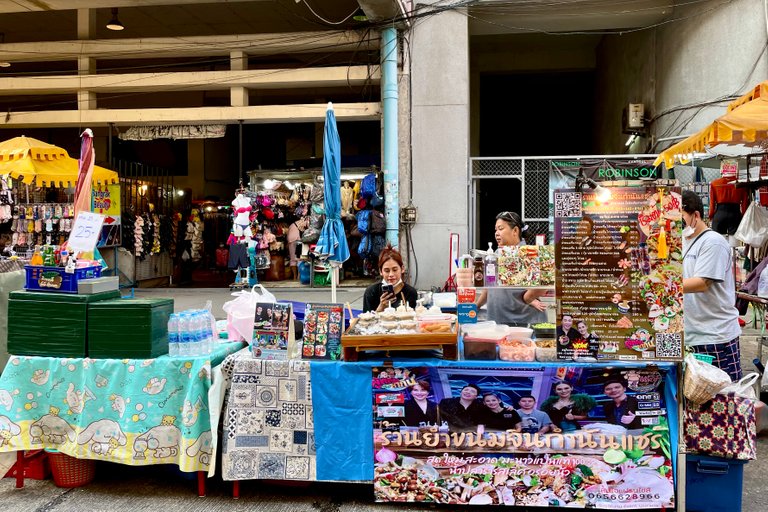 There are a few new stalls selling smoothies and coffee. The regular northeastern stall continues to do good business as the majority of blue and white collar workers are from the northeastern part of Thailand. They love spicy papaya salad, sticky rice, grill pork and fish. Grilled and steamed stick food have become quite popular. Those with charcoal grills would be the best but there's always a long queue. The set dinner of mixed seafood barbecue seems to be very popular in the evening. The atmosphere around that place is always friendly and easygoing. People are very helpful and approachable.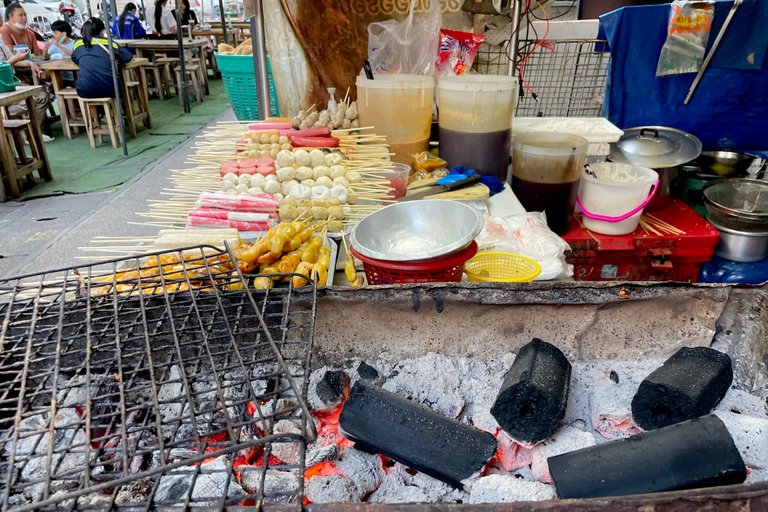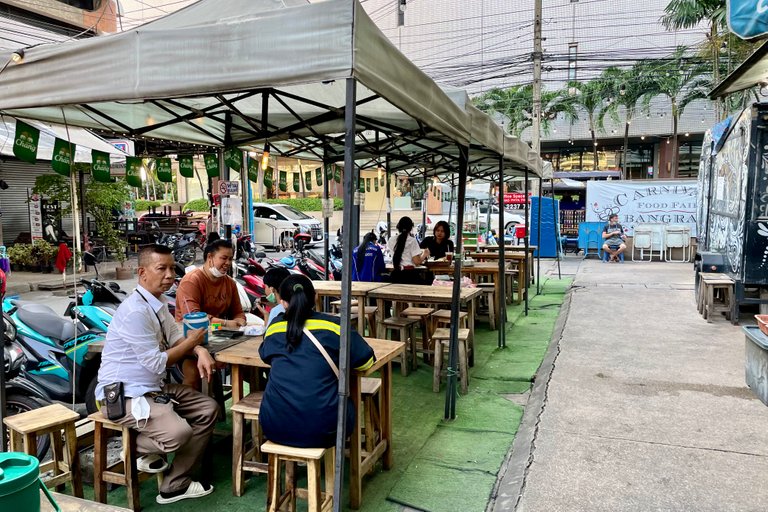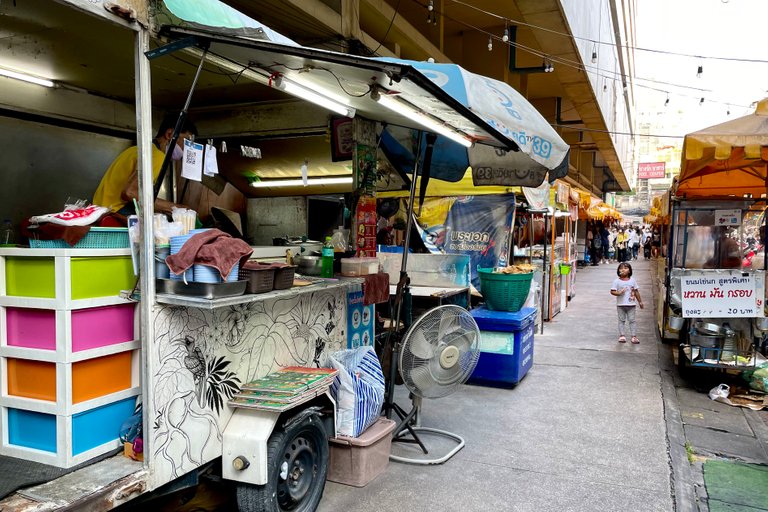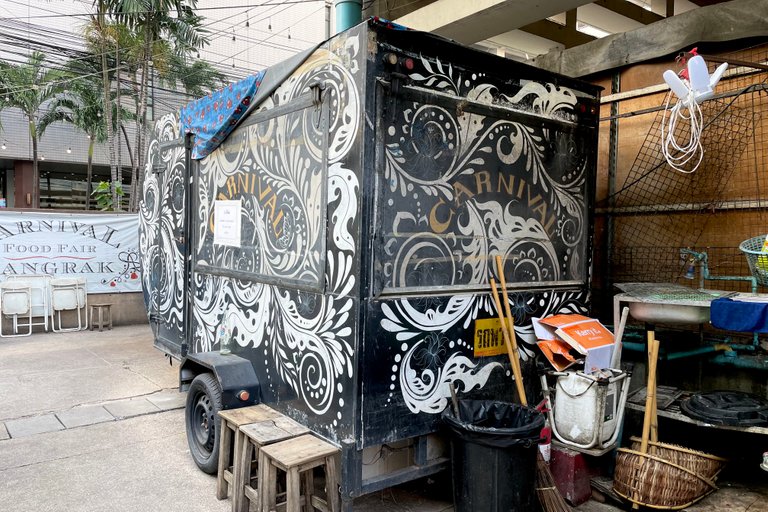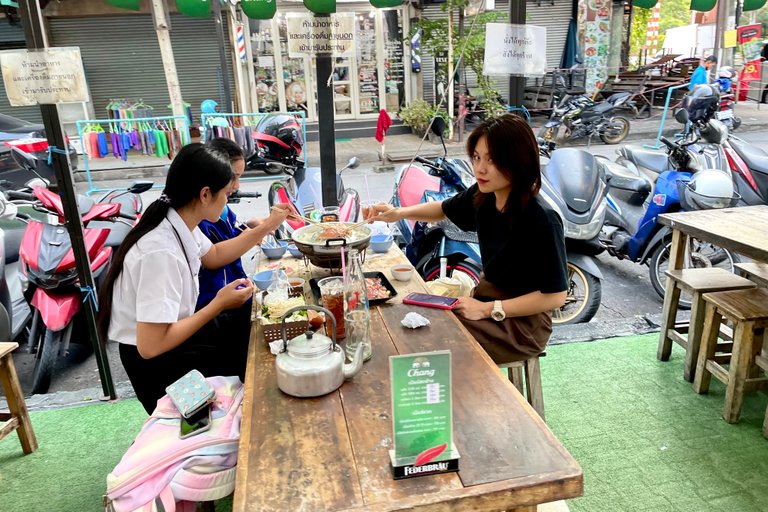 I was looking for my old favourite stall selling all kind of grilled seafood set dinner including grilled salmon steaks. A vendor told me that they were gone a long time ago. Lots of vendors seemed to have left during the plandemics when tourism was severely affected. I was glad to see that lots of food stalls still remain operating inside the food hall behind the market. These food stalls are very cheap with freshly cooked food made to order. The seatings are rudimentary and very simple. Customers could have all kinds of food here: all kinds of noodles, padthai, fried rice, stirred fried dishes, mixed vegetables, spicy dishes and other typical Thai food.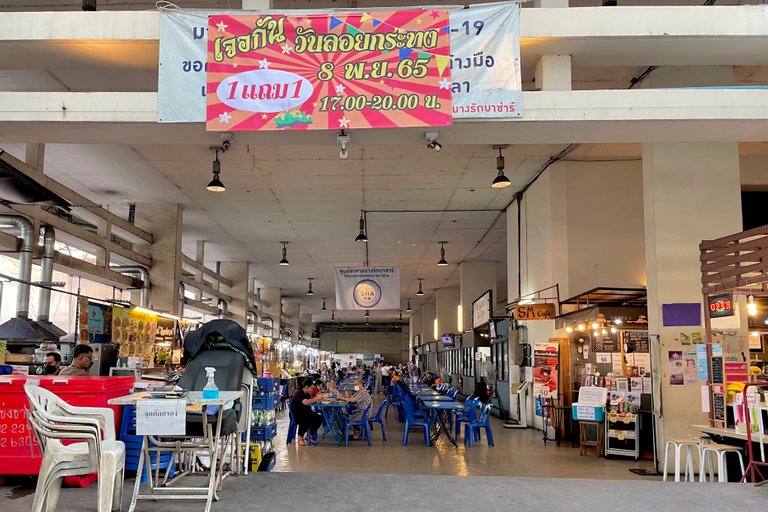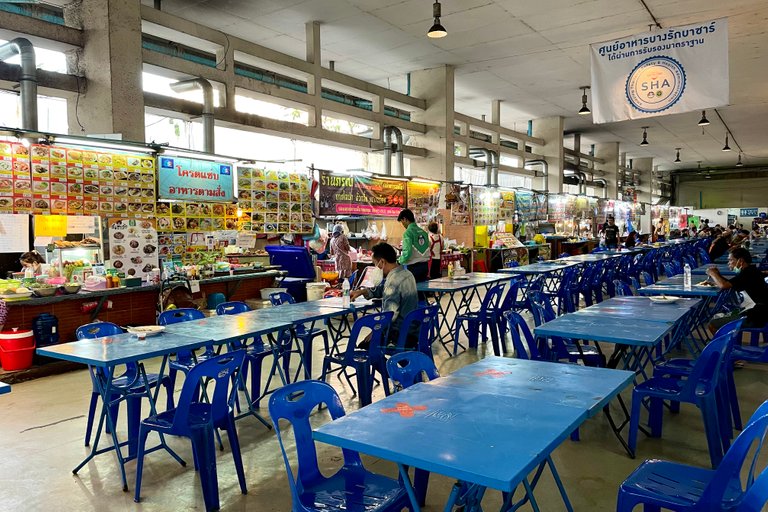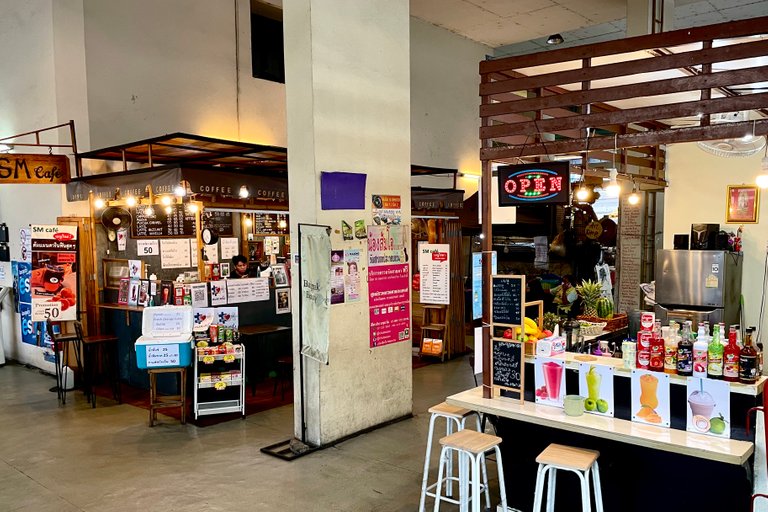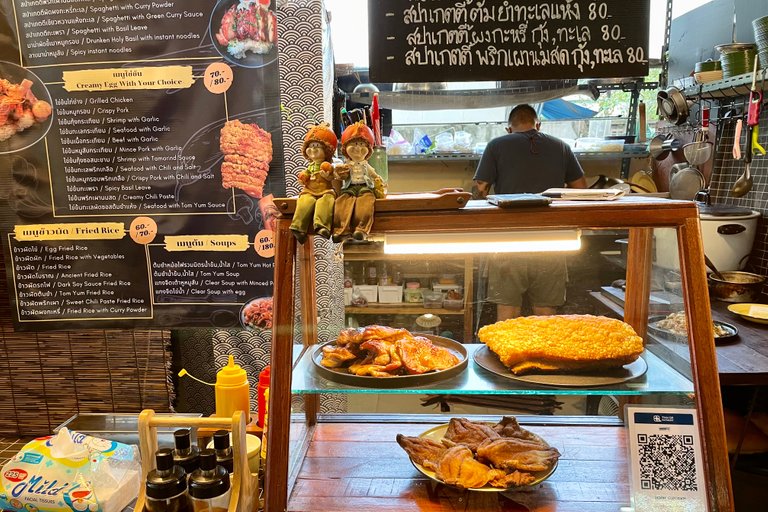 I was glad that my favourite coffee shop has come back after two years of absence. The owner was a young man with passion for coffee. He also made toasts to serve as breakfast and and snacks. He told me that some customers would grab a coffee and toasts on their ways to the offices. I hoped he could carry on with his coffee shop for many years. Now I know where I could drop by for my coffee or hot chocolate next time.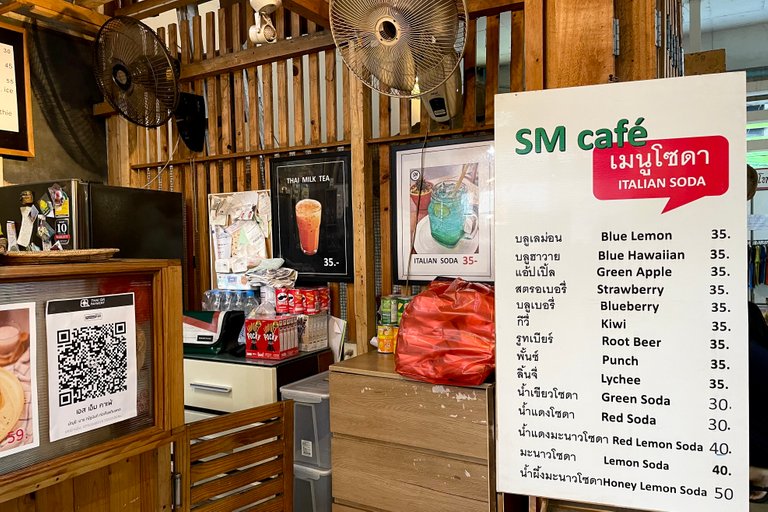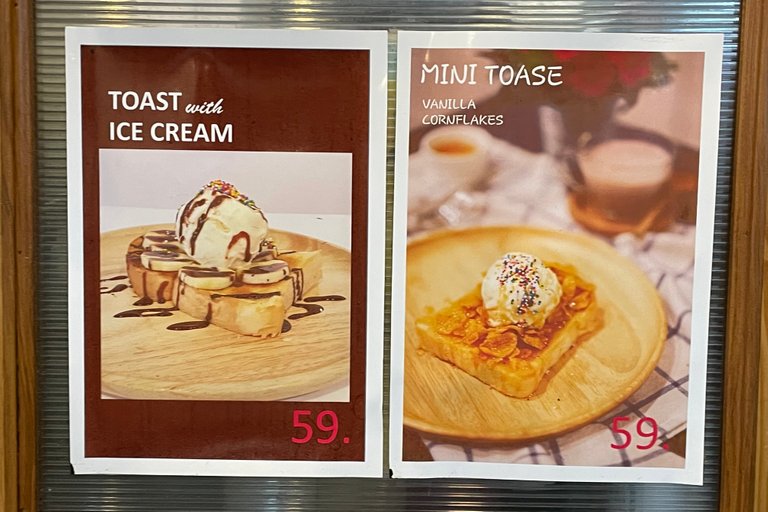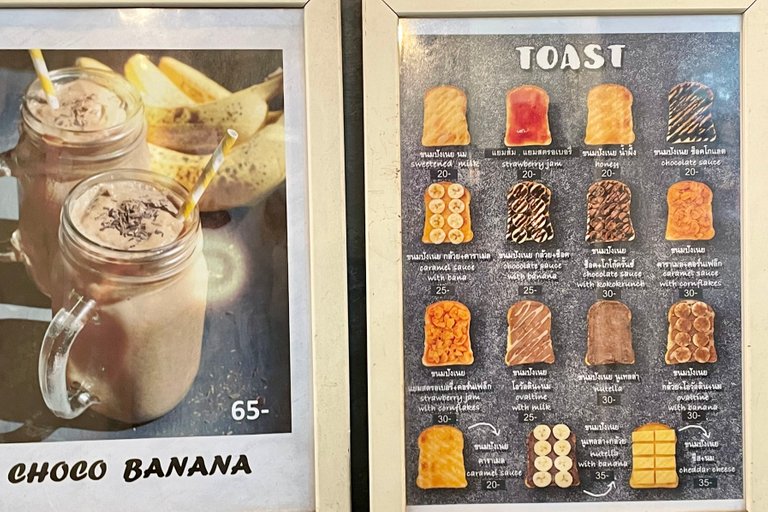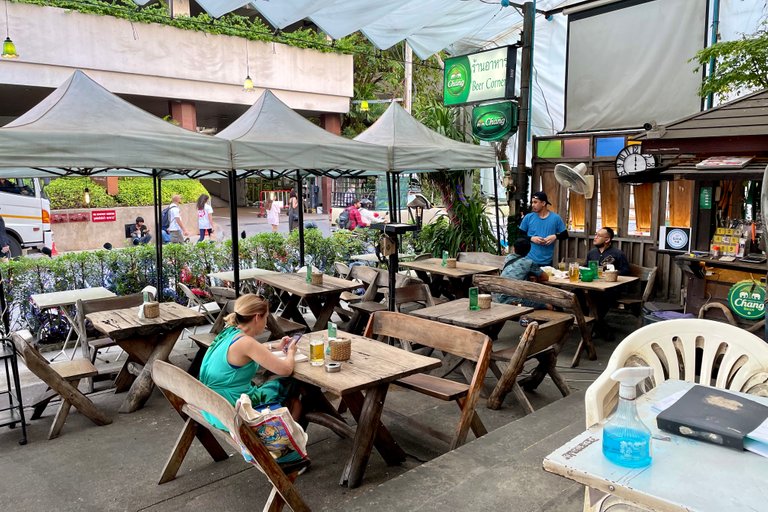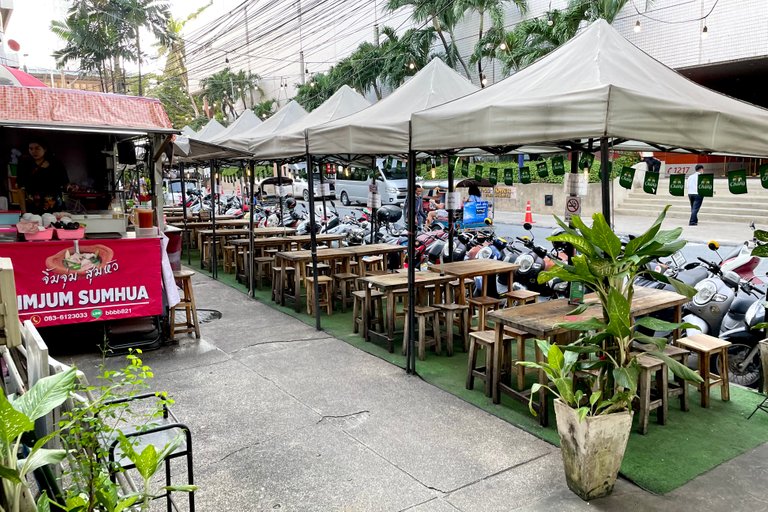 The flea market selling new and second hand clothes is very popular among working people as the prices are amazingly cheap and you could bargain for a discount too. Walking along the narrow path and observing the trending fashion help me to be in touch with the reality of the younger generations in our society. Some stalls were having a flash sale with many customers. Besides clothes, shoes and handbags; there is a big cosmetic stall, a self-designed perfume and nail paintings stalls.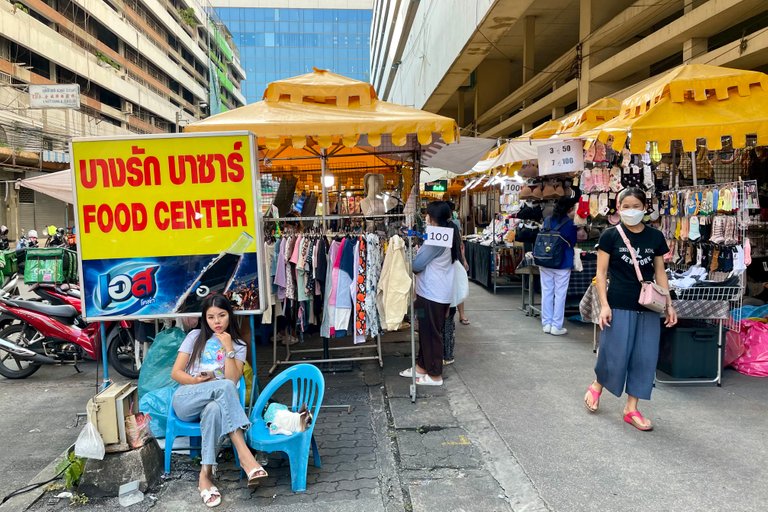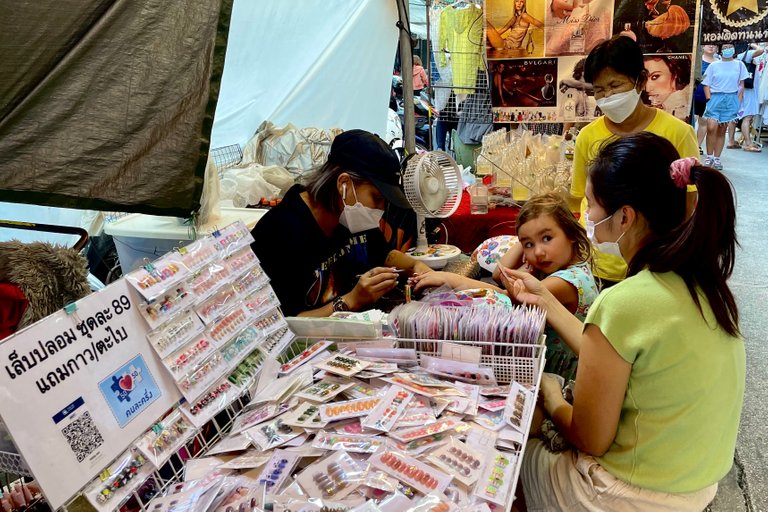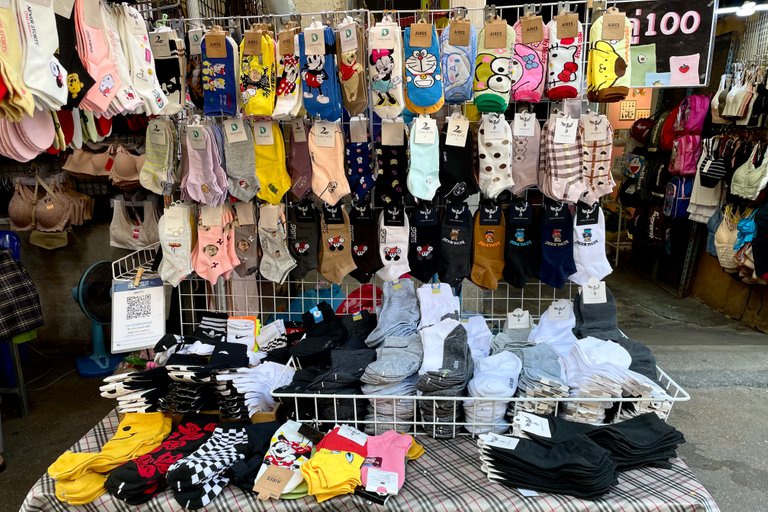 I was quite surprised to see people bring their dog while shopping. A few years ago, I would see small carts with either cats or small dogs
inside; some people just treat their pets as their babies. It was quite a fashion to show off their pets while going shopping. Luckily, these pets seemed to be very calm and quiet during their trips. I often wonder if the owners drugged their pets before taking them on a parade. They were all too calm and sedated to me.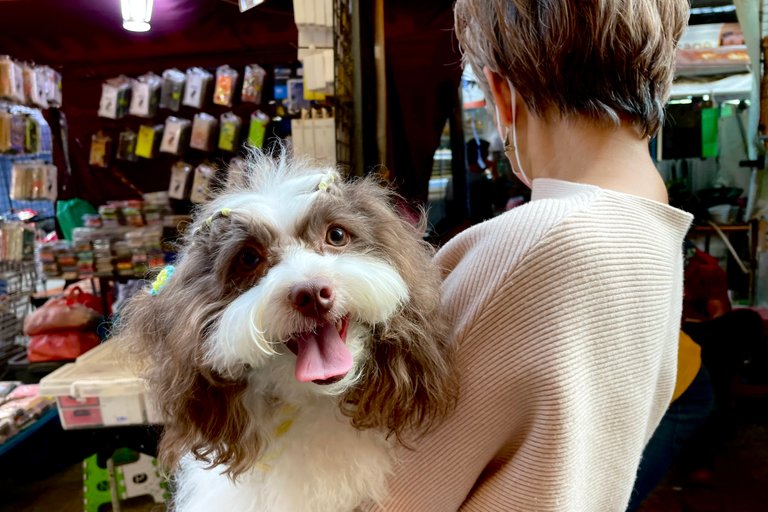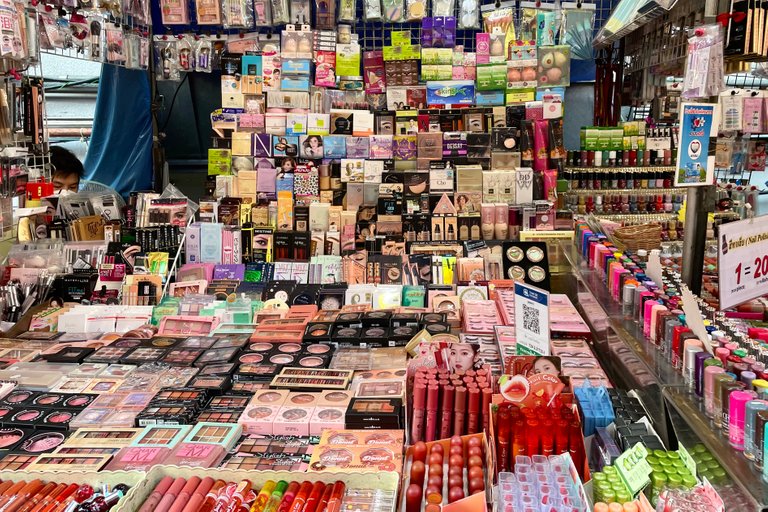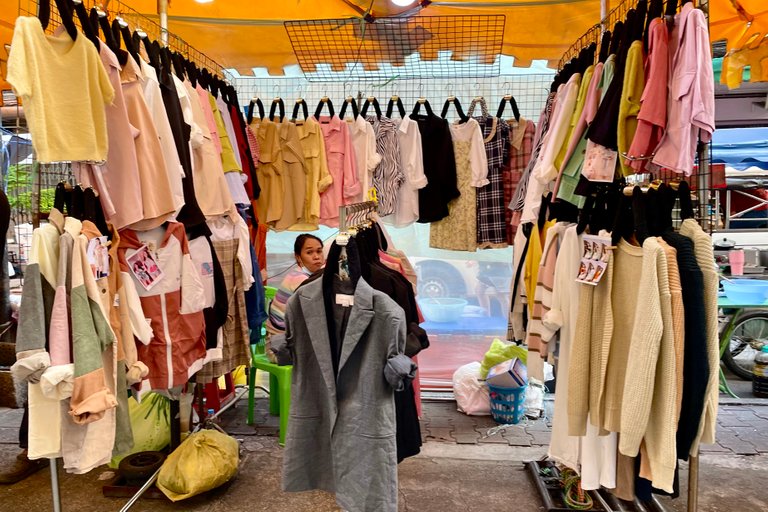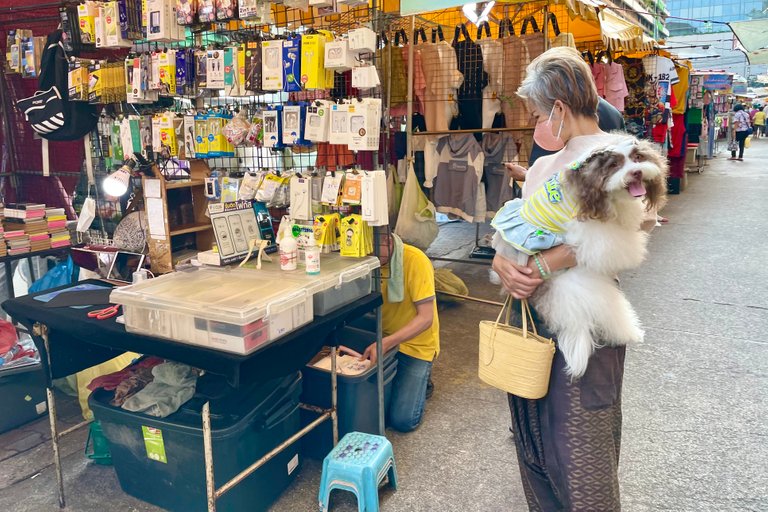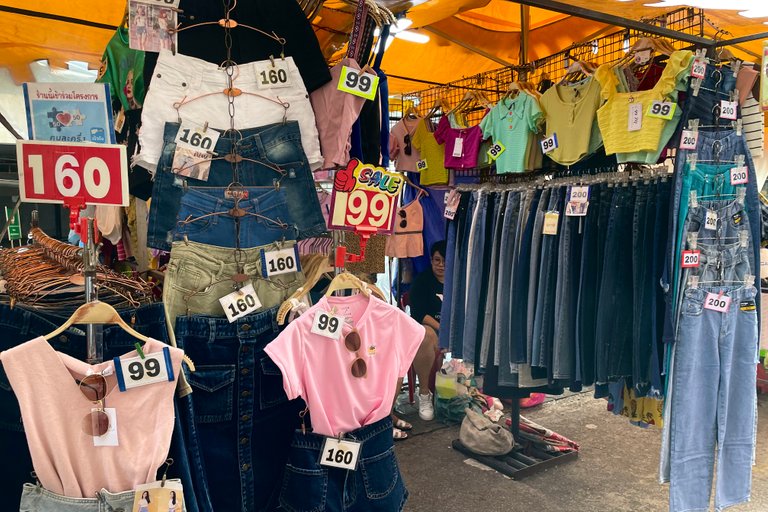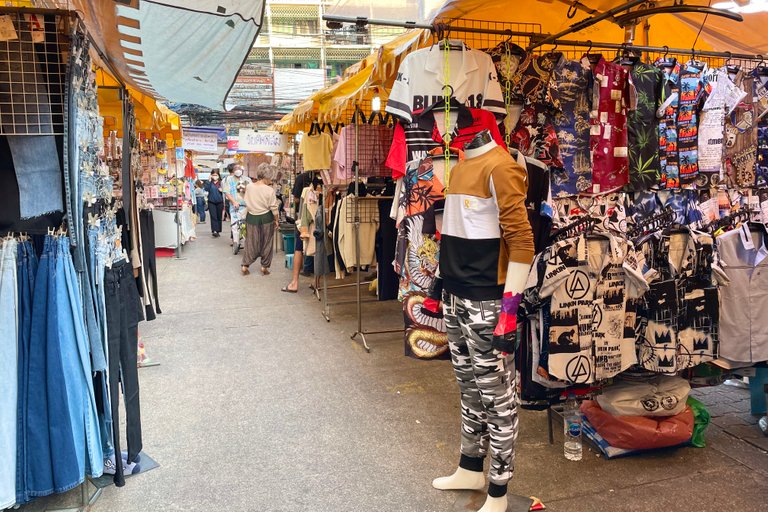 This small food bazaar and flea market reflects the health of our society to me. So long as they are cheap vegetables and affordable street food around, normal life could go on and people are willing to bear all the difficulties and hardship. We could still live in peace without the fear of petty crimes or food riots. Though prices of vegetables have risen higher as twenty provinces are still under flood water. Other parts of the countries could make up for the short fall in supplies.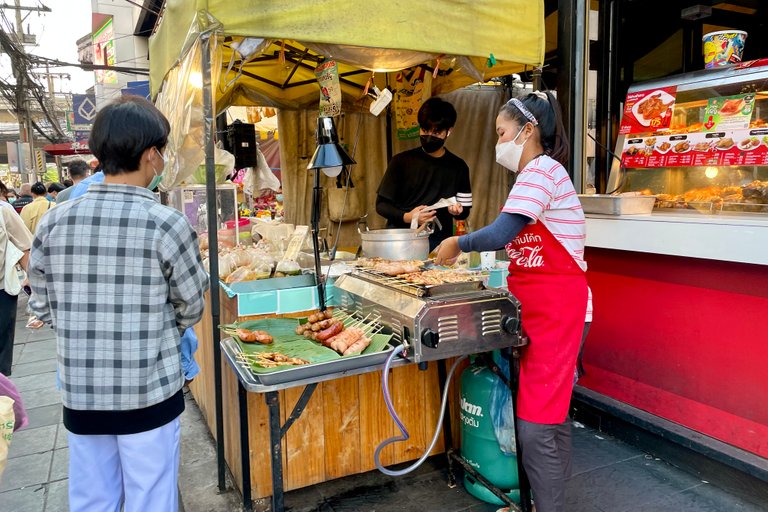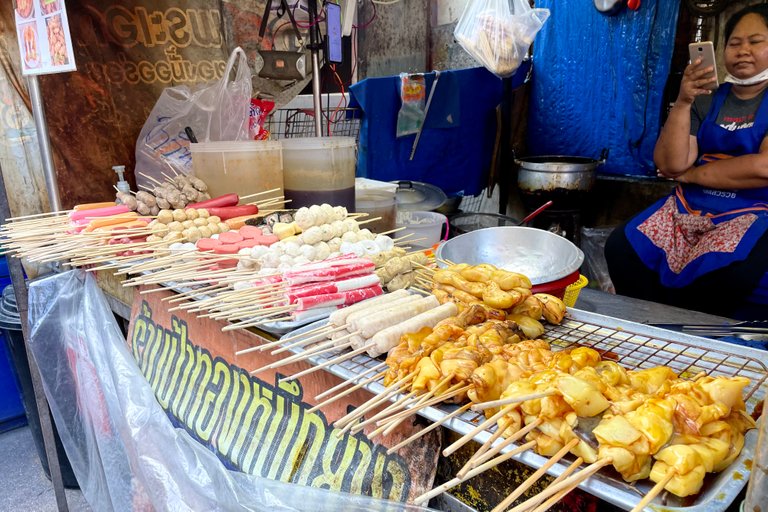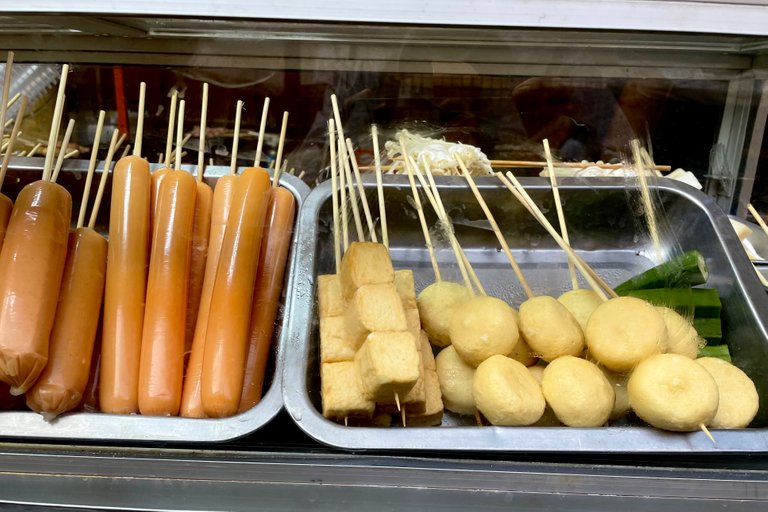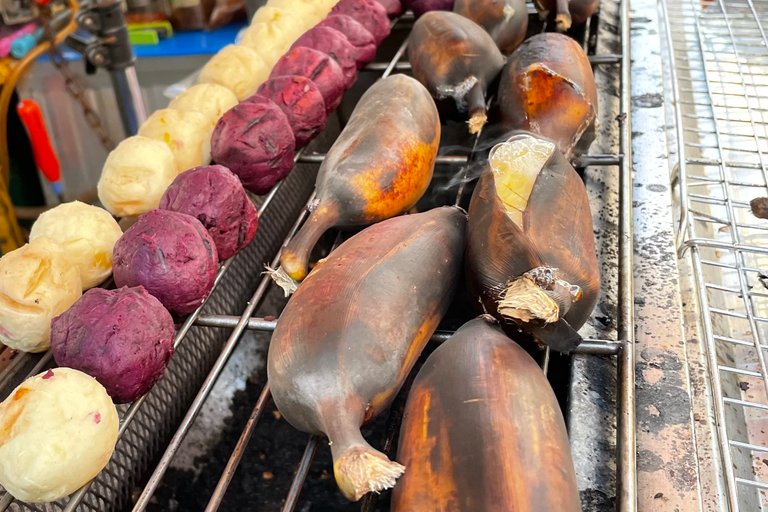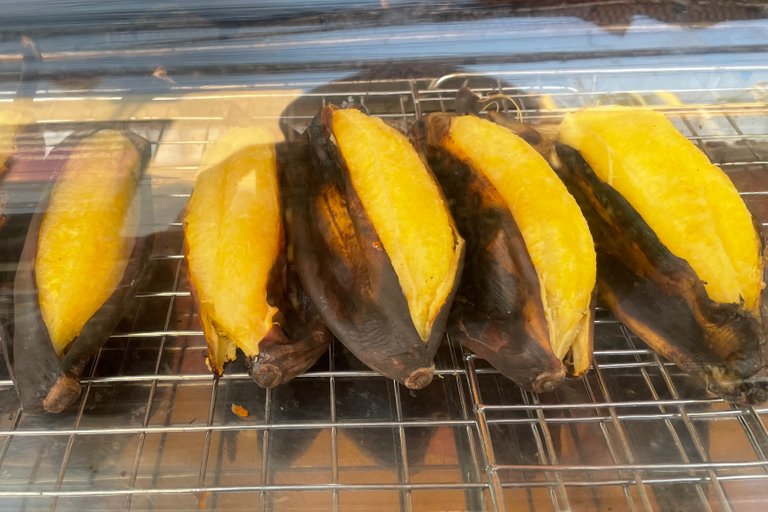 But next season, all agricultural produce would become much more expensive. I think I ought to get some seeds for growing my own vegetables seriously soon. But we have tons of insects so they would feast on vegetables like crazy. We will have to go beyond this obstacle in the near future.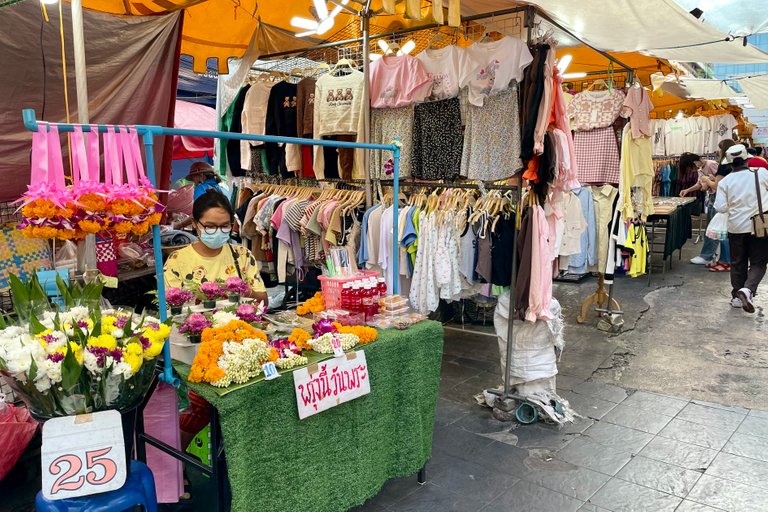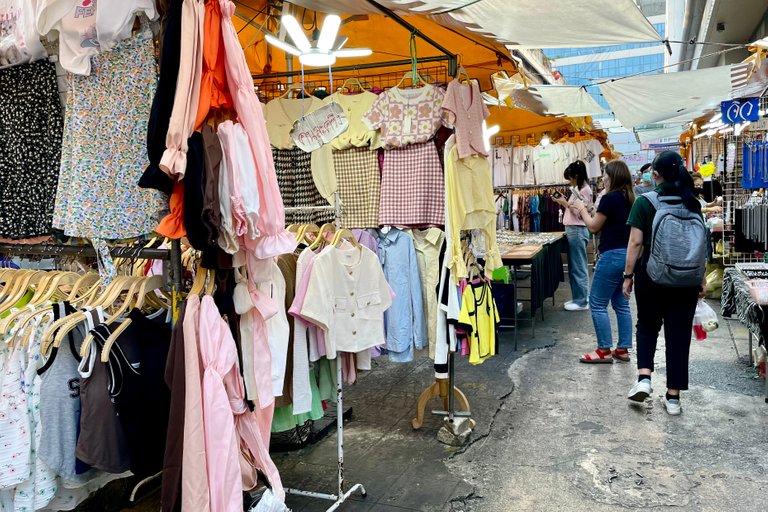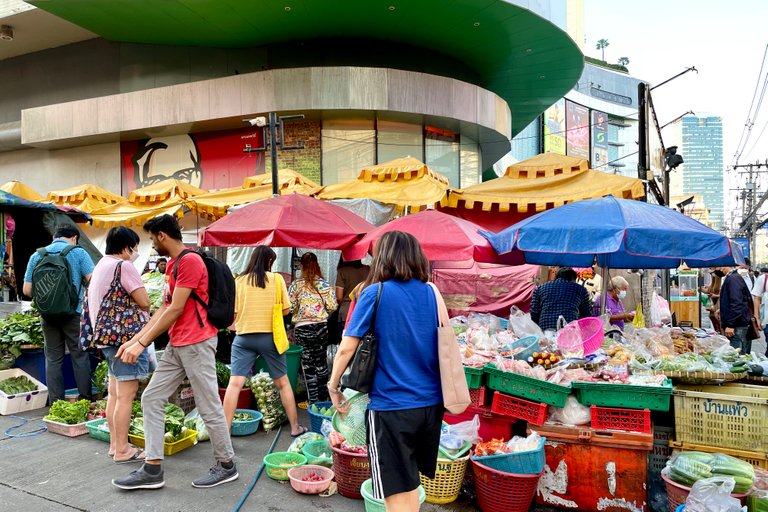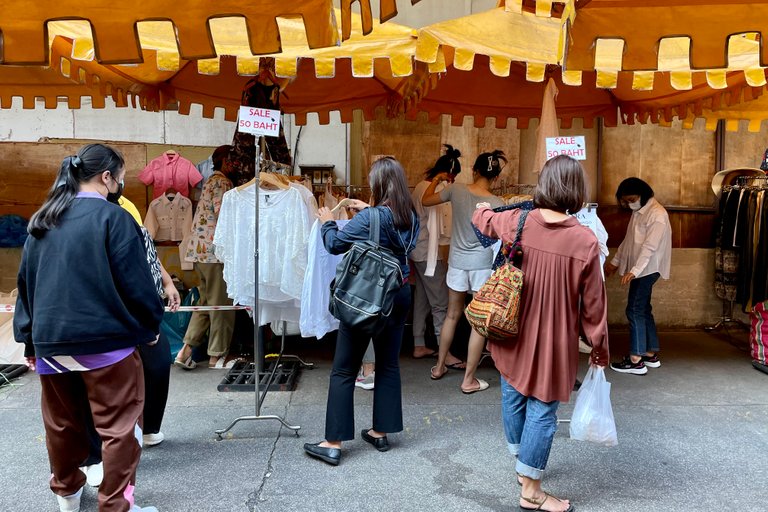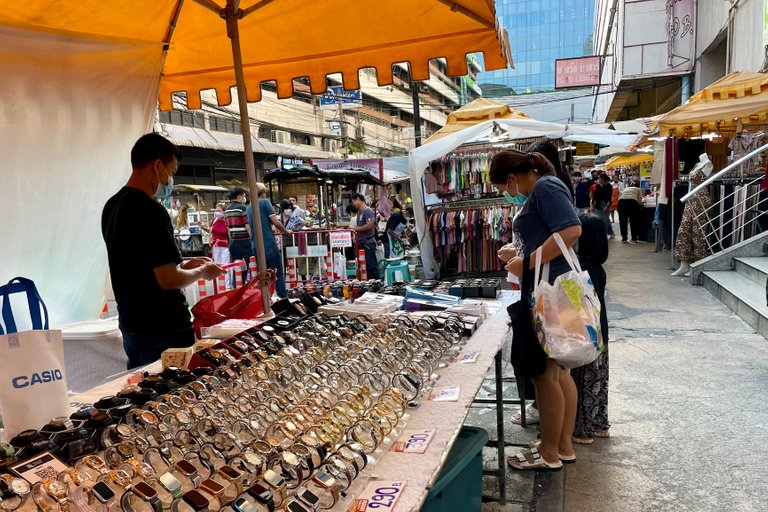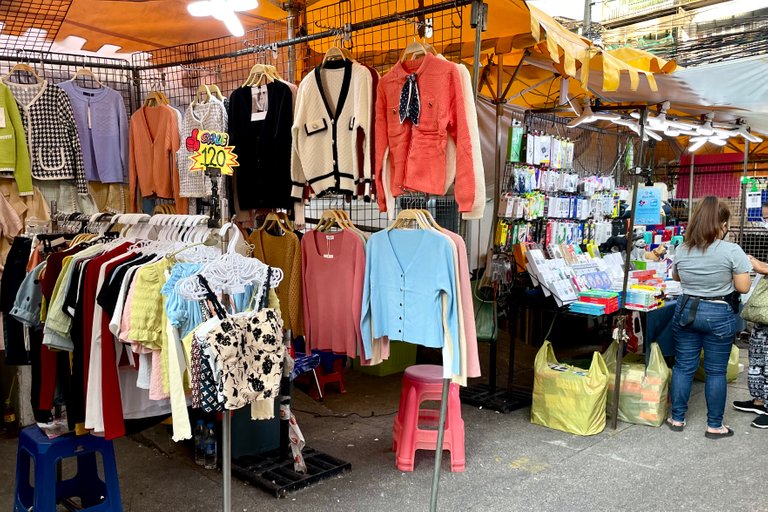 Wishing you peace, good health and prosperity.
Stay strong and cheerful.