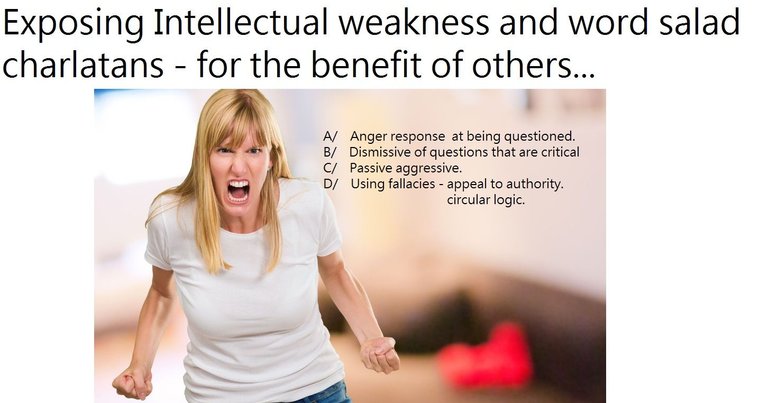 I'm writing this to help those that misunderstand, and misinterpret, information - To learn t recognize that that nice sounding generalities are very often used as a strategy to hide weakness and ambiguity , posing as intelligence and wisdom.
In my experience, those that wish to not engage in a debate of their own ideas are scared of being revealed.
Of showing themselves to being nothing like the mask that they wear.
For those that are peddling bullshit, (and they know it) - wish to create a narrative for the more gullible to accept.
Their motives are disingenuous.
Those with higher than average IQ's (the midwit, for example), will make the effort to carry many truths in their word salads - for truths are a powerful vehicle by which to attain credibility.
Within those truths, lies the faux messages - and that is where their real 'will to power' resides.
They do not deal in truths, they deal in narratives. Truths are only there to add legitimacy to an argument that is, overall - illegitimate.
Throw in a sprinkling of truths to blind those who are less critical in what they read.
It's a power play.
It's their 'will to power', expressing itself. (it's also a very low IQ expression of it, but that's not pertinent right here).
It's the 'snake oil salesman' in action.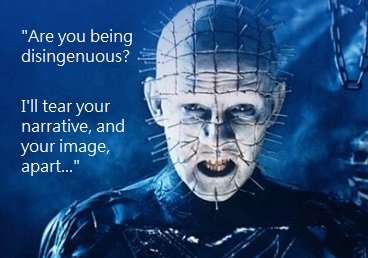 Nice sounding deep generalities are seldom that 'deep', not really.
Not when they come under scrutiny.
Read Nietzsche.
There's nothing shallow about his works. His reasoning and logic are pretty airtight.
You often find that with these peddlers -'a narrative you will accept unquestioningly' - is that when these generalities ARE questioned, it becomes a case of - 'oh my god! you dare to question my wisdom'?... that kind of thing.
THEN... you're then met with a dismissive or defensive response and attitude. Or even none at all.
Watch out for in vogue words like 'toxic' or 'negative' coming your way - or even better - 'you obviously aren't clever enough to understand what I'm saying'.
It's the midwits defensive fallback response.
...And quite often, it's also finished off with an appeal to authority as if that gives more (not less) credence to their position.
Don't be scared of asking.
Confusion is part of the game for the disingenuous, not clarity.
They will try to make you feel defensive.
They will try to put you in a position of feeling like 'I don't understand what's being said, maybe I'm too stupid'.
THAT is their modus operandi.
It's a 'power over you' , play.
Fuck that.
Never be scared of asking.
Anything.
Whether Einstein said it or not is irrelevant.
The wisdom still stands.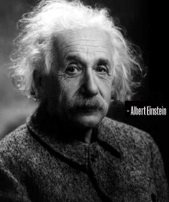 "If you can't explain your ideas to a 5 year old, then you don't understand them yourself."
So the next time that you don't understand something, and are afraid of asking because , somehow, you'd feel really stupid approaching 'ye old wise guru'- ask you self this:
"IF THEY CAN EXPLAIN IT TO ME IN AWAY THAT I CAN UNDERSTAND, MAYBE THEY DON'T REALLY UNDERSTAND IT EITHER...."
And just like that - 'MR GURU'..... SUDDENLY HAS NO CLOTHES...
Show NO RESPECT to those who think they are prophesying wisdom, but are unable - or are unwilling - to enter into debate about their own perspectives.
They DESERVE NO RESPECT for showing intellectual cowardice.
Ask for definitions.
This is a BIG tell - one of the biggest - in exposing the disingenuous. (and the low IQ mask wearers).
What is wrong with asking for definitions?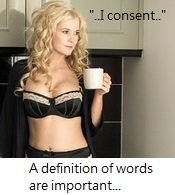 It clarifies everything.
And that's the whole point... The 'word salad engineer' doesn't want to be asked for definitions, you see.
Why?
....they peddle in ambiguous generalities so as to appear wise and /or clever without ever having to explain themselves.
Asking for definitions to words or terms that they themselves are using - puts them - forces them - into a position.
Weak arguments fall apart with the application of definitions.
Ambiguity shows itself.
If you cannot define your own terms on which you write a post - what you're really doing, is telling the world...
"I HAVE NO FUCKING CLUE WHAT IT IS, THAT I'M TALKING ABOUT".
Truth loves scrutiny - it has nothing to hide.
It is what it is.
The disingenuous word salad writer, however - who try to pose untruths and ambiguity as some kind of truth ?
...Well...they have plenty to hide.
The inspiration for writing this post is based on @calumam and @coininstant 's discussion with account @regenerette and a post that is awash with ambiguities and soft logic.
I hate to see accounts I like and support, being misled.
I can only say it as I see it.
The rest is upto the individual to work it out.
I have requested some definitions - i.e some clarity - on this post, and hopefully I'll get a reply.
I asked for what the definition of what 'divine source' is, that's mentioned several times in their post.
Much of the premise of the post relies on this 'divine source'.
It seems to be a foundational part of the overall perspective.
Ergo.... if there is not a clear definition of what this is, then the narrative itself is built on a nothingness. (A typical midwit/disingenuous players', strategy)
A simple explanation - the definition - is suffice.
Lack of willingness to give a definition?
Fear of exposure.
(and see Einsteins quote above).
I hope that I'm incorrect in my dissection of this account.
An unwillingness to engage in debate, a defensiveness in response, and dismissiveness in attitude, tells me that thus far, I am correct.

There is no where to hide on the block chain.
I'm not scared - How about account @regenerette?
I'll stare down both the devil and god - and both at the same time - when it comes to finding out truths through discussion and dissection.
Lets debate.... lets clarify...lets define...
Otherwise , as time goes by - and with my incessant questioning that I guarantee WILL be on every post.
I will scrutinize it all with a pleasure that's comes close to foreplay, when you're a 16 year old lad...
(I don't think my tenacity for this kind of exercise is in question - not for those who've know me on this platform for the last four years) .
Over time, and with a consistent refusal to address logical points, areas of critique, and questions of perspective - any account will start to look vapid, shallow, and utterly empty of the wisdom that they profess to impart..
The midwit hates to be seen without a mask...
And I hate to see people being 'taken in' by charlatans.
I write this in the hope it helps others to see through the bullshit that some of these 'word salad smiths' depend on, to appear legitimate and intelligent.
They are neither !
...I will continue expose them - I promise you.
And hopefully .... I'll be pleasantly surprised at being woefully wrong in having misinterpreted them.
I WANT to be wrong...