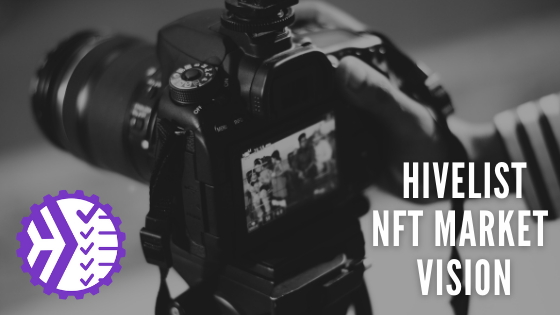 Hello everyone! I wanted to touch base and remind you all that Hivelist has a native NFT marketplace that uses the LIST token to get whitelisted, mint, and shop for NFTs. Now this isn't exactly new, but is not being utilized like I thought it was going to be used. And that's okay!
Now we know that NFT markets are popping up right and left, so we are having to figure out a new way to bring some focus to our little corner of the Web 3.0 world, or building our brand.
Back To Our Commerce Roots
We are not really wanting to compete with the likes of @nftshowroom or other markets like Opensea at this point. Those platforms have solidified a name for themselves as places for art and collectibles. What we are wanting to look at moving in a different direction with a different focus. Since Hivelist has always been the leader of the Hivecommerce movement, we are going to keep with that idea of helping people build thier brands and businesses.
Well what do most businesses, and in Hive's case, every blogger needs? Stock art, photography, video, music, etc!
Our Goal to Be the Stock House For NFTs
We are wanting to attract artists, photographers, videographers, musicians, etc, to come and mint their work for Limited Reproduction Rights, giving the purchaser the use case of being able to use that work in commercial projects. If you think about sites like Shutterstock or iStockPhoto, etc, you will think about sites where photographers and artists will post their work for people to purchase the license to use the piece in their commercial work like blogs, presentations, advertisements, etc.
Using that Limited Reproduction Rights license, creators can take more control over the scarcity of their work that is out on the market. Shuttershock allows unlimited numbers of the piece to be sold, which means anyone can get their hands on the work and use it. With Hivelist NFTs, the creator can set a certain amount of editions available which gives scarcity to the work.
Calling Stock Art Creators!!!
So we are calling all artists, photographers, videographers, musicians, and more that like to create work that can be sold for commercial uses, giving more utility to your work. Instead of posting your work on the traditional stock house sites like Shutterstock, think about minting your work as a limited edition NFT on the Hivelist NFT Marketplace!
You must have 1000 LIST tokens staked in your wallet and will need to pay 100 LIST whitelisting fee to get automatically whitelisted to our marketplace! The 100 LIST token fee will be burned, taking those tokens out of circulation!
Please come join our Discord if you have any questions!
https://discord.gg/9sbymVQjRb
Keep calm and Hive on!
https://hivelist.io - main info site
https://hivelist.org - blockchain classifieds/NFTs/DEFI Pool
https://hivelist.store - multi-vendor e-commerce retail store and professional services marketplace
Vote for @hivelist.witness on Tribaldex