A little trip up the hill on warm afternoons have a multitude of benefits, re:
One, the legs and muscles get stretched out making the body more agile and kicking (something quite immediate and adds up for long-term health benefits too).
Second, finding a wealth of things to brag write about and record here on the blockchain (which of course carry the memories).
Third, it was fun to finally be out there after the recent days of rain.
I expected to see some fungi close by because there are dead logs out there and it is just impossible to not find any. And yep, there were quite a few of them!
This fragile-looking fungus and its beauty couldn't be missed.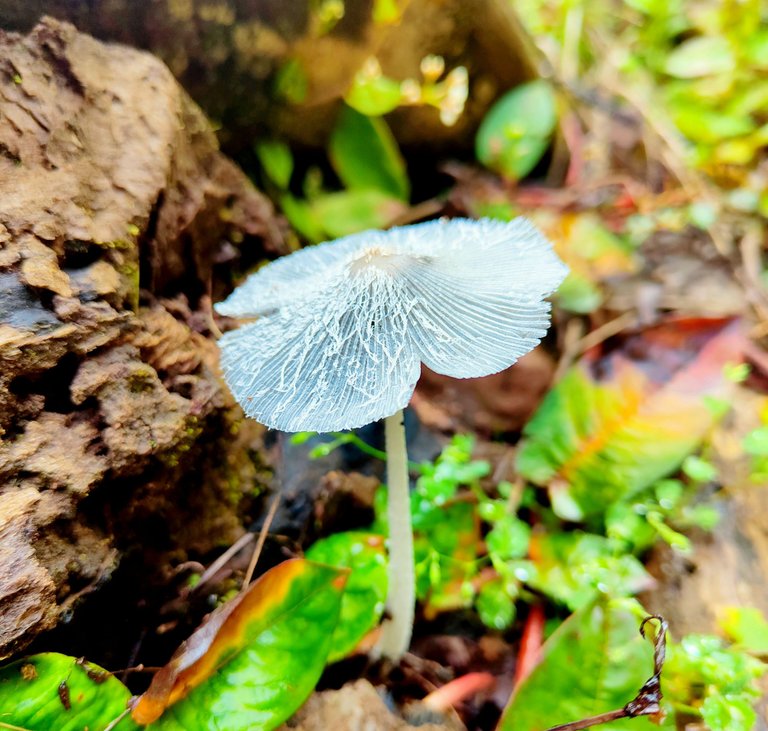 Per Google Lens, it is called Coprinopsis Cinerea which is an edible type of mushroom but needs to be used immediately after picking.
The pileus (cap) changes size as it grows and matures from 2cm x 1.5cm closed, to 3.0cm open, and it changes shape from ellipsoid, expanding to convex and eventually plano-concave. At its center it is gray-brown, paler near the edge with a white/silvery veil. C. cinerea grows particularly well on dung and rotten vegetation and is commonly found all over the world. - (Source)
At first sight, the color looks whitish but taking a closer look, it's actually grayish. Simply beautiful!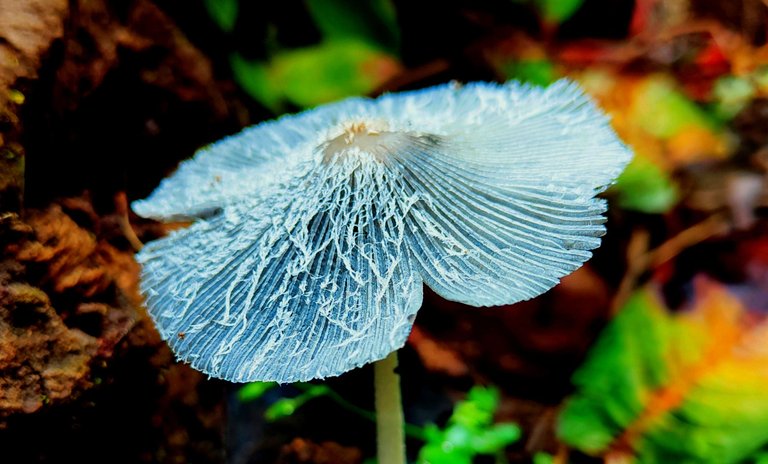 And doesn't this look like an ear? LOL!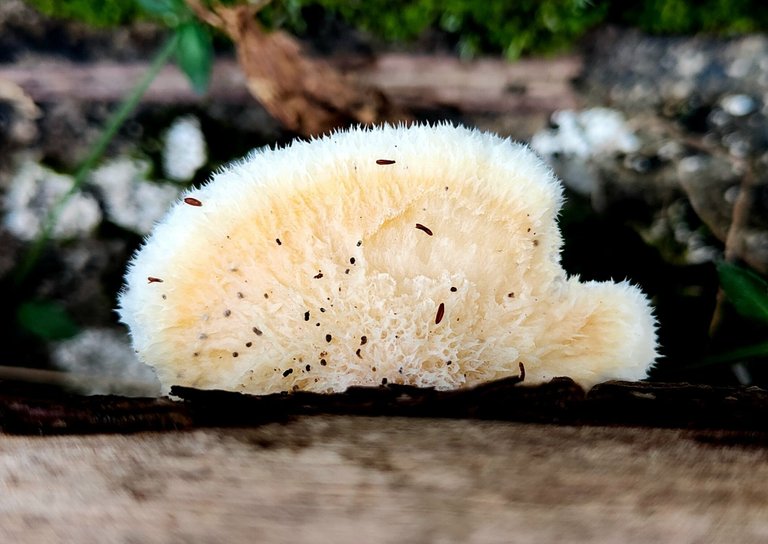 Wikipedia says it's Postia Tephroleuca or greyling bracket., in the family of brown rot fungi. It just boggled my mind how researchers came up with these names.
And here's the back view. Had to carefully move the log a bit so I could take photos of it. Some water droplets, a spider and some other tiny wee things were hiding beneath.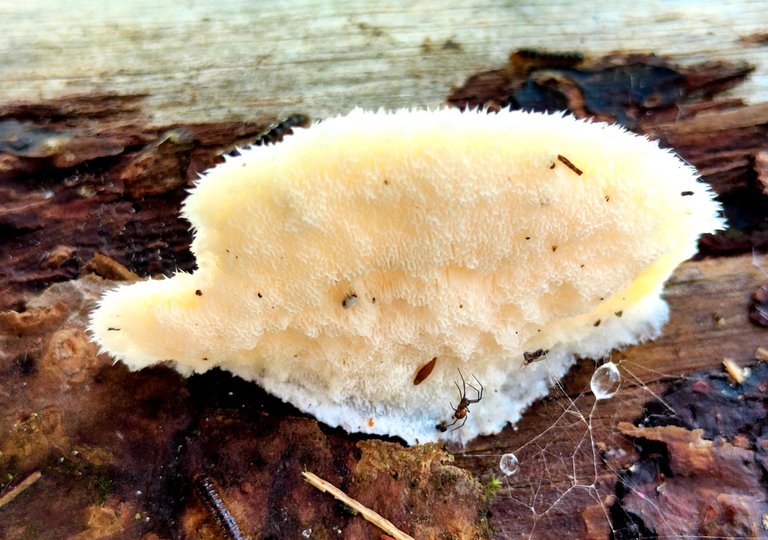 On the same log, I found another Postia with an orange snout. Do you think it's the other one's spouse? He seems to have left and is now sulking all alone, lol!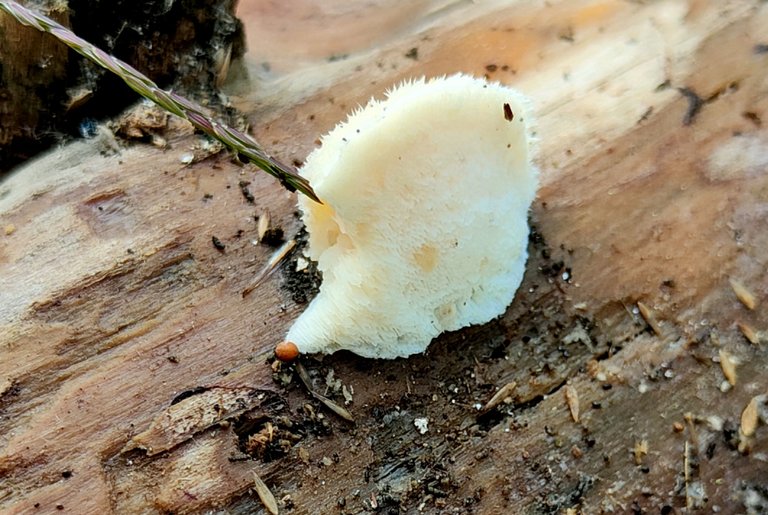 Anyway, after being mesmerized with the Postia and my mind running wild creating an amusing story out of them, I had to move on to the next log and bam!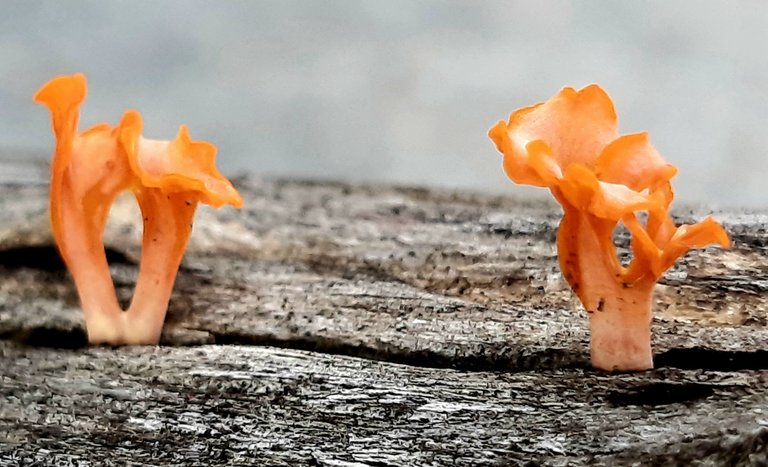 These apparently, are edible jelly fungi and they're named as Dacryopinax Spathularia. They are so tiny that if it were not for their orange colors, I would have missed to notice them. They were growing between the cracks of a dead log. My phone camera was only able to take this much.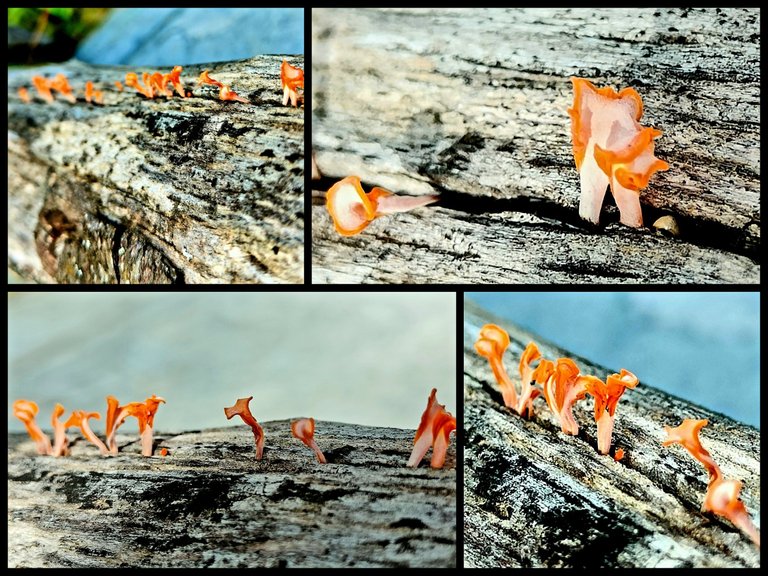 It's interesting to know that this type of fungi is sometimes included in vegetarian dish called Buddha's Delight. Hmmm... even so, I wouldn't wish to pick nor make them into a dish. I feel they're best to be appreciated and not to be eaten hehe!
Well, that's all for today and I hope you enjoyed learning with me about these fascinating parts of nature. Thank you and as always, I wish everyone a fabulous day (or night) wherever you may be!


Photos are mine. 300922/09:30ph
---
---
Smile... laugh often... love more... be happy and grateful always!
---
---