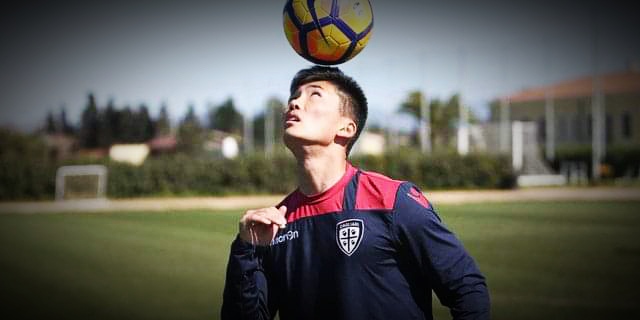 Han Kwang-song's Career Ruined Due to Sanctions.
Talking about the state of North Korea, not only about the rocket rockets launched by the military there. North Korea also has a story about football, although the passion is not as strong as neighboring South Korea.
After performing well at the 1966 World Cup with one of them knocking out Italy by one goal, North Korean football seemed to be suspended animation. After that there is no more achievement to be proud of, even this country has not yet produced a great footballer who plays in Europe.
North Korean football was getting excited again when they appeared at the 2010 World Cup, even though they failed to qualify from the group phase, at least it was a consolation for the people there. They miss the achievements of their country's football, but now North Korea should be proud, because there has been a footballer who can be used as a mainstay.
Han Kwang-song, a young rocket ready to launch onto the football stage, made his name worldwide about four years ago for being the first North Korean player to play in the Italian Serie A. Han Kwang Song was born on September 11, 1998 in the capital city of North Korea, Pyongyang.
He started playing football when he was accepted to join one of the best academies in North Korea, after appearing prominently at the Academy he was sent by the North Korean government to try his luck in Italy. Just when he was 18 years old, Han underwent a trial at Cagliari of a player who defended North Korea.
At the 2015 U-17 World Cup, he succeeded in convincing the coaches of the Sardinian club to get a contract in the Primavera squad in early 2017. Regarding his move to Cagliari there is an interesting story behind it, this was told by the talent guide who brought Han, Larry Stefano.
Han came for the first time wearing only simple clothes and flip-flops, so he had to buy shoes for the player. One of my friends called me, he said that at that time there were two potential North Korean players, one of them Han. And he told me to hurry up, because he said he was interested too.
We then managed to get to Han, he arrived here wearing flip-flops and I bought him shoes along with a pair of jeans. That interesting story is of course the start of Han's journey in the world of foreign football, it didn't take him long to break into the main squad in April 2017, which got the opportunity to make his debut in Serie A.
Han appeared in the 86th minute to replace Marco Sau when Cagliari beat Palermo 3-1, despite only playing less than 5 minutes, but that debut managed to set a record for him. Han became the first North Korean player to play in the top competition in the Land of Pizza.
Not without a reason when the diary at that time still wanted to give a chance to debut for Han, who was still not even 19 years old at that time, according to him was a very attractive player who had great quality and was very fast especially a week after making his debut Han scored his first goal for Cagliari. .
When he was defeated by Torino 3-2 thanks to this goal, he again scored a new record, namely the North Korean player who scored the first goal in series A, Han's neat appearance amazed Cagliari's management, shortly after that goal Han was given a contract extension to continue playing there until 30 Jun 2022.
The 178 cm tall player then continued the 2016-2017 season, playing a total of five Serie A matches and scoring one goal at the start of the 2017-2018 season. Cagliari decided to loan Han to the Serie B club Perugia, he again made his name in the history books, as perugia's big 5-1 win over Entela on August 27, 2017.Han scored a hat-trick in the 9th, 40th and 85th minutes.
Han continued his brilliant season with Perugia, he recorded seven goals in 19 matches in all competitions. He then returned to Perugia in February 2018 and played in seven matches. In the rest of the 2017-2018 season after that he returned to strengthening Perugia on loan, on 15-8-2018 Han was initially unable to play due to an injury, then after recovering he scored a goal against Ascoli in a 3-0 win and ended the 2018-2019 season with four goals in 20 draw B games.
Appearing impressively in the series B event, he was glimpsed by Serie A giants Juventus, and right on September 2, 2019 the club nicknamed la vecchia Signora borrowed Han from Cagliari for a duration of two years with an obligation to buy at the end of the period. However, Han could not immediately penetrate the Juventus core squad, to increase his flying hours the Bianconeri moved Han to the U-23 team who played in the series C competition.
On 26 October 2019 he almost made his debut in the Juventus senior team against Lecce, he even included coach Maurizio Sarri in the reserve player list with Paulo Dybala, Juan Cuadrado, Gonzalo Higuain, Federico Bernardeschi and Marco Olivieri. But unfortunately Han never really felt his team debut Juventus seniors, he failed to show his best performance until then he defended the under-23 and finished the season with one goal and two assists in 20 matches.
In January 2020 Juventus activated the option to buy Han from Cagliari for 5 million euros, he contributed to bringing Al-duhail to the championship and became the runner-up of the Qatar cup in 2020, in total he scored five goals from 16 appearances in all competitions with the club in red.
What a shame, Han's fine appearance had bright prospects halted at the hands of his own people. In September 2020 the UN security council issued a release revealing a number of North Korean activities in violation of international sanctions, one of which was sending football players to Juventus since 2017, the UN has imposed a number of sanctions on North Korea restricting the closed country from importing oil, banning exports of coal and fish and textiles.
With international sanctions aimed at curbing Pyongyang's nuclear program, the UN Security Council highlighted North Koreans working abroad, namely the Han Kwang-Song football which Juventus bought in January 2020.
As mentioned earlier, Juventus immediately sold Han to Al-duhail six days after he increased his contract with the Bianconeri. The sale The security council said was a clear violation of not allowing North Korea to send its nationals to work abroad.
Due to this problem Al-duhail terminated Han's contract at the end of 2020, Al-duhail was originally going to loan Han to Selangor in the Malaysian Super League, but the authorities in Malaysia intervened in the process for obvious reasons, there will be serious consequences if Selangor employs Han until now it is not known. again the fate of the wonderkid from North Korea.