It is very difficult to recycle plastic because there are many different types: stretch films, flexible bottles, rigid plastics ... each type has very different chemical characteristics.
We can collect everything and burn the waste to make thermal or electrical energy, this is what https://www.tessomotechnologies.com/ offers for example. Plastic is made from petroleum, is made up mostly of carbon atoms, and it burns with heat.
Better to burn plastic than to throw it in the wild! but we emit CO2 !!!
Another solution is to melt the plastics to make a paste that will be used with 3D printers. This is what https://www.plasticfactory.be/ does. A wide range of objects can be created by recycling plastic, including prostheses for people with disabilities
https://www.suedpack.com/ recycles plastics into new plastic packaging.
There are dozens of fantastic projects all over the world!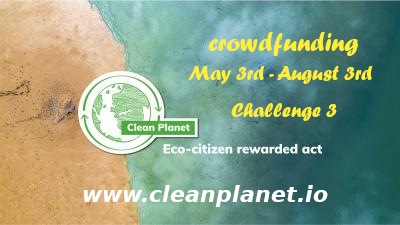 Challenge 3/9
Find an ingenious use of plastic recycling near you and do a short video on D.Tube or a post on Hive to introduce us to this solution. Respond to this article by posting the link to your creation!
CLEANPLANET pays everyone who collects waste, anywhere in the world. Take part in the crowdfunding campaign with us!
Previous challenges:
Take part in our campaign:
Payment in cryptos:
The Hive CLEANPLANET account is @cleanplanet.
The D.tube CLEANPLANET account is @cleanplanet.
The Seeds CLEANPLANET account is clean4planet.
BTC address: 1N9mvXdUVp6FKc7uZtsz6hpkc9BbauMVJr
Ethereum address: 0xC0b92055Aa0CE4c4727dE5104a78cA52c1Dc5030
Payment in $, euro or CHF:
Use the Paypal app on https://www.cleanplanet.io and the address [email protected]nplanet.io
Join us on Discord https://discord.gg/qdUR4KA
Thank you and see you soon for a new challenge!