Tips for HiveChat Hosts
Do you want to host a weekly HiveChat? In this post I will explain everything you need to know and share some tips for making your hosting experience smooth like butter.
HiveChat is a weekly event that takes place on Twitter every Tuesday, usually at 1200 UTC. The host asks 5 questions to the community. To learn more about it, read my announcement post for HiveChat 7.
WARNING: there is some preparation work required to be a host. Know what you're getting into before you dive in.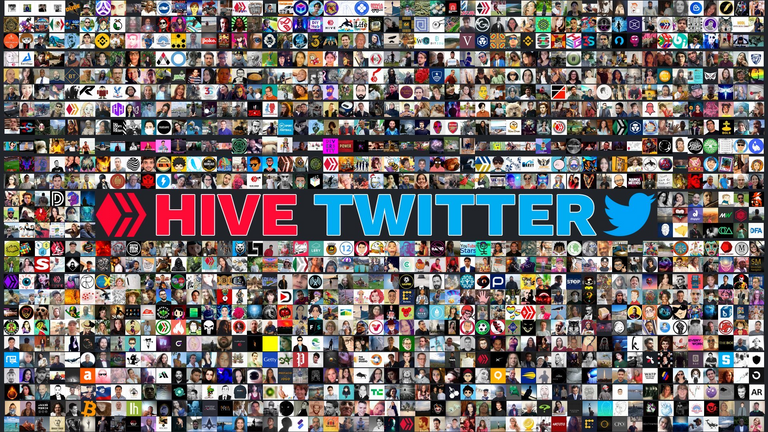 HiveTwitter v3 by @doze
Step 1: Get on the schedule
The hosts schedule is already booked up through September. I think there's one more slot in October. So if you want to do this, contact @stellabelle to claim your slot.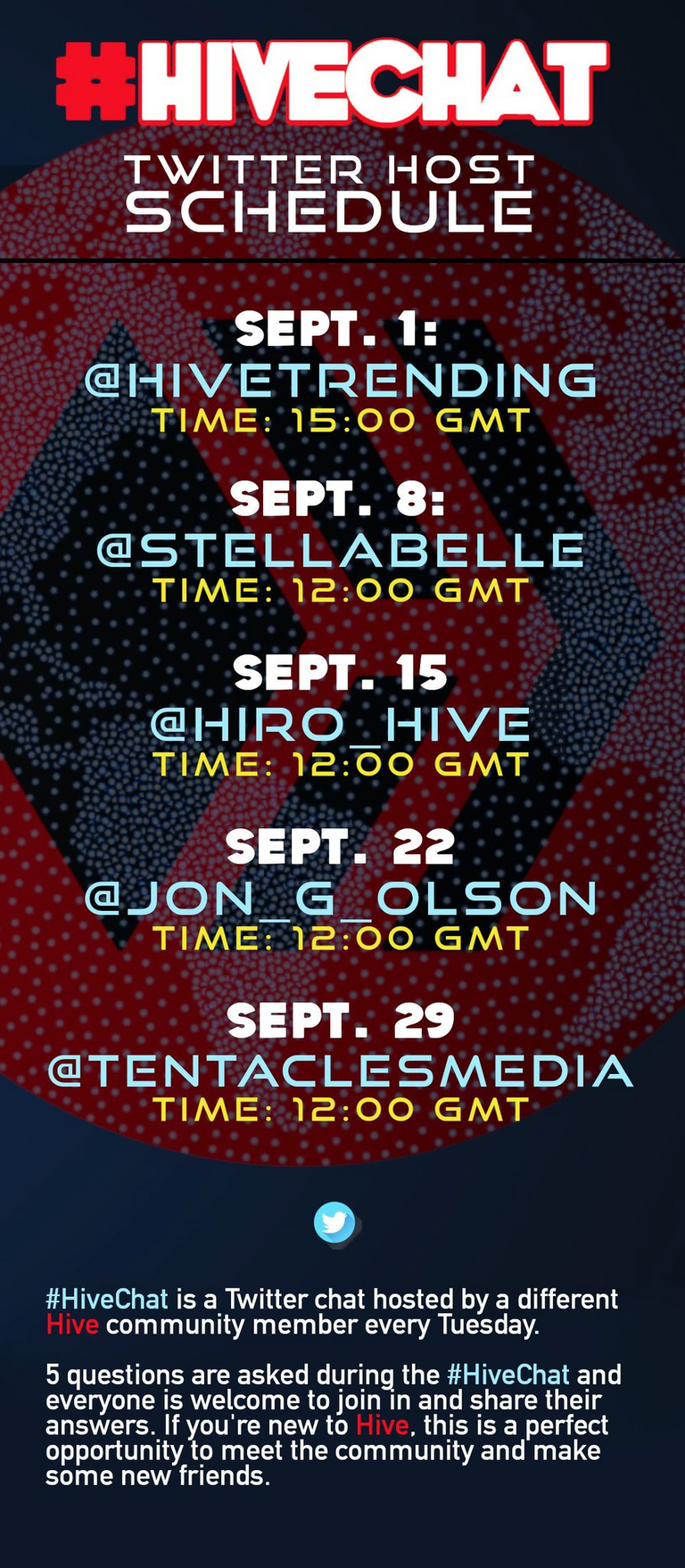 HiveChat schedule by @doze and @hivepeople
Step 2: Design 5 Questions
Question design is the MOST IMPORTANT part of being a HiveChat host. Creating these questions is more art than science. Here are some tips.
The questions should be engaging and though provoking. Avoid 'yes or no' questions. A good place to start is "WHO? WHAT? WHERE? WHEN? WHY?".
Questions should be relevant to the guests (who are mostly daily Hive users) but also should not alienate new comers and outsiders.
Questions should not be too Hive-specific. Try to overlap with crypto topics outside of the Hive bubble, such as NFTs, crypto games, crypto art, dApps, etc.
Step 3: Design 15+ Tweets
Now that you have your questions, you need to turn them into tweets. You should also write some tweets for introduction and conclusion. In total I had about 15 Tweets written (including promotion), and I rewrote them all multiple times. There needs to be some consistency and flow, so it helps to put them in a document where you can easily see and edit them.
I like to mix in emoji's to make the tweets look more polished, but you can whatever suits your style. The images for the questions includes art by @doze, and they are created by @stellabelle. You can create your own graphics if you want, or @stellabelle is happy to help you out.
Step 4: Get the word out
You need to put in some effort to get the word out. Because the Hive marketing community is AMAZING, they will do some of this for you without you even asking. But you should do some of your own promotion as well.
I HIGHLY recommend use Twitter's scheduled Tweet feature here. For example, I scheduled reminder Tweets 12 hours, 3 hours, and 1 hour before the launch of the event. The 3 hours one was critical for my event because we had shifted the event 3 hours later from the normal time.
It's always frustrating when someone plans an event but doesn't clearly specify the start time (including time zone). As a host, you should make it absolutely obvious WHERE and WHEN folks need to show up.
Also, this is a great opportunity to publish an announcement post. If you use PeakD you can add a countdown time to the post, which counts down to the HiveChat kick off time.
Step 5: Final Event Preparation
You've already designed all your questions and Tweets. You need to get them into Twitter. Again, you can use the Scheduled Tweet feature to time them all out precisely. It works well to put all the questions at 10 minutes intervals. Just like the promotion Tweets, I highly recommend scheduling all of these, it will make your life easier.
For the tweets themselves, you may have to do some rewriting to get them to fit in the character limit. Get your images uploaded and make sure they look okay.
Double check that every single tweet includes the #HiveChat tag somewhere. And one or two tweets should remind your guests to include this tag in their replies. The tag is CRUCIAL.
Step 6: Launch! Have fun and be a hospitable host
Your ready to go. Your tweets are all scheduled and will start firing off on their own. You can sit back and watch as all your preparation unfolds. Have fun and engage with the community non-stop!
Think of it like hosting a party. You want to welcome guests and make them feel comfortable. A new person shows up and doesn't know anyone else at HiveChat, make them feel welcomed and encourage them to join the fun.
Since you've schedule all the main event tweets, you can have fun and engage with all the HiveChat partygoers. To be good host, you are serving your guests. Remember your wedding? You barely had time to eat because you spent so much time engaging with your guests. The same concept applies to HiveChat (don't worry it's only an hour).
Tagging other hosts here to comment their ideas and tips: