Once again, I bring you content that I consider to be of quality, this takes several hours of reading, comprehension and writing.💡📚
But more than that, this is one more publication so that together we can appreciate and contemplate how wonderful our ocean is!
🦈🦀🐢🐳🐙 I hope you enjoy it!🐟🦈🦀🐢🐳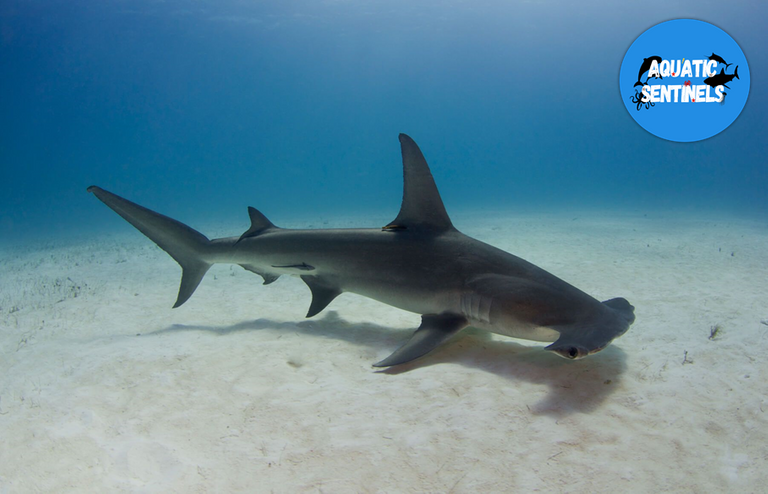 Photo by CRAM Foundation
📍Barcelona, Spain
The presence of mercury in food is something that consumers are increasingly concerned about. One of the biggest concerns is fish, and that is why in recent years studies to calculate mercury levels in fish have increased, this heavy metal (mercury) can cause brain damage to those who consume it🤕
In the next post we will find the answer to the question of mercury levels in the case of the hammerhead shark...
A scientific article published in the journal "Scielo" by Gonzalez-Pestana (Southern Scientific University. Faculty of Marine Biology, Panamericana Sur, Km 19, Lima, Peru), Joanna Alfaro-Shigueto (ProDelphinus. Jose Galvez 780-e, Lima 18, Peru), Jeffrey C. Mangel (University of Exeter. Penryn, Cornwall TR10 9EZ, United Kingdom) and Pepe Espinoza (Instituto del Mar del Peru)


The Hammerhead shark🦈

The hammerhead shark (Sphyrna zygaena (Linnaeus, 1758)) is one of the largest fish in the Pacific, which can reach up to 4 meters in length. Northern Peru is an important breeding and feeding area for this shark, and the place where it plays a role as a top predator, feeding mainly on mollusks such as the Humboldt squid (Dosidicus gigas) and the common squid (Doritheuthis gahi).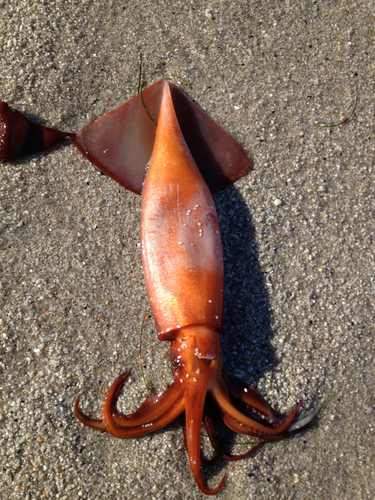 Photo by Chris Brown (iNaturalist)
📍Monterey Peninsula, Pacific Grove, California, US
In Peru, the elasmobranch fishery (sharks, rays, etc.) is important. Thus, it is mentioned within the 20 nations that carry out the largest elasmobranch trade, being the most important in the Southeast Pacific, it is also mentioned within the 12 nations that carry out the largest exports of shark fins to the Hong Kong market (Cheung & Chang 2011). Sphyrna zygaena is one of the species that is part of the shark fishery in Peru, and this in turn is one of the most important in the Pacific.
Regarding its levels of mercury, the hammerhead shark is a top predator with a low metabolic rate, so it should present high levels of mercury due to the bioaccumulation of this metal found in its prey, as has been shown for other species of elasmobranchs.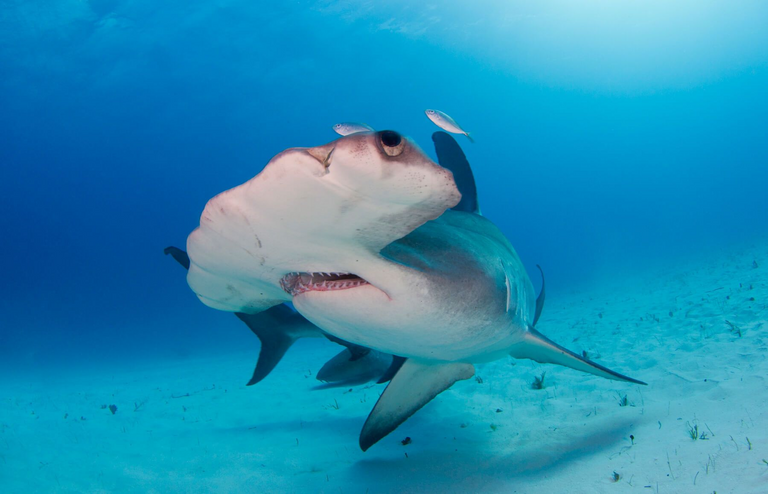 Photo by CRAM Foundation
📍Barcelona, Spain


Taking advantage of fishing to do the study🎣🦈

Because hammerhead shark fishing in Peru is considerable, Gonzalez et al. took advantage of this fishing to be able to carry out this study. They take into account data on sharks such as their length, sex, stage of development (calf, juvenile, adult).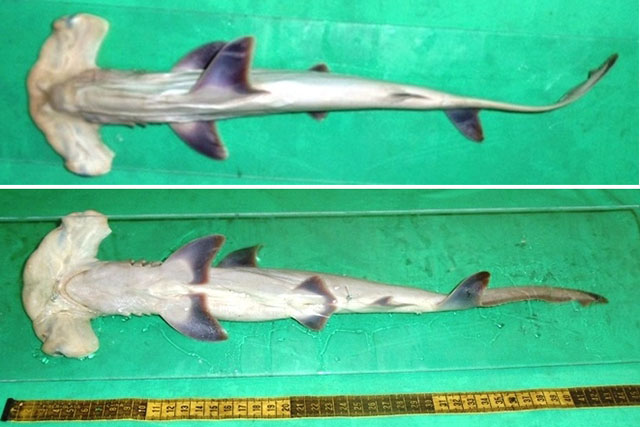 Photo by Osmany, Hamid Badar
📍Pakistan, Karachi
In order to determine the level of mercury in the body of the sharks, muscles were used that were frozen and taken to the Marine Biology laboratory at the Southern Scientific University in Lima, Peru. The analysis was carried out at the Sociétés Laboratory at the Université de La Rochelle, France using a device called a spectrometer, which is capable of measuring total mercury (Hg).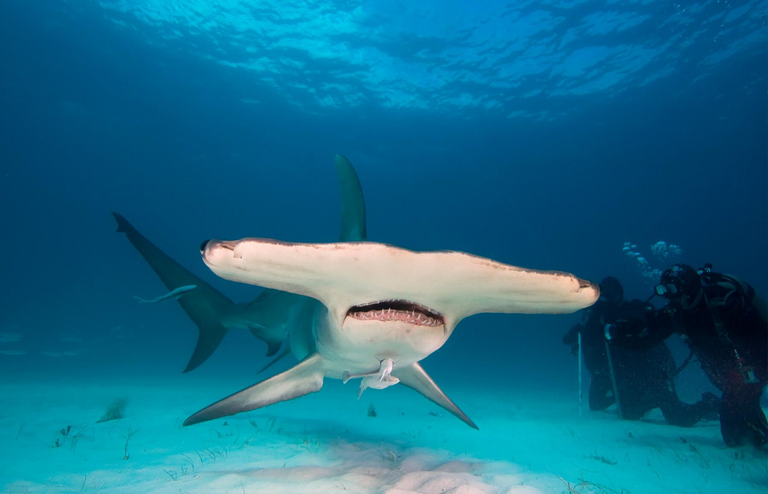 Photo by CRAM Foundation
📍Barcelona, Spain


Well, can we eat it or not?😅

According to the results of this study, we can eat shark meat without worrying about the level of mercury they may contain😬
Photo by CRAM Foundation
📍Barcelona, Spain
According to the World Health Organization (WHO, 1997) and the European Commission (EC, 2006) the maximum permissible limit (MPL) for human consumption of total mercury is 1 mg kg-1 in wet weight for predatory fish, such as sharks , the mercury levels reported in the sharks in this study are below that level.



However, perhaps this goes further👈

What could be the real problem? We all know about the drastic reduction of marine populations in recent years, perhaps the real problem is not associated with the level of mercury in these fantastic marine animals, rather with overfishing.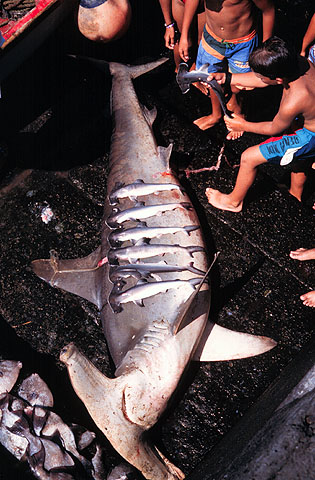 Photo by Peter Wirtz
📍Unknown😶
According to the IUCN Red List Status (2019) this species is classified as VULNERABLE (VU), and this is partly due to overfishing and its excessive commercialization.
How can you help? If you live in a country where this species is consumed frequently... do not buy its meat during the closed season! Certainly marine resources are to be used and eaten, but responsible consumption could help the hammerhead shark and many other species❗️❗️❗️

This project is dedicated to the preservation of our sea, our rivers and lakes, our lagoons. Let's make it possible! Let's share scientific and quality information for the good of our aquatic world!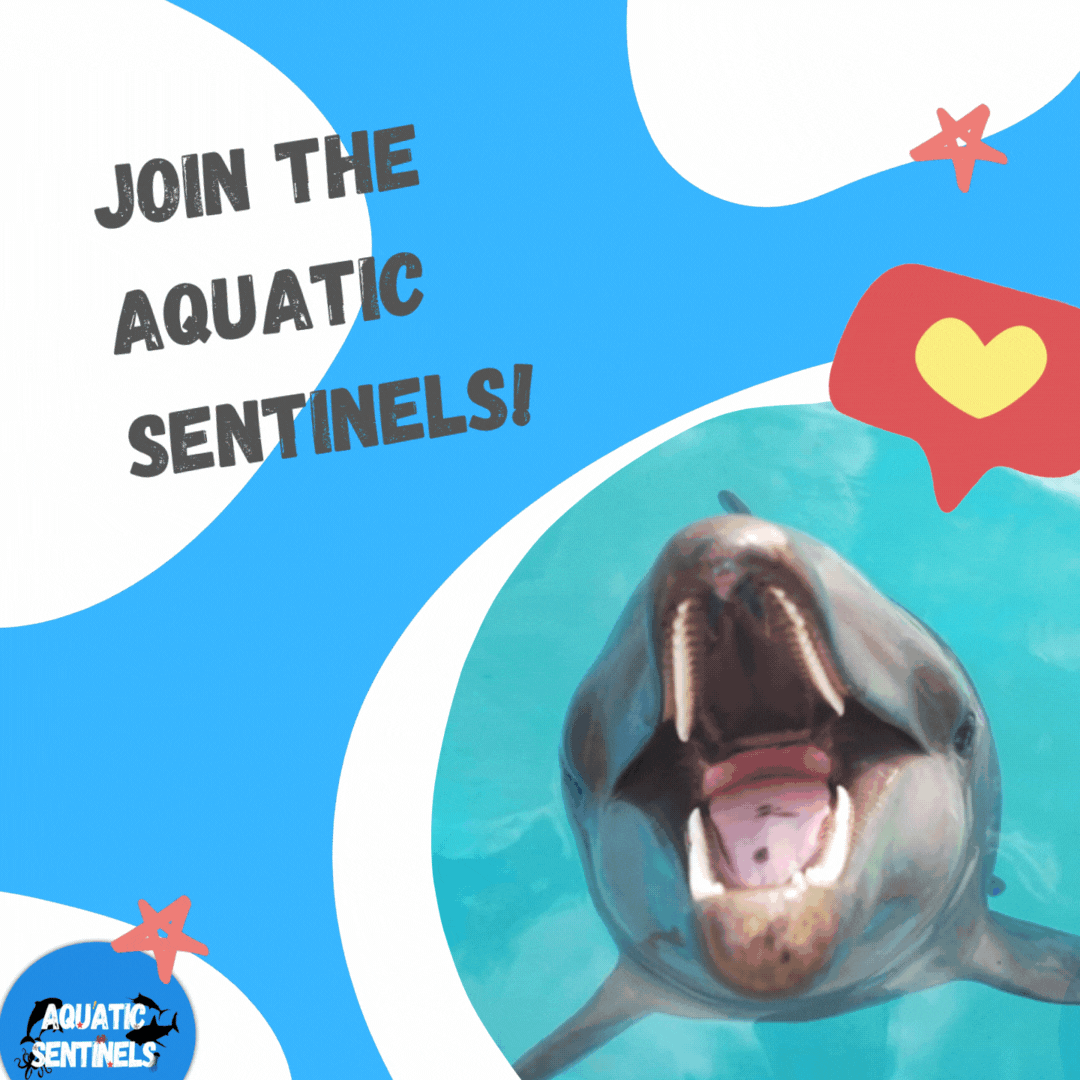 🐟🐋Welcome!🐬🐙

DNA - Densifying Nature-Appreciation :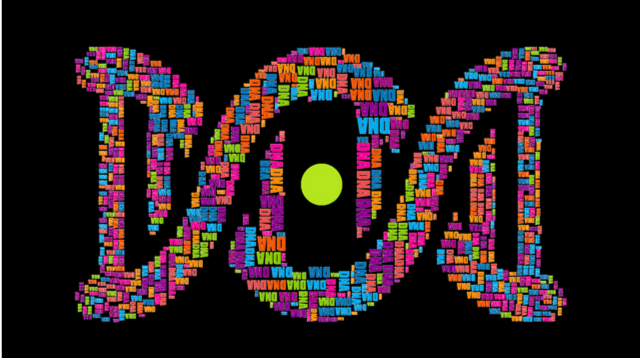 DNA is an organization to foster and DENSIFY NATURE-APPRECIATION which aims to establish REPORTS OF BIODIVERSITY DATA that is contributed by all of us Hiveans and subsequently cataloged. DNA animation GIF by @Suheri
Therefore DNA searches for HIGH-QUALITY posts that aim to DESCRIBE and determine the BIODIVERSITY AROUND YOU with added EXPLANATIONS and INFORMATION. For these informative posts they offer a CURATION SERVICE using the @dna.org account. It is also a CURATION TRAIL. Just add the #dna TAG if you think that any of your posts is what they are looking for.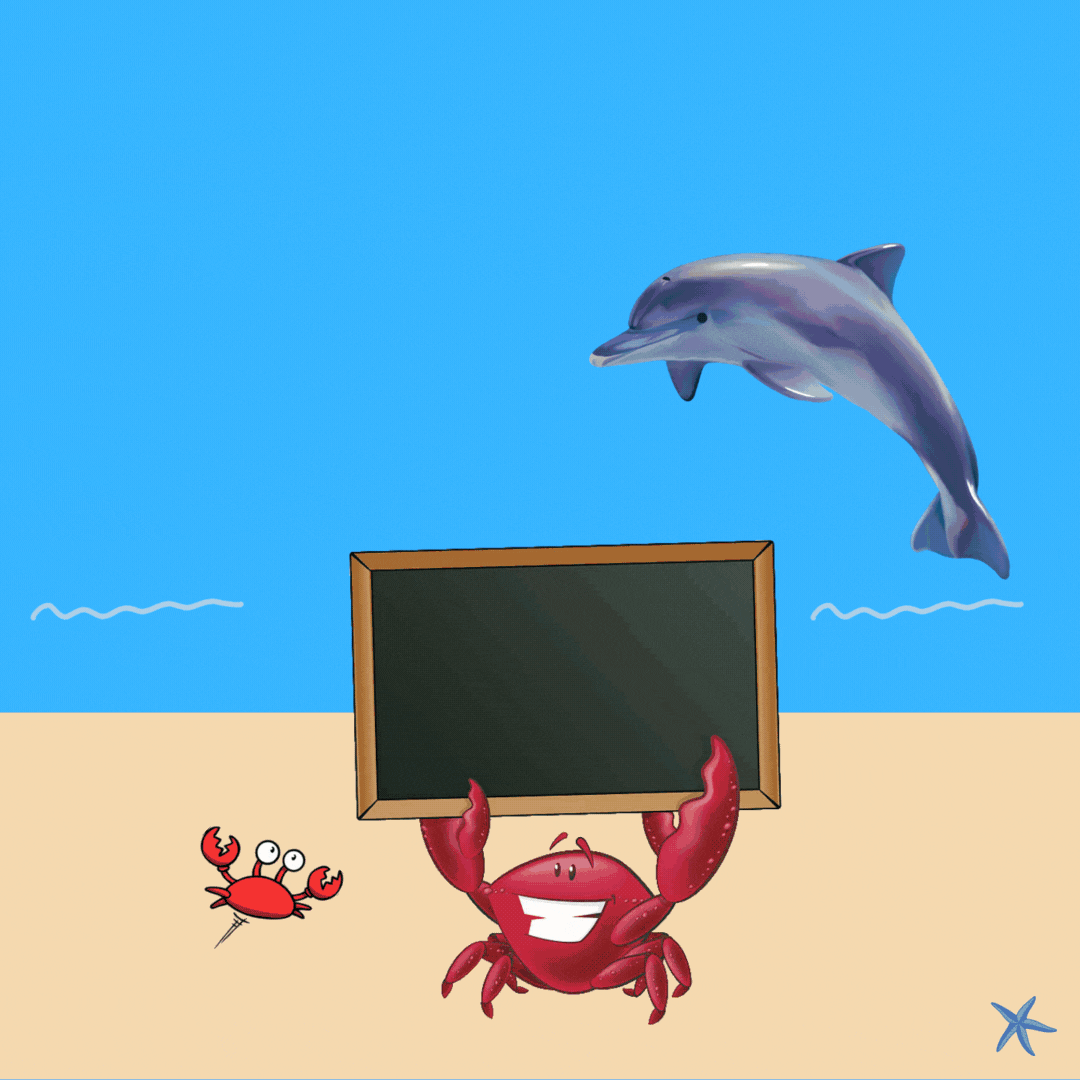 Aquatic Sentinels animation GIF by @juanbg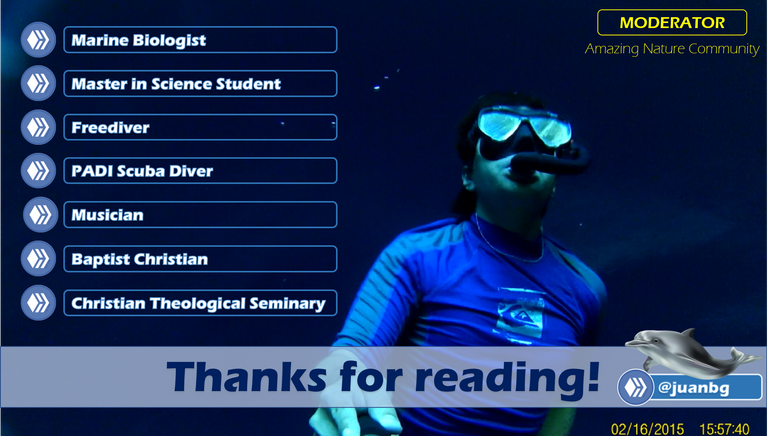 @juanbg: Leader of the Aquatic Sentinels Community