When we visited my friend's house in Córdoba last summer, we had the opportunity to go for a walk to different points of a nearby river. We liked to go early with our mate team and spend the whole day under the sun, catching up on what we had been up to while we didn't see each other. On one of those many walks, we passed through a street where there were some very friendly dogs that kept us company all day and to our surprise, on the new visit we made to Córdoba this year, the dogs were still in the same place and it seems that they remembered us ❤️.
Cuando estuvimos de visita en la casa de mi amigo de Córdoba el verano pasado tuvimos la oportunidad de ir a pasear a distintos puntos de un río que se encuentra cerca de allí. Nos gustaba ir temprano con nuestro equipo de mate y pasar todo el día abajo del sol, poniéndonos al corriente sobre lo que habíamos estado haciendo mientras no nos vimos. En uno de esos tantos paseos, pasamos por una calle en donde habían unos perros muy amigables que nos hicieron compañía todo el día y para nuestra sorpresa, en la nueva visita que hicimos a Córdoba este año, los perros seguían en el mismo lugar y parece que se acordaban de nosotros ❤️.
---

But these dogs are not just anything: they are river dogs. This means that they chase anyone who passes by, perhaps a kind of custody or so that you do not feel alone in nature. Dogs are very into their role of being man's best friend, so I think they like to play their part 😅.
Pero estos perros no son cualquier cosa: son perros del río. Esto significa que persiguen a cualquier persona que pase por allí, quizás una especie de custodia o para que no te sientas solo entre la naturaleza. Los perros estan bien metidos en su papel de ser el mejor amigo del hombre, así que pienso que les gusta cumplir su función 😅.
---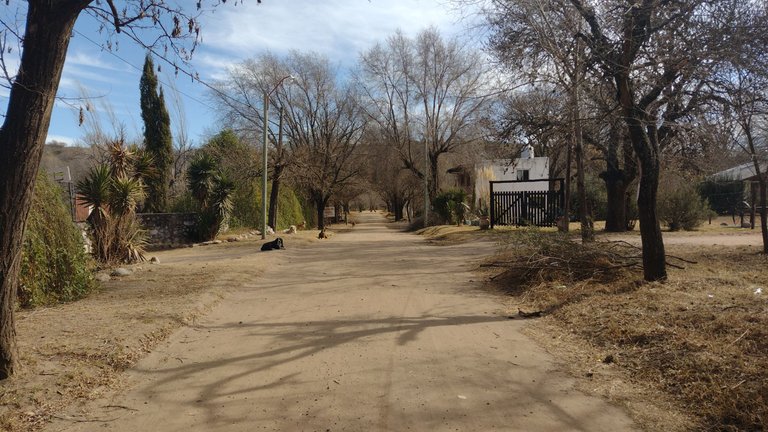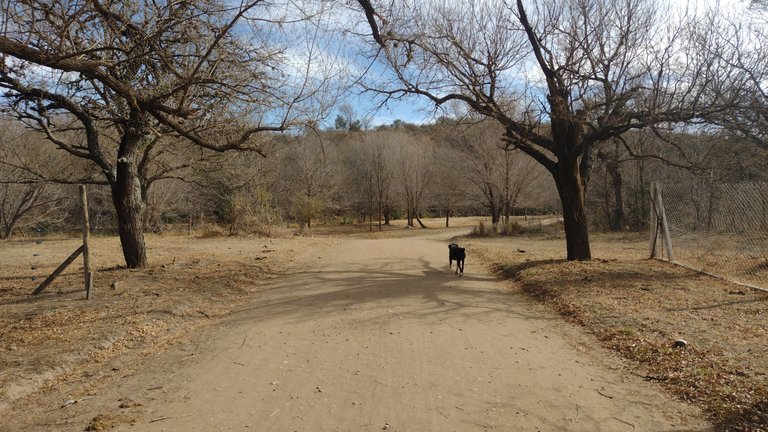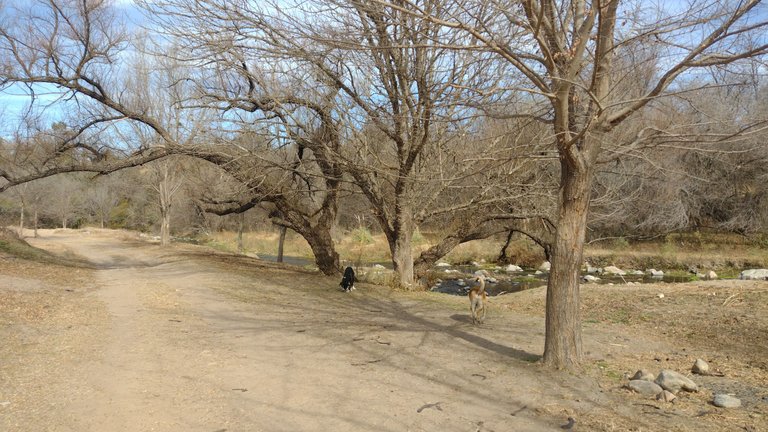 ---
Some of the river dogs have the particularity of their liking for stones: as if they were balls, they bring rocks from the water and leave them close to you, waiting for you to throw them so they can go find them and play indefinitely. And I say indefinitely because they never seem to get tired of this: no matter how big the stone is, how far you throw it or how many times you throw it, they will always want more and more 😅.
Algunos de los perros del río tienen la particularidad de su gusto por las piedras: como si fueran pelotas, ellos traen rocas del agua y te las dejan cerca tuyo, esperando que se las arrojes para poder ir a buscarlas y jugar indefinidamente. Y digo indefinidamente porque parece que nunca se cansan de esto: no importa que tan grande sea la piedra, que tan lejos la arrojes o cuántas veces lo hagas, ellos siempre van a querer más y más 😅.
---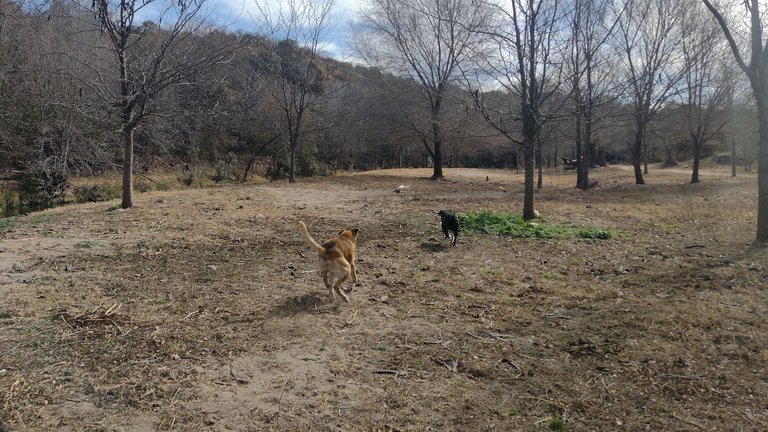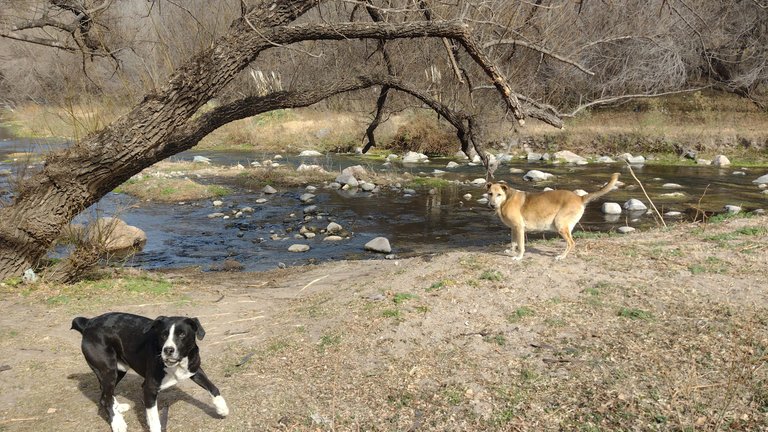 ---
Of the two dogs that followed us, we already knew Moro because we had seen him last year in this same place. We know that his name is Moro because he actually has a home on the street before reaching the river, and speaking with his family they had told us his name. Last year Moro had an open wound on his tail because he had had a fight with a dog and they had to cut it off, but this year he looked wonderful, fully recovered, healthy and beautiful ❤️.
De los dos perros que nos siguieron, nosotros ya conocíamos a Moro porque lo habíamos visto el año pasado en este mismo lugar. Sabemos que su nombre es Moro porque él en realidad tiene un hogar en la calle antes de llegar al río, y hablando con su familia nos habían contado como se llamaba. Moro el año pasado tenía una herida abierta en su cola porque se había peleado con un perro y se la tuvieron que cortar, pero este año lucía de maravilla, totalmente recuperado, sano y hermoso ❤️.
---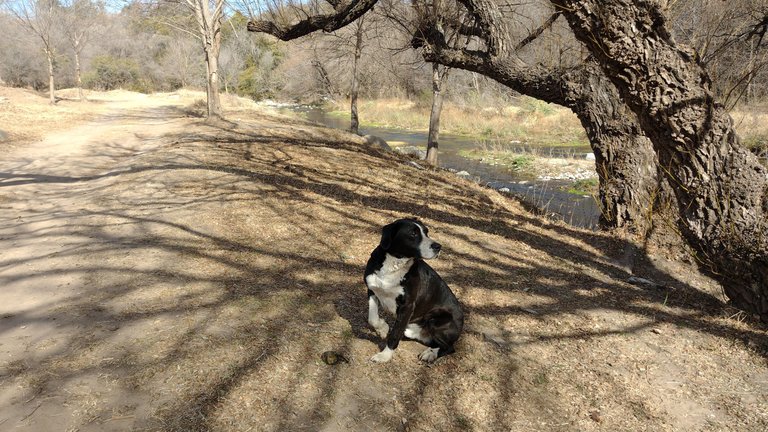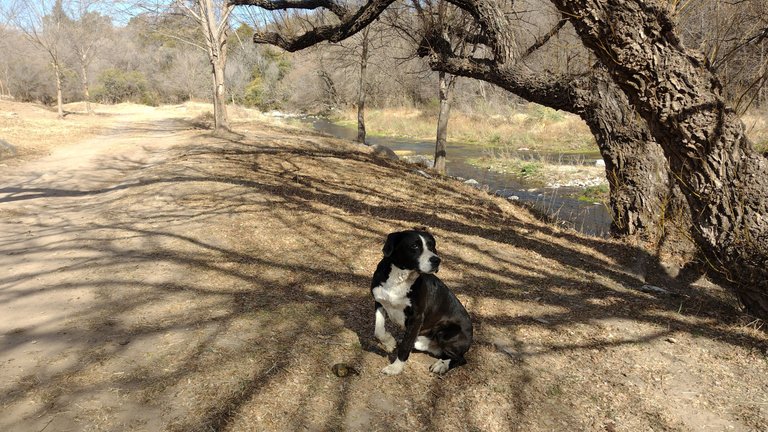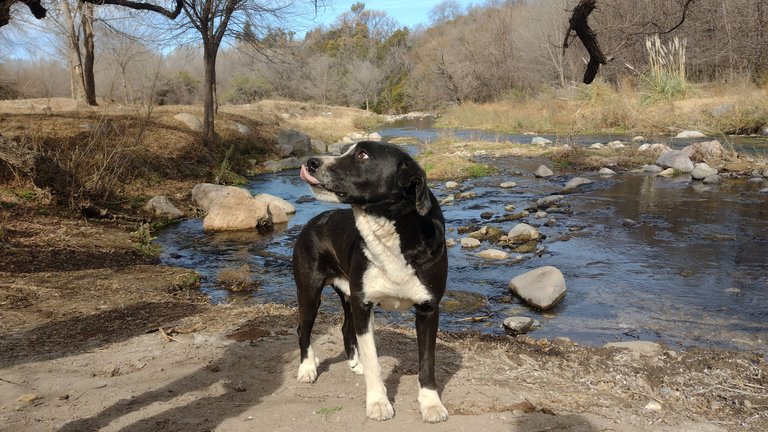 ---
This is how on our vacation walk the dogs were with us, even when we got far enough away to continue getting to know the river. This whole area is very calm and quiet, there are no houses or people nearby, so it can be a good time to rest. Unless you're being followed by these dogs that have energy to spare 💕.
Así fue como en nuestro paseo de vacaciones los perros estuvieron con nosotros, incluso cuando nos alejamos bastante para seguir conociendo el río. Toda esta zona es muy tranquila y silenciosa, no hay casas ni gente cerca, así que puede ser un buen momento para descansar. A menos que te sigan estos perros que tienen energía de sobra 💕.
---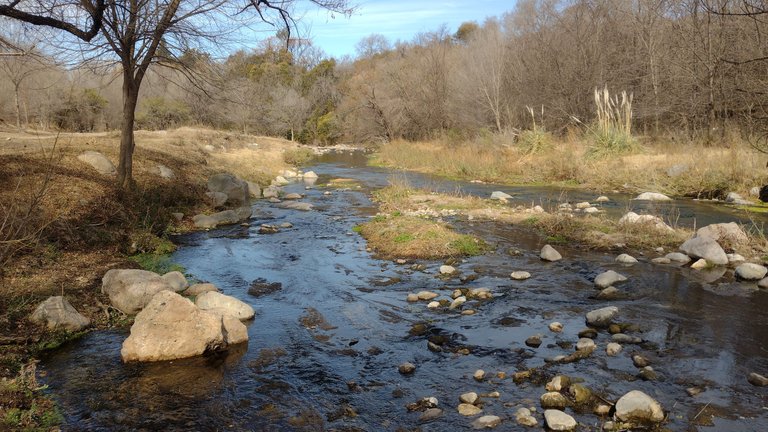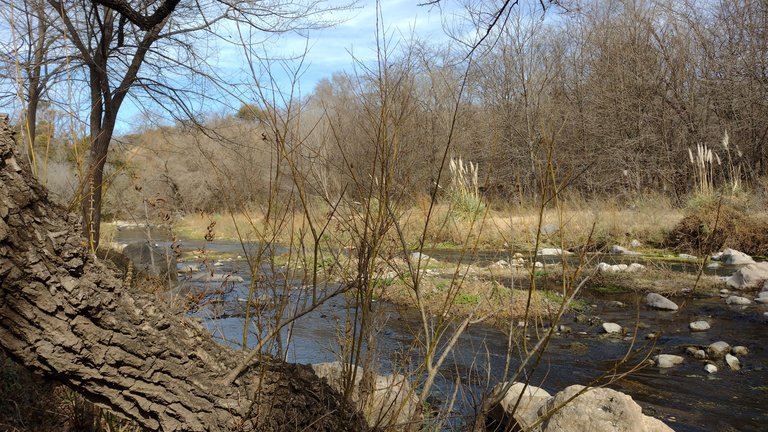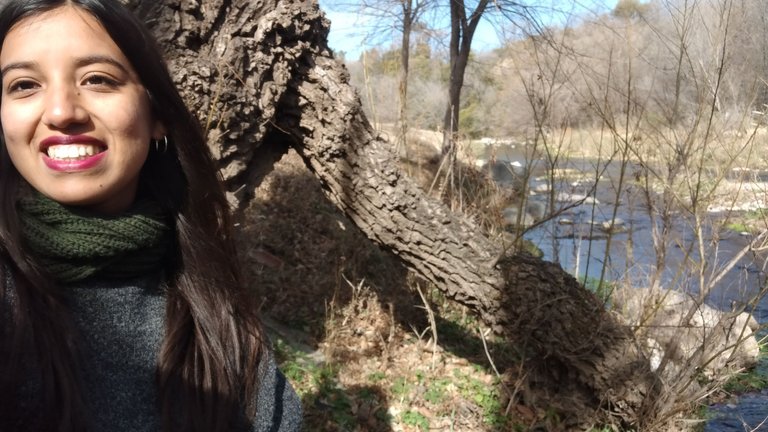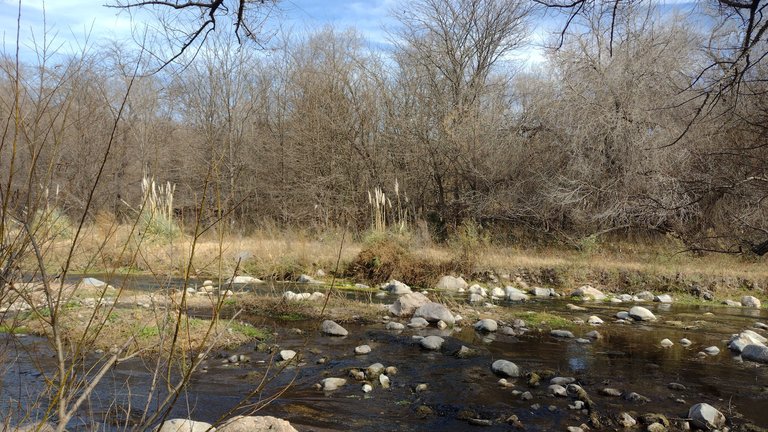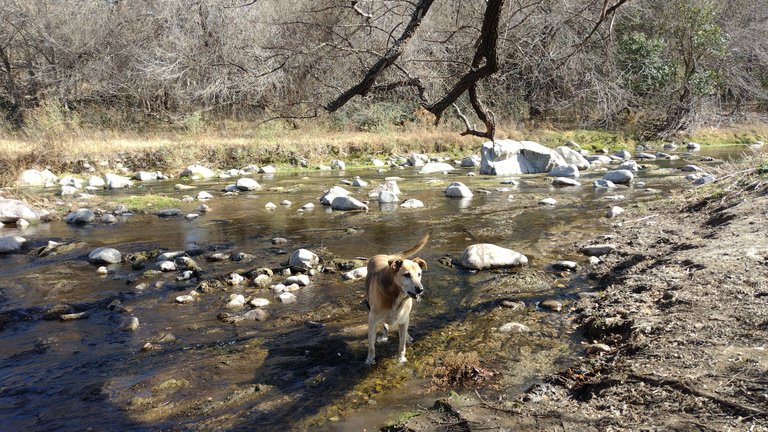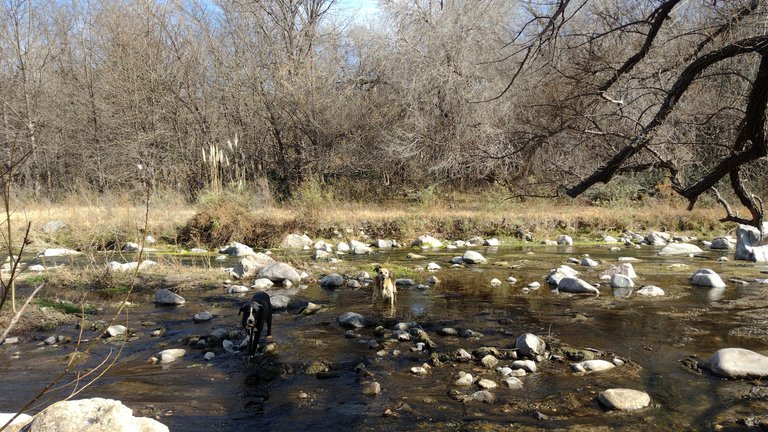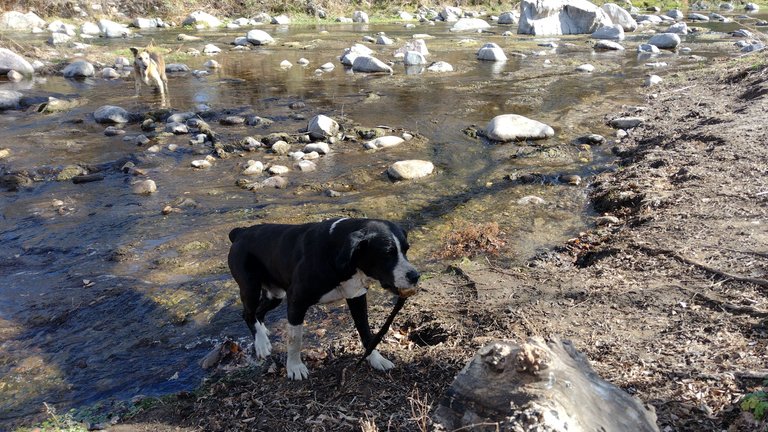 ---
On our visit last summer we had bathed in this river, but now that it is winter there was almost no water and of course we had no intention of going in it. As everything was so quiet we could see some ducks but they immediately moved away at the slightest bark of one of the dogs asking to play 😅.
En nuestra visita en el verano pasado nos habíamos bañado en este río, pero ahora que es invierno casi no había agua y por supuesto tampoco teníamos intenciones de meternos. Al estar todo tan tranquilo pudimos ver algunos patos pero que inmediatamente se alejaban ante el más mínimo ladrido de uno de los perros pidiendo jugar 😅.
---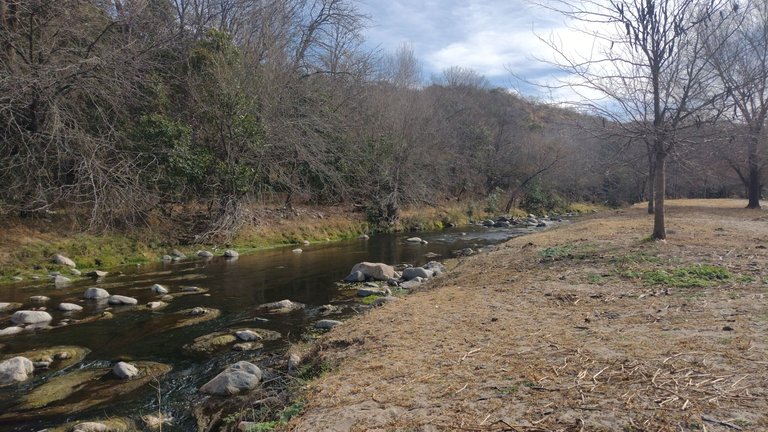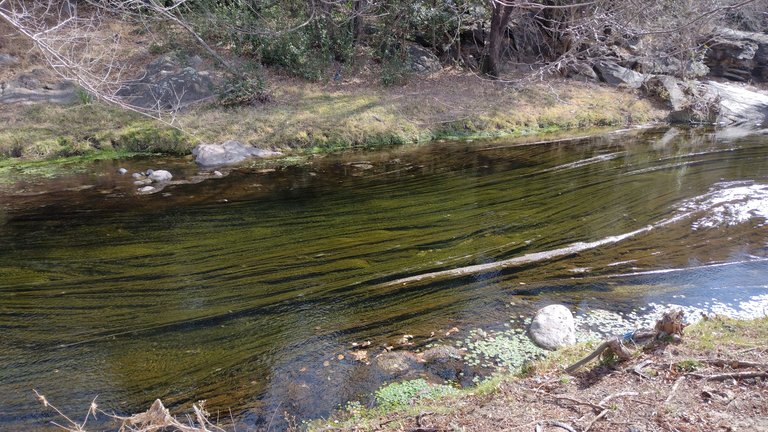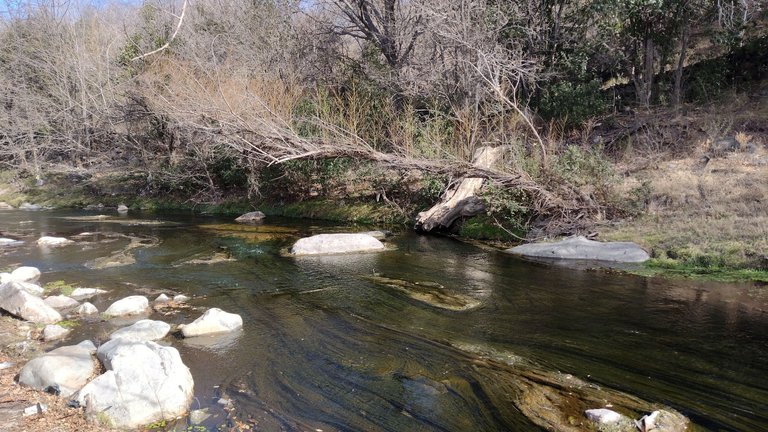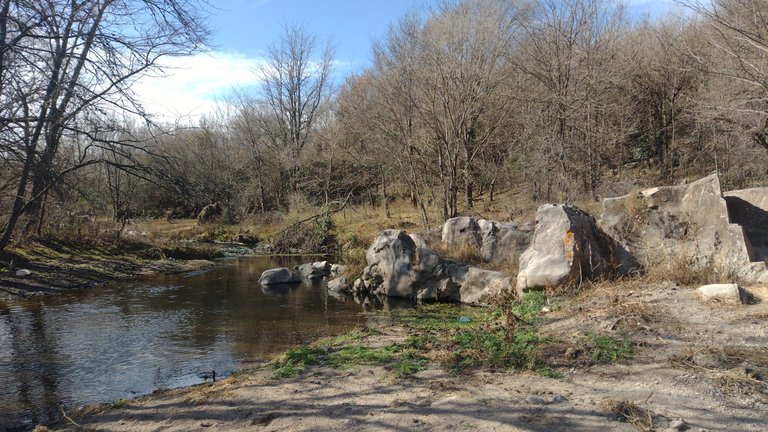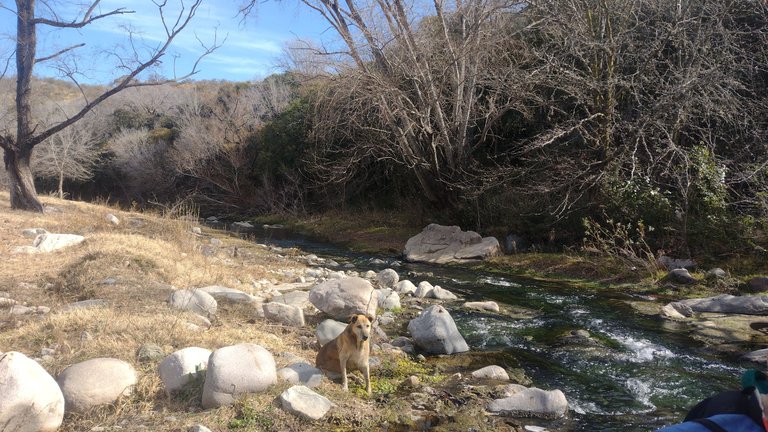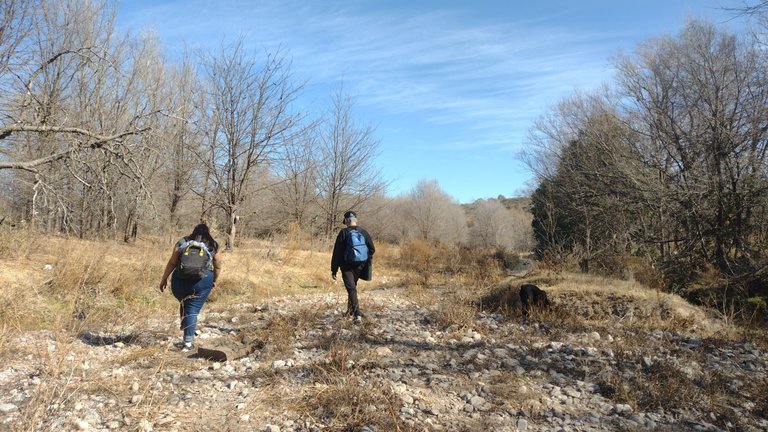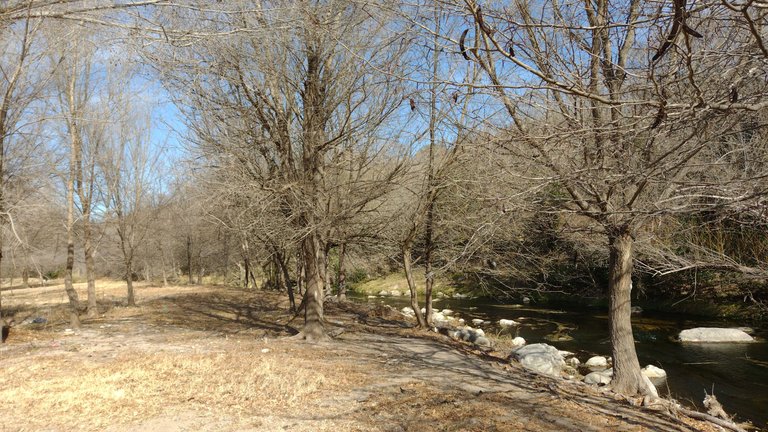 ---
We spent the whole day chatting, a bit walking and a bit collecting stones. I returned home with (literally) several kilos of stones. The ones you can find in this area are mainly made of quartz, something that is worth a lot of money in Buenos Aires because we don't have any mountains nearby. It was a very nice walk and this is my first post in the Wednesday Walk community. It is always good to discover new communities because they allow us to expand our horizons on the topics to write. I hope I have done well ❣️.
Pasamos todo el día charlando, un poco caminando y otro poco juntando piedras. Yo volví a mi casa con (literalmente) varios kilos de piedras. Las que puedes encontrar en esta zona son principalmente de cuarzo, algo que en Buenos Aires vale muchísimo dinero porque no tenemos ninguna montaña cerca. Fue un paseo muy agradable y este es mi primer post en la comunidad Wednesday Walk. Siempre es bueno descubrir comunidades nuevas porque permiten que expandamos nuestros horizontes sobre los temas para escribir. Espero haberlo hecho bien ❣️.
---
---
❤️ Hope you liked this post! Thanks for reading. ❤️
❤️¡Espero que les haya gustado este post! Gracias por leer. ❤️
---
---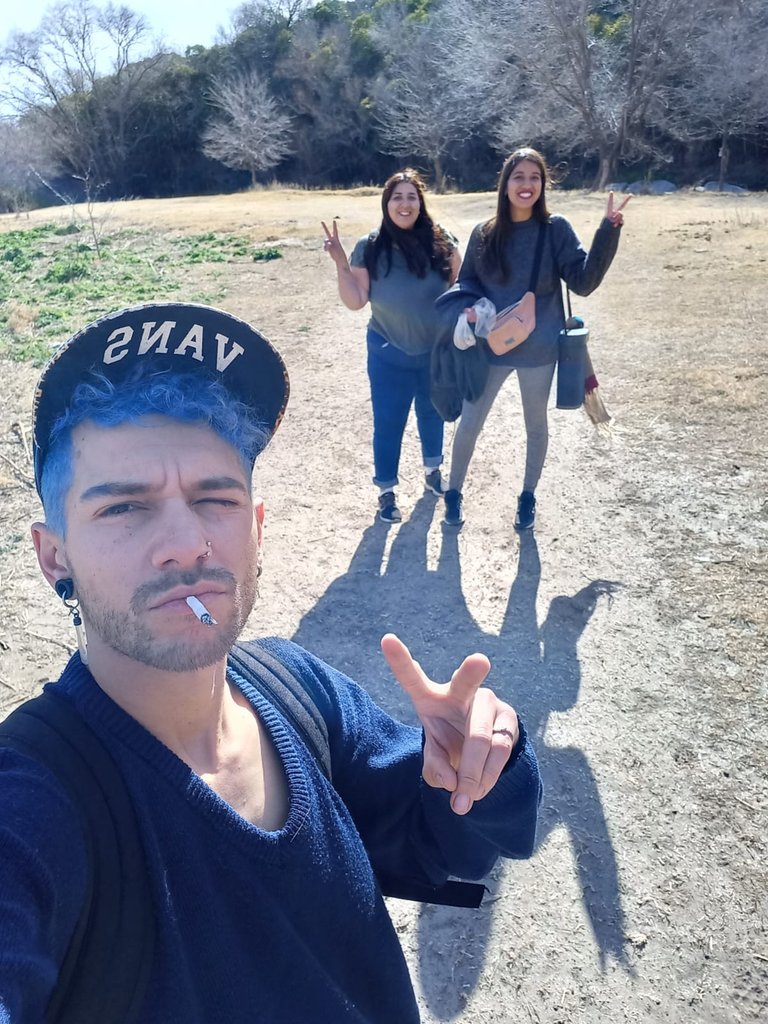 With lots of love. / Con mucho amor.
Lau 💕.
---
📸 Cover created with Canva. All the images are my property 💕.
📸 Portada creada en Canva. Todas las imágenes son de mi propiedad 💕.
---