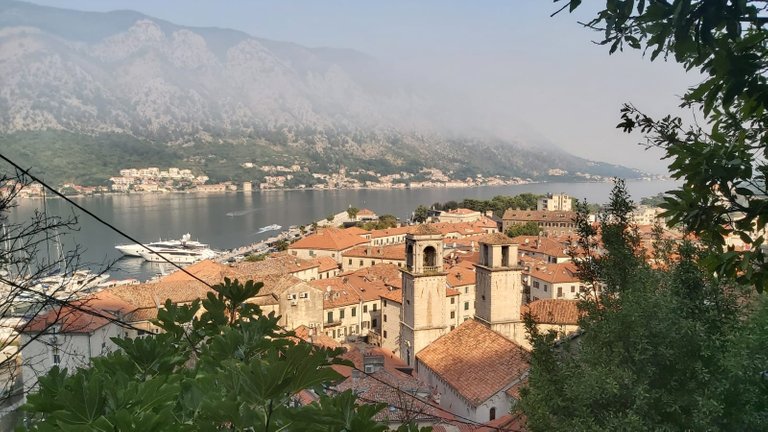 It's summer. You decide to travel and stay at a place by the sea, to enjoy sunbathing and swimming in the sea ... you have been there for more than a week already... everything is nice and quiet and good, but after a few days you start looking for additional activities to complete the time. Is this happening to you too? Maybe that searching for additional activities and walks and looking around is because I can enjoy sunbathing and sea almost all year round. Although it is all great, staying at the beach is not the main reason I would visit a coastal area and city. I will try to get the most of that place and its history, but also combine it with relaxing days of doing (almost) nothing.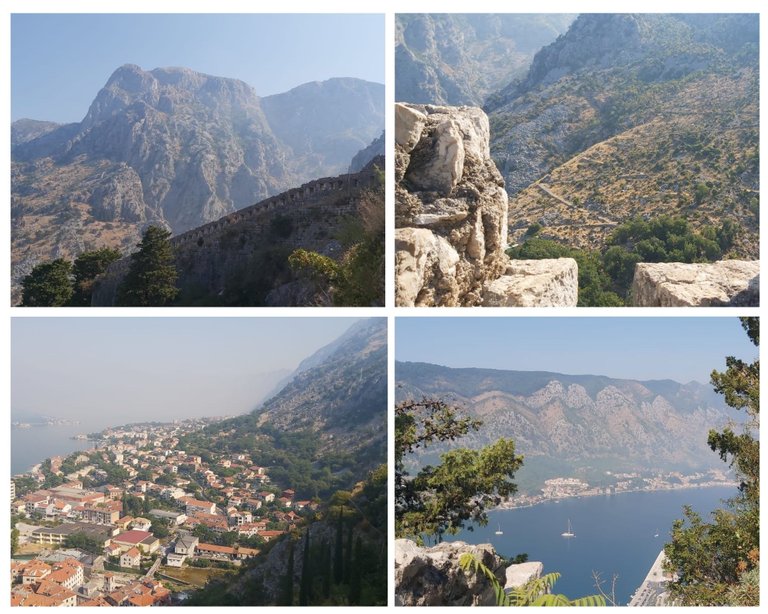 The people you spend those holiday with is also important. Young people with a lot of energy and with whom you can have understanding and super vibes. It can be a niece and her friends? Yeah, why not? Trying not to act as a mom or an aunt. Yeah, for that too. Going to visit Kotor in Montenegro and climb the steps to the fortress, and there are over a thousand of them. Yeah, once again. That is an adventure you can have, even if you will be a bit exhausted after that. But that is nothing compared to the experience and the good time you can have. You just climb and laugh, and talk, and stop. Drink water. Continue and talk, and sing and joke around. Another stop. My knee hurts. You are old, auntie. No, I am not, so you see, I am not complaining anymore. And that way you continue and enjoy the company and ask yourself isn't life just great with all of these challenges you can experience? I can give a positive answer and if you would like to try the same, just find yourself a crazy niece (or two of them...and friends of them) and spend some days with them. You will see things differently, after just a few days of being together.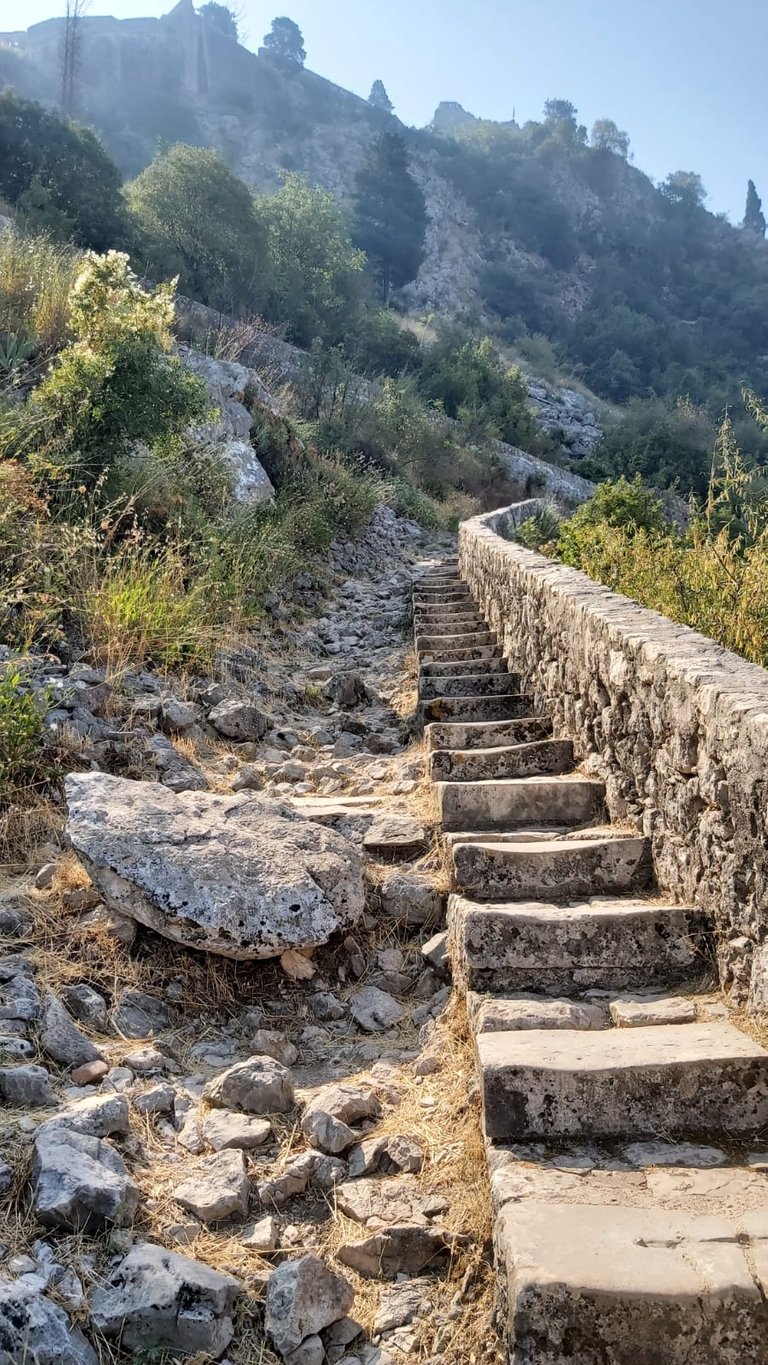 ---
And then in one moment, you just realize there are no more stairs, no more climbing, you arrived at the top from where you can enjoy some excellent views. Even the day was a bit foggy, and the air was not so clean, still, you know that it was worthy of making every single step.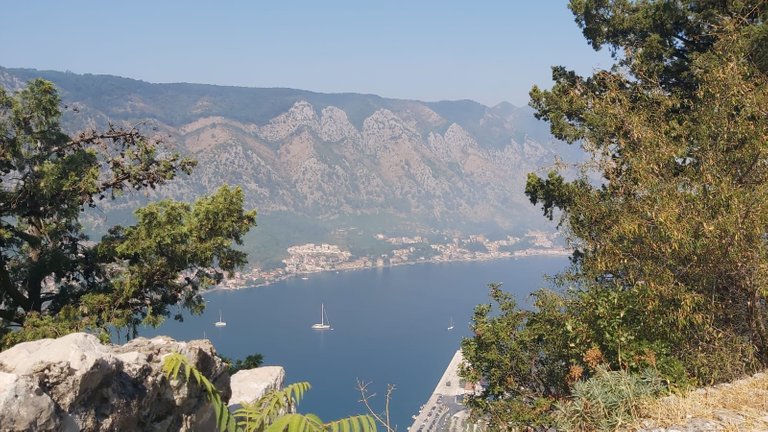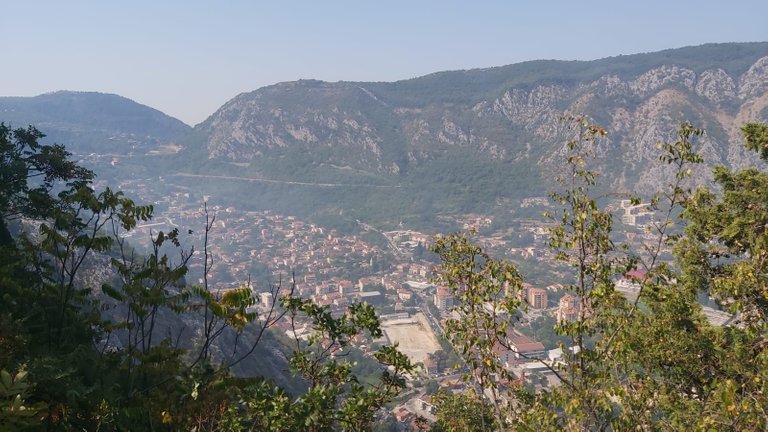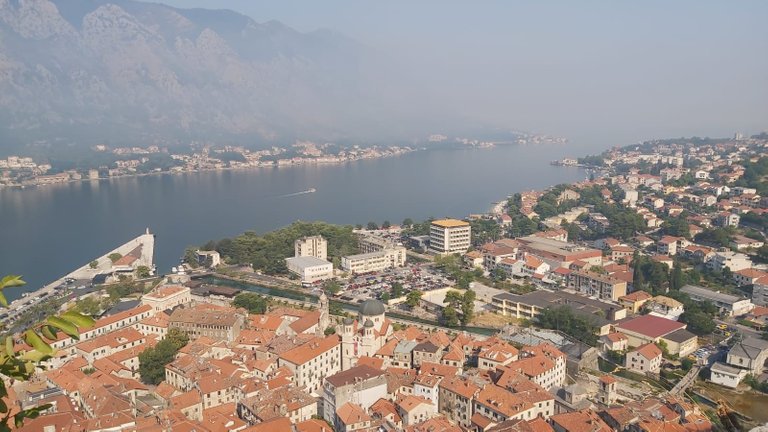 Once you get your energy and strength back, and you can breathe again with full lungs, deep and calm, you can go down, because the city itself, Kotor, is worth a visit. Old stone houses, narrow streets, cats ... an idyllic place to travel through time.
A view from a window...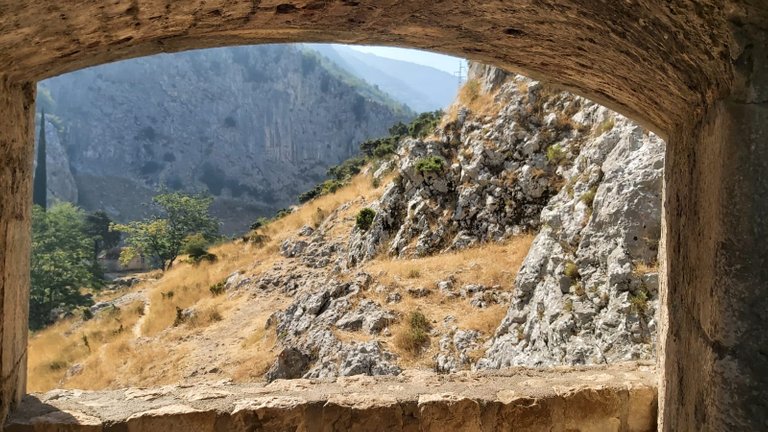 Walls from another time...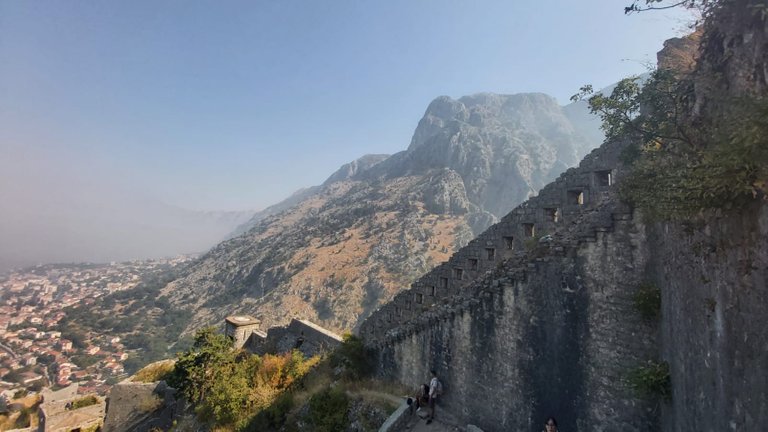 ---
The old part of the city of Kotor is a great place to visit, even if you have to sacrifice one day of your vacation in Montenegro. Ok, if you don't go for a detailed visit, and just walk in the city center, without climbing up to the fortress, it can be done in one morning. We had luck as the day was a bit foggy, and it was not so hot. But take care, have water with you as you never know if your adventurer side will ask you to do the same route as we did. Also, take care you have charged battery in your camera if you want to document your visit...and charged your phone too. If not, well... you will have to take the photos with your niece's phone. Still, I hope you can feel the vibes of these stone walls and the historical part of the city. I have visited Kotor already a few times and could do it a few times more. If you are looking also for some more artistic content, you can visit exhibitions, concerts and a music festival KotorArt held every summer.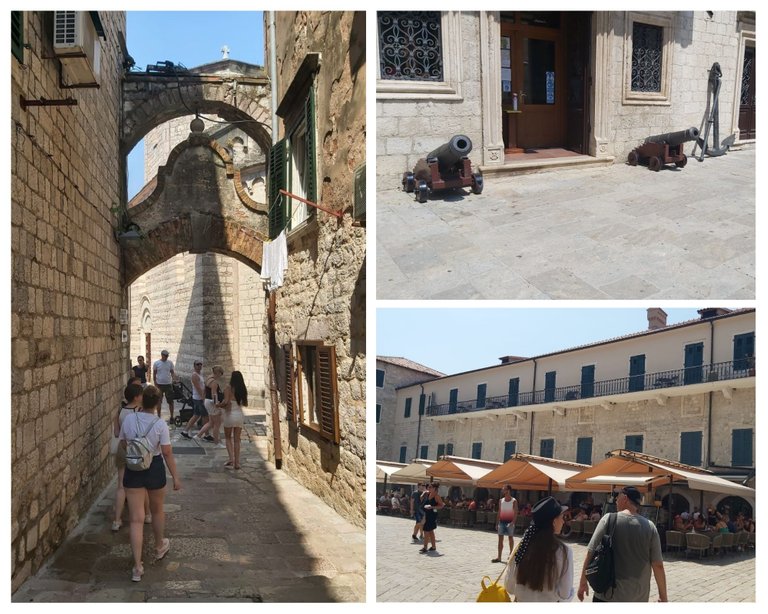 If you just want to chill and have a nice lunch or drink, plenty of restaurants on various squares can serve your wishes. What is almost unbelievable is that one year we met in Kotor, while walking around, some friends from Belgrade. It was an unexpected meeting, but if you think better, it is a tourist place that many people visit during the summer. Now, my surprise maybe is not that strong, but at the moment it happened, for sure it was.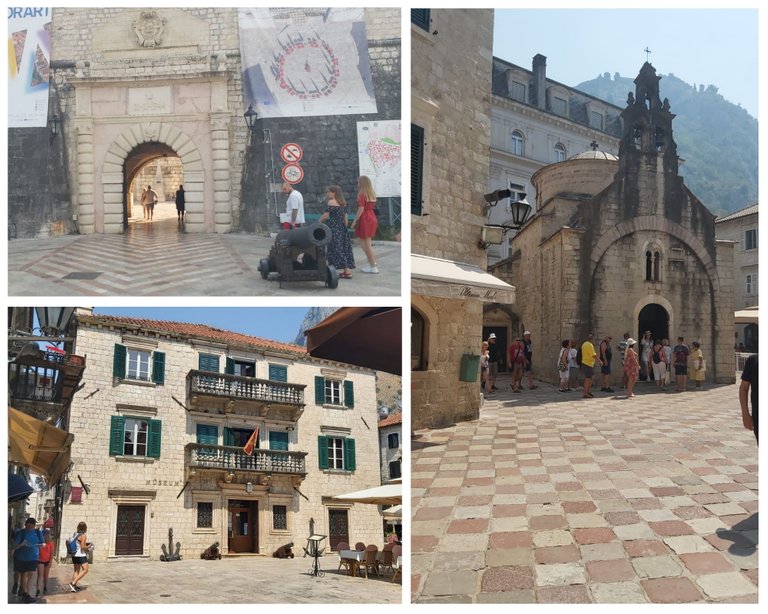 Streets, squares, churches...perfect for a morning walk...
For the end of this walk into the past, this church is showing itself. Its walls could tell us many stories, as it counts with one thousand years of existence. What would you ask if you would visit Kotor? Facts from history? Or stories of people who visited that place? I would opt for this second option...