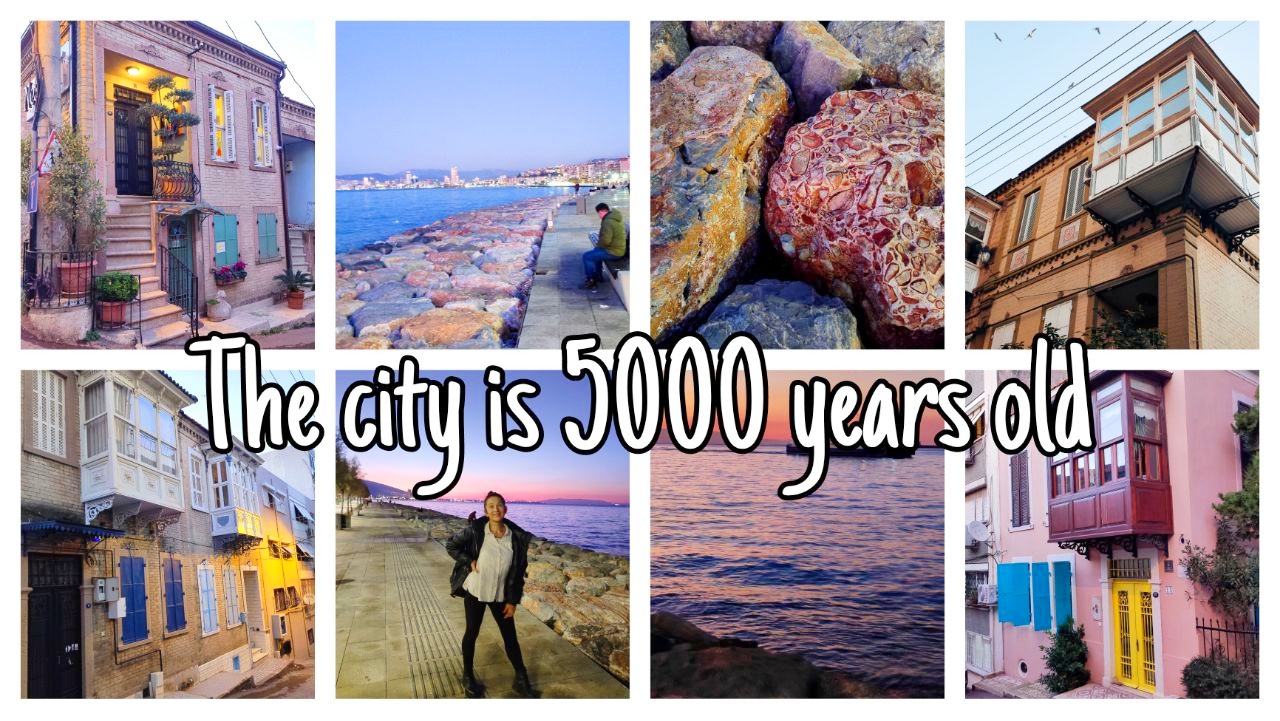 Izmir is a city in which I unexpectedly stayed for several days. And of course there was a walk and discovery... Later I read: Izmir is one of the oldest cities on Earth. More than 5000 years old! Of course, it has a rich history...
I will only intrigue you with my photos and a story about Izmir - one of the largest port cities in Turkey. It would take many days to explore this city, spend a lot of energy walking along its steep streets, looking for ancient architectural monuments, which are many here.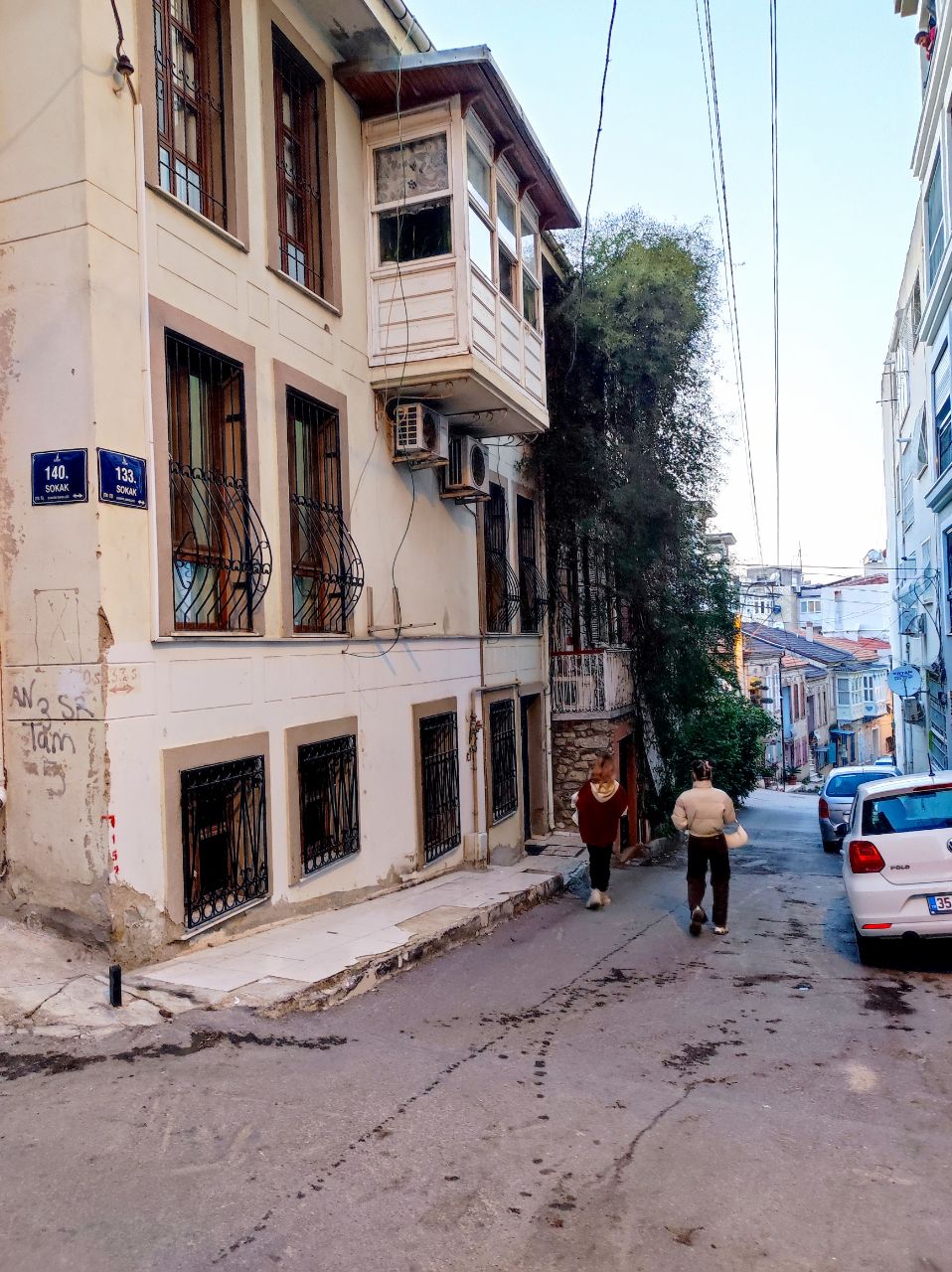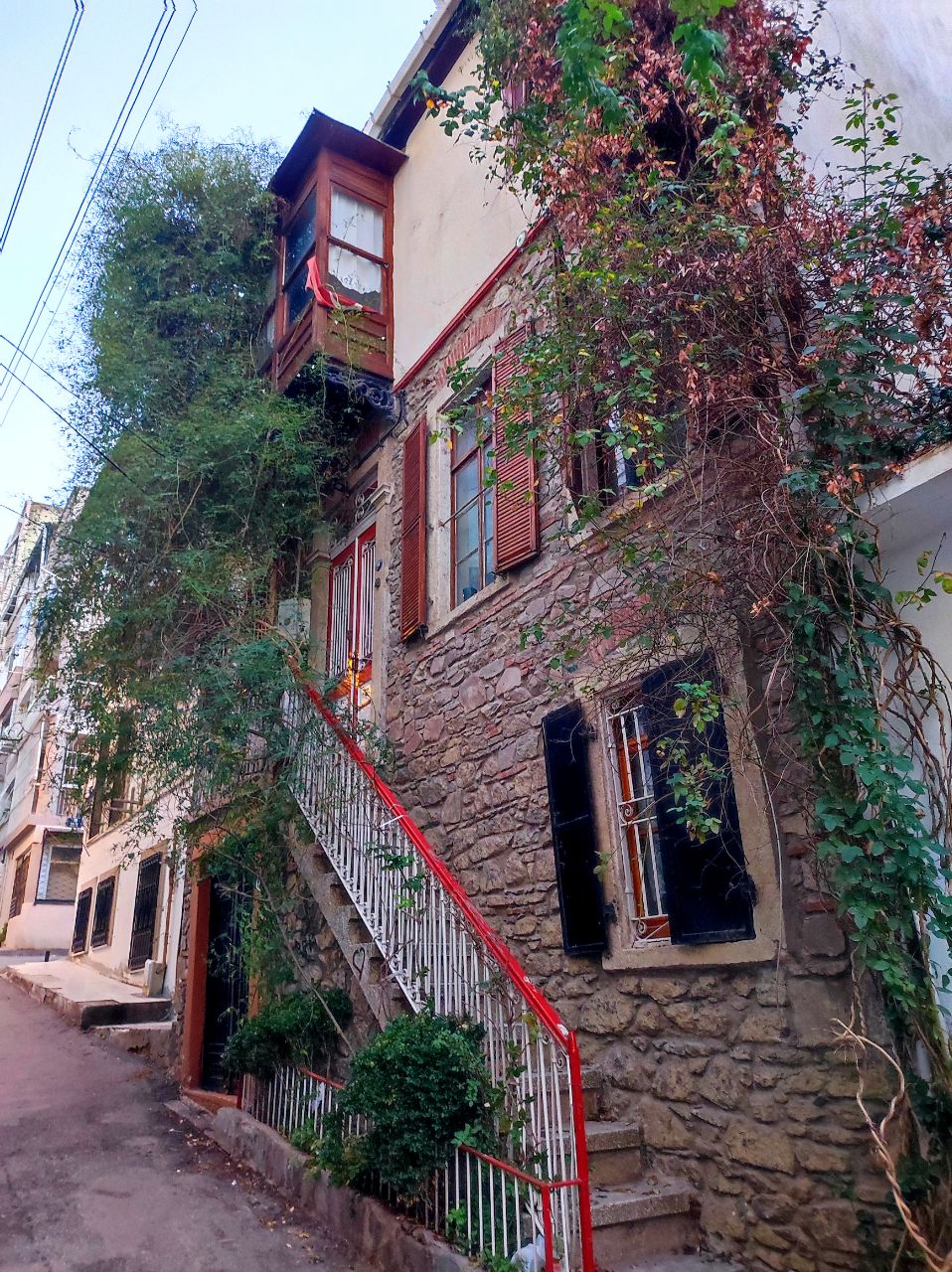 Suddenly, I made a discovery: among the grayness of the modern, not at all luxury area, I found several ancient-looking buildings that have this unique style that I call "Greek - Turkish" - these are my observations during my trip #thelongestrip.
The three of us went out with my daughters @bugavi and @darine.darine for a walk. It is already evening. They just turned on the lights and lighting on the houses. At first I saw a street that did not captivate me with its beauty: gray cracked asphalt, destroyed sidewalk... Later I looked up and saw balconies and roofs. It was a surprise to meet so close to my airbnb apartment, which was located in a standard modern 4-story building - such beautiful luxury two-story old houses.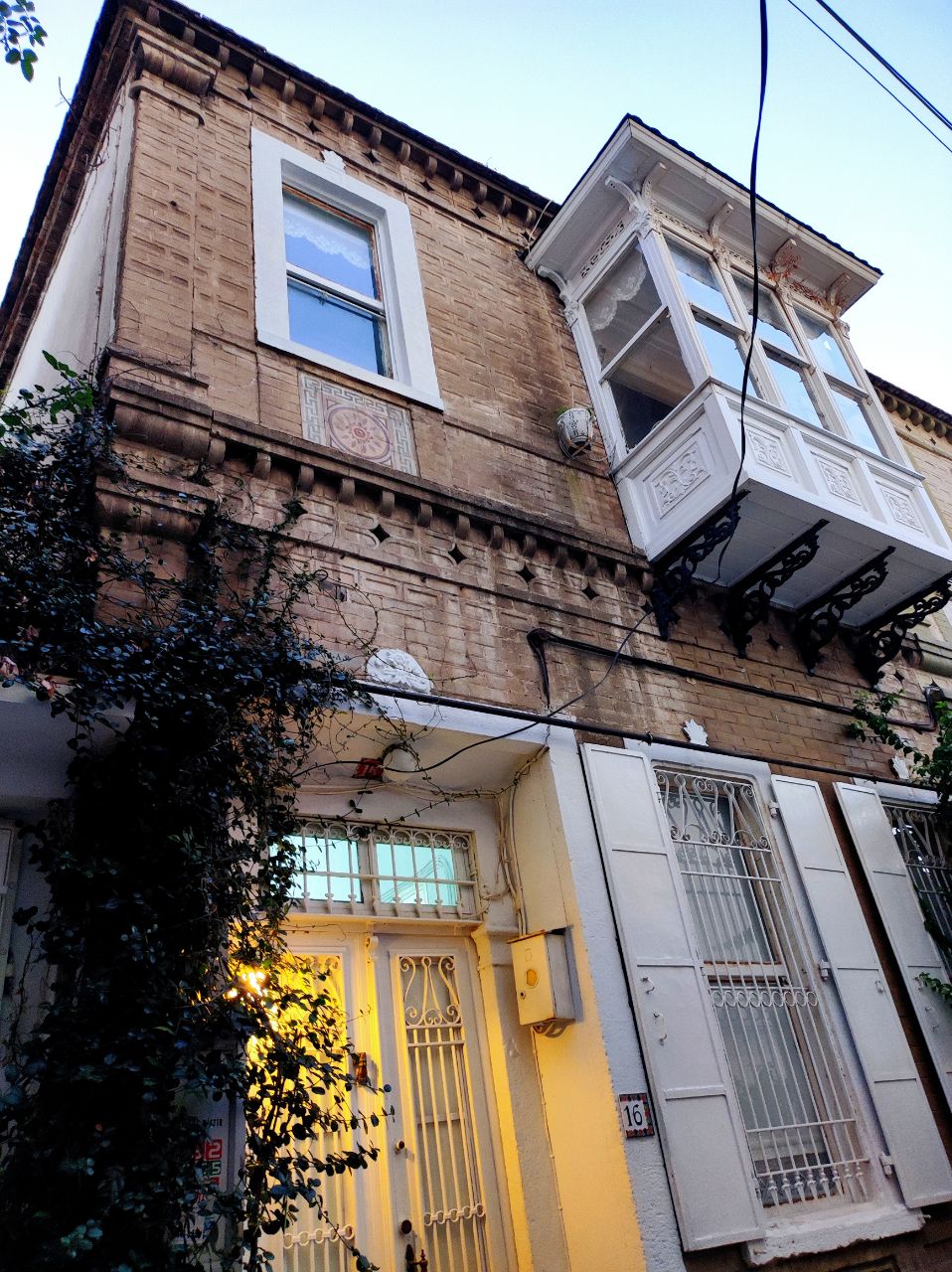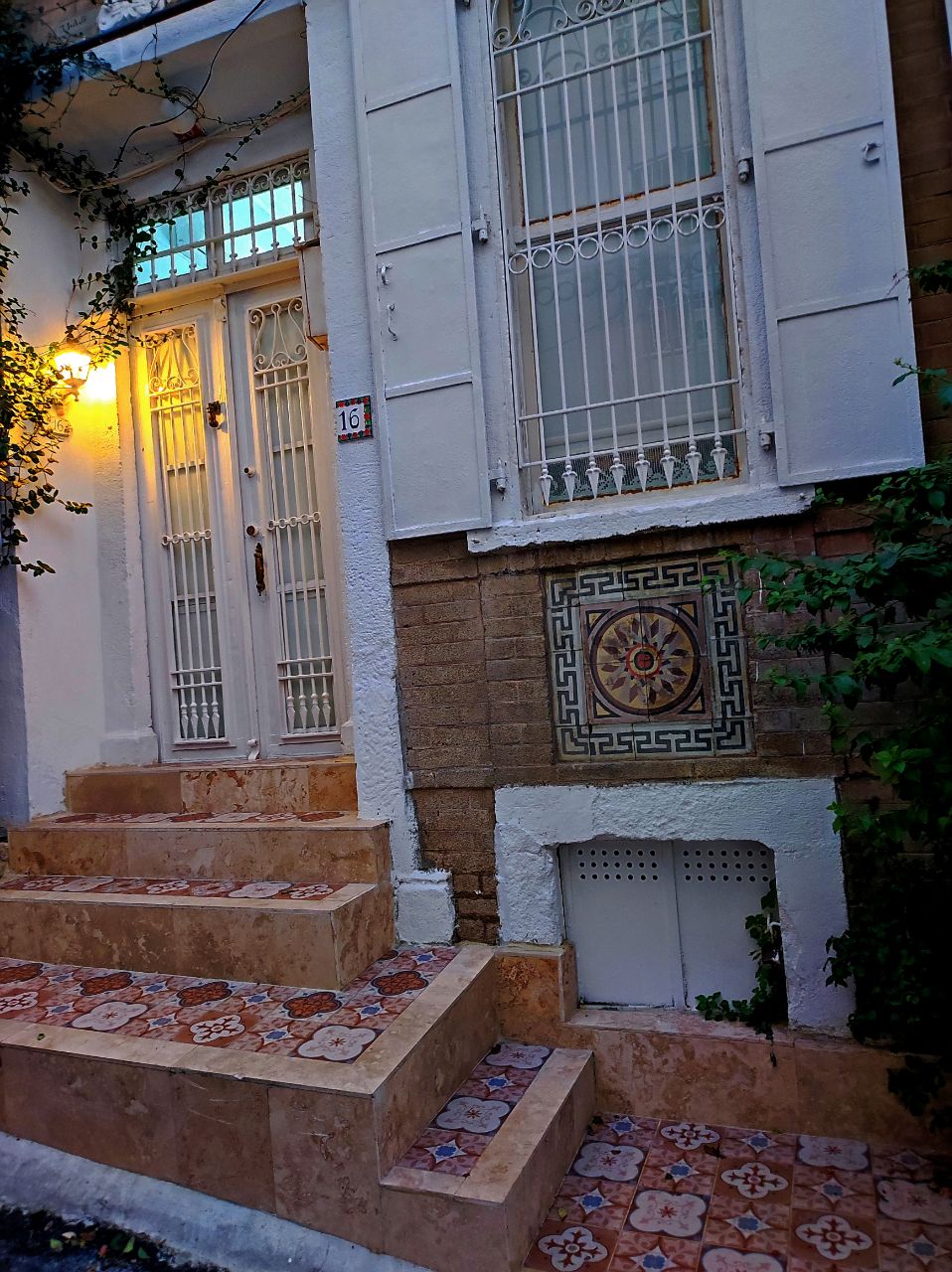 Later I raised my head to the sky and saw many seagulls circling the houses and screaming! It was so exciting! I made a short video. It makes my walk more alive for you :)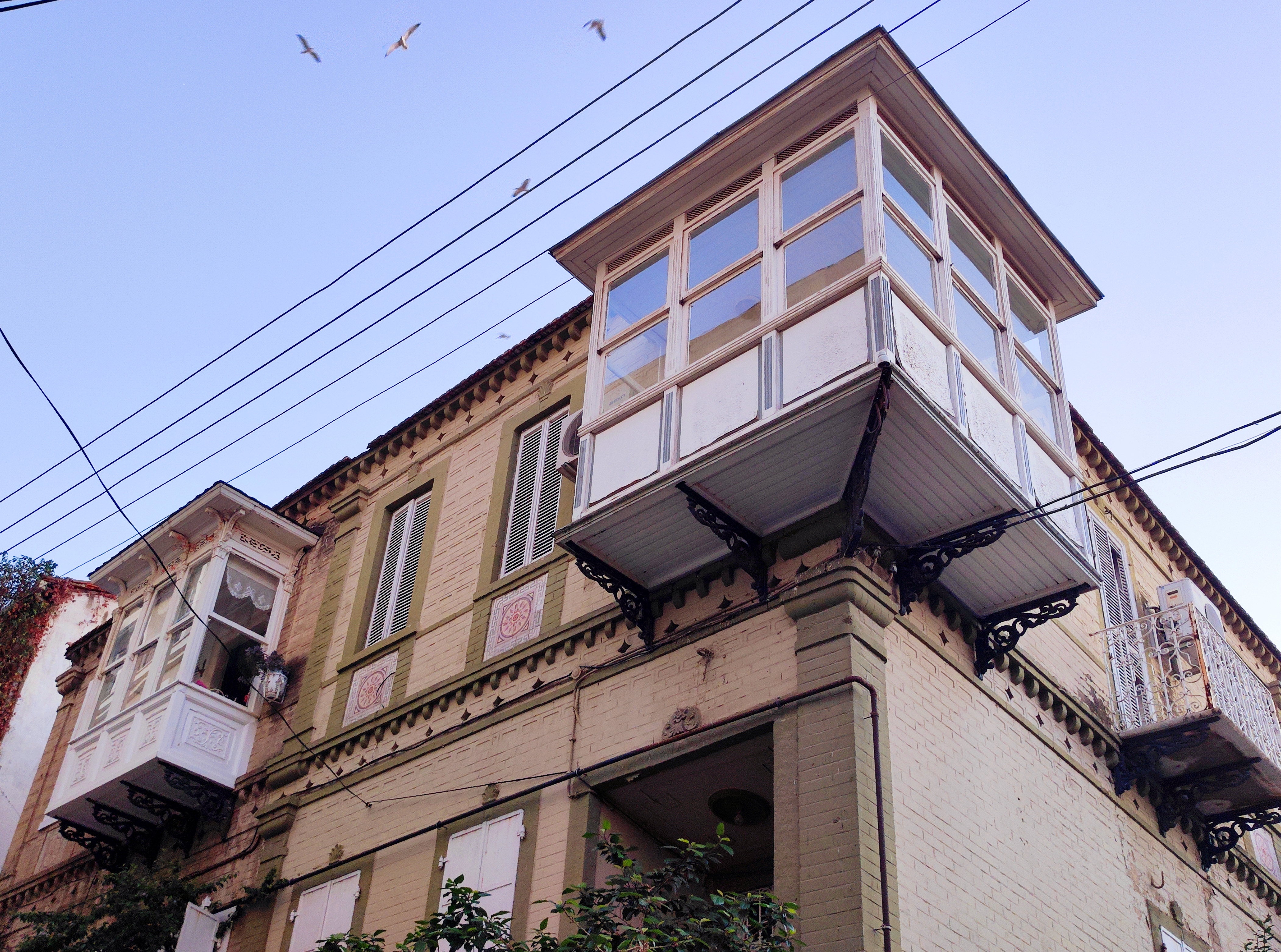 After googling a bit, I found various articles about Izmir. In one of them, I read an interesting review of a person who came from Russia and has been living here for a long time: he wrote: there is no architecture here!!! I was very surprised by this review. How can there be no historic, outstanding architecture in a city that is more than 5,000 years old, that is written about even in the Bible !!??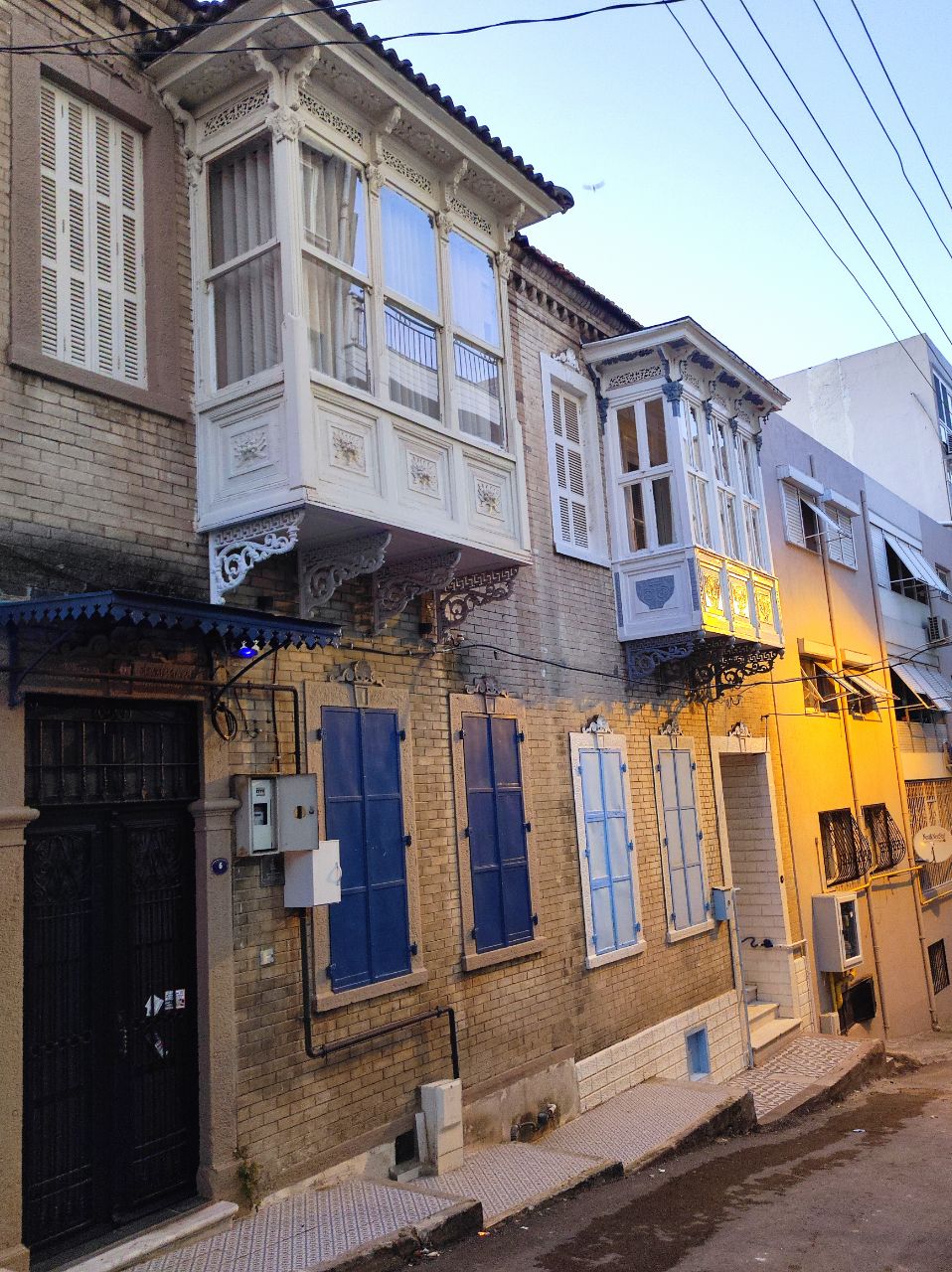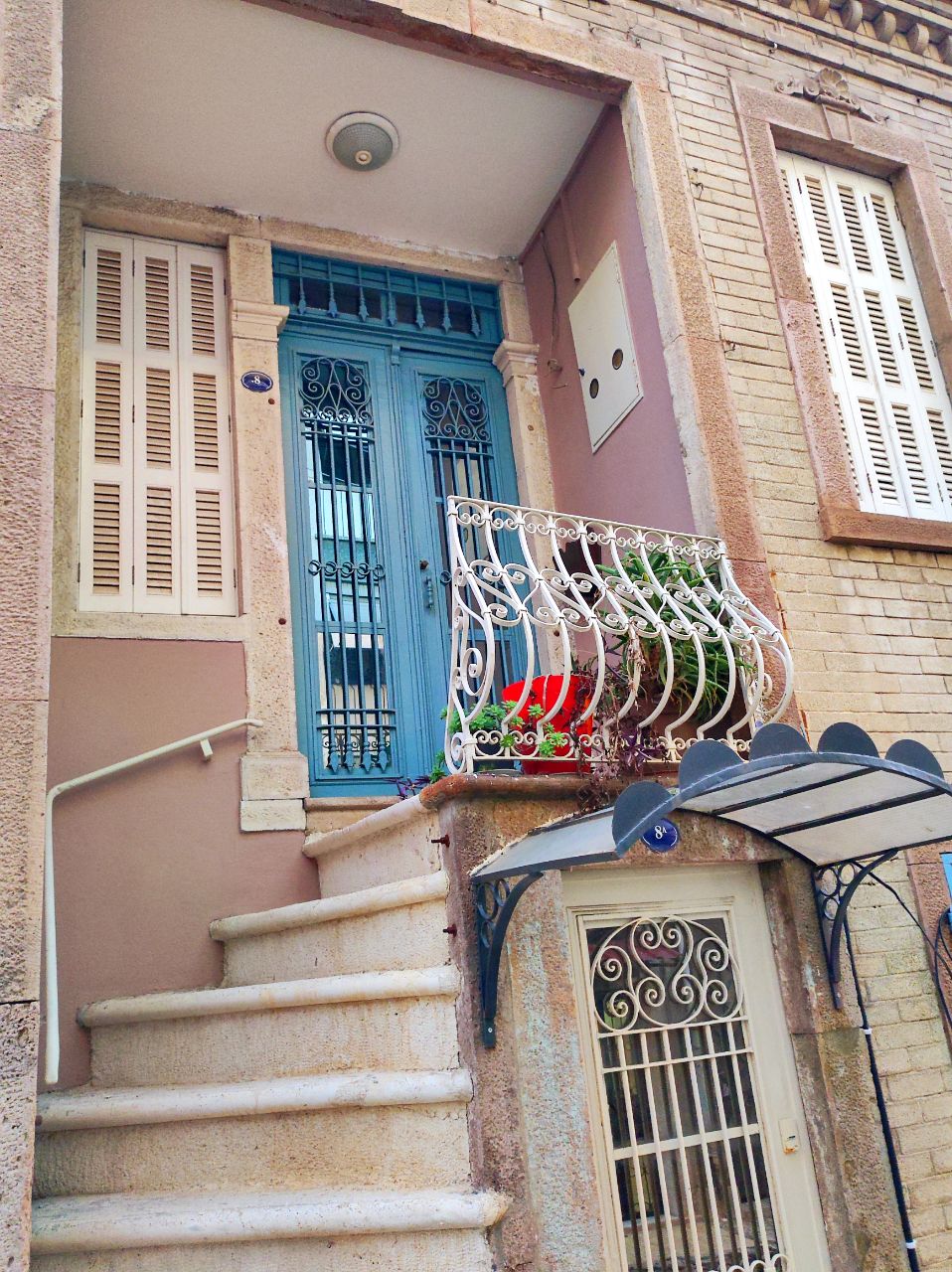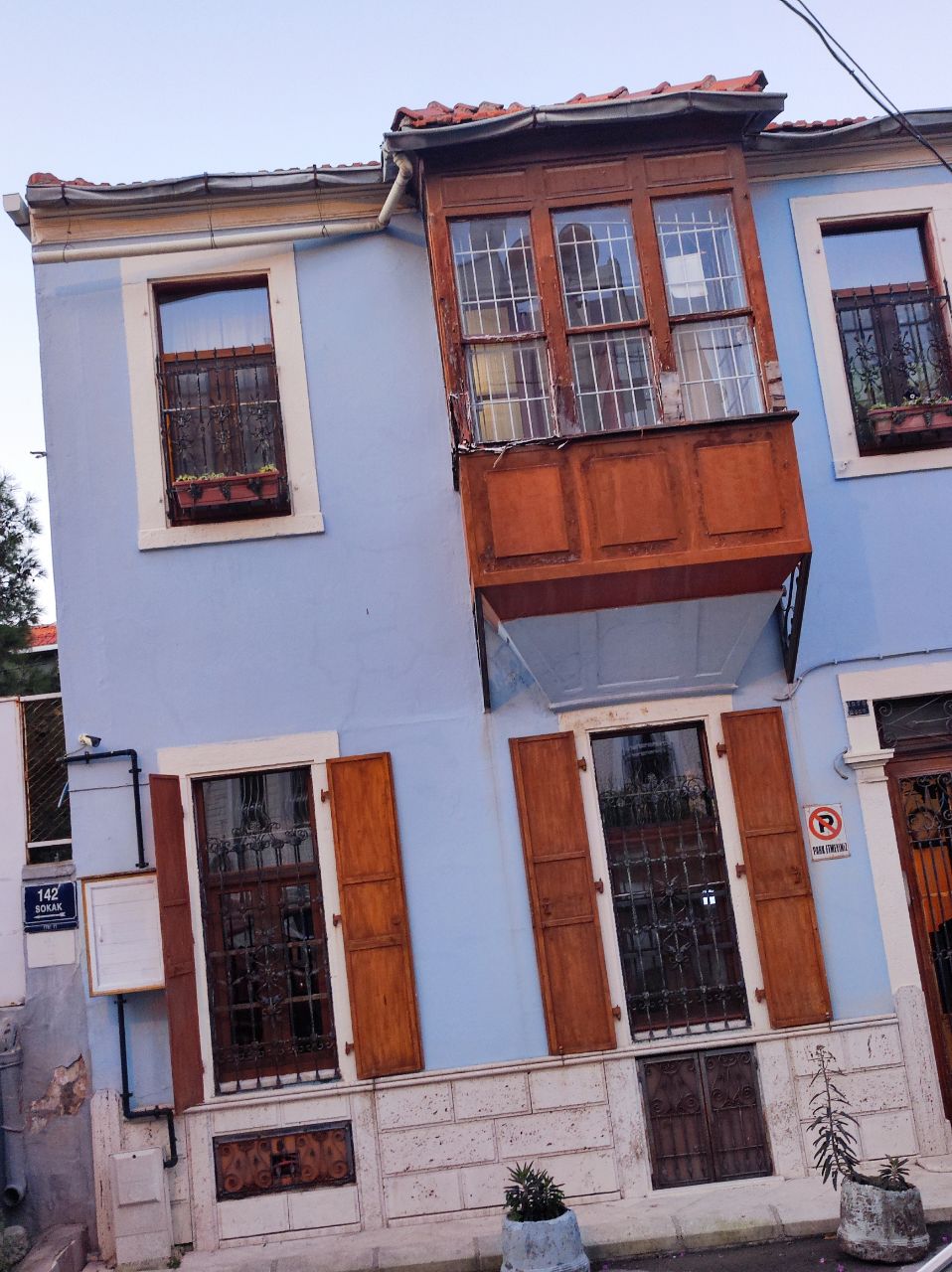 So, I was lucky! After leaving the house, after five minutes of my walk, I immediately found, in my opinion, several masterpieces of architecture :) , which I enjoyed and took photos of balconies, windows, stairs and doors... Maybe: who loves something - always finds !?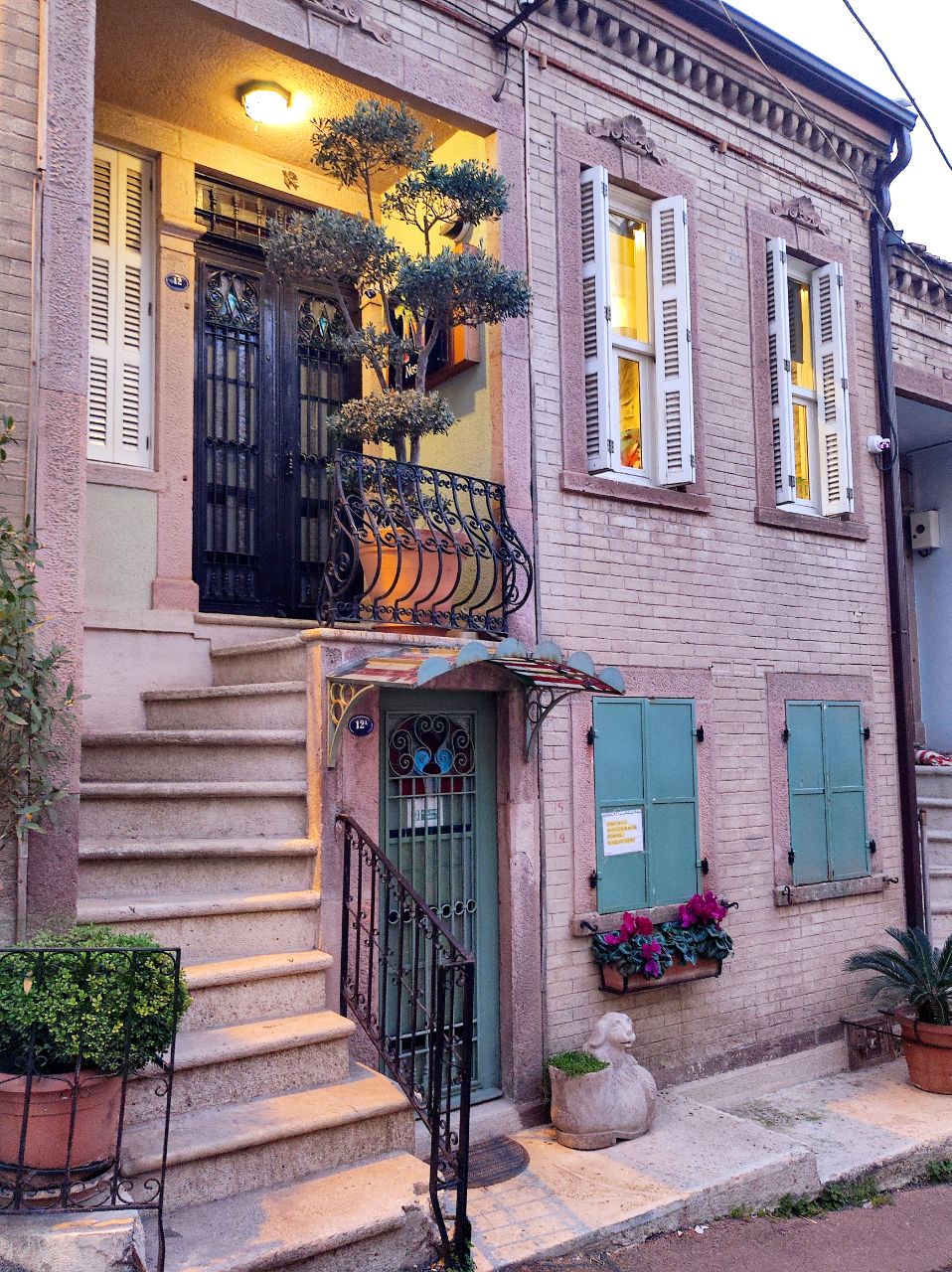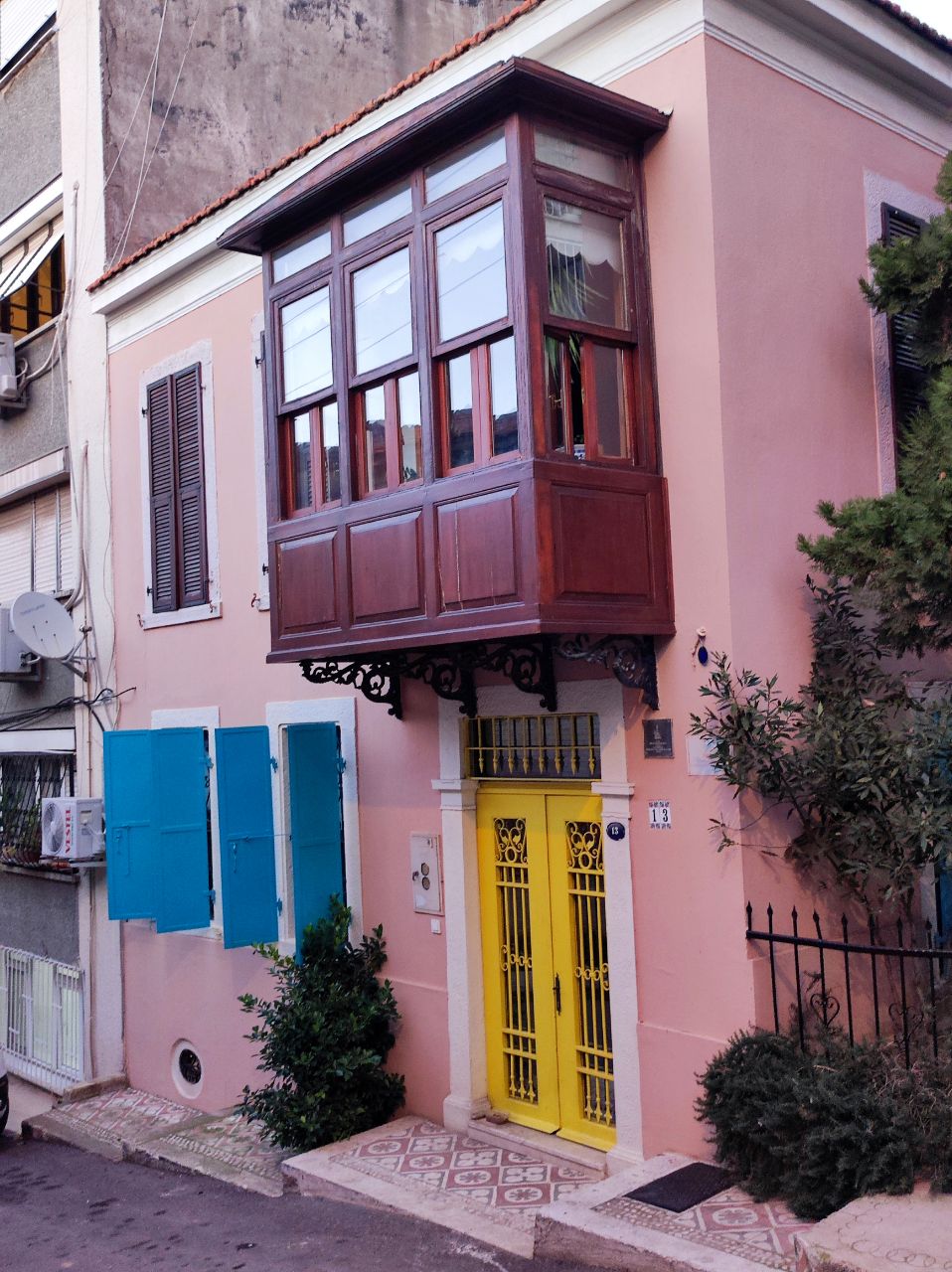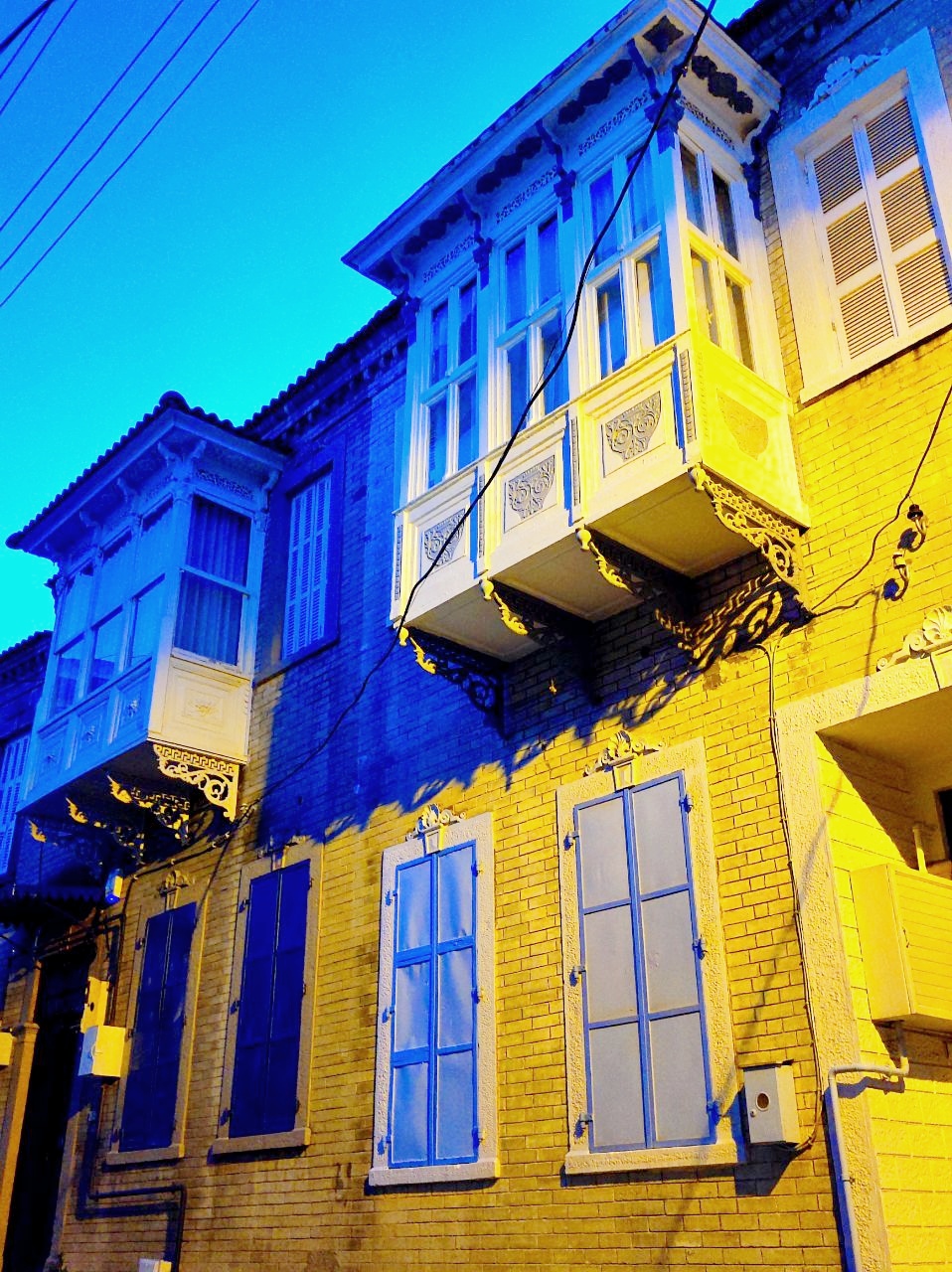 I walked among these houses for probably 20 minutes, looking at interesting elements: steep stone stairs, railings, shutters that close on the windows, brick walls... The evening illumination made them mysterious and even more beautiful. And one of them was yellow-blue, like the flag of my Ukraine!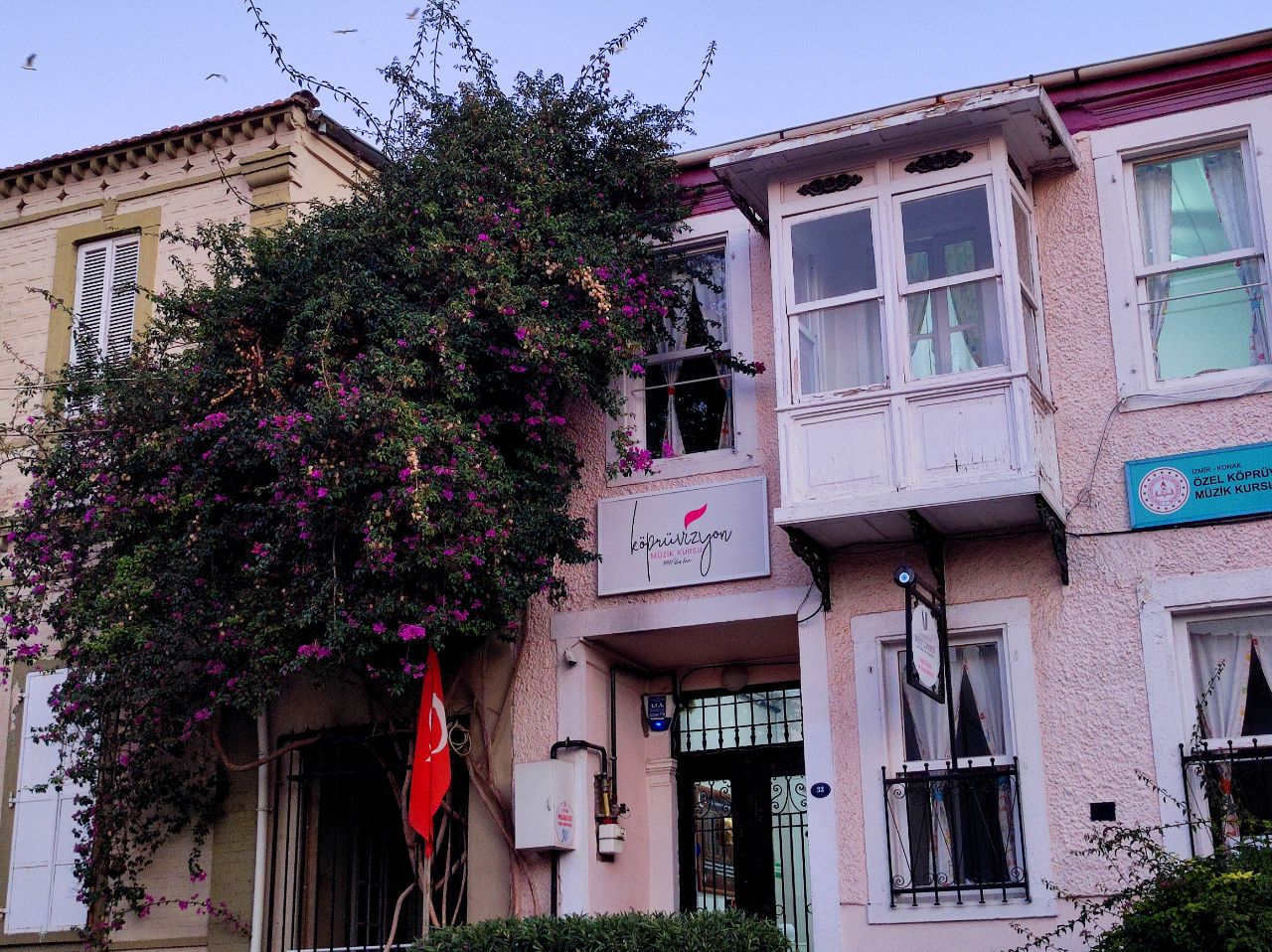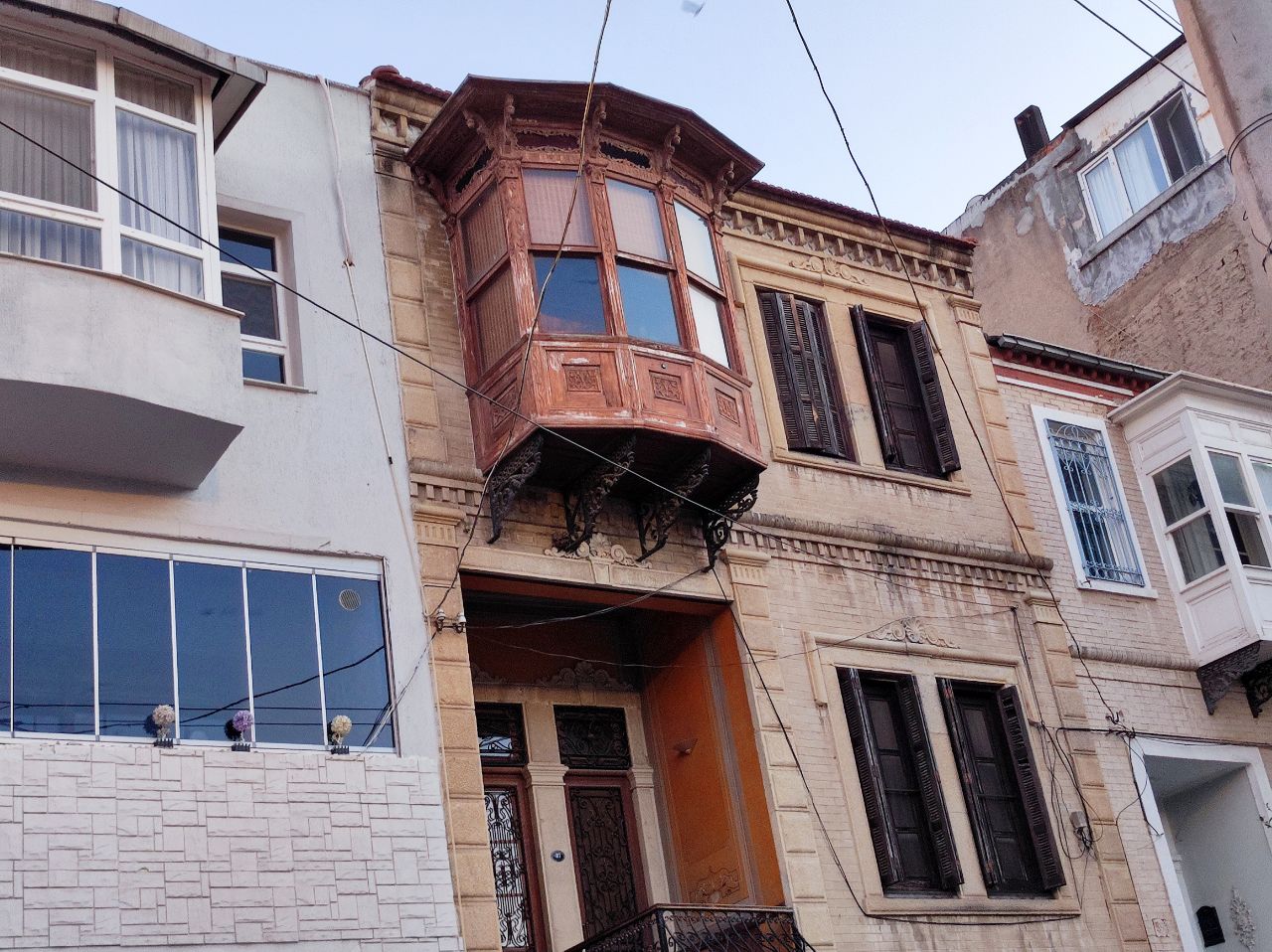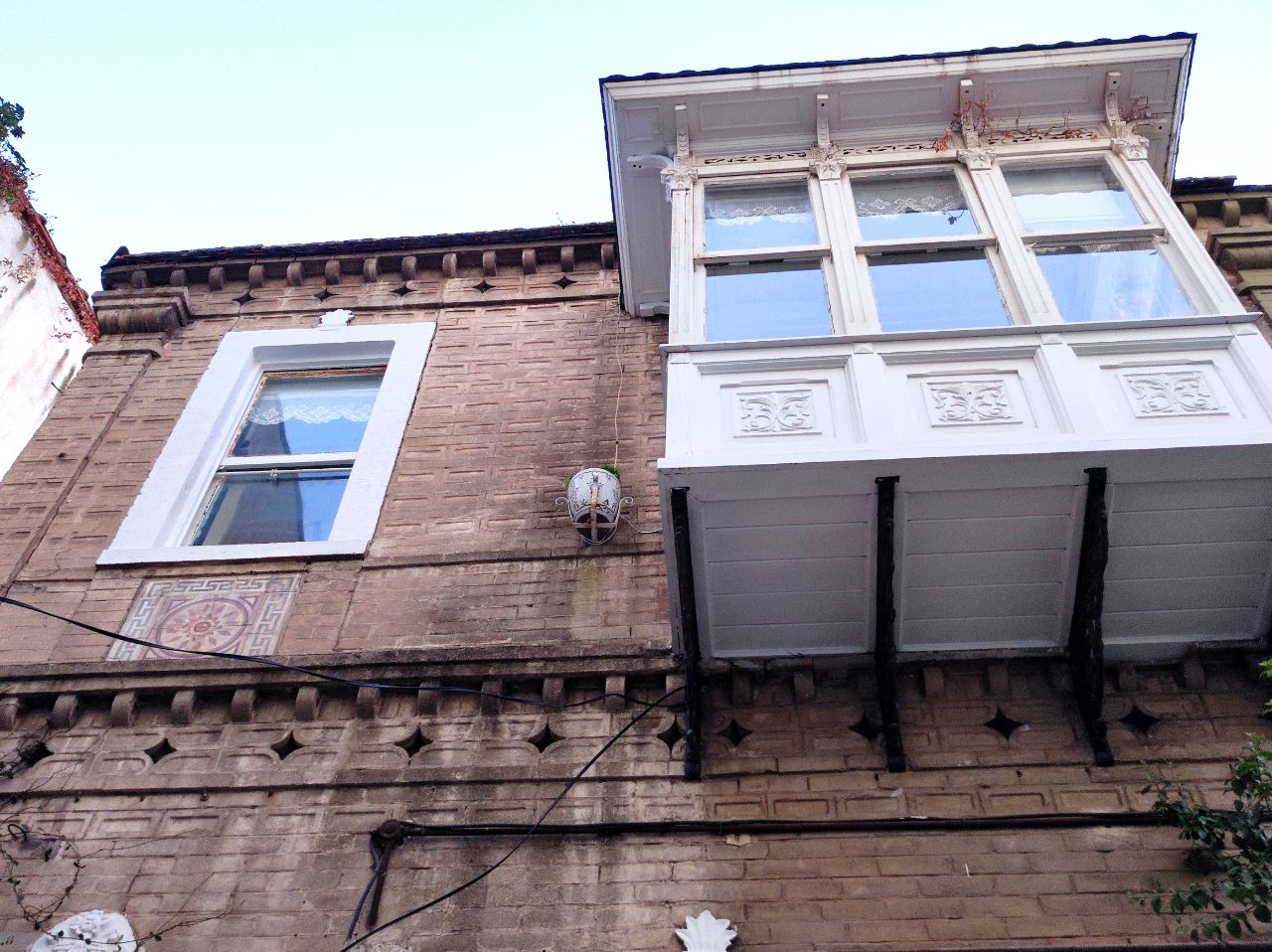 Seagulls are screaming - the sea is close! We walked down 200 meters and came out on the embankment. Here the city looks completely different - modern, spacious. There is a tram that runs along the embankment. It reminded me of Budapest and the tram on the embankment of the Danube River.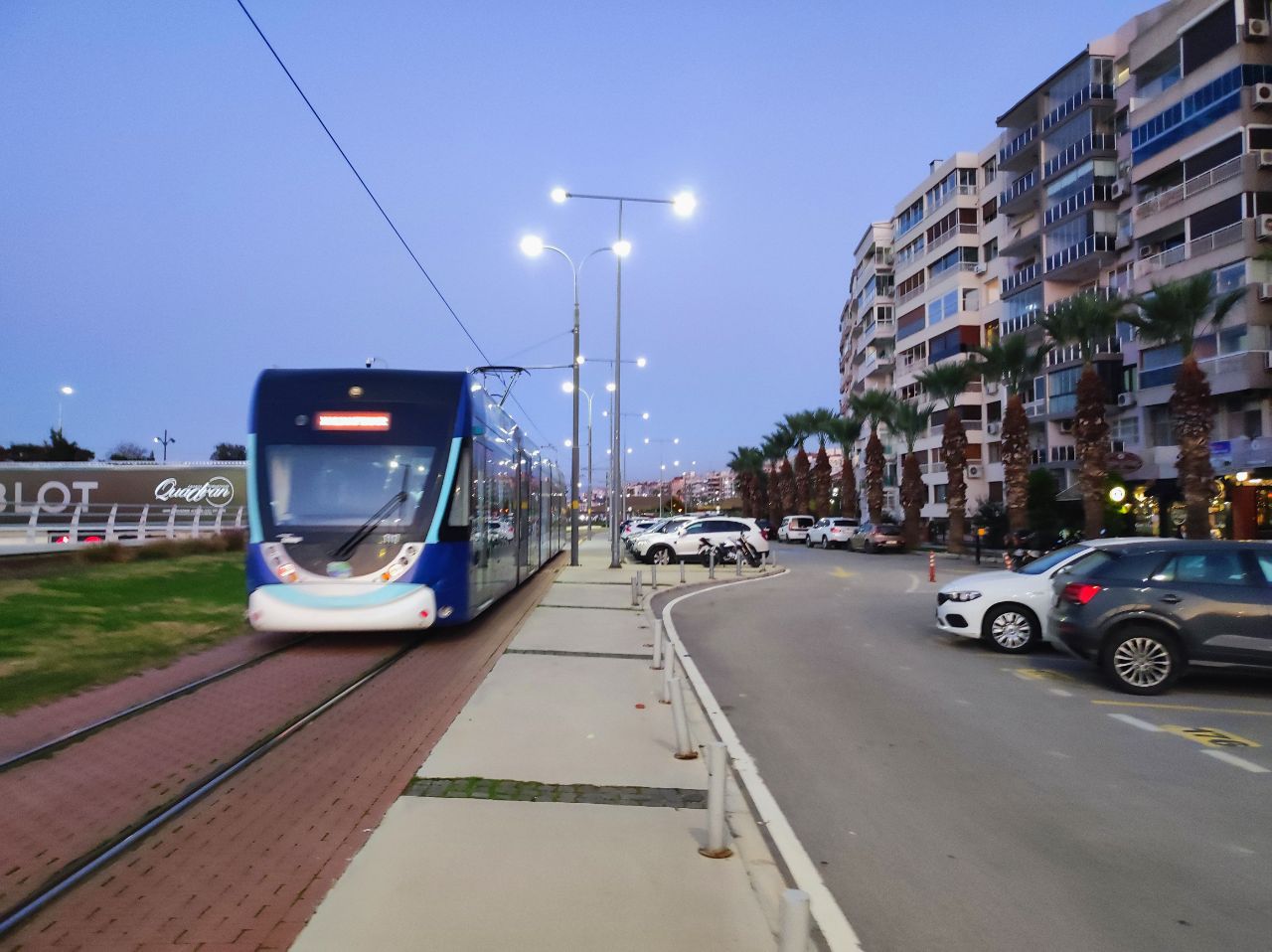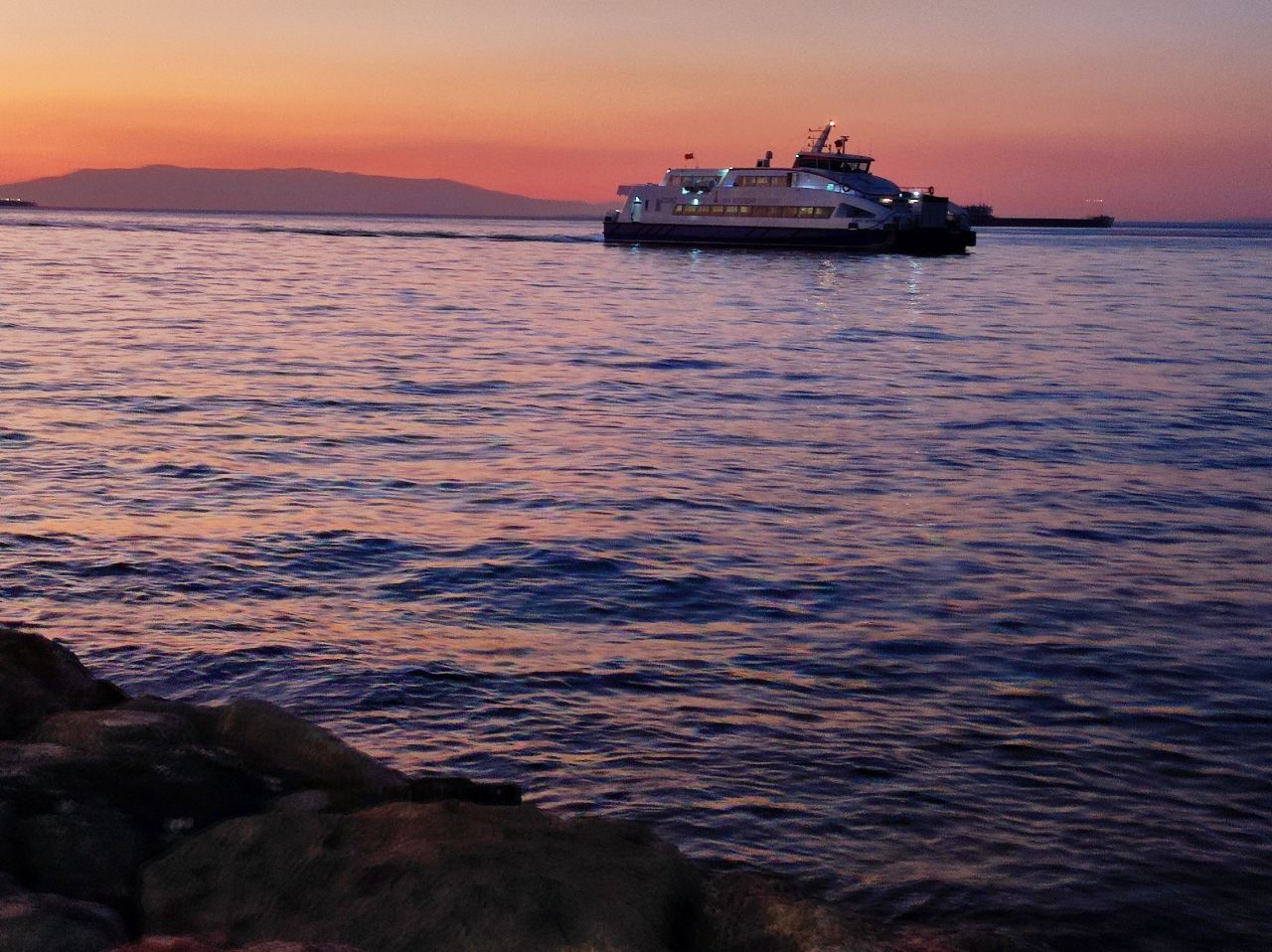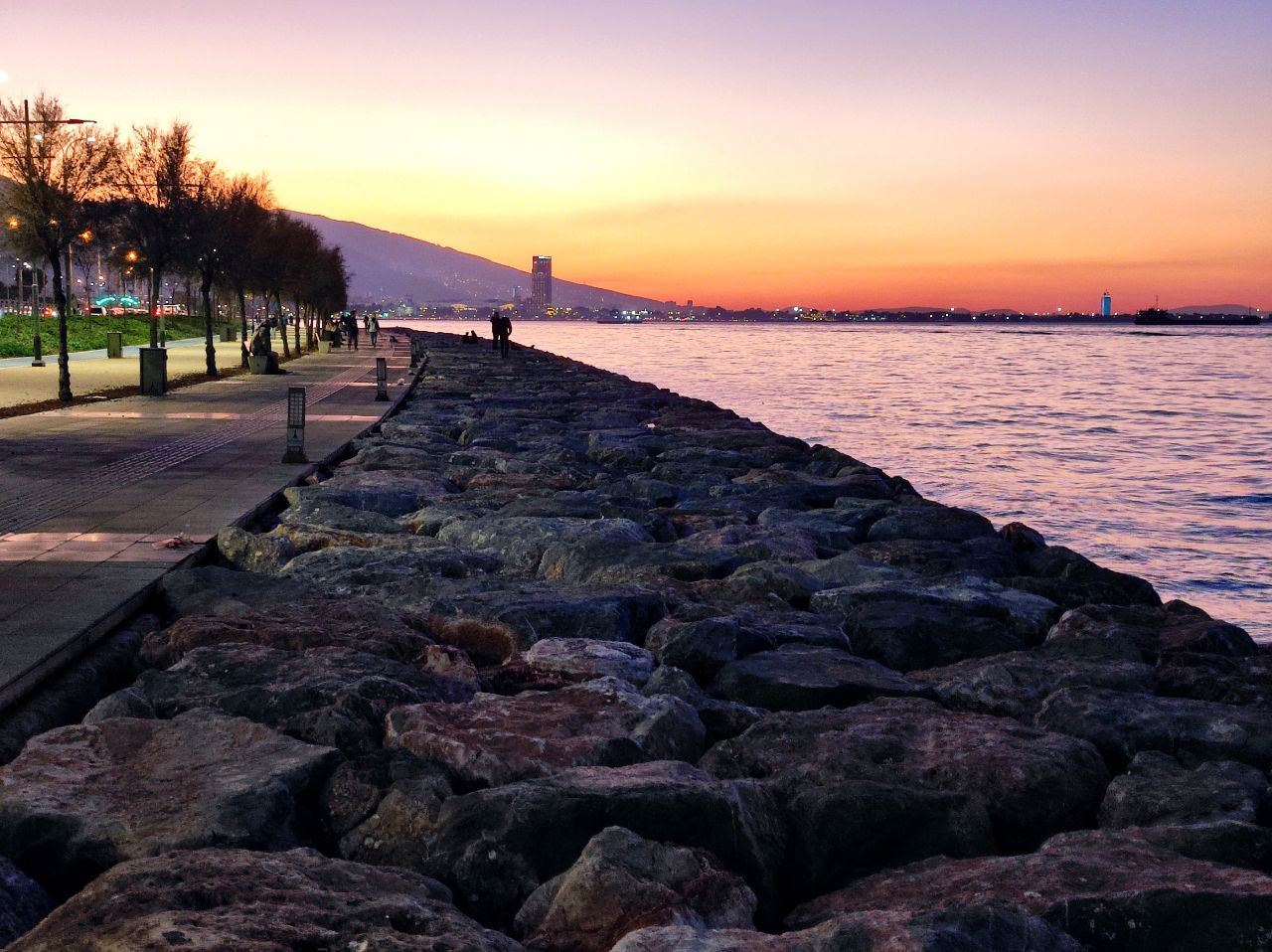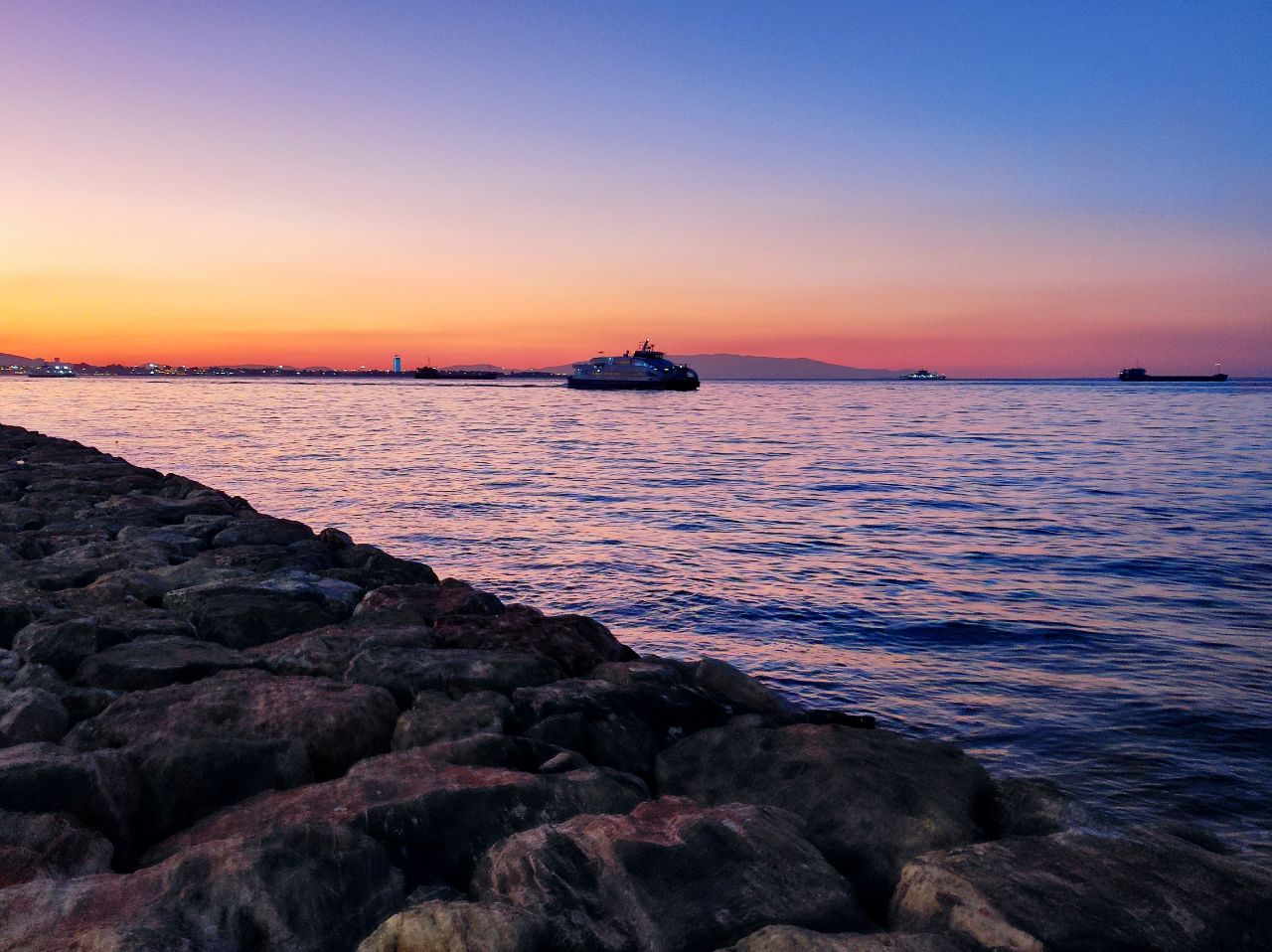 An interesting embankment is called the Border. A straight line, paved with large, beautiful stones, along the cozy Izmir Bay.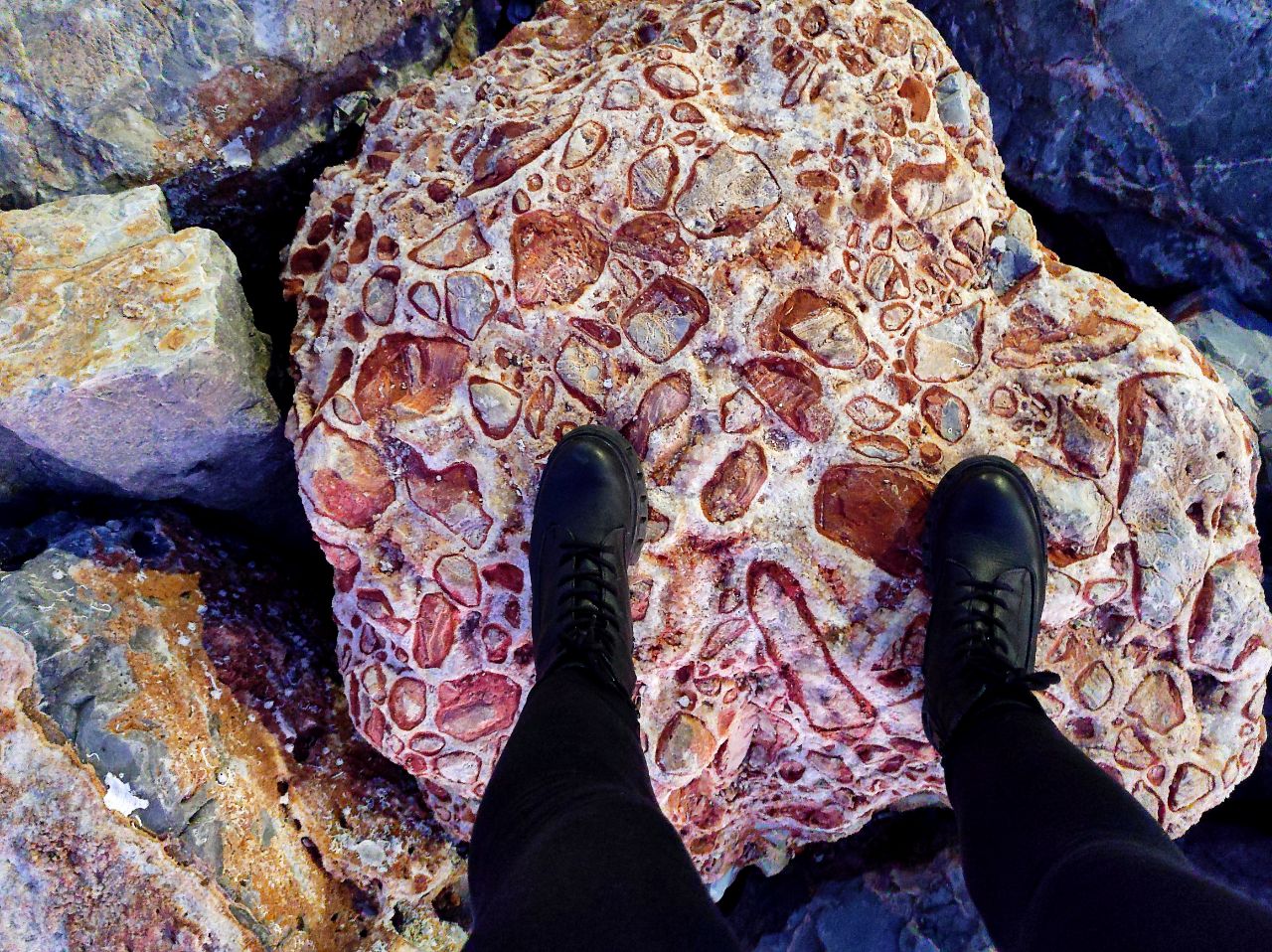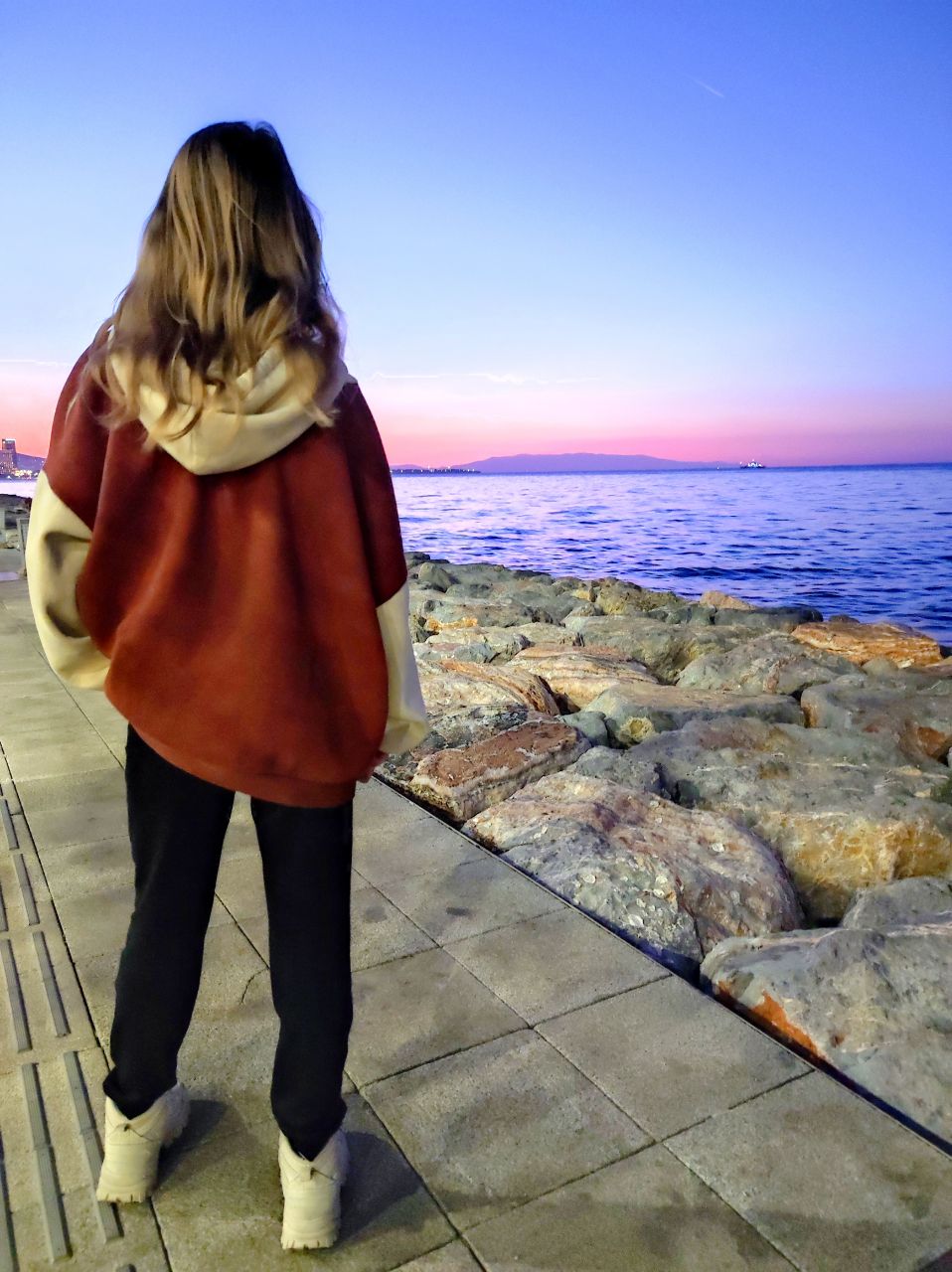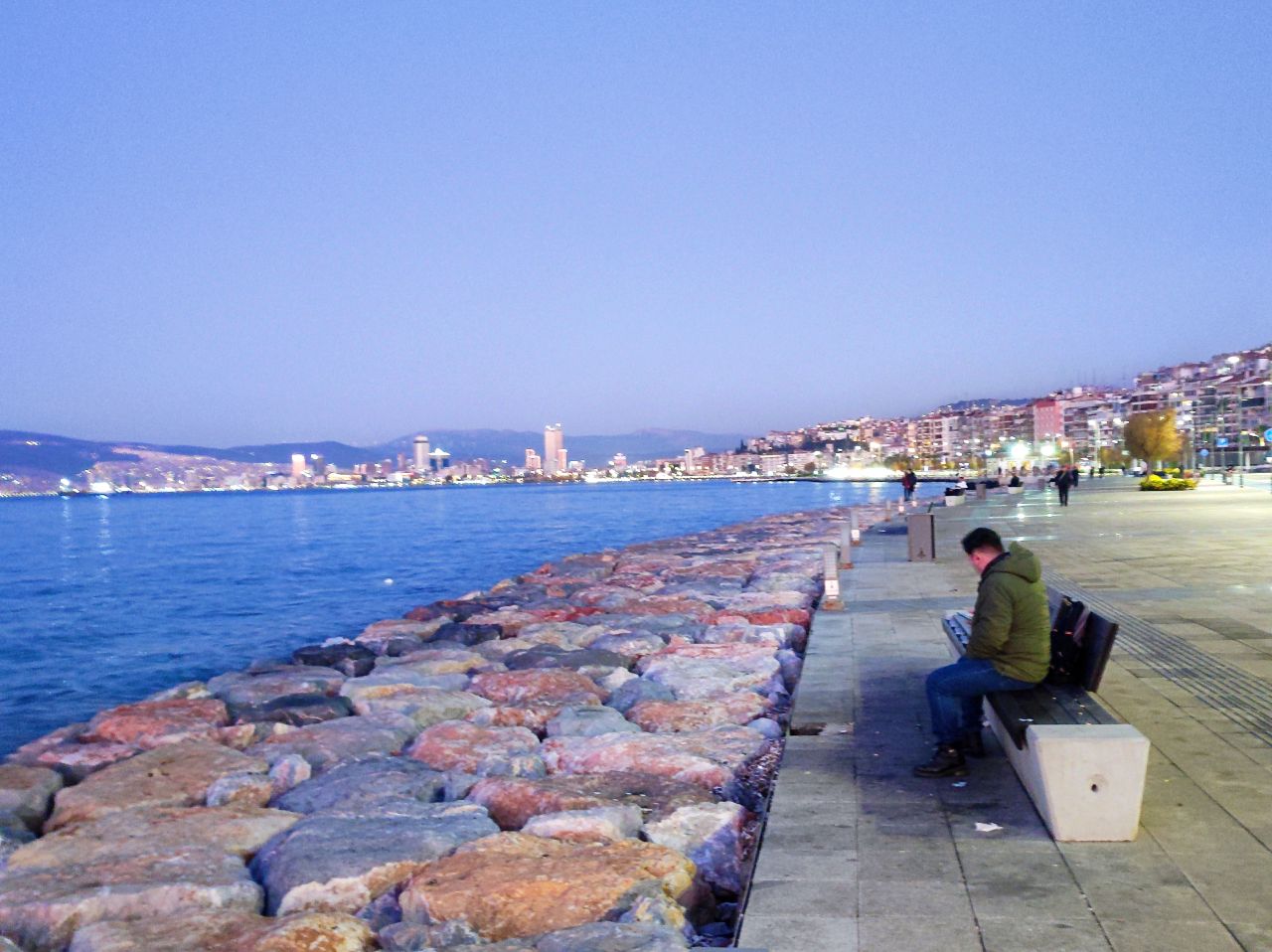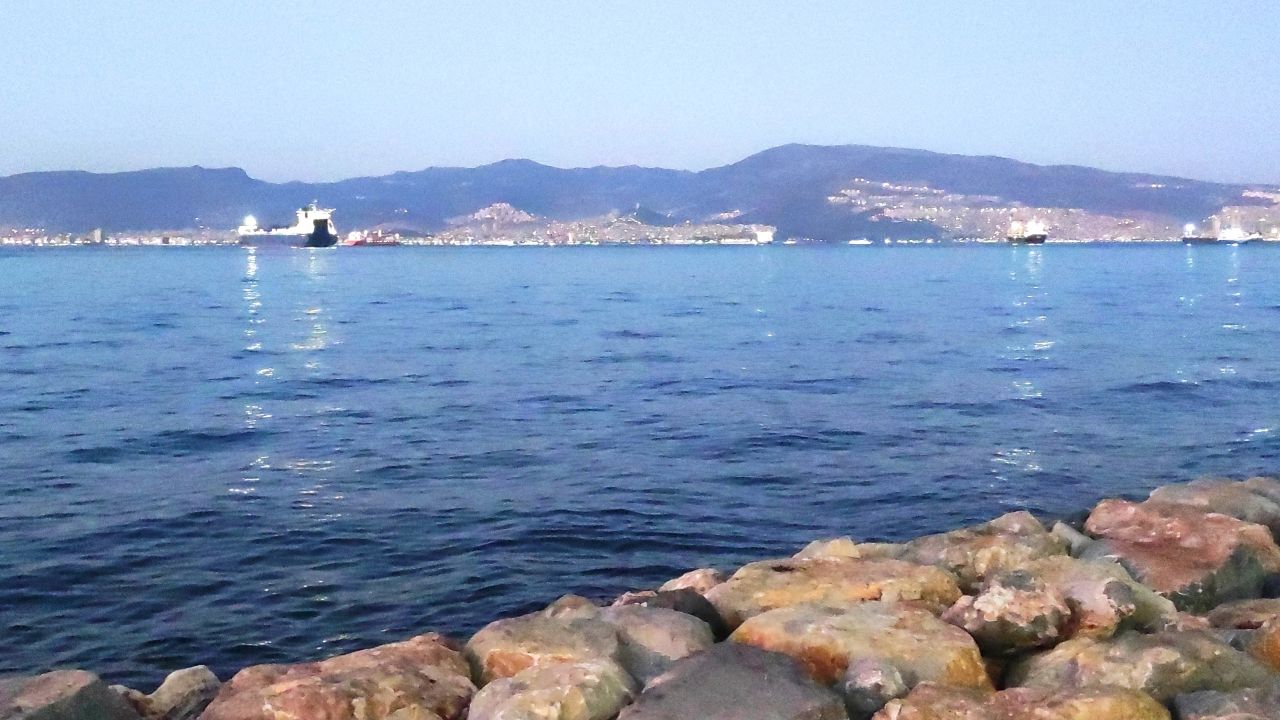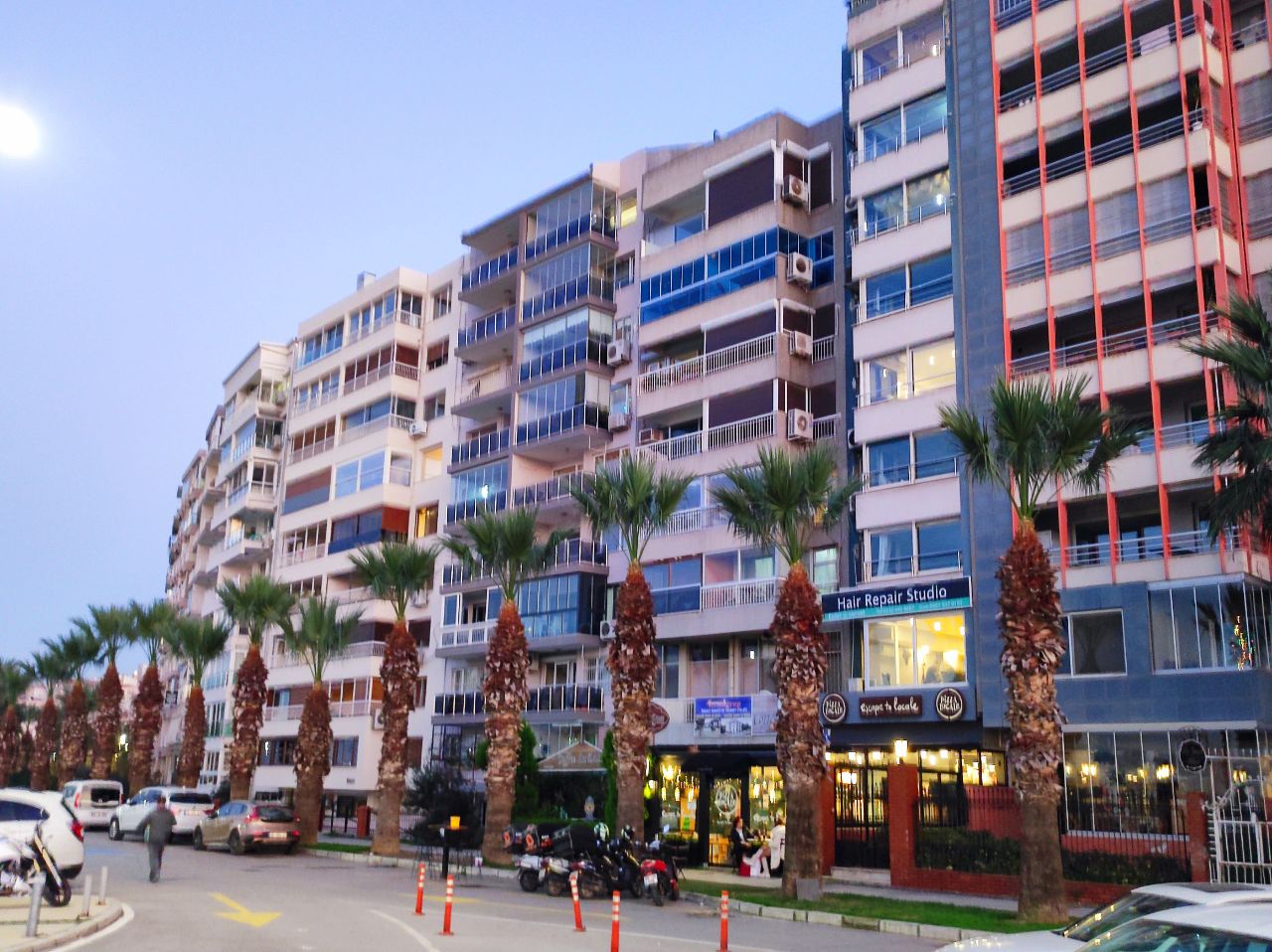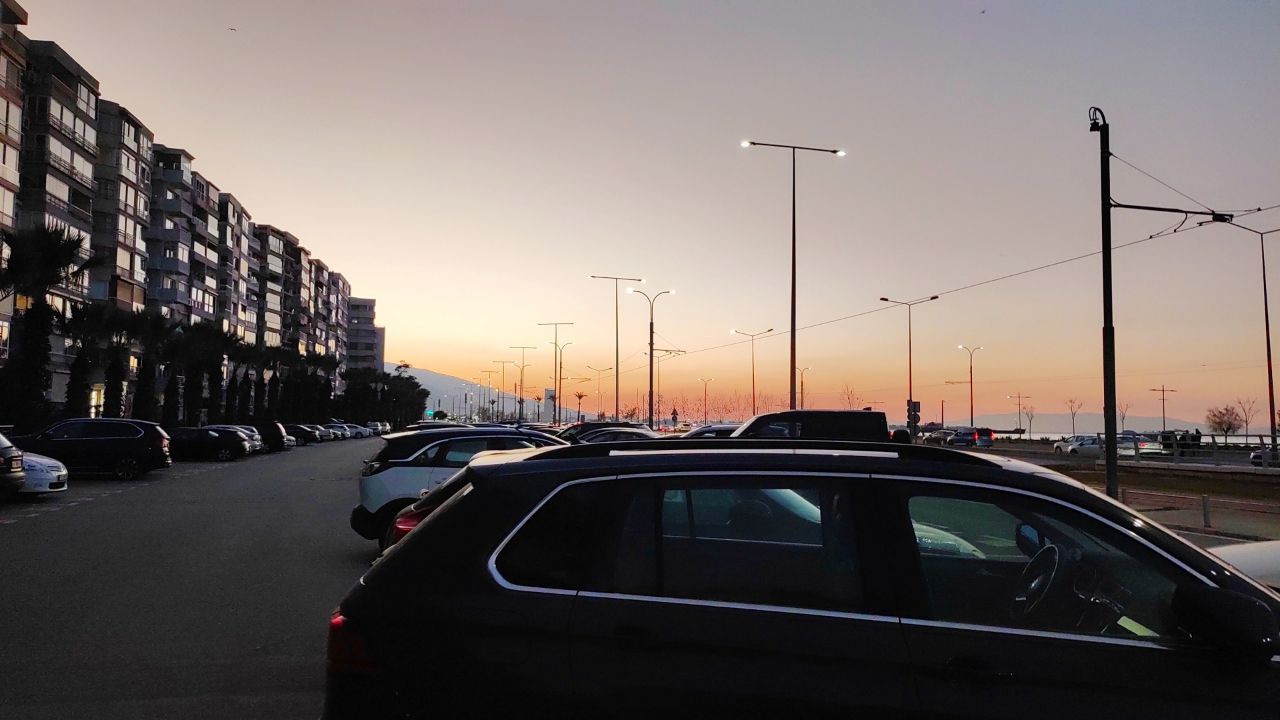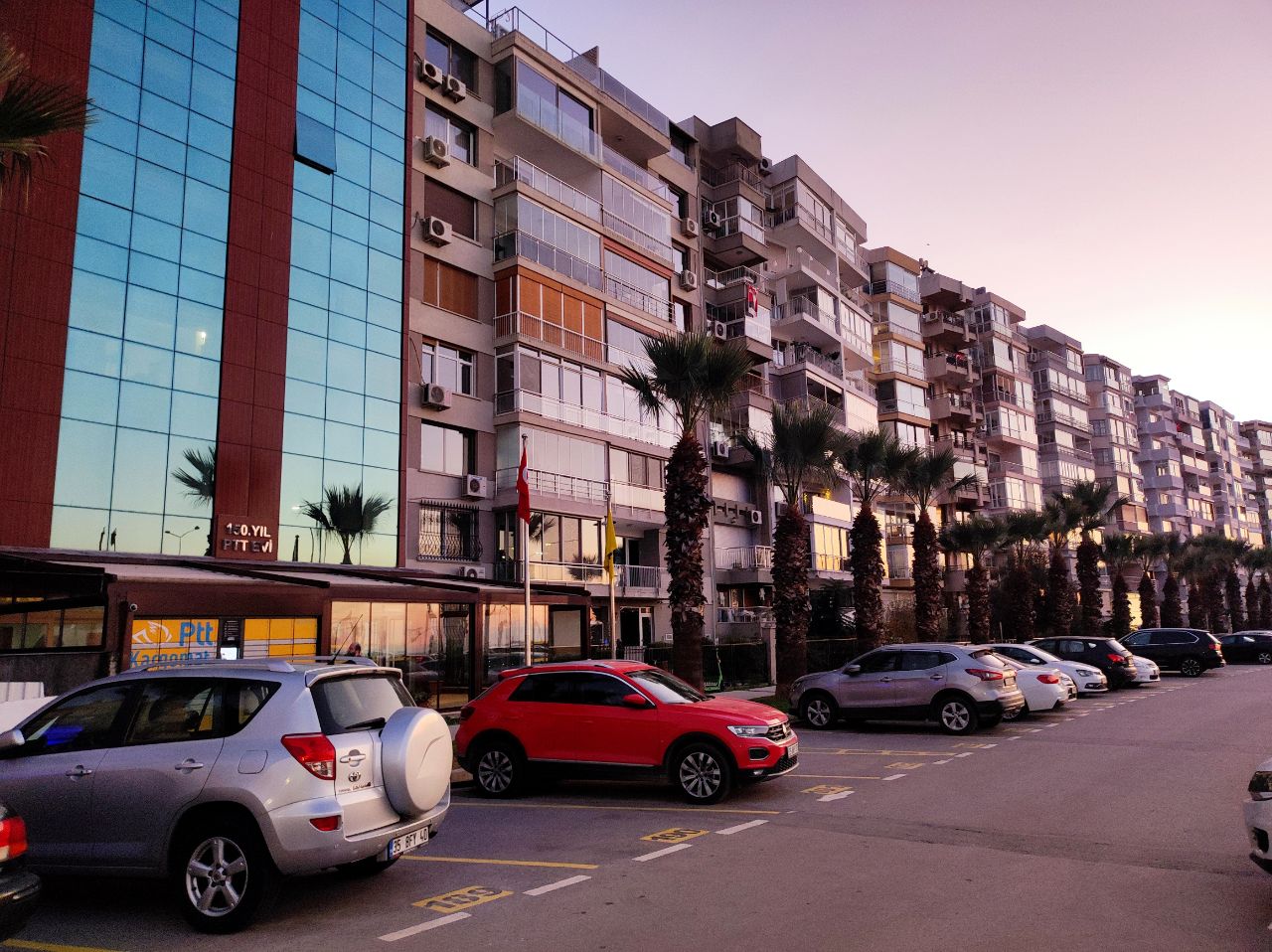 A bit of information from Wikipedia:
Izmir is one of the oldest cities on the Mediterranean coast, it existed for 3000 years BC. e. It is also one of the largest centers of ancient civilization.
Smyrna experienced its highest prosperity in 650-545. e., when writing spread in it. Most architectural monuments dating from this period have inscriptions. The main temple of the city, dedicated to Athena, was destroyed in 545 BC. e., after which over the next 200 years the city gradually fell into decay.
A new period of prosperity was associated with the spread of the Hellenistic civilization in the Eastern Mediterranean. Like Alexandria, Rhodes, Ephesus, Pergamon, Smyrna then had 100,000 inhabitants. All citizens of the policy could not accommodate within the old settlement, so in 300 BC. e. a new settlement was founded on the outskirts of Kadifekale. In Roman times (133 BC-395) the city had cobbled straight streets, of which the main ones were the Sacred and Golden Ways. Agra has been preserved from this period to our time.
Smyrna is also mentioned in the Bible as one of the cities where the "Seven Churches" were built. This indicates that she played a huge role in the spread of Christianity. In particular, the first bishop of the city was St. Polycarp, one of the Apostolic Fathers, a disciple of John the Theologian. He was burned alive at the local stadium.
In 395, the Roman Empire splits into Western and Eastern, Izmir, respectively, becomes the possession of Byzantium. In subsequent centuries, the Seljuks, Arabs, Crusaders, Genoese compete for the right to own it. Izmir's status rises during the Ottoman era, when it turns into one of the country's most important trading centers. In 1619, a French embassy was opened in the city, and in 1620, an English embassy. During this period, there are 19 mosques, 18 synagogues and 1 Greek church. Although Izmir was badly damaged by earthquakes in 1688 and 1778, it remained a very successful port with a large percentage of the European population. In the XVIII-XIX centuries, Izmir turns into a kind of cultural bridge between East and West, it is visited by many English, French and Italian merchants. The influence of Western culture is still felt today, which is why Izmir is called the most European city in Turkey.
In 1919, Izmir moved to Greece. In 1922, the Turkish army under the leadership of Mustafa Kemal Ataturk occupied the city. This operation was accompanied by a terrible extermination of the Christian population (mainly ethnic Greeks and Armenians) and a big fire in the neighborhoods where they lived. This event entered world history under the name of the Izmir Massacre, or the Great Izmir Fire.
Modern Izmir is a multinational and multi-confessional city...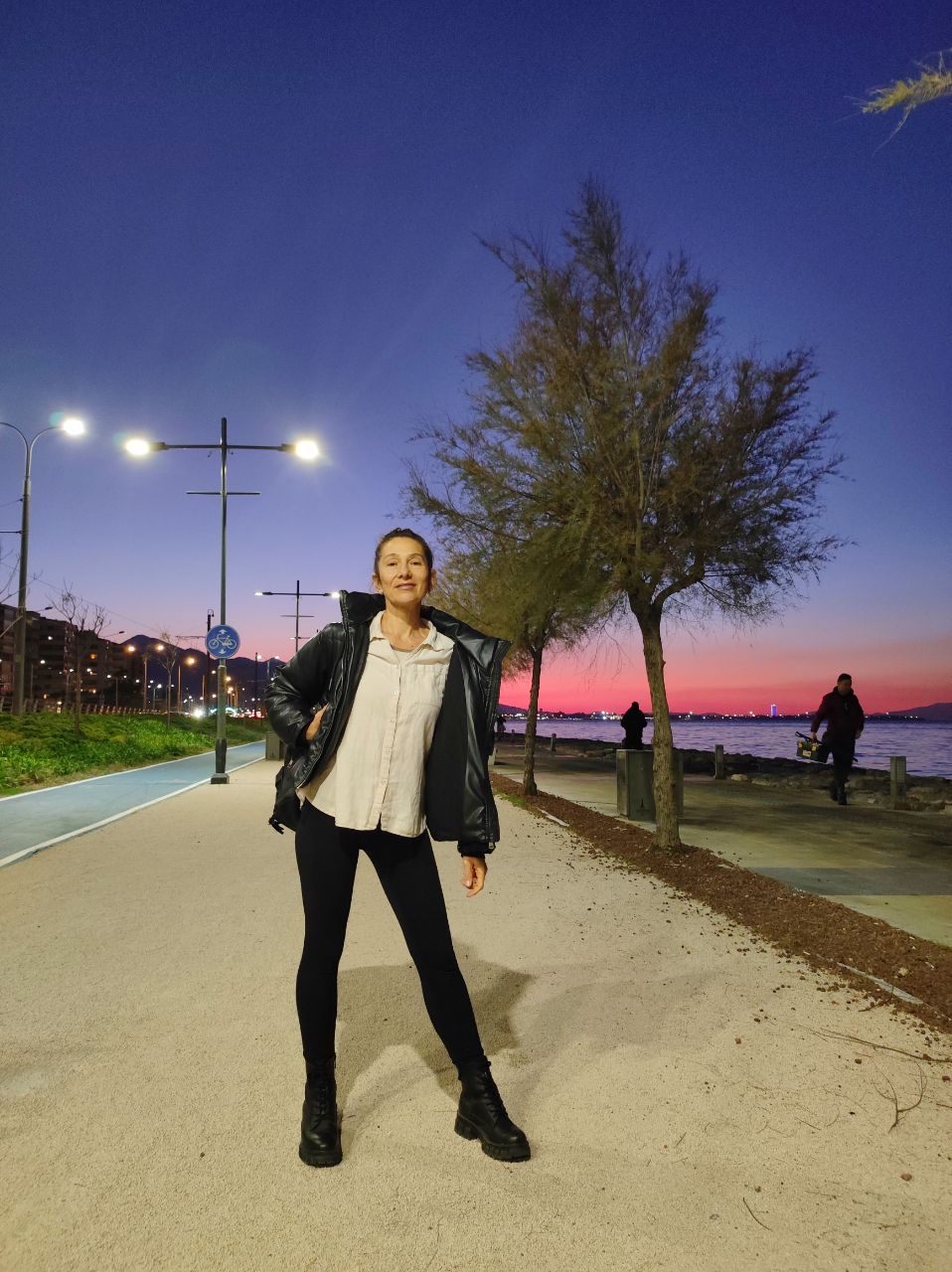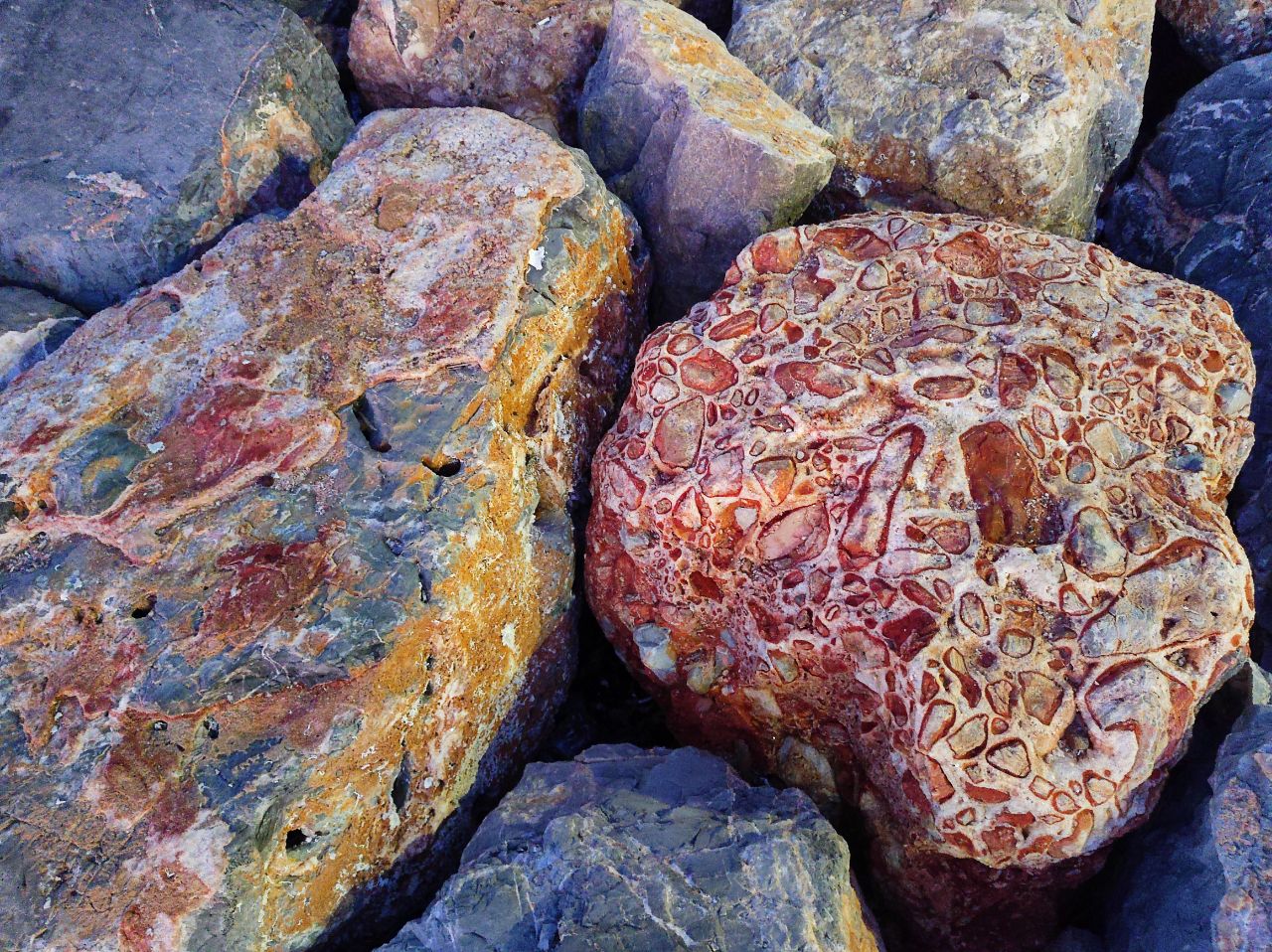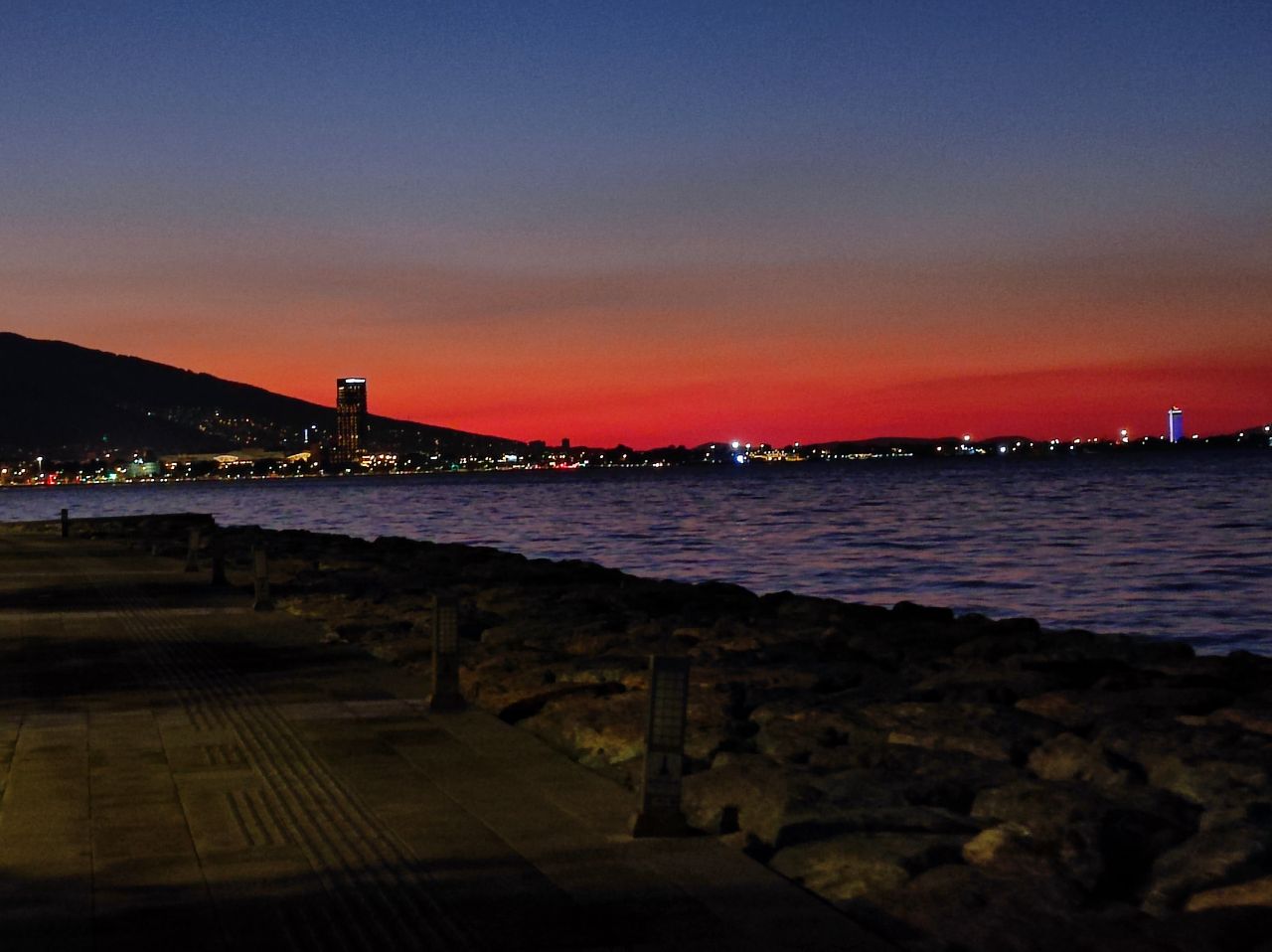 Of course, Izmir has many interesting architectural monuments, ruins of the old city, churches and mosques... Come and create your own impression of the unique face of this city.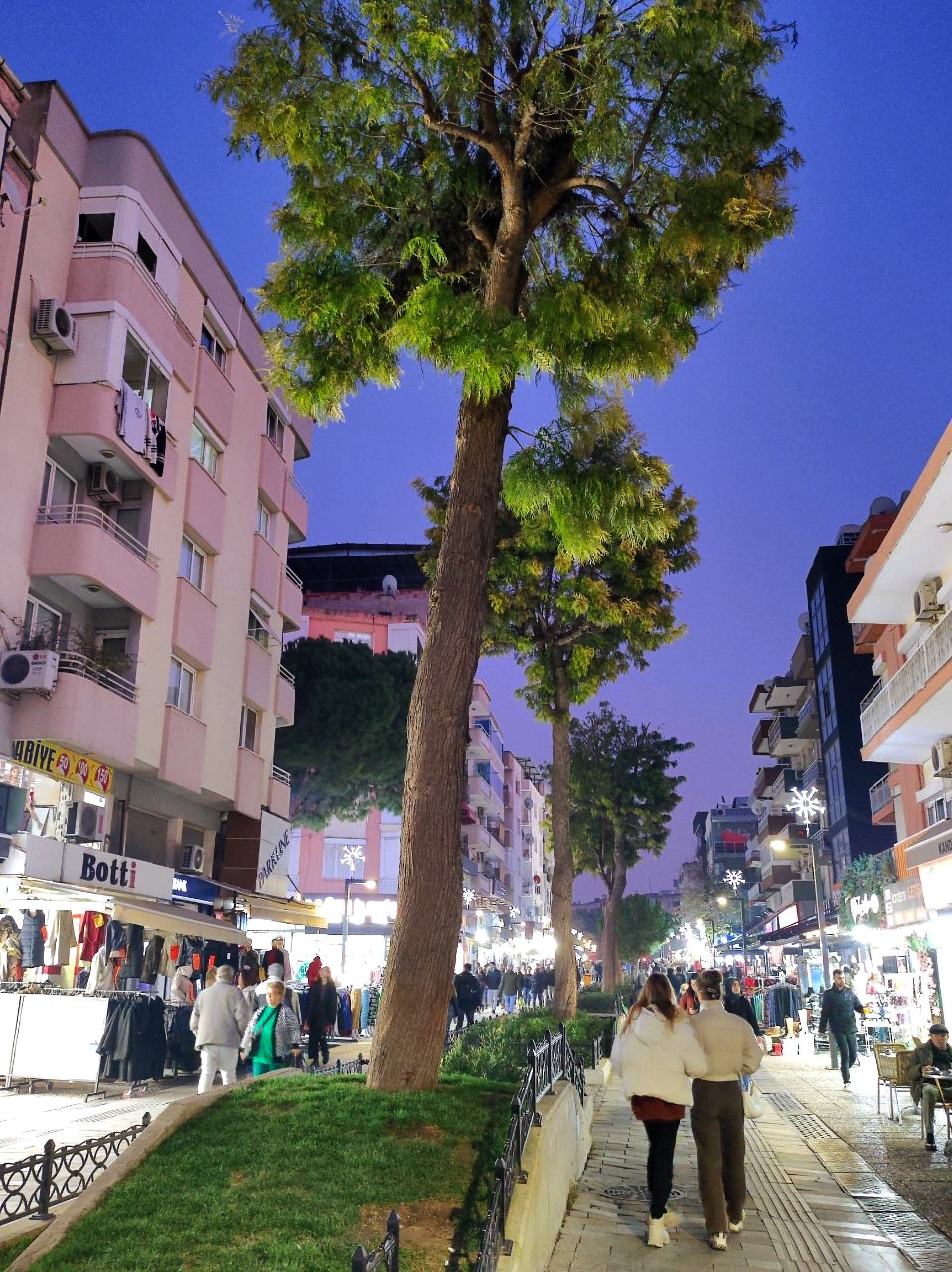 This face is so versatile! It can be ancient or modern, or a colorful combination of ancient and modern, as in these photos of a kindergarten :)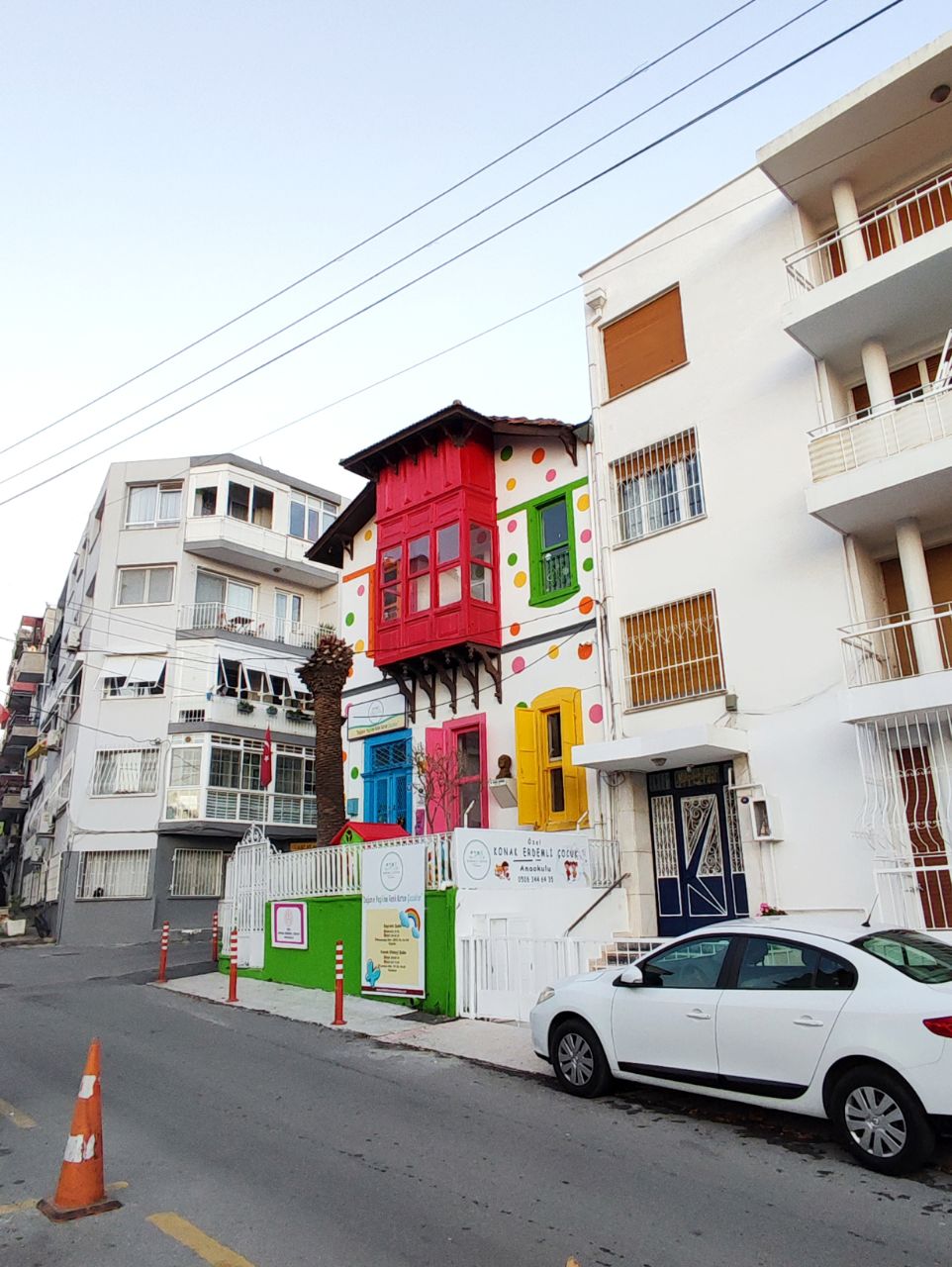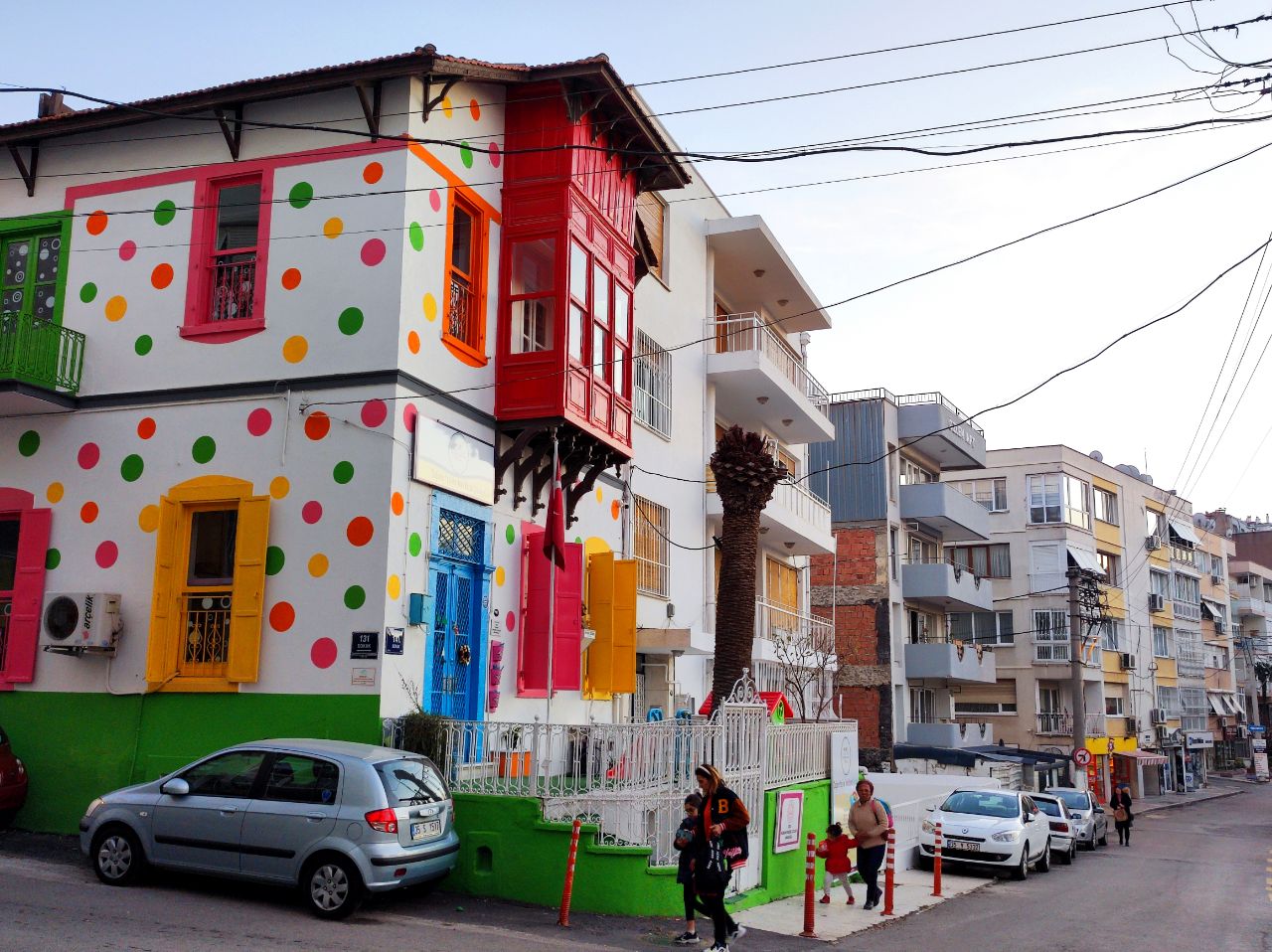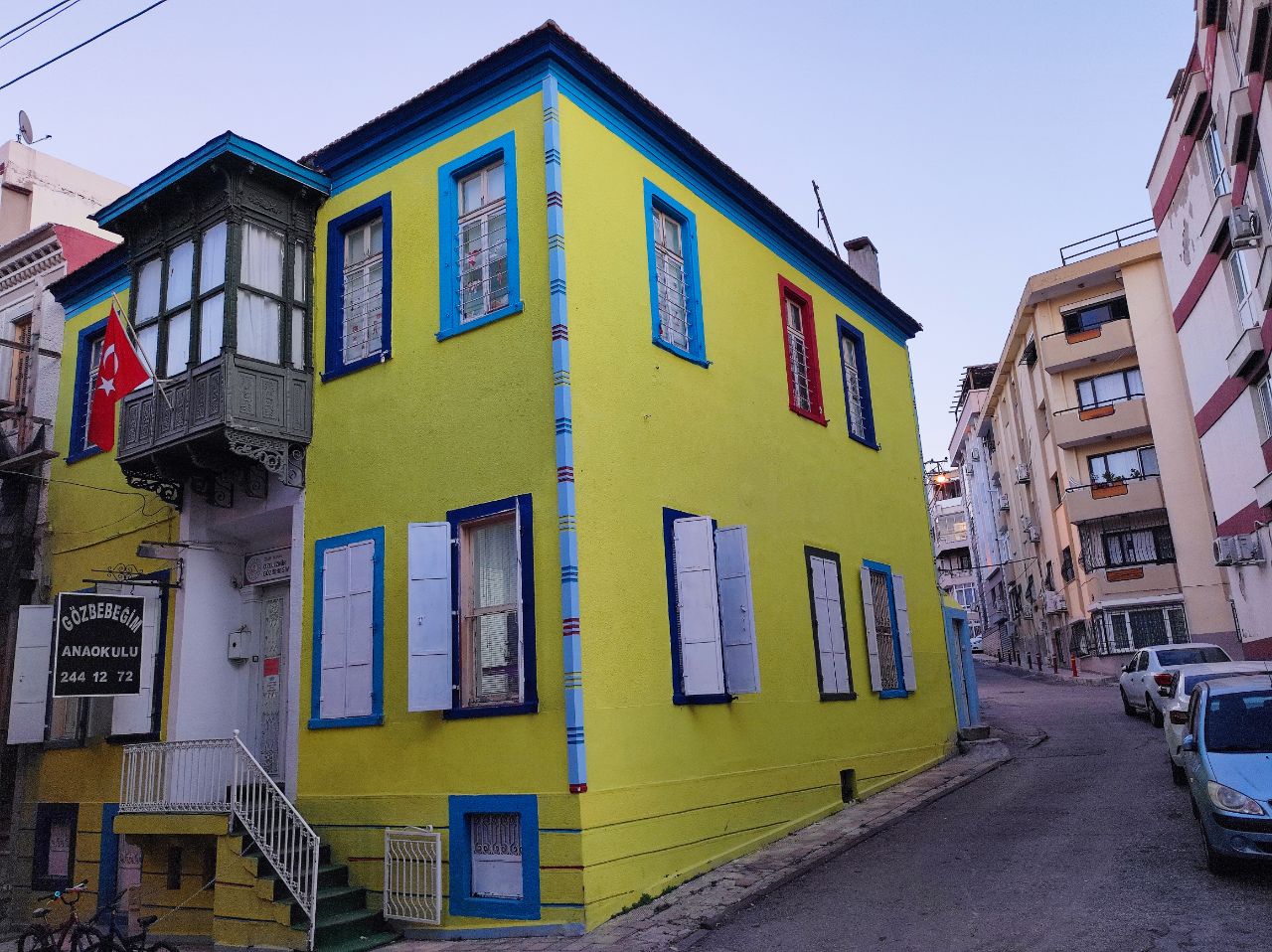 The #wednesdaywalk initiated by @tattoodjay :)
Our #TheLongestTrip continues...
Thanks to everyone, who watches our adventures and comments!