Un paseo por Paseo.
Hola comunidad.
Hoy es miércoles y por tanto es tiempo de traerles un paseo que aspiro a que disfruten tanto como yo lo hice en el Paseo del Prado, La Habana, Cuba.
El Paseo del Prado comienza en el malecón, justo en la estatua del poeta Juan Clemente Zenea y se extiende hasta el monumento de la Fuente de la India, según me cuentan las personas de más años que conozco. Lo cierto es que la mayoría de los habaneros reconocen este paseo solamente hasta la esquina de Neptuno, en donde se encuentra el monumento al patriota cubano Manuel de la Cruz.
A walk by Paseo.

Hello community.

Today is Wednesday and therefore it is time to bring you a walk that I hope you will enjoy as much as I did on the Paseo del Prado, Havana, Cuba.

The Paseo del Prado starts at the Malecon, right at the statue of the poet Juan Clemente Zenea and extends all the way to the monument of the Fuente de la India, according to the older people I know. The truth is that most Havana residents only recognise this promenade as far as the corner of Neptuno, where the monument to the Cuban patriot Manuel de la Cruz stands.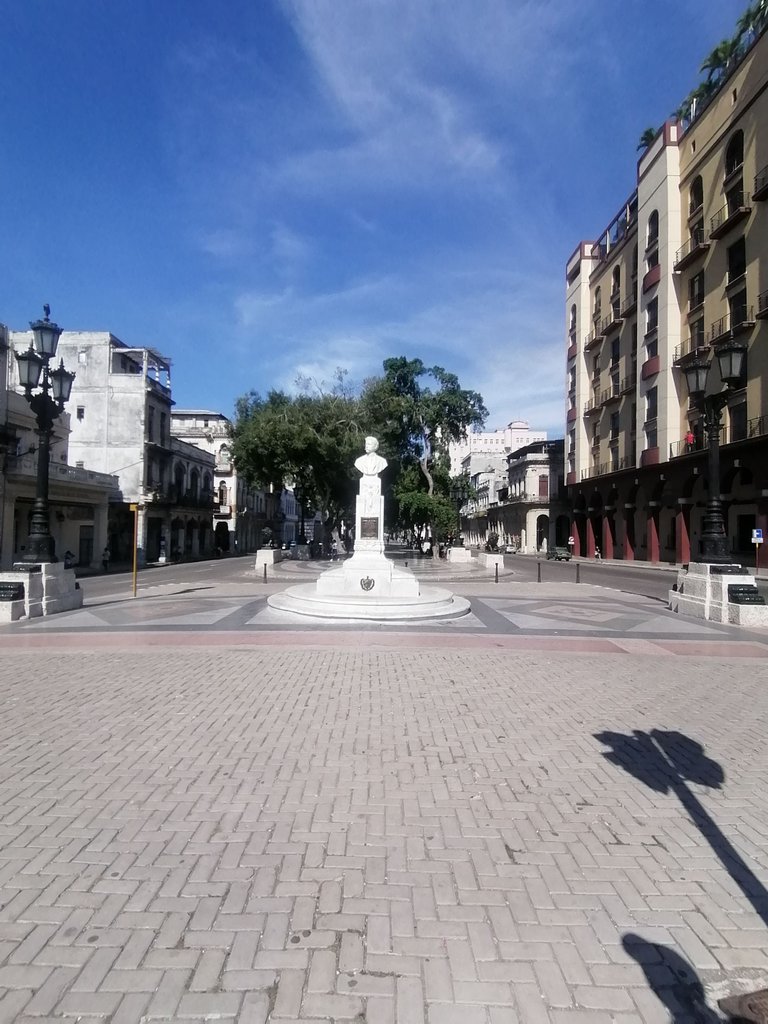 Por acá comencé mi paseo, caminando sobre estos adoquines que llevan hacia el monumento. Justo detrás de él hay un acceso a la calle para dar cruce a los vehículos.
This is where I started my walk, walking on these cobblestones that lead to the monument. Just behind it there is an access to the street to allow vehicles to cross.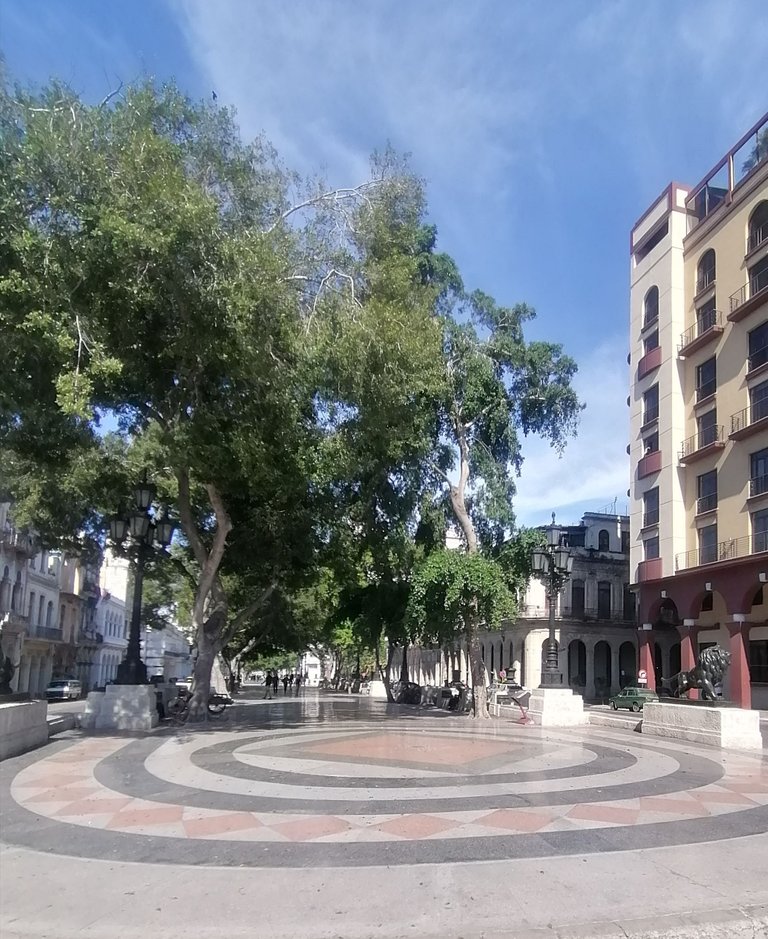 Esta vista da una idea de lo que nos espera en el camino sobre este suelo de granito en tres colores con dibujos que llaman la atención del transeúnte por los interesantes diseños que muestra.
This view gives an idea of what awaits us on the road on this three-coloured granite floor with patterns that catch the eye of the passer-by with their interesting designs.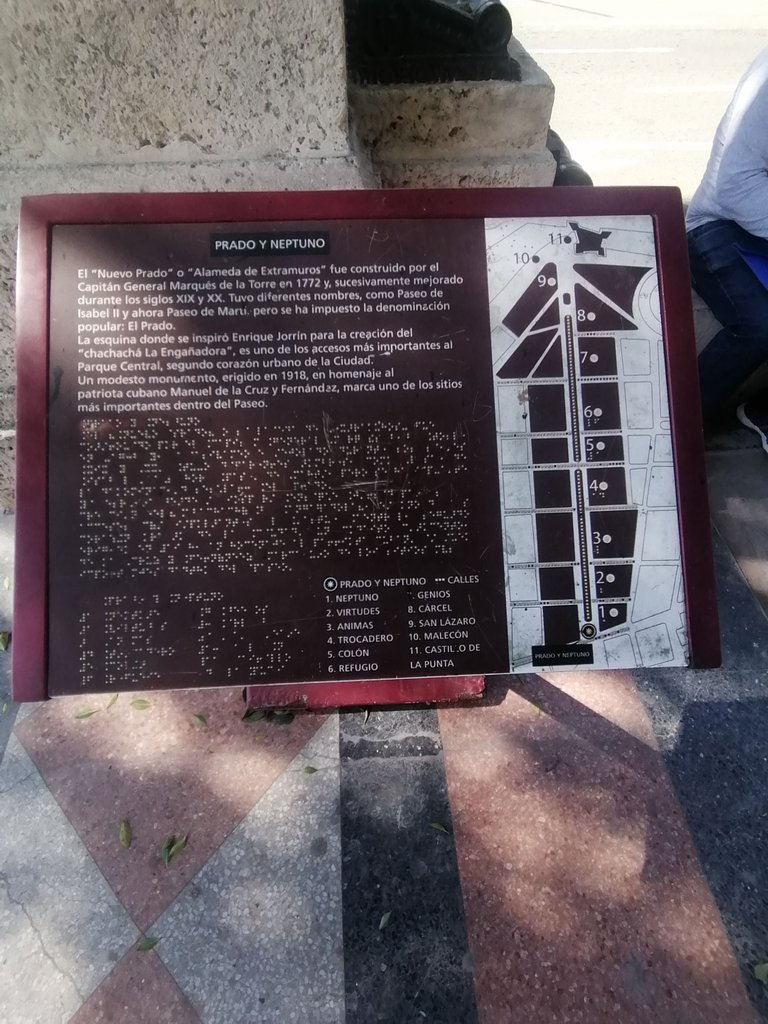 Una pancarta informativa nos enseña un croquis con las calles transversales que abarca todo este paseo. Su fecha de confección data del año 1772, pero cuentan que en esa fecha era un camino de tierra. Años después ha venido transformándose hasta nuestros días por la gran aceptación de las personas a su paso por aquí.
An information banner shows a sketch of the cross streets that make up the entire promenade. It dates back to 1772, but it is said that at that time it was a dirt road. Years later it has been transformed up to the present day due to the great acceptance of people passing along it.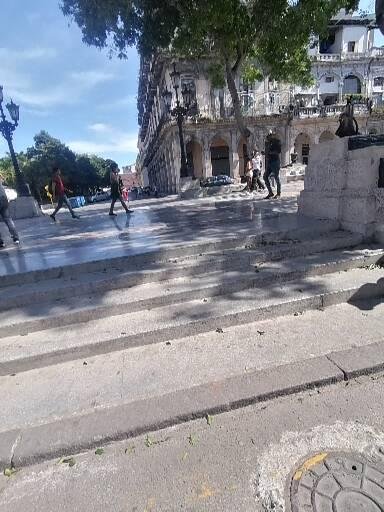 Estos escalones laterales dan directamente hacia estas calles transversales, como invitando a todo quien venga caminando desde ellas a adentrarse en el paseo.
These side steps lead directly onto these cross streets, as if inviting anyone walking from them to enter the promenade.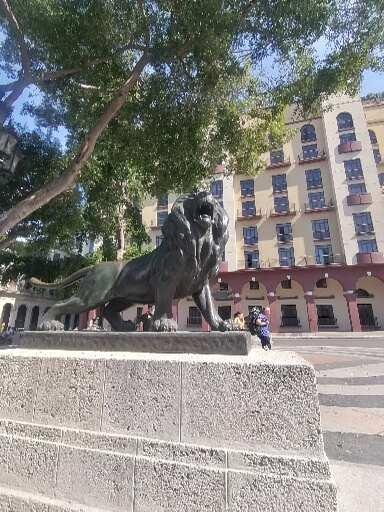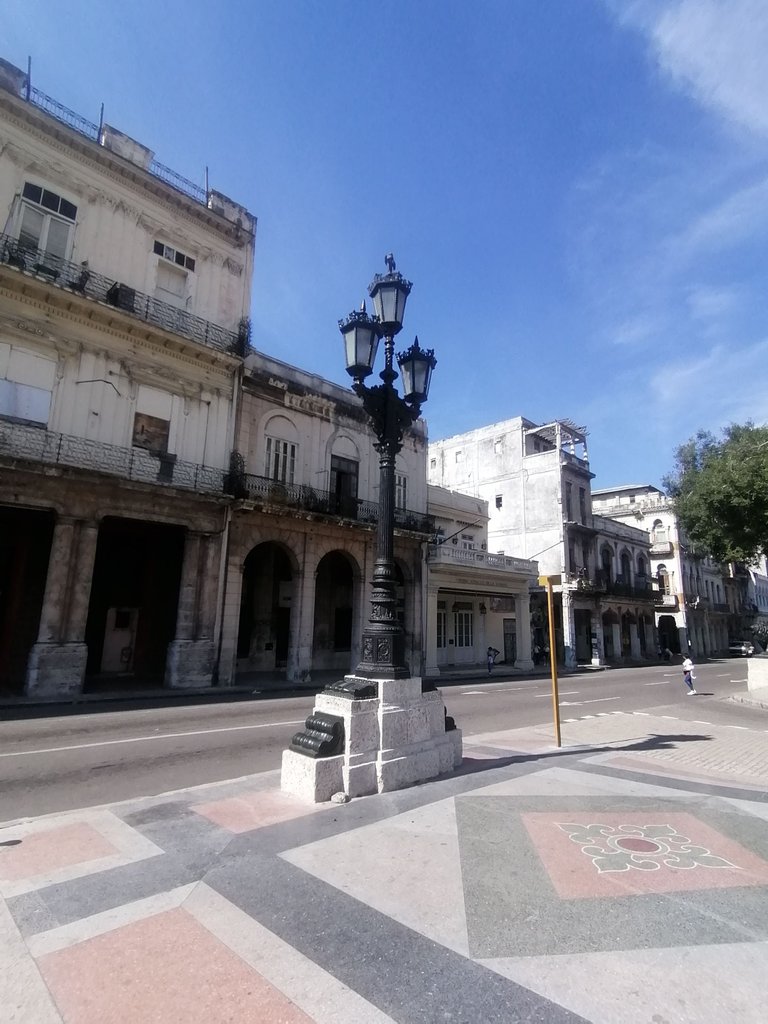 Los leones de bronce, que son como los guardianes de este lugar, nos reciben al adentrarnos en este camino de casi un kilómetro de distancia. Las elegantes farolas que en las noches iluminan, nos acompañan a ambos lados y en todo el extenso recorrido.
The bronze lions, which are like the guardians of this place, greet us as we enter this almost kilometre-long path. The elegant lampposts, which illuminate the area in the evenings, accompany us on both sides and along the entire lengthy route.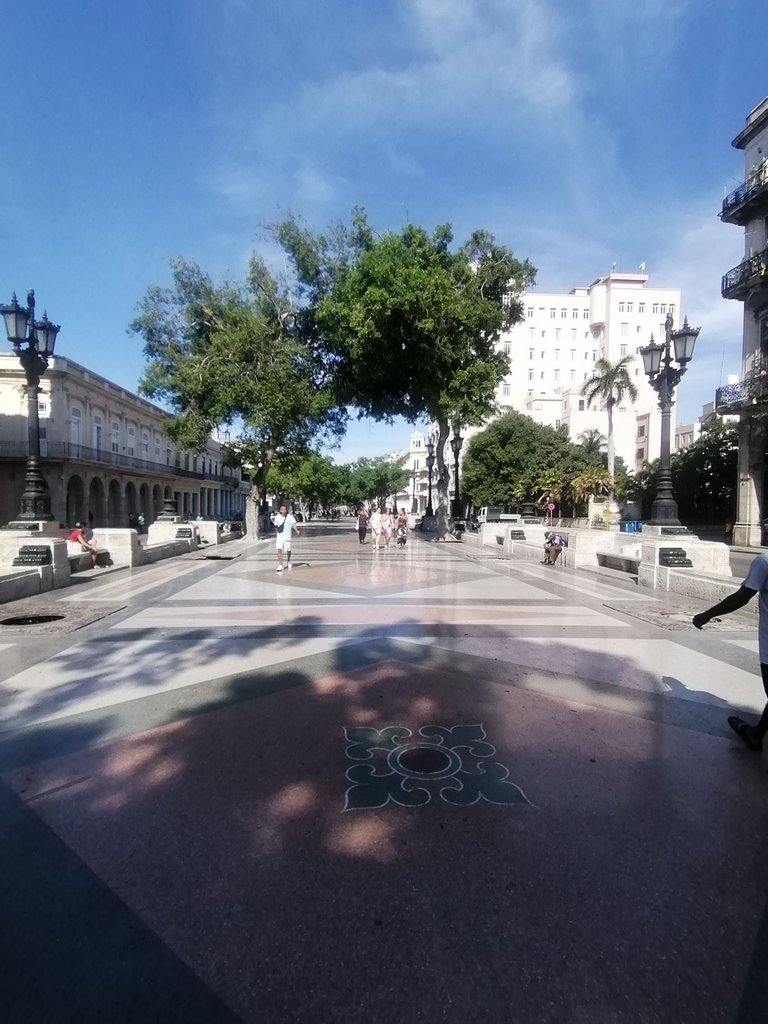 Árboles altos y frondosos ofrecen agradable sombra y refrescan las altas temperaturas de este paseo capitalino. Favorecen el andar e invitan a quedarse allí.
Tall, leafy trees provide pleasant shade and cool the high temperatures on this promenade in the capital. They encourage walking and invite you to linger.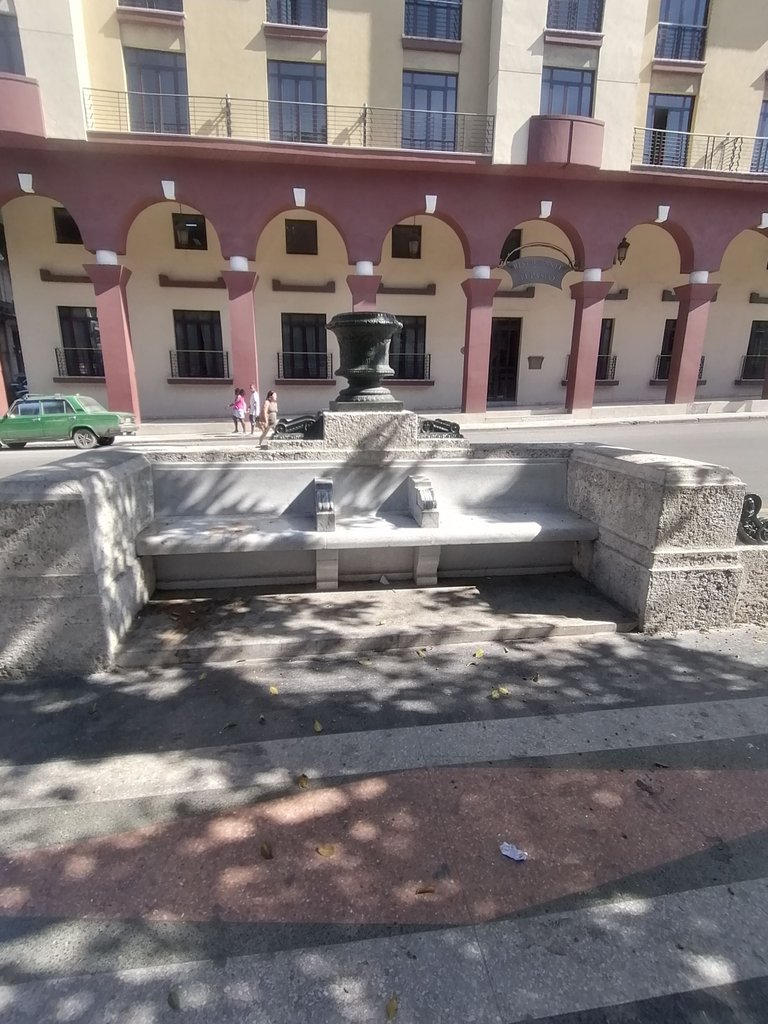 Bancos de mármol para el descanso, para sentarse a conversar y a enamorar como otros prefieren. A ambos lados del camino los tenemos por si necesitamos hacer uso de ellos.
Marble benches to rest, to sit and chat and to fall in love as others prefer. There are benches on both sides of the path in case we need to make use of them.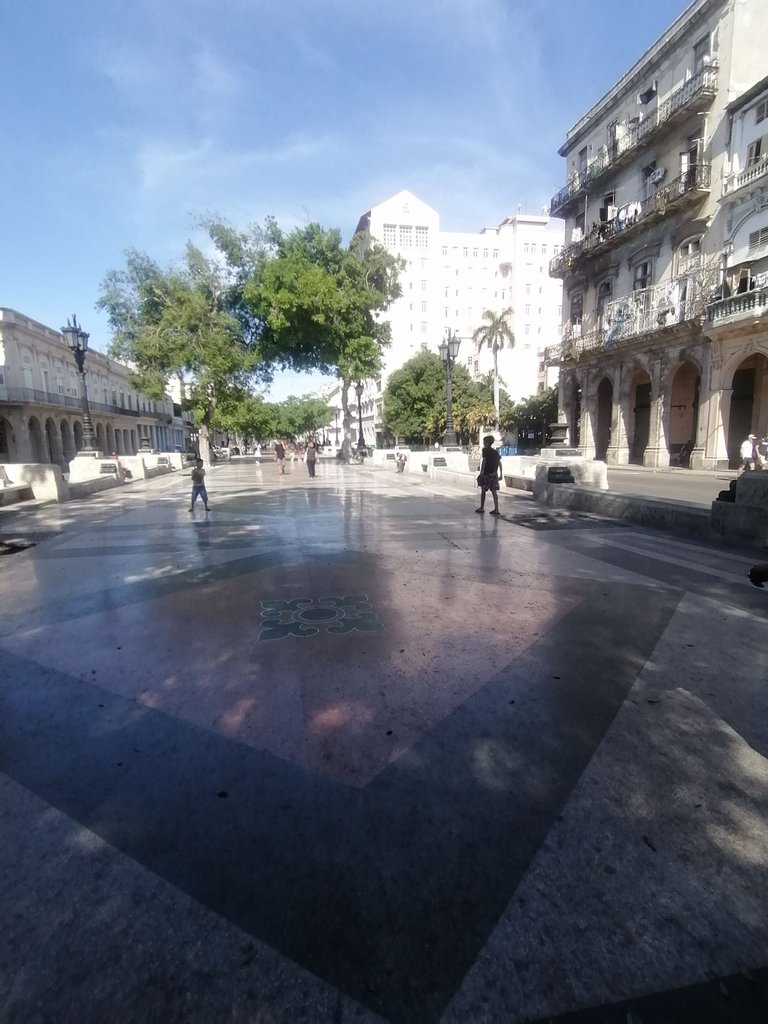 Niños jugando con una pelota encontré a mi paso. Las personas vecinas del lugar cuentan que los fines de semana los niños se apoderan de este espacio con juegos y participan en talleres de pintura y escultura que imparten los artistas que exponen sus creaciones en este lugar (de estos artistas ya les hablé en mi post de la semana pasada).
Children playing with a ball I found as I passed by. Neighbours say that on weekends children take over this space with games and participate in painting and sculpture workshops given by the artists who exhibit their creations in this place (I already told you about these artists in my post last week).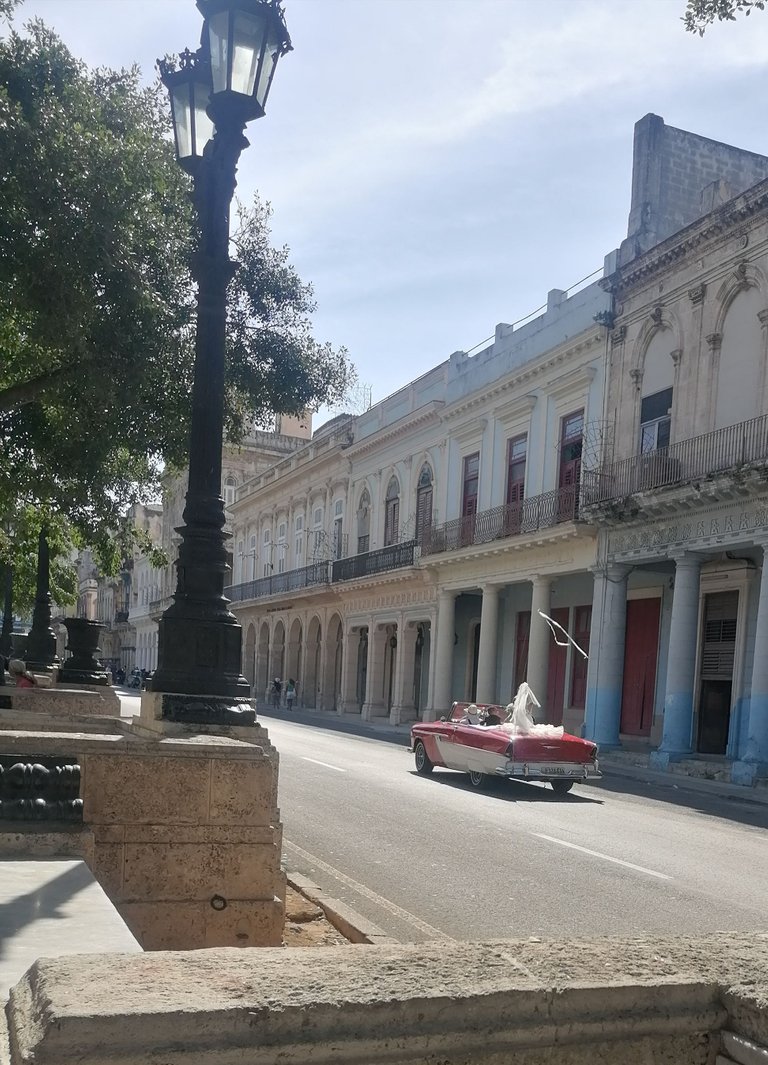 ¡Una boda en Prado! Esta es definitivamente la vista que más me gustó de mi paseo. Es algo digno de admirar la celebración de la unión de dos personas que deciden juntar sus vidas para compartirla y formar una familia.
A wedding in Prado! This is definitely the sight I liked the most on my walk. It is something to admire the celebration of the union of two people who decide to bring their lives together to share it and form a family.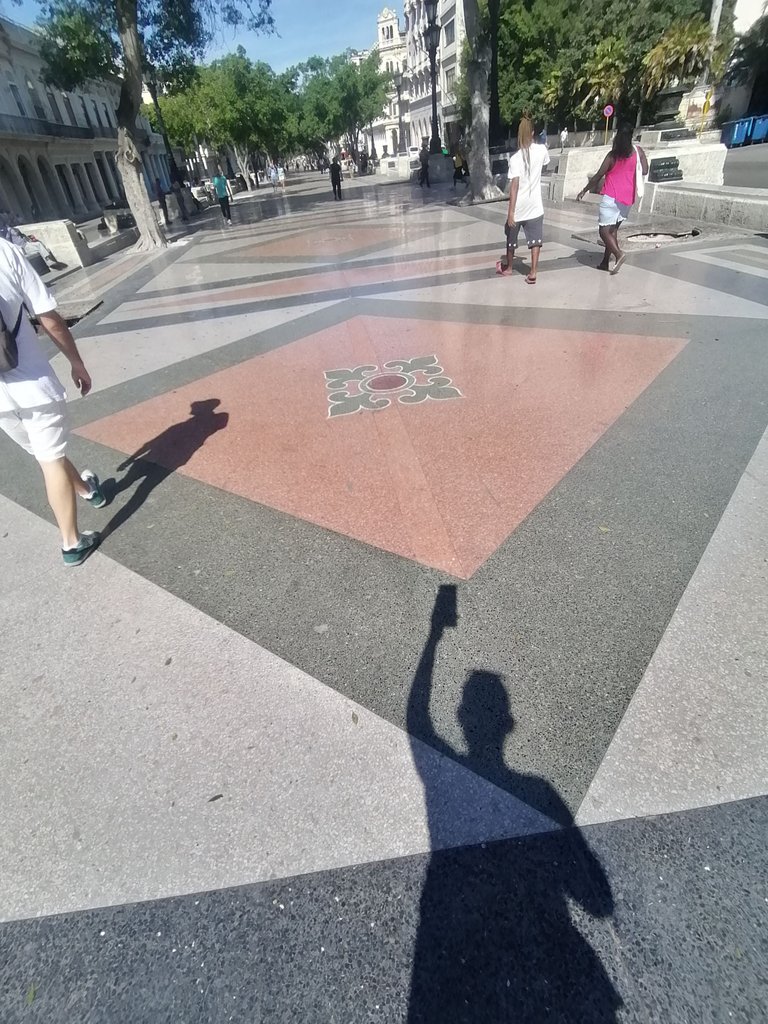 En esta imagen el sol me jugó una broma y me aproveché de ella para reafirmar con mi sombra mi presencia en este bello lugar.
Espero haber podido llevar hasta ustedes un agradable paseo y que hayan disfrutado como yo de este viaje por este hermoso recorrido de un lugar tan lleno de historia e importante para nosotros los cubanos. Creo que la vida un poco se trata de esto, de compartir las alegrías y lo bueno que existe para que otros tengan la oportunidad de conocer y aprovechar.
Esta es mi entrada para el reto #MiércolesDePaseo de @tattoodjay.
In this picture the sun played a joke on me and I took advantage of it to reaffirm with my shadow my presence in this beautiful place.

I hope I have been able to take you on a pleasant walk and that you have enjoyed like me this journey through this beautiful tour of a place so full of history and so important for us Cubans. I believe that this is what life is all about, sharing the joys and the good things that exist so that others have the opportunity to get to know and enjoy them.

This is my entry for the #WednesdayWalk challenge by @tattoodjay.
---
Hoy comienza el mes de febrero, que es el más corto del año, pero no por eso es más triste; sino todo lo contrario porque es el mes del amor. Quiero aprovechar y compartir con ustedes mi alegría por estar cumpliendo mis primeros tres meses en Hive y mostrarles mis aportes mediante el Power Up Month a mi cuenta y a la de mi esposo @newnow497.
Today begins the month of February, which is the shortest month of the year, but that doesn't make it sadder; quite the opposite because it is the month of love. I want to take this opportunity to share with you my joy for celebrating my first three months in Hive and show you my contributions through the Power Up Month to my account and my husband's account @newnow497.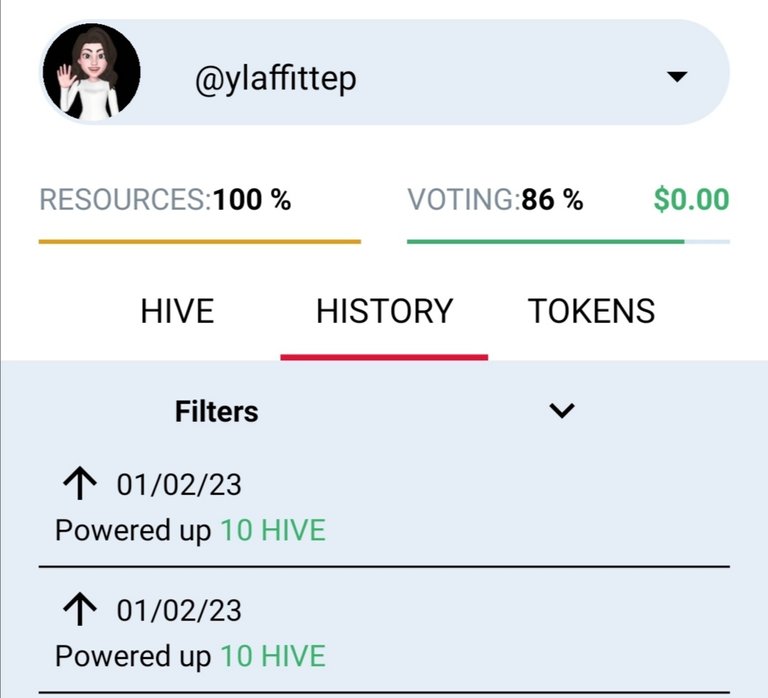 ---
Crea a tu manera y vive tu creación, es tu vida, ¡vívela!
Create your way and live your creation, it's your life, live it!
---

---
Texto y fotos de mi autoría, desde mi teléfono HUAWEI P30 LITE. / Text and photos by me, from my HUAWEI P30 LITE phone.
Twitter: @ylaffittep
Facebook: @ylaffittep
---