Hello friends, I want to present to all of you this drawing that I made to participate in the twenty-third (23) day of INKTOBER 2021, where the theme of that day was the word LEAK.
Creative process:
For this theme of the 22nd day of Inktober, I wanted to do something a little different, if you see my previous drawings you could see that the drawing style has gradually changed, so for this drawing I wanted to incorporate several new elements into the composition.
The sketch:
The first step for me is always to make a sketch, to draw smooth lines to define the elements that make up the drawing.
Versión en Español:
Hola amigos, quiero presentar a todos ustedes este dibujo que hice para participar en el día veintitres (23) del INKTOBER 2021, en donde el tema de ese día era la palabra en inglés LEAK, que al español puede traducir como FUGA O GOTEO.
Proceso creativo:

Para este tema del día 22 del Inktober, quería hacer algo un poco diferente, si ven mis dibujos anteriores se podrán dar cuenta que paulatinamente el estilo de dibujo ha ido cambiando, entonces para este dibujo quise incorporar varios elementos nuevos a la composición.

El Boceto:
Siempre el primer paso para mí es hacer un boceto, trazar líneas suaves para definir los elementos que componen el dibujo.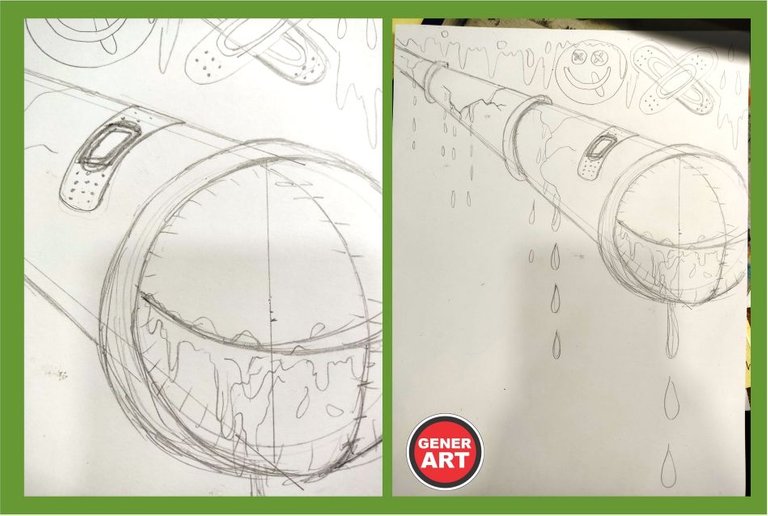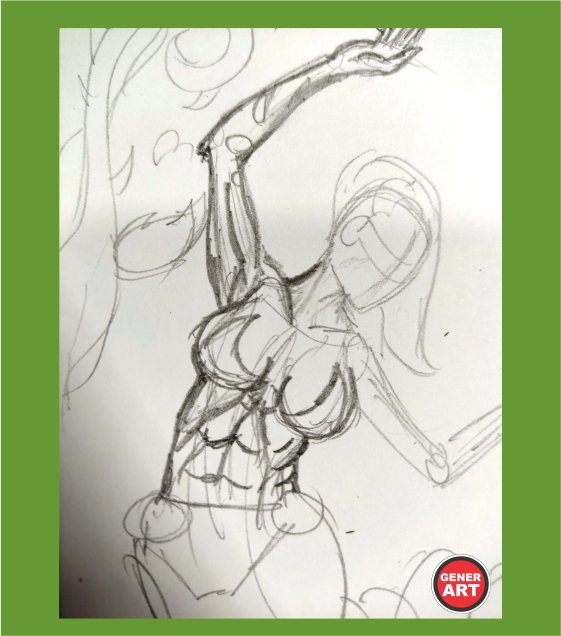 The Inking:
We must know that when we work in a traditional way there is often no turning back when a mistake is made, this is the case when we are inking, it must be done very carefully, slowly but with firm and safe strokes.
I did the inking of this drawing with a 0.5 millimeter MICRON brand stilograph, and I began to do it through the pipe that is all fractured and leaking.
El Entintado:
Debemos saber que cuando trabajamos de manera tradicional muchas veces no hay vuelta atrás cuando se comete un error, es el caso cuando estamos entintando, se debe hacer como mucho cuidado, de manera pausada pero con trazos firmes y seguros.

El entintado de este dibujo lo hice con un estilógrafo negro marca MICRON de 0.5 milímetros, y lo comencé a hacer por la tubería que está toda fracturada y goteando.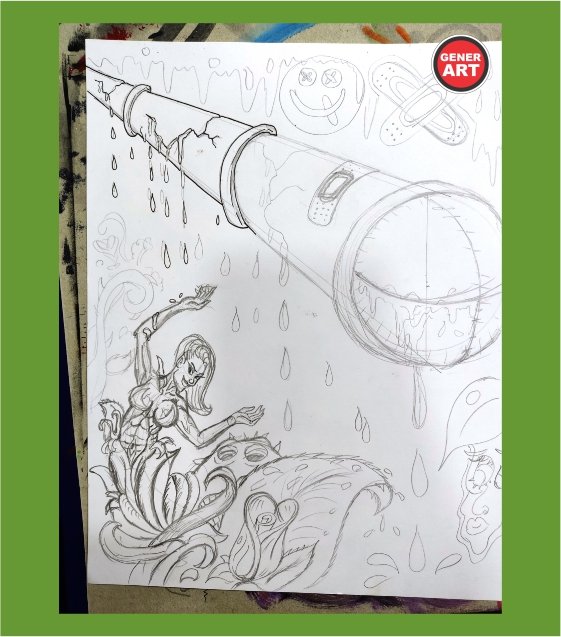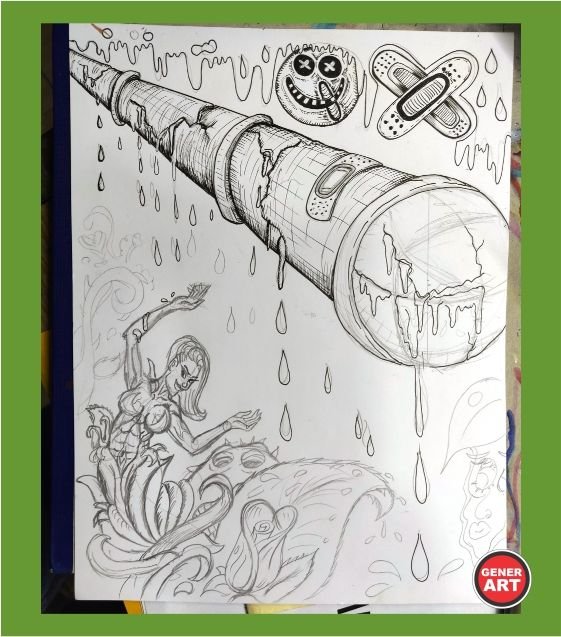 As I commented at the beginning of the post, I wanted to incorporate discordant elements in the composition of the drawing, but for me these elements are not discordant, they have a reason for being within the drawing.
Drawing details:
Como comenté al principio de la publicación, quise incorporar elementos discordantes en la composición del dibujo, pero para mí dichos elementos no son discordantes, tienen una razón de ser dentro del dibujo.

Detalles del dibujo: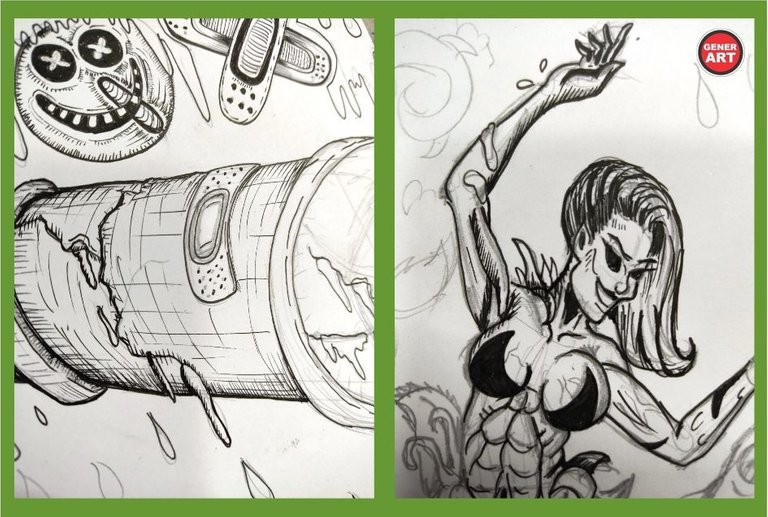 This was the progress of the drawing after two hours of inking, it seems like it was a quick process, but I can tell you with great certainty that when we start drawing, time flies. Isn't my super mug where I have these colored markers and other materials is great?
Así era el avance del dibujo después de dos horas entintando, parece que fuera un proceso rápido, pero la verdad que cuando nos ponemos a dibujar el tiempo pasa volando ¿Digan que tengo razón al decir que mi super taza donde tengo estos marcadores de colores y otros materiales está genial?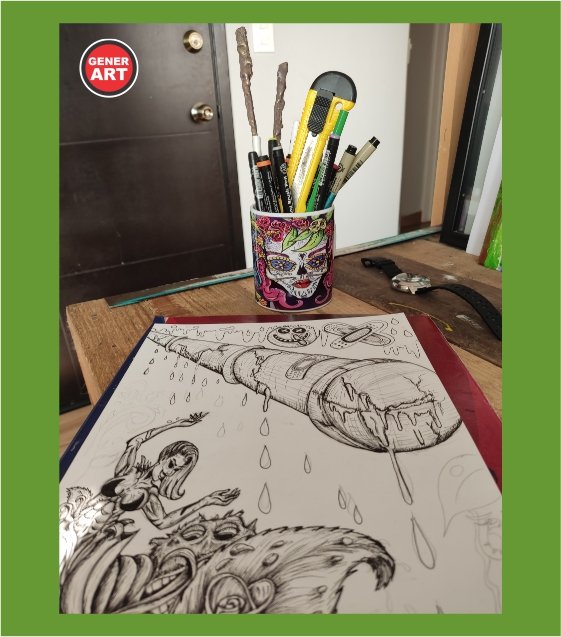 I am going to allow myself to show a photo at the moment when I started to apply a little color with some water-based acrylic paints.
You can also appreciate the wooden desk I work on, which by the way I did myself, I have yet to make a post about it one day 😉
Me voy a permitir mostrar una foto en el momento que comencé a aplicar un poco de color con algunas pinturas acrílicas a base agua.

También pueden apreciar el escritorio de madera en el cual trabajo, que por cierto lo hice yo mismo, tengo pendiente hacer una publicación al respecto algún día 😉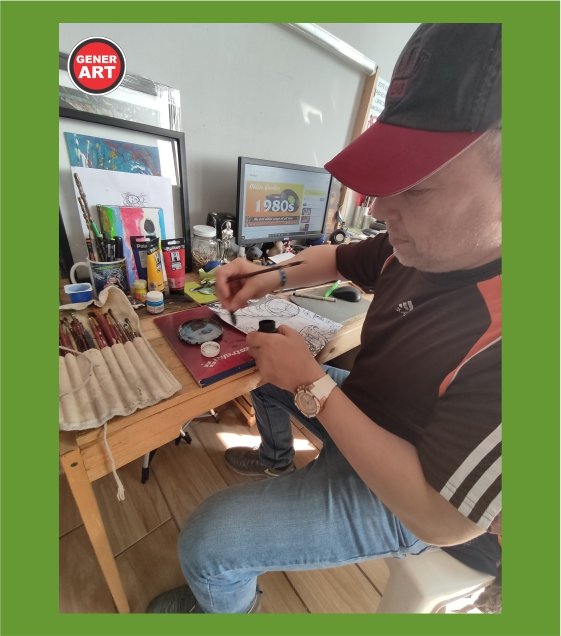 I show you the drawing before coloring it with water-based acrylic paints, I was thinking a lot about painting it or not, at first I wanted it to be in black and white, only with hatching details for the shadows and lights, but in the end I decided for painting it and giving it that touch of color. I think it was good to do it.
Les muestro el dibujo antes del coloreado con pinturas acrílicas a base de agua, estuve pensando mucho sobre pintarlo o no, en un principio quería que fuera en blanco y negro, solo con detalles de achurado para las sombras y luces, pero al final me decidí por pintarlo y darle ese toque de color. Creo que estuvo bien hacerlo.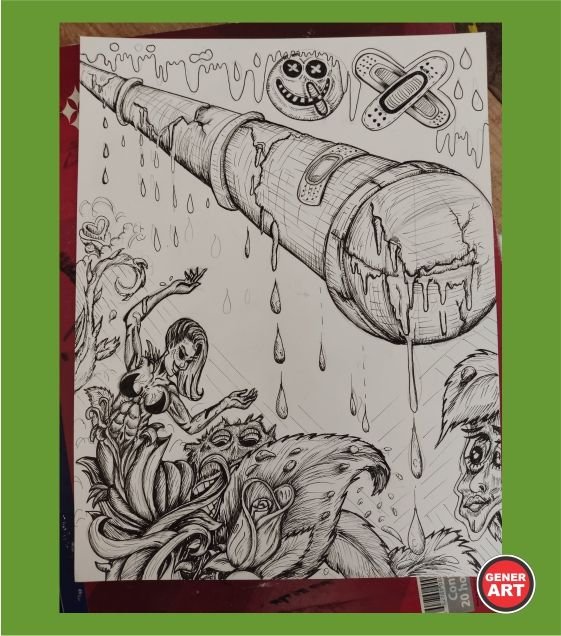 I started coloring at the top with black and dark blue colors, my intention was that the elements stand out from the background of the drawing.
Comencé a colorear por la parte superior con los colores negro y azul oscuro, mi intensión era que los elementos sobresalieran del fondo del dibujo.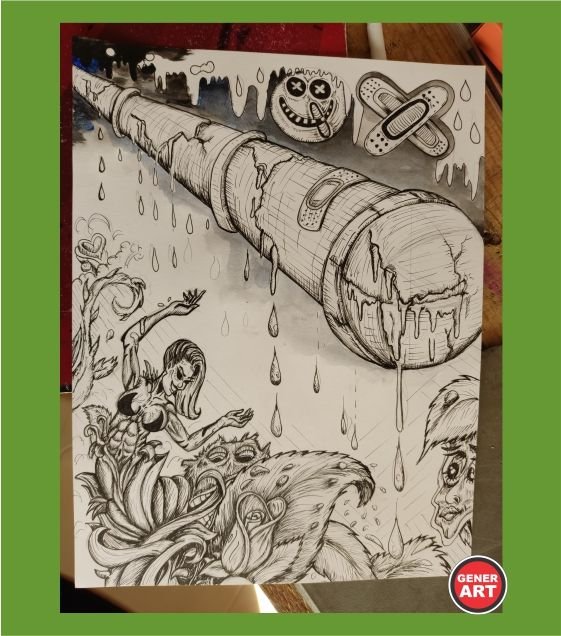 FINAL RESULT / Resultado Final:
After several hours of drawing, inking and painting I came to a final result.
Después de varias horas dibujando, entintando y pintando llegué a un resultado final.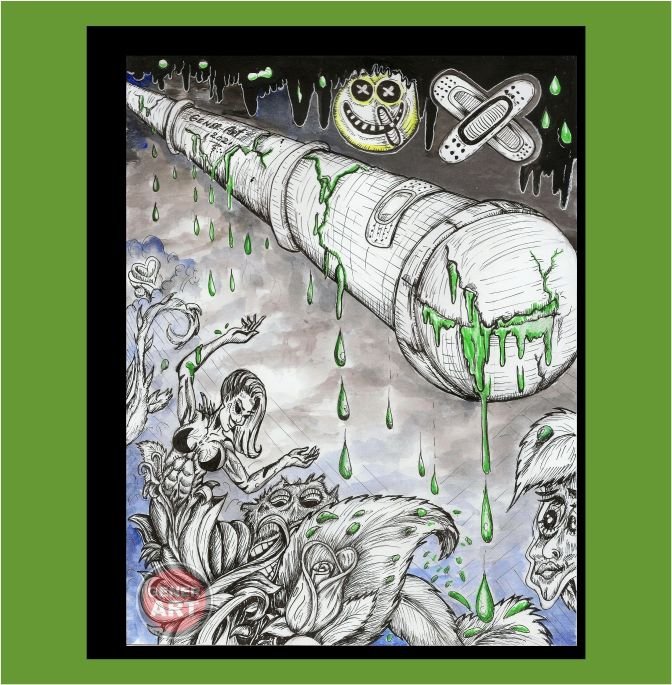 A bit of digital adjustment to change the colors a bit.
Un poco de ajuste digital para cambiar un poco los colores.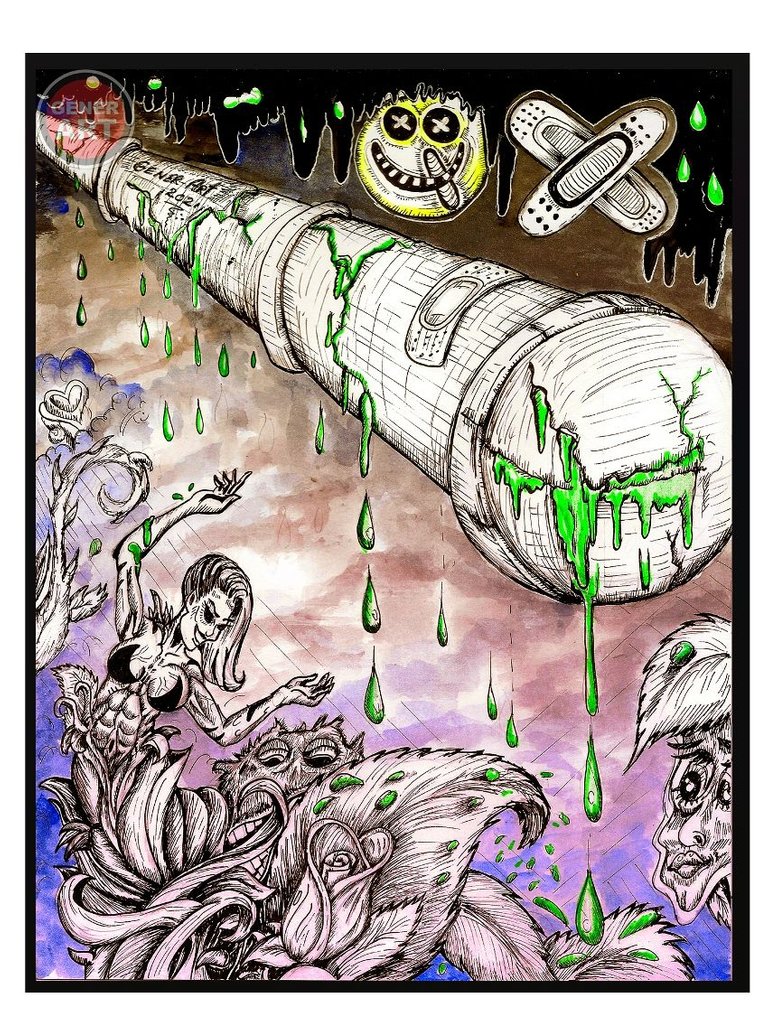 I would very much like you to give me your interpretation of the drawing, considering that the drawing was made to fulfill the theme of the Inktober on the 23rd, which I translated and interpreted as LEAK AND DRIP.
Me gustaría mucho que me dieras tu interpretación del dibujo, tomando en cuenta que el dibujo fue hecho para cumplir con el tema del Inktober para el día 23, el cual yo traduje como FUGA Y GOTEO.

I leave you a small video on Youtube, in which I was applying color to part of the drawing.
Te dejo un pequeño video en Youtube, en el cual estaba aplicando color a parte del dibujo.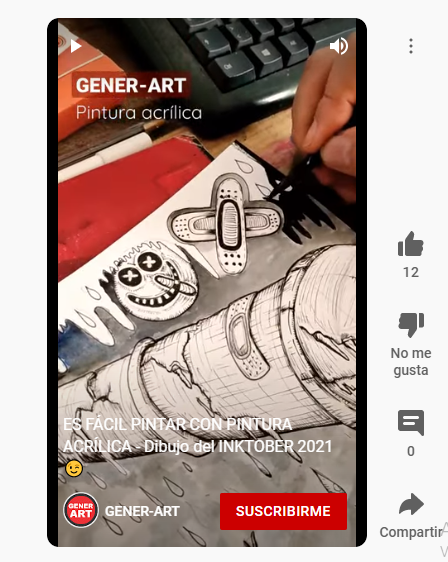 Si no te has suscrito a mi canal de YouTube ahora es el momento de hacerlo:
If you haven't subscribed to my YouTube channel now is the time to do it:
SUSCRÍBETE AQUÍ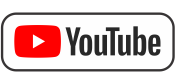 That's all for the moment my dear friends who love drawing, illustrations and art in general, as always, it is a pleasure to show all of you my work, I await your comments and suggestions; and if you want me to do a particular character or want to request a personal work for you or a gift, I am completely at your disposal.
I say goodbye, but not before leaving my social networks:
Es todo por los momentos mis estimados amigos amantes del dibujo, las ilustraciones y el arte en general, como siempre, es un placer mostrar a todos ustedes mi trabajo, espero sus comentarios y sugerencias; y si quieren que haga algún personaje en particular o quieren pedir un trabajo personal para ustedes o un regalo, estoy completamente a la orden.

Me despido, no sin antes dejarles mis redes sociales:
TU APOYO ES MUY IMPORTANTE PARA MÍ
YOUR SUPPORT IS VERY IMPORTANT TO ME

NOS VEMOS EN LA PRÓXIMA PUBLICACIÓN
SEE YOU IN THE NEXT POST

Cortesía de @equipodelta


NOTA: todos los dibujos y pinturas hechos por mí tienen Derecho de Propiedad Intelectual, además tienen una historia ligada únicamente a mi persona y mi entorno, ya sean conocidos, familiares o amigos. Gracias por no plagiar.