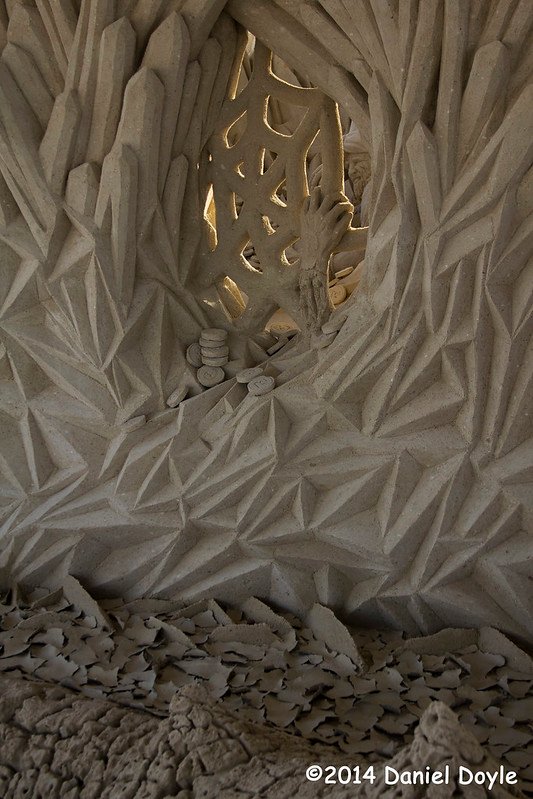 I'm back with the second sculpture I made in Kuwait as part of the 2014 '1001 Arabian nights sand sculpture exhibition'. In part 1 I showed the 40 Thieves coming to their demise at the hand of Morgana. With this piece, I was asked to create the cave from the same story. The one where it can only be opened by reciting the words ' Open sesame'. Ali Baba had overheard the thieves saying it to gain entry and so, he and his brother then plundered the cave, robbing the robbers.
This was a big exhibit and I would be working with the Kirk Rademaker from the US and fellow Irish carver Fergus Mulvany.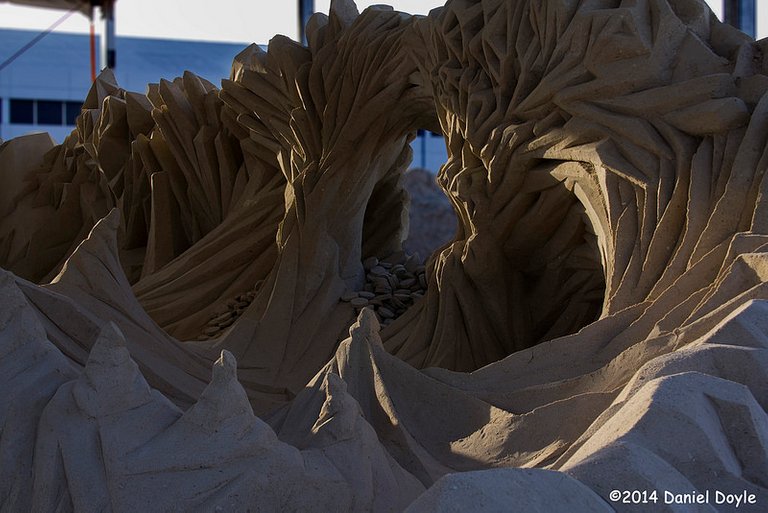 The style council
We were given pretty much free reign with its design and after a few ideas were thrown around we opted to make it a bit more abstract and make use of all our individual styles.
We decided to make it a crystal cave rather than a rocky one. I had in my mind that the whole thing was like a computer-generated model so as long as we kept to a certain set of rules everything would look like it was uniform. Everything was to be made of flat facets with straight surfaces and edges. We then mixed up our working areas so that our styles of crystals would be mixed. It was a big area but we had lots of time to play and come up with funky elements and forms. At the bottom, we used water hoses to cut nice dark lines and texture and then I collected lots of clay that had dried out and cracked from the tops of muddy puddles after the heavy rain we had had and used it on the floor of the cave to give even more detail. This sculpture was in a tented structure so we could go a bit crazy knowing that rain would not be an issue if it fell and in Kuwait, my did it fall! The tent Would be lite later and smoke machines added for extra atmosphere. (Unfortunately I never got images of that stage) because I had to leave early.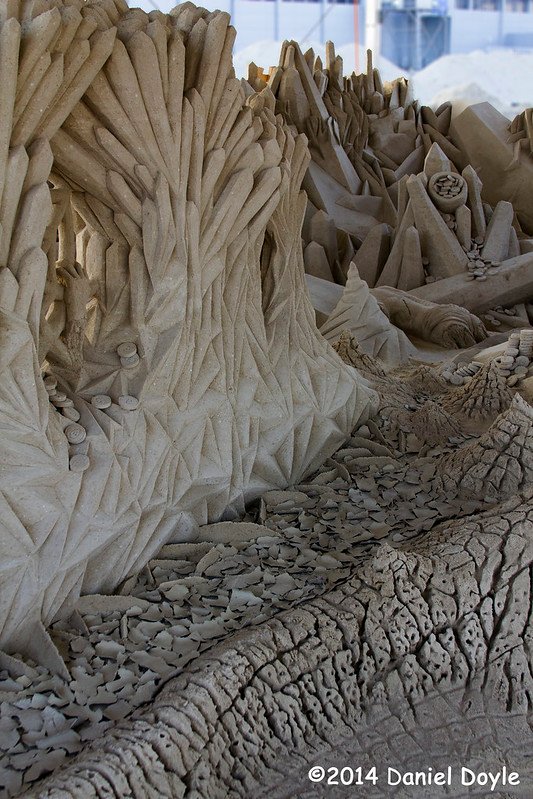 Gruesome
In the story, Ali Baba's brother Cassim is murdered by the thieves when they catch him in the cave. They then cut up his body and leave it all around the cave as a warning to anyone else who would try and rob them. Ali Baba finds his brother and sticks him back together so he can bury him and pretend he died of natural causes. The thieves were checking to see if anyone from the village had disappeared so they could find the identity of the others who were robbing them. Ali Baba wanted to make sure that there would be no connection to him for the robbery of the robbers. For the full gruesome story, there is a link at the bottom of this page.
I had great fun making all the dismembered body parts around the cave especially the amputated hand hanging from a spider's web. Thought it was so interesting that our sculptures had to be so censored in some ways due to Kuwait being an Islamic country but there was no problem in me making dead body parts. Religion can create a strange skew in morals. We also used sand coins which were made as separate elements and dried in the sun then added like biscuits to add lots of richness.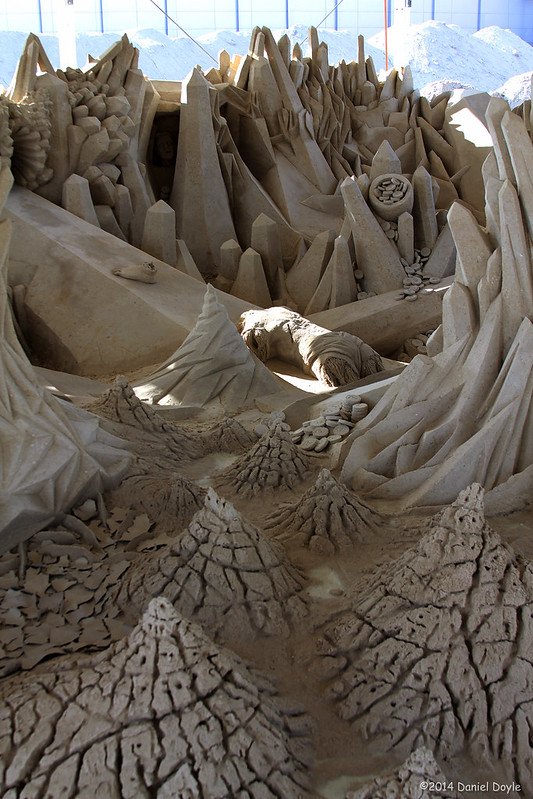 A lot of work and a little play
The work in Kuwait was difficult but rewarding. We worked for 5 days a week and had Saturday and Sunday off to relax and see a bit of the city. I will say that it was not the most interesting of places I have visited. There was rubbish everywhere and the air was clammy and polluted. Probably the most interesting place was a large second-hand market which we visited most weekends. There was everything from clothes to military surplus from the Iraqi invasion. I bought some tools, some WMDs and other knick-knacks. When the Iraqis and Americans pulled back they just abandoned everything and so there were lots of interesting spoils of war being sold amongst the immigrant workers. This place is not really frequented by Kuwaiti citizens.
Another invasion
One Saturday, as we walked around, a group of around 6 of us saw what looked like a cafe and decided to stop by for a cuppa. We went sauntered in and sat at a table on the veranda. A servant came out and stared at us. None of us spoke Arabic so it was quite awkward to get served. There were a few other, well-dressed Kuwait's sitting at another table drinking something so through mime we ordered some of that. Our servant got a nod from the most chic of sheikhs at that table and soon we were enjoying our tea and having a bit of rowdy fun. When it came time to leave we asked our server for the bill with the international hand gesture. There was a good bit of misunderstanding when finally the Sheikh came over and through broken English explained that this was not a restaurant but in fact his home. He found our arrival quite odd but being such a gracious host he had accepted the intrusion. The misunderstand caused us all to laugh and then spend the next hour being given a guided tour of his home and a great history lesson about Kuwait. He showed us photos of his first home. A tent! He had been a Bedaun camel trader and seen all the changes to the country that the oil rush had caused. I definitely got the impression that he longed for those simpler times.
It was so nice to meet this character, even though we bulldozed our way into his life.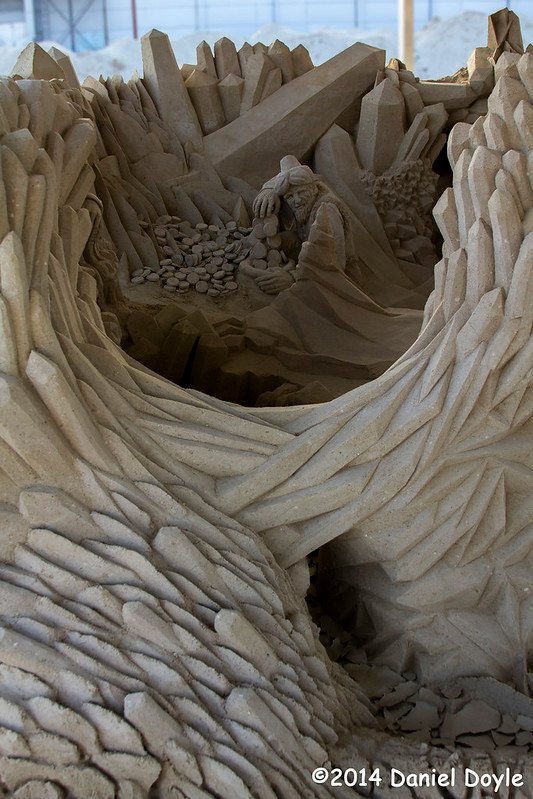 Back at the sculpture, I made an Ali Baba character filling a bag with coins to give the cave a focal point, It turned out that the only real thing we needed to avoid to make our sculptures Islam safe was to not carve eyes in our figures. This was a big departure from what I had been told before doing my previous sculpture. Then, I had been told to avoid anything lifelike. It seemed that the Iman or Clerk had visited and given us the all OK. So I had carved Ali a bit more lifelike sans the eyes.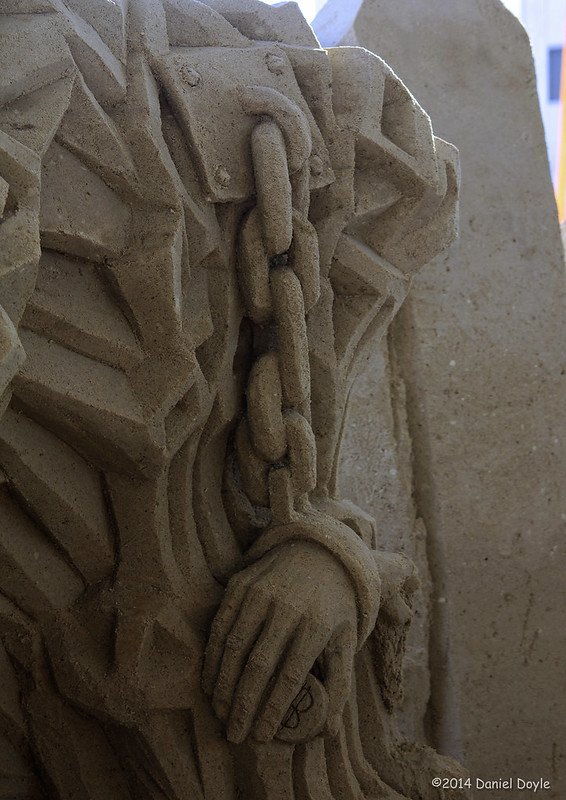 Magic money
I also gave a little nod to Bitcoin. I was very interest in this magic internet money in those days probably from around 2010 and even mined some on my pretty powerful computer, unfortunately, I lost the keys, and 'Open Sesame' doesn't seem to work. Around the time of this project, bitcoin was worth around $200 and was telling everyone who would listen that it was the future and we should all be paid in it for our work. Little did I know that most of the work done in Kuwait would never be paid for.
I worked there for around 5 weeks before having to go to another job and I was paid in full but most of the carvers who worked for the full 10 weeks never got their full pay. It turned out that the man in Kuwait we were working for didn't pay up. This caused a lot of trouble for all involved but what are you to do when you are shafted by one of the richest, most powerful people from another country.
Off into the sunset
We were very lucky to be given the creative freedom to make the cave in whatever way we saw fit, being told it just had to "wow". I think we achieved this. It was like the three of us were in a jamming session each adding different spices to the mix to make one overall experience for the viewer who steps into the space. I never got to see the final look of the cave with the lightings and smoke but I was very happy to get these photos as the sunset over the desert.
---
For those interested in the great bedtime story of Ali Baba check out Wikipedia for a synopsis
---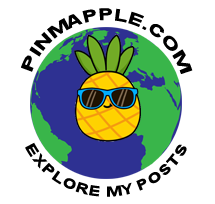 ---
Ps
Thanks for reading. I use PeakD to document my work as an ephemeral Sculptor of sand, snow and ice, amongst other things. This will hopefully give it a new life on the Hive Blockchain. Below you will find some of my recent posts.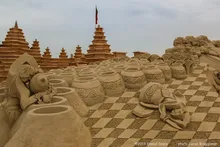 The 40 thieves - sand sculpture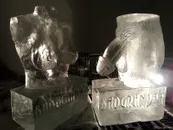 Bad Grandpa - ice sculpture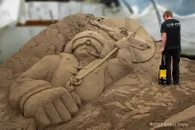 Rescue - sand sculpture
I hope you'll join me again soon
@ammonite
If you would like to support me
Bitcoin: bc1qp4lfg0ttz66nesgff8fd5unglg9y0l2jy53j36
Ethereum: 0x6abaE039b9BDFB67495A0588cb90F9EAF5f7556c
Eos: ammonitearts