When we last, last, last, left our hero he had "minted" a new "nft" on SuperRare. That whole sorted tale is here in case you missed it/want a good laugh
https://hive.blog/hive-156509/@arseniclullaby/making-an-arsenic-lullaby-nft-the-hard-way
The second of two of such online art galleries I've used so far. And I have, after the recommendation of some of you and some dragging of my heels, finally minted some nfts of the hive based online gallery NFTshowroom.
I'm gonna show you what I put up AND give you my thoughts on these sites, keep in mind that my understanding of all this is only slightly above anyone else with basic knowledge of blockchain type stuff. I'm getting up to speed as quick as possible but for now...I know just a little more than than someone who only heard of it yesterday, and that puts me in a pretty fair position to asses these places.
and as always, I don't neuter my opinion.
for reference, my galleries on each are as follows
MAKERSPLACE
https://makersplace.com/arseniclullaby/
SUPERRARE
https://superrare.co/arseniclullaby
NFTSHOWROOM
https://nftshowroom.com/arseniclullaby/gallery
There's at least a dozen more sites like these ( and counting) I could be on, but I'm not spending my time branching out to every single one that pops up. Aside from the expense of time, if you are unaware of how this works, once you "mint" a piece of work...that's it. It's done, set in stone as well as any bitcoin transaction ever is...that piece is now an nft and can't be made into one again. which means you want to be fairly confident in the site overall or you've just pissed away a good piece of artwork to loiter in obscurity.
SuperRare and Makersplace seem to be the two most legit, solid, established sites...with a lot of traffic, attention to promoting themselves, and just overall usability. I hear a bit now and then about Rareable, and that could be a fine site...I just haven't looked into it, could be an even better one out I don't know about, but these are the two that i've seen the whales speak of the most. And NFTshowroom...well, it was recommended and as much as this here blockchain has helped me along, it'd be pretty low to not give them a fair shake.
Staring on NFTshowroom with these two, and more to come if it looks promising...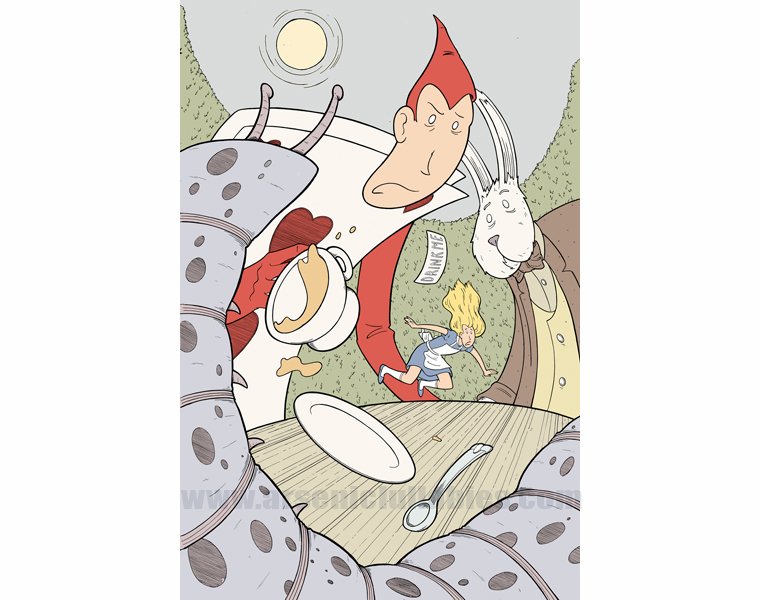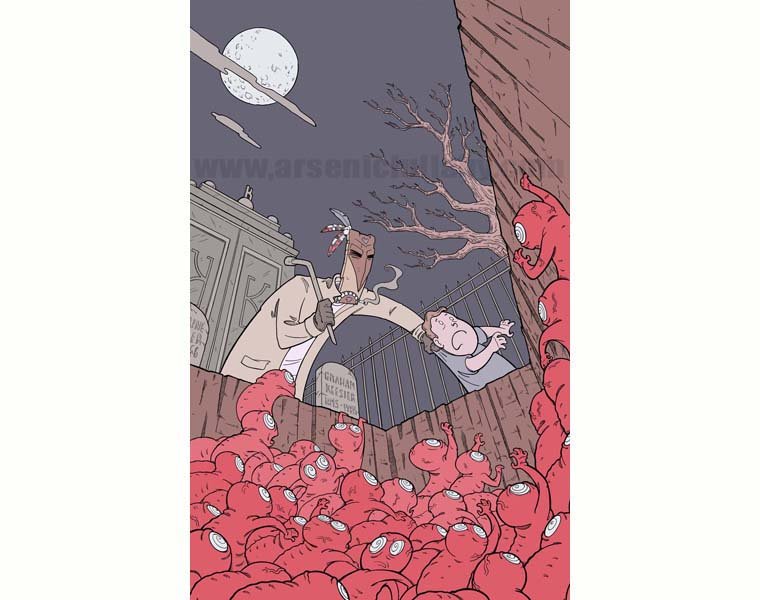 I don' know where the hell any progress shots of me making these are, but I do like to show off so here's a look at the inking that went into them.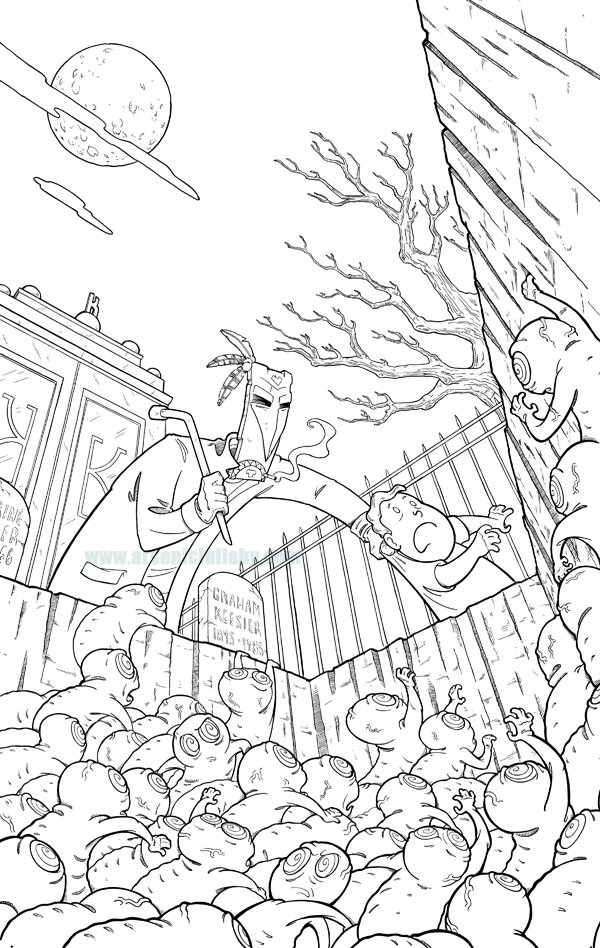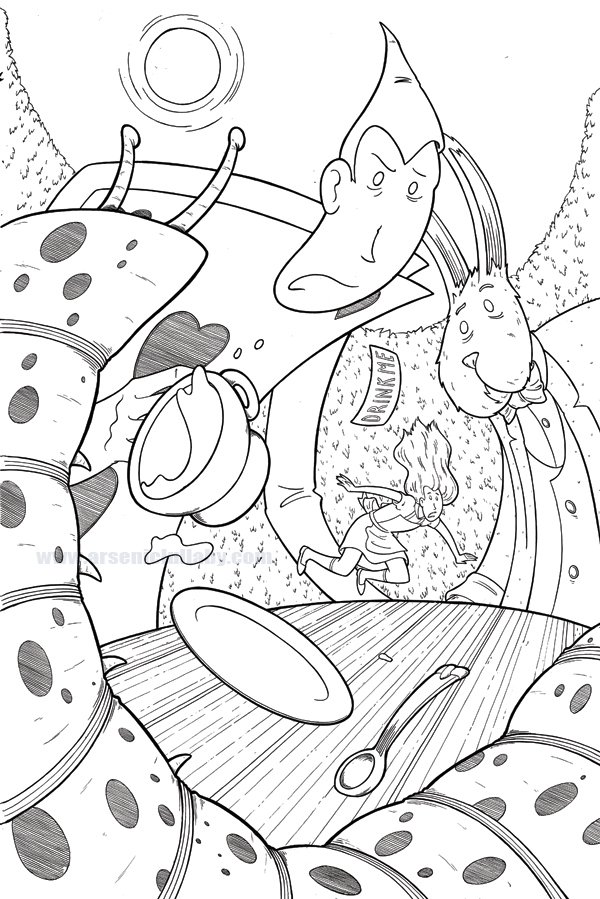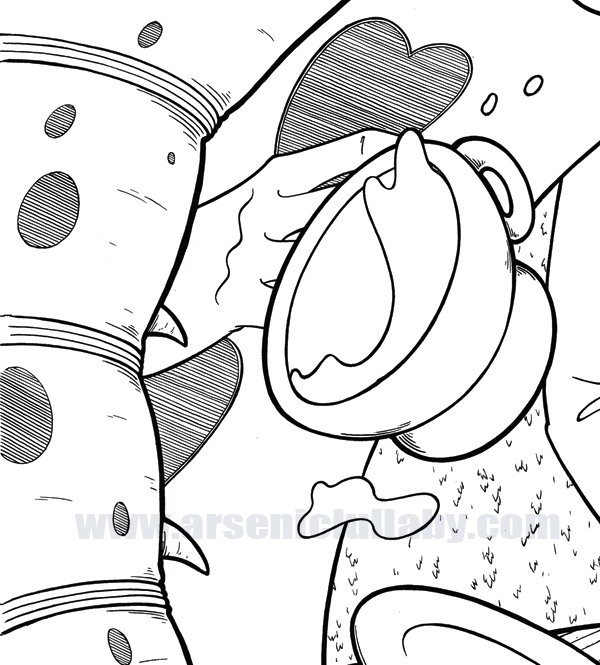 That's some fine work right there, if I do say so myself...originally 10x16 inches or so. All done by hand with a no.0 brush.
Of the three sites, Makersplace is the most user friendly, visually appealing, well organized, functional. They just have it all kicked in the butt. There ain't much I could think of missing from there. Looks good, isn't cluttered, has things showcased and featured into different categories, the search engine is fast, it loads fast. If you had told me that they had been working on the coding for 6 years, I'd believe you. It works as well as any top tier social media site.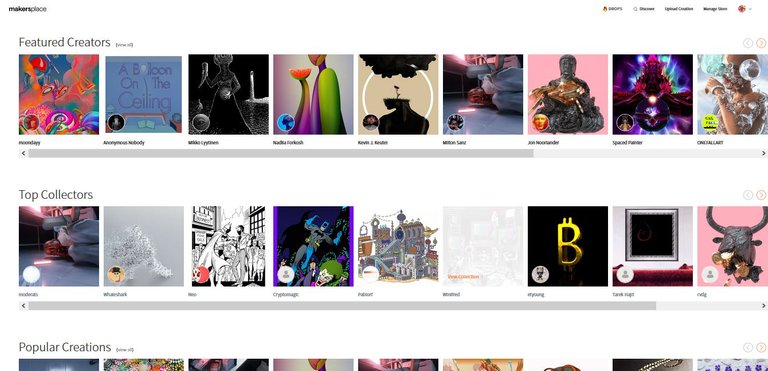 You click on an "artists" page and you get a nice clean friendly layout, showing all their work, and who they follow/who follows them/number of views...that sort of thing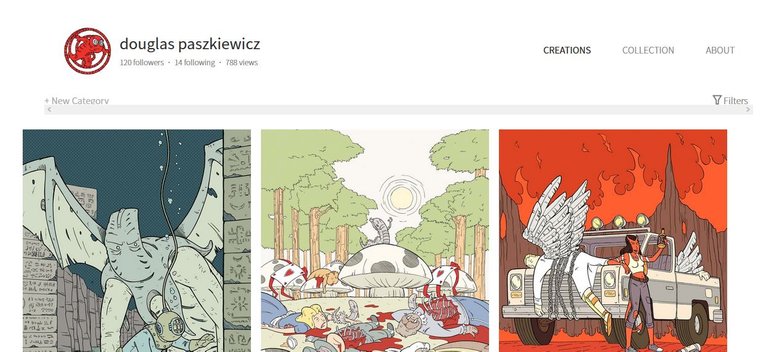 and you can click on "about" to get info on them, or click on the piece you like and see it better and with more info...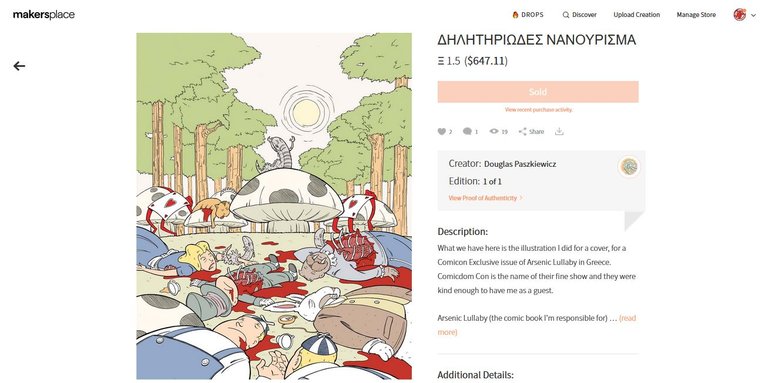 Yeah, that one's gone/sold...early bird gets the worm. I haven't done any auctions/bidding options with my work there yet, so I don't know how that all works, but everything else works great. I've emailed back and forth with them about stuff, and they are responsive, they know what they are doing and genuinely give a shit about growing the site.
Superrare does most of the same things as MP but the look is more..uhm..Spartan, I guess, more bare bones...and this may be by design. I've spoken and had email exchanges with them, they are bright, ambitious and know exactly where they want to go with the platform. They are clearly looking to keep themselves separated from the pack by emphasis on "rare" and on being for serious collectors/artists. That's what they focus on, that's what they have...that's how they are branding themselves. They're not an internet art carnival to hang out in and window shop/daydream. You go there for serious high end stuff, so what color the font is, is far on the bottom of this list of concerns for anyone there. Although, it wouldn't hurt to make it a little more fun...or maybe it would, I dunno, it's not my brand. I'm sure they have given it more thought than I have...which would be about 45 minutes.
Branding is an interesting and diabolical thing when done correctly. Every aspect has to work towards or give aid to how you want your business viewed. These two site are good examples of that. SuperRare being for serious collectors, Makersplace looking to be a big fun tent and focus on growth and being enticing to people just now learning about NFT art.
By the way, this is just my own observations...I didn't ask anyone for their long term strategy before onboarding. But I'm observant and know a thing or two about a thing or two. It's always possible either or both of these sites are reading this, thinkg TWF is he talking about? But, I'd bet I'm spot on.
You can only mint a piece as 1 of 1. on SuperRae, no multiples. They seem to be limiting the amount of new artists, being more discerning so that it's not just a photoshop/gif sh*tshow like many of the smaller players in the game. Of course...I had no problem being on boarded because well...

The gallery homepage is pretty straight forward with several categories to look through as you scroll down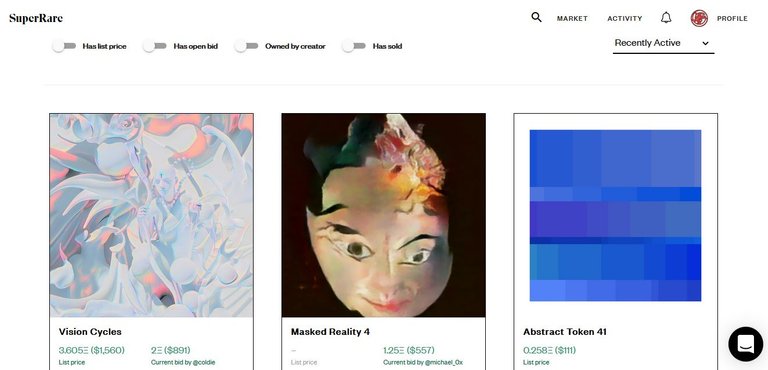 Now, going hand in hand with the function over form that appeals to the artists and clients they are looking to attract/keep...is this handy option on the home page, a bunch of switches you can click to refine the gallery itself, which I found very cool and very innovative and super useful. And you can easily imagine different types of collectors also finding that very useful depending on what/why they buy.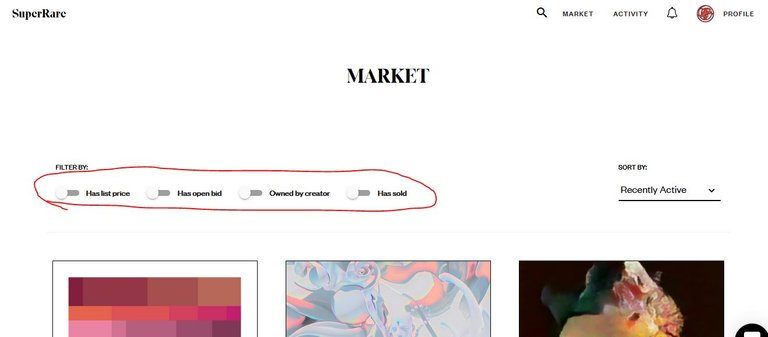 Going along the same path, you click on an artist you get this...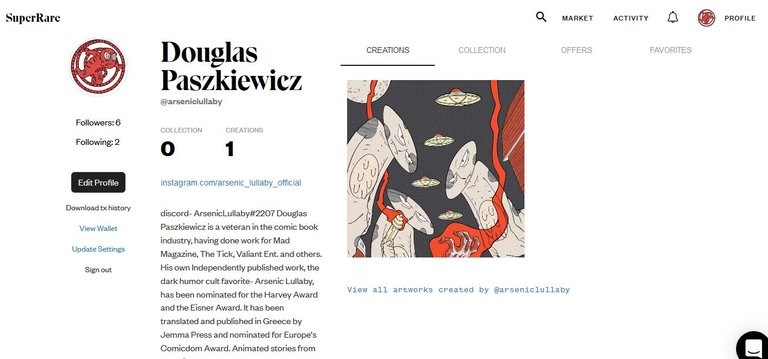 Here's what I like about this landing page...it has your bio right there, front and center "I'm a big deal", again working with the principal of their branding. They are bringing in legit artists and they are making sure you know that every time you click on one. Very smart.
So...you click on the art and get this...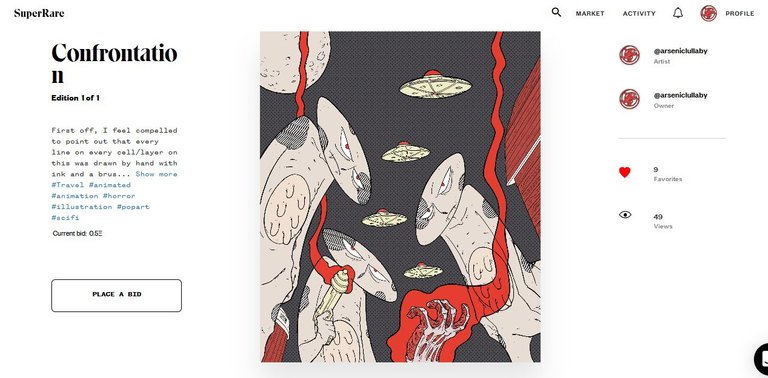 Very cut and dried...
The only thing that vexes me about their site, is on the artist landing page, even when it's mine, I can't click on the number of followers or number of people I follow to get a list to look though. This may be for the sake of privacy for the Whales, but it would sure be useful if I could click on the number that shows how many people I follow, and see names to click on to see if they have anything new. Who knows...I'm guessing it's a privacy thing. or maybe I'm doing something wrong. (shrug)
SO...that brings us to Hive's own NFT Showroom. How does this semi-beta version of an up and comer stack up to these two badass galleries?
Uhm...well...
overall they stack up good! But they have some wrinkles to iron out. Let's start with the good. It looks great, it functions well, it's pretty user friendly. The fucking thing works, and that 90% of the battle with start ups. Here's the main page...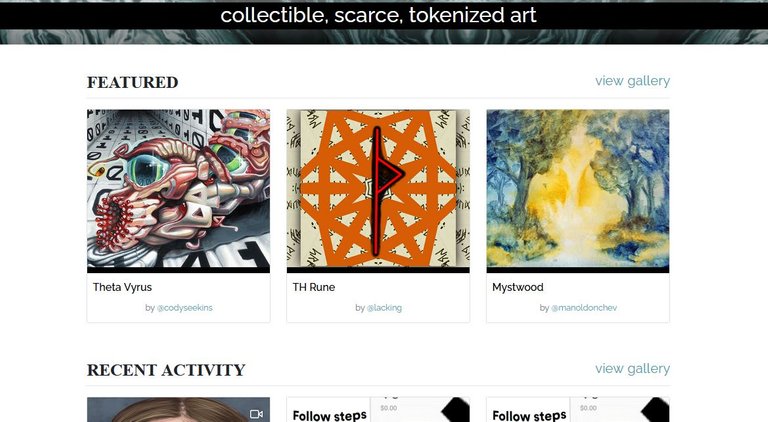 you get a bunch of categories you can look through, the search engine works fine. Easy to use. You click on the artist landing page and you get this...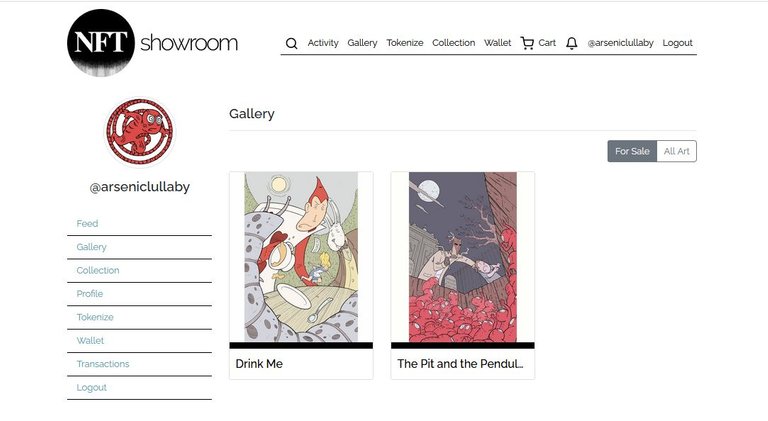 okay...that's fine, that's a way to go with the layout. Nothing wrong with that...except there is no number of followers, or people I follow. I find that strange...to the point I wonder if they just forgot. If they left it out on purpose hoping to not have their site become a pissing contest, they are in the wrong business. I DO very much like that there is "feed" button, that will just show me the stuff of people I follow. That's pretty handy, and it's not ( I don't think...it could very well be right in front of my face) an option on the other two sites.
Moving right along, you click on the piece of art you like and you get this...(I scrolled down to the info under the pic....the pic is large so it wouldn't fit in one screen cap)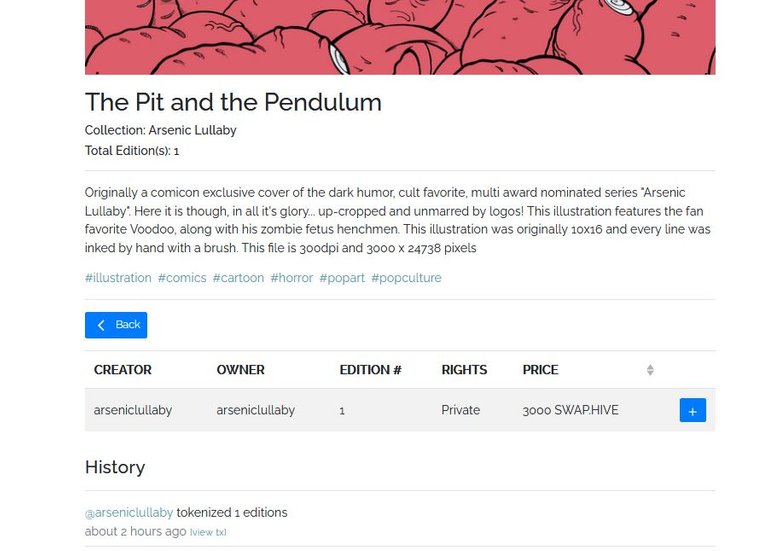 again...that's fine, it looks fine, it works. HOWEVER...absent from this page is how many views/likes the image has. Now this is just un-defendable. THIS needs to be fixed. HOW...I ask you, am I to know if my promoting is working or which days / ways of promoting are working better, to drive people to the site...if they site doesn't tell me how many people showed up????
???????????????????????????????
So there's that. Also you will see that if you want to bid , you do so not with Hive, but with "swaphive", which I assume is just some token name that doesn't need to exist and they could have just used Hive. What is it about this blockchain that compels people/developers to always add an extra layer of confusion for no good reason? You ALREADY need whales to go get Hive, a token most don't use or gaf about...and beyond that you tacked on a extra name/step. WHY? If there is some fundamental need/purpose...please...by all means explain it to me. Because me, myself, personally, if I wasn't already well connected to this blockchain when I saw that the token was some silly offshoot, I would have just left, moved onto Rareable or some other site as my third. I'm being honest here. What may be a simple explanation is in fact a deterrent...because no one has time to ask and no one gives a fuck. People know what ETH is, they know where to get it, they know it's legit, probably they have heard of Hive...SWAPHIVE...they don't know what that is, I don't know what that is.
Lastly...there is a sizing issue. You upload your actual work ( hi-res large file) then also upload a thumbnail for viewing. So far so good. But their thumbnail box is short and wide. If your work is tall and narrow, it'll do this....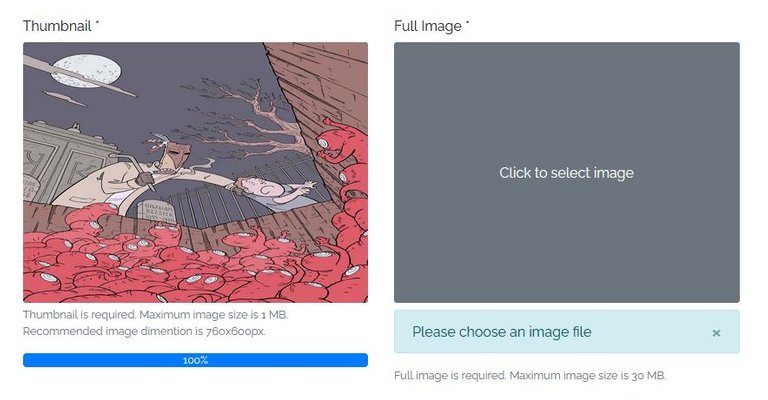 I thought maybe that's just how it looks in the uploading stage and it'll get trimmed or such properly when it goes live, but then I saw this...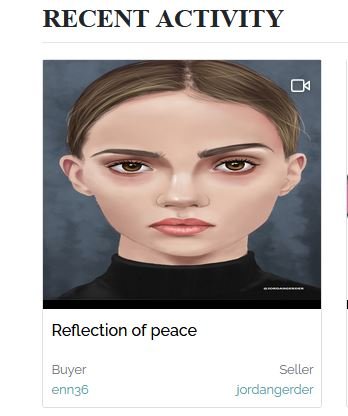 Here's what this piece actually looks like...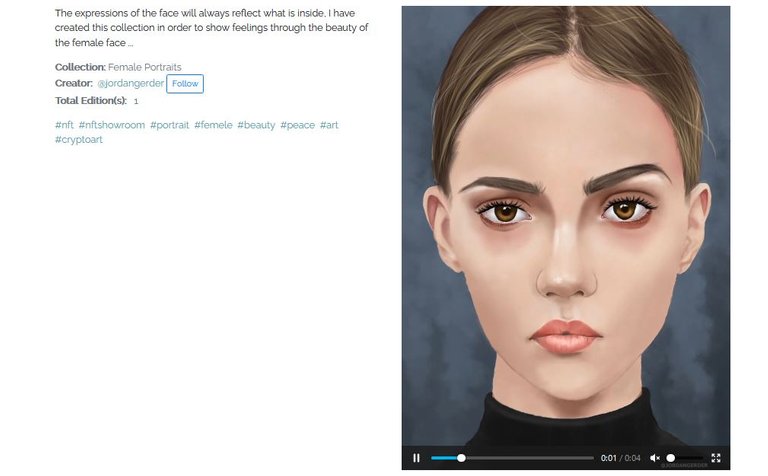 I asked on Discord and got an answer right away, saying if I was concerned I could scale it myself. Good advice, but that needs to be fixed. NEEDS. as in NEED. as in the next fucking thing you do. You want legit buyers and sellers coming here? you can't have fucked up thumbnails. You can't.
That is another thing, that if I wasn't already part of Hive, would have had me clicking onto some other site to mint my work, instead of asking around.
The bottom line for NFT Showroom...my honest assessment-
It's pretty good. It's got a couple of bugs to work out, but overall it compares very well to the big boys. Everyone involved should be proud. You know I wouldn't say that if I didn't mean it. Impressive work.
Now fix that other shit!
One last thing to mention...and this has nothing to do with the developers or the site itself. It uses SwapHive ( which is basically Hive) and I see things being listed, bought , sold for amounts of 10Hive or 20hive or 100hive. Hive is currently 0.22USD. A you fucking kidding me? That's all you feel you work/time/skill is worth? 2.20??? If that's as seriously as you are willing to take yourselves and what you do...I won't be on this platform long, I assure you of that.
You may think this sounds snobby or greedy, it is neither. That is bad business. People only asking for 2.00 ( the price of a bag of candy) attracts people only looking to spend 2.00 and attracts people who's work is only worth 2.00. That is a world that I have worked very hard to be light years away from.
Take some fucking pride in what you do., and ask for an amount that reflects the work and effort. I put the gif up on SuperRare...uhm..a week ago? Something like that. I got a bunch of bids that have crawled their way up to a couple hundred bucks. You think I'm taking that? I am not. That gif took about a solid week and a half of work. If it has to sit there for three months until someone comes along with real money to spend, who appreciates it, then it'll sit there for three months. Once something it done, it's done. It's not costing you any more time or effort, you're not paying rent to have it there. Name your price (since there is no bidding on NFT Showroom as of yet), and start working on the next thing.
Just think of all the work and effort these people went through to make functional and cool ass platforms...you think they only deserve to make 10% of 2.00?! This is a thing many beginners struggle to accept, which thankfully my own ego allowed me to understand right off- people won't take you seriously unless you take yourself seriously. That thing you made, that took work and effort and you thought of something and made something in a way that no one else ever did in 6000 years of human civilization. That's only worth 2.00? don't undervalue yourself.
and that's...what I think about all that.
Once again my NFTs are found at any of these sites...I blog regularly about the work and how-to that goes into what I do, so go take a look at some of the finished work,see if it grabs ya.
MAKERSPLACE
https://makersplace.com/arseniclullaby/
SUPERRARE
https://superrare.co/arseniclullaby
NFTSHOWROOM
https://nftshowroom.com/arseniclullaby/gallery
Later!