Hello World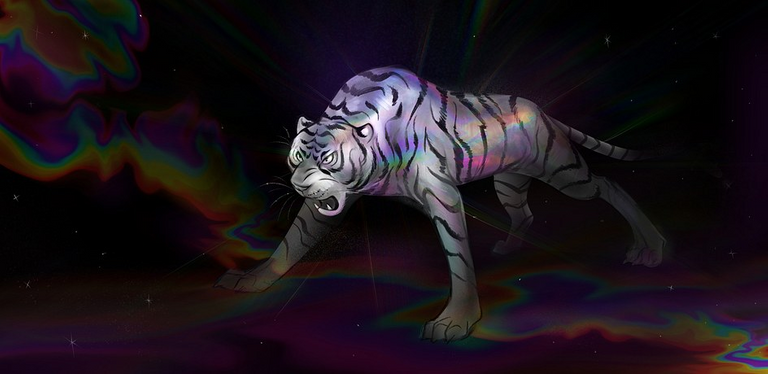 1/1 NFT - Auction starting at 0.15 eth -> Open Sea asset
I'm Camo, I was indicated by @midlet to participate on this community and I hope my contribution will be fruitful;
My expectations is that this blog will connect me with people and possibly create opportunities for us to mutually succeed as artists. Anyone who's reading this and is willing to share advice, tips, experience, knowledge or what-not, I'd be very grateful and hopefully I can offer something of use as well.
Here's where I'm at in my artistically journey and what I can offer;
I'm a figurative drawer, painter and on my artwork I enjoy featuring cartoon stylization, animals, colors, women and fantasy themes.
My knowledge and experience is mostly about traditional art fundamentals (i.e. draftsmanship, color theory, composition, human and animal/creature anatomy, etc.); Application of those fundaments with digital painting techniques; Graphic design education; Concept design for games and animation
I want to expand my comfort zone with my art, keep improving on my skills, explore and try different techniques, find my voice and the audience to go with it, give the people what they want on a regular basis and BOOM!! finally enjoy retirement.
Please let me know if anyone would want me to go more in depth about these topics on my posts, I'd be more than happy to write my understanding of the things I was taught and learned, as well as point it out sources where I drink from.
For now, based on what I've glanced so far in this community, people write about their process on a piece they've minted, so I hope you enjoy reading about the path I walked through with my latest piece and kindly let me know your thoughts, opinions, suggestions, etc.
Prismatigress Process
I often randomly sketch pictures from Pinterest and around may-june of 2020 I made this sketch: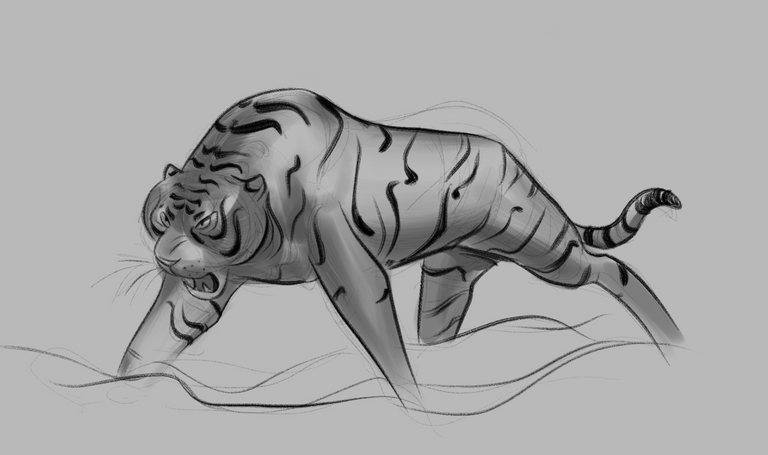 Fast forward to the present, after long weeks of sketching and sketching, searching for ideas that would inspire me to create a new original artwork and being very underwhelmed by everything that was coming out, I decided to upgrade that tiger sketch that I reaaaally like to a fleshed out illustration.
I didn't had a game-plan from start, but I knew I didn't wanted to place this tiger on anything "natural"-looking (like a forest, river or a normal human-earth nature); Why?? I don't know, maybe because I want to create things I haven't seen. I love nature, there's plenty of artists that make a living painting pictures that look like a scene from a beautiful documentary about Earth. And I love looking at those pictures and those documentaries. But it's not what entices me to paint. I want to "birth in the world" beautiful, weird, different, magical things that I haven't seen anywhere else. I think that's powerful and exciting, and that's what gets my juices flowing and my motors rowing when it comes to creating my original art.
Another illustration I made before featuring a tiger also inspired me to start something like that again, but this time I wanted to approach it with a different aesthetic.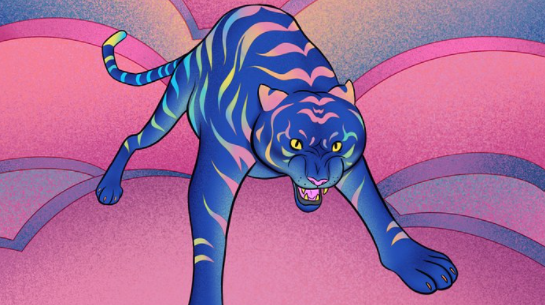 I love the colors, expression, stylization and abstract background, but I wanted to try to make something more rendered, to challenge myself. Afterall, I believe one must try things to know what they prefer. The colors I wanted to be something iridescent or prismatic, modern, such as trendy artworks I've been seeing around. I was also very inspired by the colors and artwork of the artist Maalavidaa.
The rest was a TON of trial and error. I tried to create a bunch of neon-colored marbleized-effect with the liquify tool on procreate to mesh with the tiger. Liked a couple, tried different effects with the GlitchApp which was my first time doing that I and dig it.
But in the end I just ended up using one of the marbleized neon I made "by hand" (manipulating the liquify tool and nothing else), punched some colors in the body, made a grey-white contrast on the skin to look shiny and magical, added some starts
The references I found randomly along the way helped a LOT. When I intentionally searched for reference I didn't find much directly useful, but then, one day watching Mob Psycho 100 season 2: great reference! Browsing Foundation for no reason: awesome reference! (diamond horse by @flashmovie)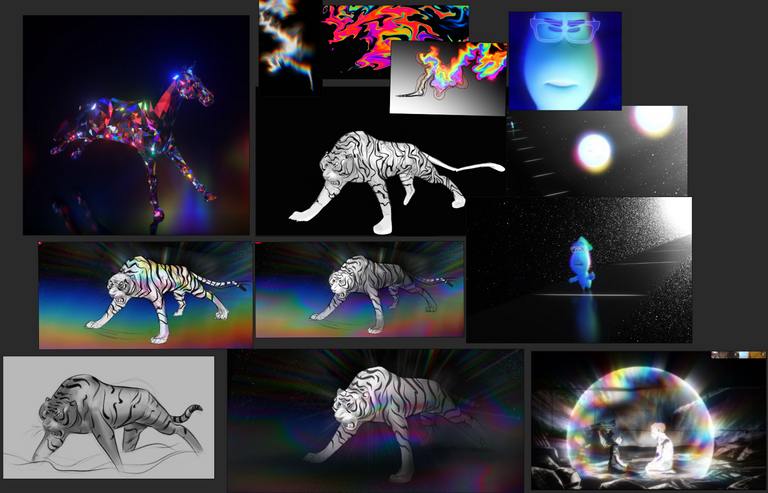 With this painting I learned a lot about referencing my own progress as well. At the beginning of any painting there's usually a sketch that I really like and once I start working on it, the "thing" about the sketch that I love starts to disappear, and very likely to something I'm not as pleased with.
Comparing and contrasting progress made to the sketch, side-to-side with the original sketch, helped carry the aspects that I liked about sketch throughout the process and end up with something I'm happy with.
I still cherish the sketch on it's own tho, but maybe that's just me.
Alright!! how did I do on my first post??