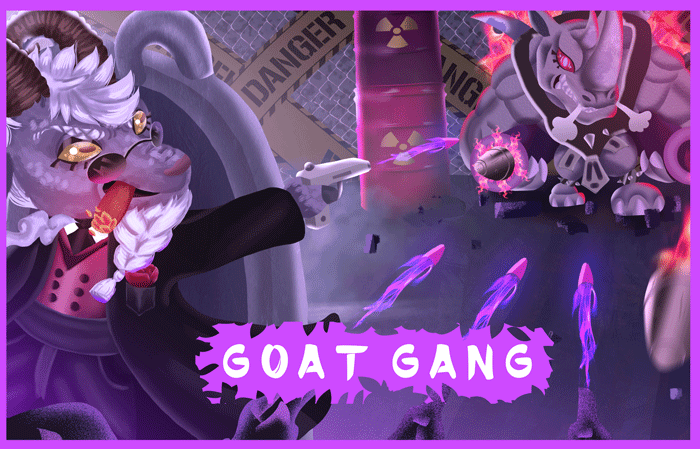 Second part of this story!



Hmm ... it is important to clarify a situation first: I switched accounts at Hive.
It may seem crazy because I had more receptivity in my other account which was @gatolector but it was a pseudonym that did not represent me as an artist, therefore from now on I will be called: @davideazul and all my content will be published here.

In my previous account I published the first part of this illustration, which at that time was not contemplated to be a series of 3 illustrations. So I will expose the first illustration with its respective story that I finished until recently.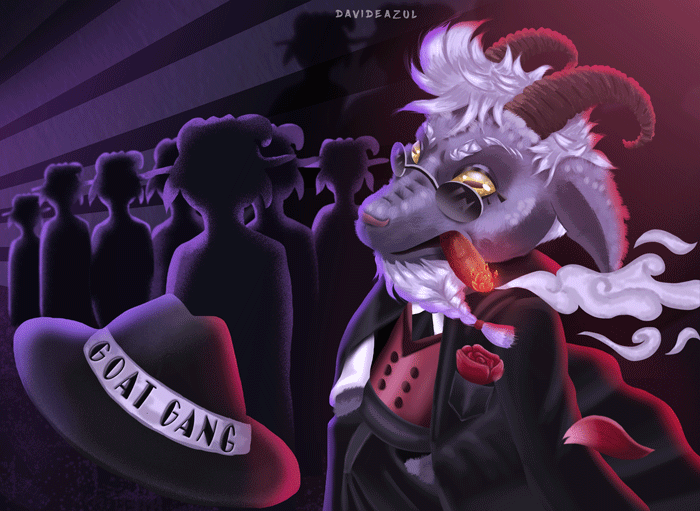 THE CALL: goat gang | Part 1
THE CALL: goat gang | Part 1
The phone rang. A voice greeted from the other side. The Head of the Goat Gang smiled, for it was a call he had been looking forward to. When he hung up he informed his fellow gang members: "We already know the location of Rhino -The Burned-". He was one of the most wanted criminals in the world, his mere presence was enough to break you with fear, he had a drug trafficking network of illegal weapons and toxic and highly flammable substances that was very difficult to destroy. For many years several agents wanted to capture him, but he could not find him, he was extremely agile at hiding. "It's our chance" thought the Head of the Goat Gang. Everyone immediately prepared because it would be a long night of persecution and stealth, they prepared to leave the place where they were hiding.
The goat gang loves justice and will always seek the Truth! Only one call mobilized them to put an end to one of the most wanted criminals.
TAKING INTO ACCOUNT THIS FIRST STORY, WE GO TO THE SECOND PART: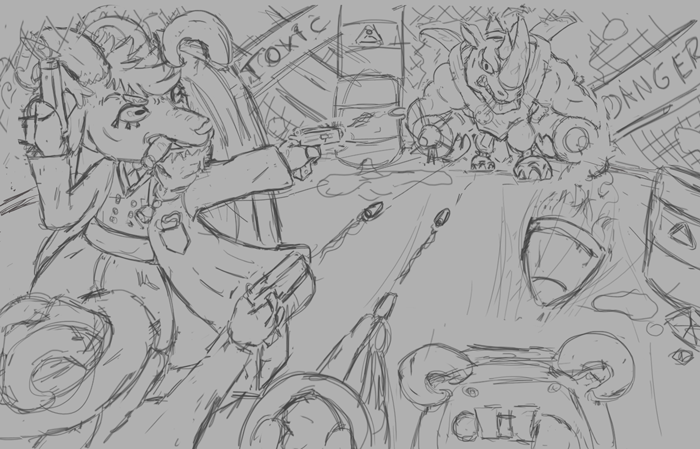 It took me a bit to come up with the illustration, but after several sketches I turned it into the idea above and I liked it. The idea was to explore a confrontation with a good and interesting perspective.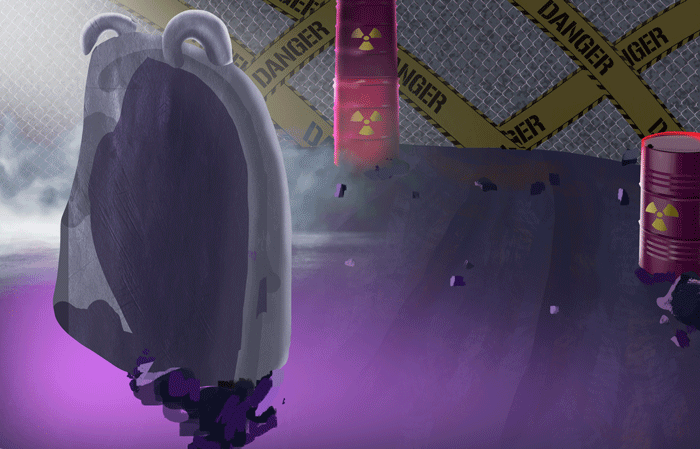 Then I usually paint the background, since I always start there since the background will help me to establish the colors, tones and atmosphere of the characters. So everyone will have harmony.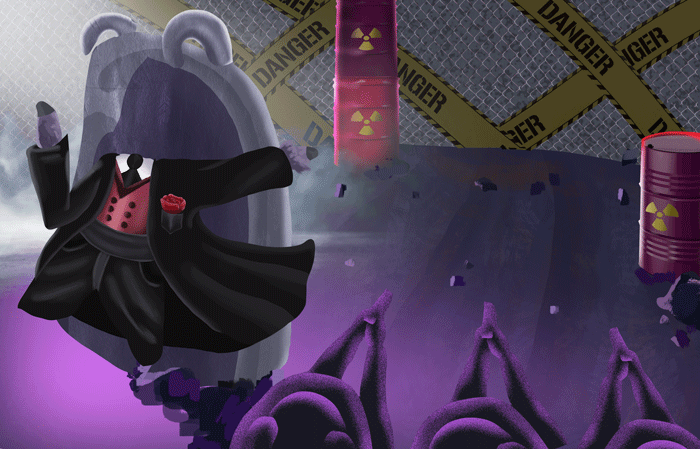 Little by little I was drawing the rest, giving small details here and there, sometimes I do not usually keep an order, but I simply paint what attracts me first hehehe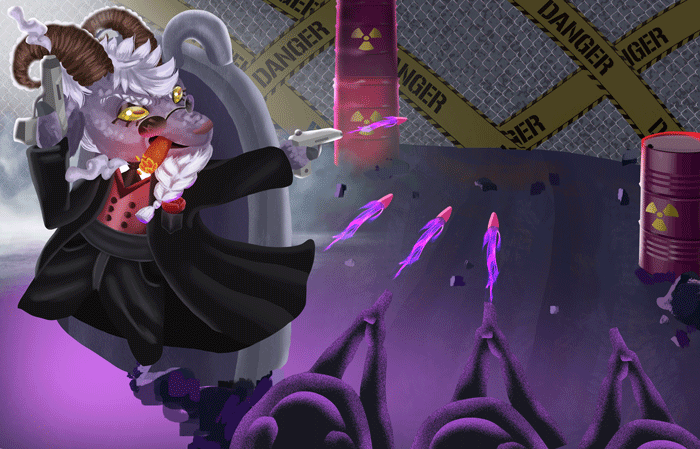 Now I started to draw the bullets and other issues, so I am shaping the scene little by little.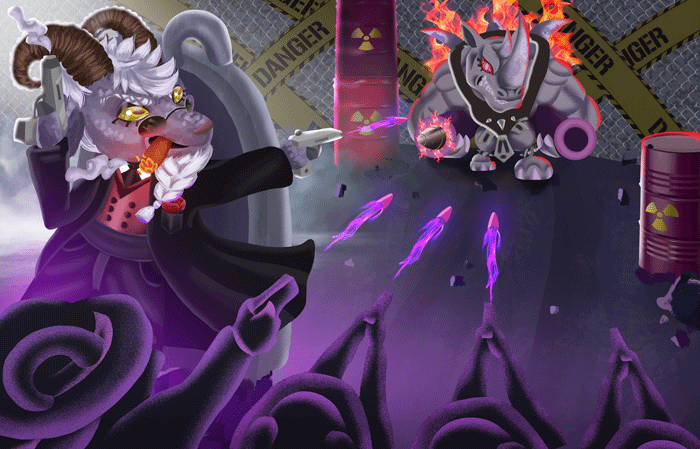 Once ready, all that remained was to give it some details of light, corrections and others:
ILLUSTRATION FINISHED!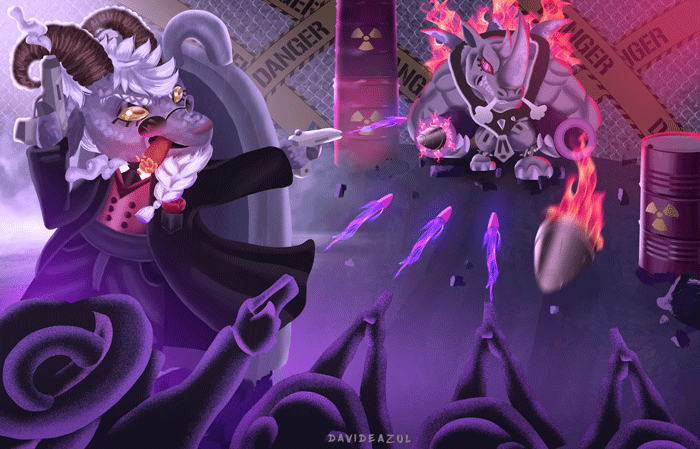 DURATION: 1 day.
Program: Adobe Photoshop.
Clash: goat gang | part 2
The goat gang arrived at the location that was sent to them, it was a factory that was abandoned long ago and far from the city. No one would think they were there. All the agents moved in the darkness of the factory and inspected every corner, until they managed to catch a glimpse of something in the distance and went to warn the boss. When they arrived at the site, in front of them they had the most wanted Criminal: "Rhino The Burned" with a very high reward for his capture, they could not miss this opportunity. Rino had been caught selling barrels of highly flammable substances, but as a good criminal and sagacious boss that he is, he had his beam up his sleeve, so he pulled out two of his best lethal weapons and began to bombard the already-known goat gang. had organized around him to capture him.
"Dodge, attack and protect yourself" were the movements of both in that confrontation. Any wrong move can be deadly… How will this all end?
---
We have reached the end of this post, I hope you liked it a lot, tomorrow I will publish the third and last part and I hope you love it <3


My social networks:
---
¡PUBLICACIÓN EN ESPAÑOL!
---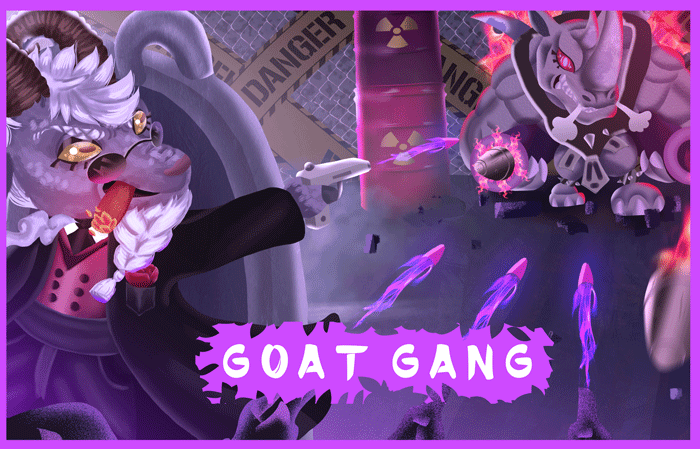 ¡Segunda Parte de esta historia!



Mmm... es importante primero aclarar una situación: cambié de cuenta en Hive.
Puede parecer una locura porque tenía más receptividad en mi otra cuenta la cual era @gatolector pero era un seudónimo que no me representaba como artista, por lo tanto a partir de ahora me llamaré: @davideazul y todo mi contenido se publicará acá.

En mi anterior cuenta publiqué la primera parte de esta ilustración, la cual para ese momento no estaba contemplada para ser una serie de 3 ilustraciones. Así que expondré la primera ilustración con su respectiva historia que hasta hace poco terminé.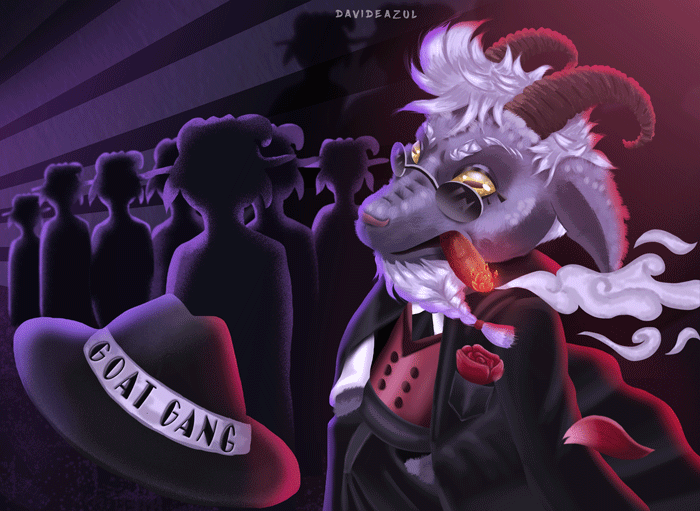 EL LLAMADO: GOAT GANG - PARTE 1
EL LLAMADO: goat gang | parte 1
Sonó el teléfono. Una voz saludó desde la otra parte. El Jefe de la Pandilla de Cabras sonrió, pues era una llamada que había estado esperando con ansias. Cuando colgó le informó a sus compañeros de la pandilla: "Ya sabemos la ubicación de Rhino -The Burned-". Era uno de los criminales más buscado del mundo, su sola presencia bastaba para quebrantarte del miedo, tenía una red de narcotráfico de armas ilegales y sustancias tóxicas y altamente inflamable muy difícil de destruir. Por muchos años varios agentes quisieron capturarlo, pero no conseguía dar con él, era sumamente ágil para esconderse. "Es nuestra oportunidad" pensó el Jefe de la Pandilla de Cabras. Todos inmediatamente se prepararon porque sería una noche larga de persecución y sigilo, se dispusieron a salir del sitio donde vivían ocultos.
¡La pandilla de cabra ama la justicia y siempre buscarán la Verdad! Sólo una llamada los movilizó para darle fin a uno de los criminales más buscados.
TENIENDO EN CUENTA ESTA PRIMERA HISTORIA, PASAMOS A LA SEGUNDA PARTE: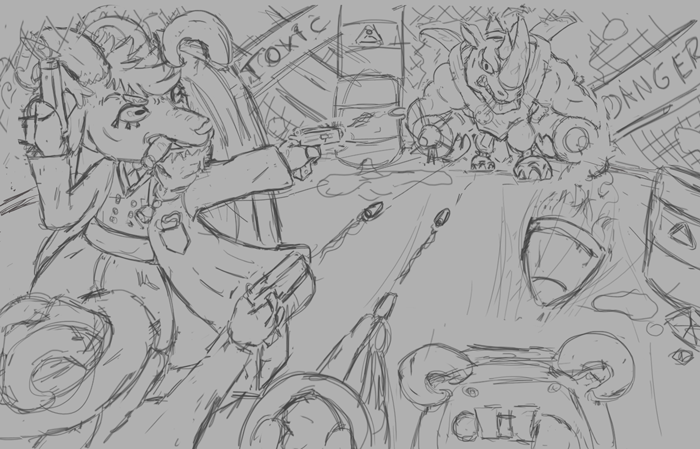 Tardé un poco para plantear la ilustración, pero tras varios boceto lo convertí en la idea de arriba y esta me gustó. La idea era explorar un enfrentamiento con una buena e interesante perspectiva.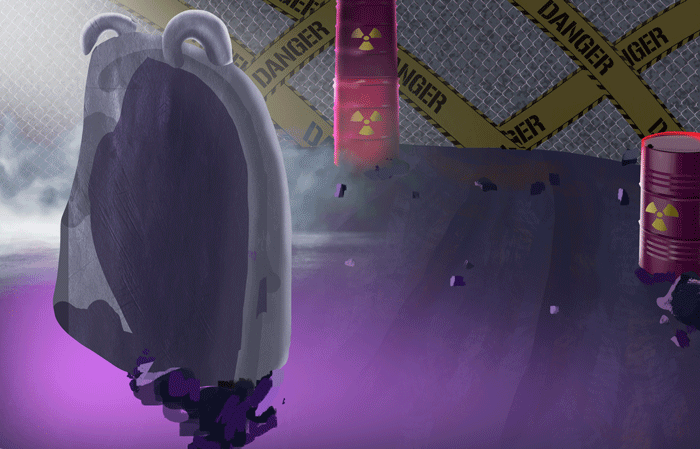 Luego suelo pintar el fondo, pues siempre comienzo por allí ya que el fondo me ayudará a establecer los colores, tonalidades y ambiente de los personajes. Así todos tendrán armonía.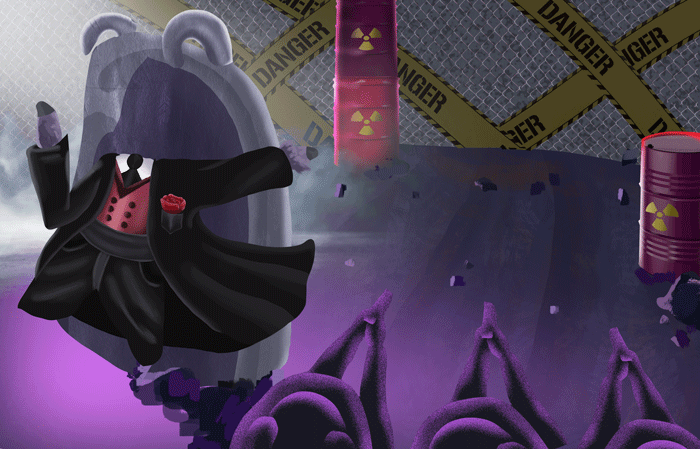 Poco a poco fui dibujando lo demás, dando pequeños detalles por aquí y por allí, a veces no suelo llevar un orden, sino simplemente pinto lo que me atraiga primero jejeje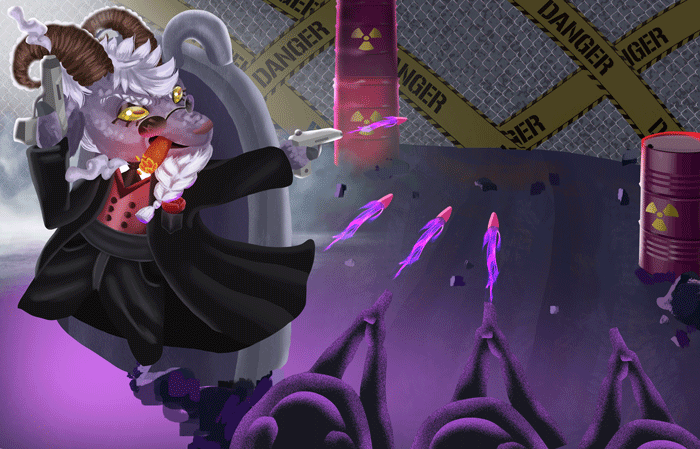 Ahora comencé a dibujar las balas y otras cuestiones, así le voy dando forma a la escena poco a poco.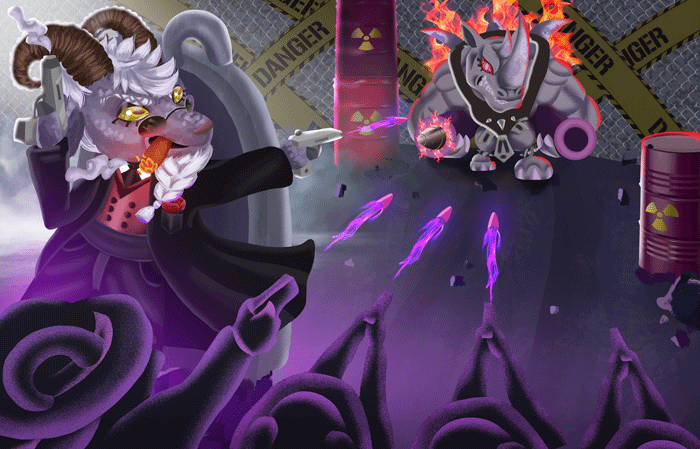 Una vez listo solo solo quedaba darle algunos detalles de luz, correcciones y demás:
¡ILUSTRACIÓN FINALIZADA!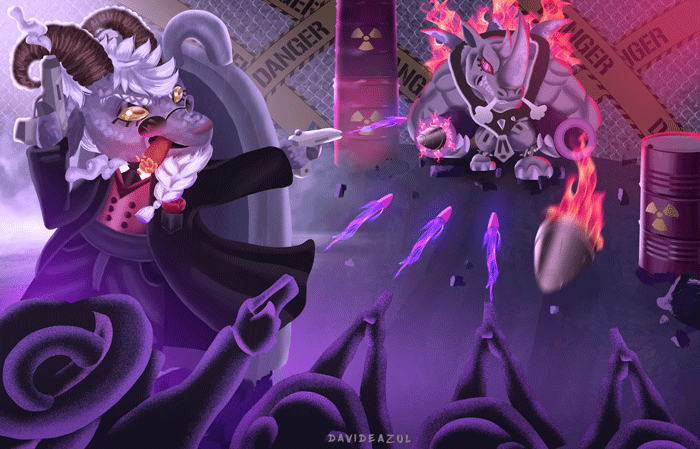 DURACIÓN: 1 día.
Programa: Adobe Photoshop.
ENFRENTAMIENTO: goat gang | parte 2
La pandilla de cabras llegó a la ubicación que les fue enviada, era una fábrica que fue abandonada hace mucho tiempo y muy alejada de la ciudad. Nadie pensaría que estuvieran ahí. Todos los agentes se movieron en la oscuridad de la fábrica e inspeccionaron cada rincón, hasta que lograron vislumbrar algo a lo lejos y fueron avisar al jefe. Cuando llegaron al sitio, frente a ellos tenían el Criminal más buscado: "Rino The Burned" con una altísima recompensa por su captura, no podían dejar pasar esta oportunidad. Rino había sido sorprendido vendiendo unos barriles con sustancias altamente inflamables, pero como buen criminal y jefe sagaz que es, tenía su haz bajo la manga, así que sacó dos de sus mejores armas letales y comenzó a bombardear a la pandilla de cabra que ya se había organizado a su alrededor para capturarlo.
"Esquiva, ataca y protégete" eran los movimientos de ambos en aquel enfrentamiento. Cualquier mal movimiento puedo ser mortal… ¿Cómo terminará todo esto?
---
Hemos llegado al final de esta publicación, espero que les haya gustado mucho, mañana publicaré la tercera y última parte y espero que les encante <3


Mis Redes Sociales: