I want to share with you the Guarani legend of the origin of yerba mate, a traditional South American infusion.
According to legend, the goddess of the moon was curious about what was happening below, so she decided to travel the earth accompanied by the goddess of the cloud. she was amazed looking the lush forests, the mountains, the rivers with cold water and the sounds of crickets.
Les voy a compartir la leyenda guaraní del origen de la yerba mate, una bebida tradicional de america del sur.
Según la leyenda, la diosa de la luna estaba curiosa sobre que sucedía debajo, por lo que decidió recorrer la tierra acompañada por la diosa de la nube. Se maravilló al conocer los bosques frondosos, el monte, los ríos con agua fría y los sonidos de los grillos.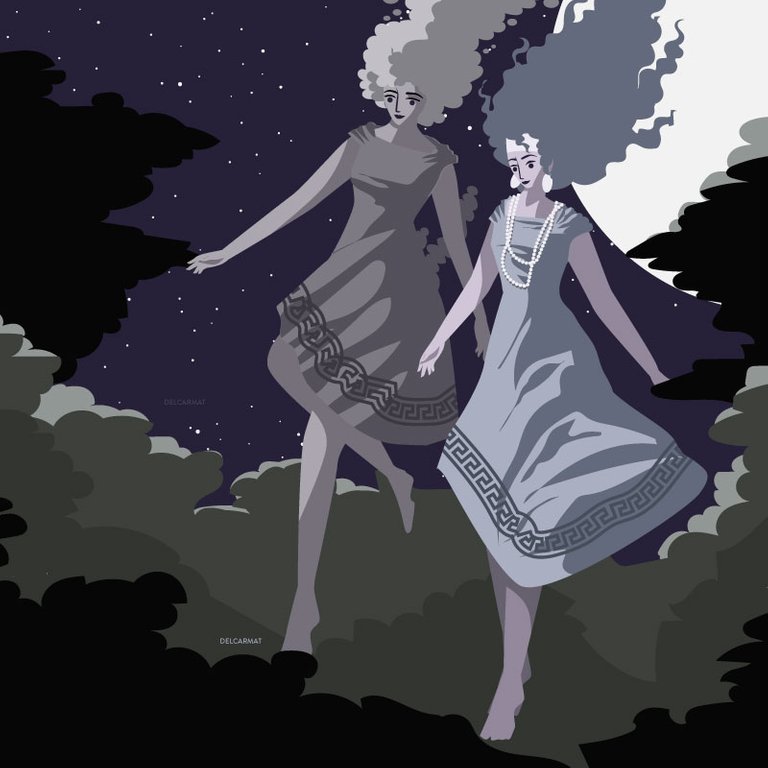 Suddenly they were attacked by a jaguar, a powerful leopard-like feline. They fell scared when arrows pierced the animal's skin. They had been saved by a hunter who was walking through the forest.
Repentinamente fueron atacadas por un yaguareté, un poderoso felino similar al leopardo. Cayeron asustadas, cuando unas flechas atravesaron la piel del animal. Habían sido salvadas por un cazador que estaba caminando por el bosque.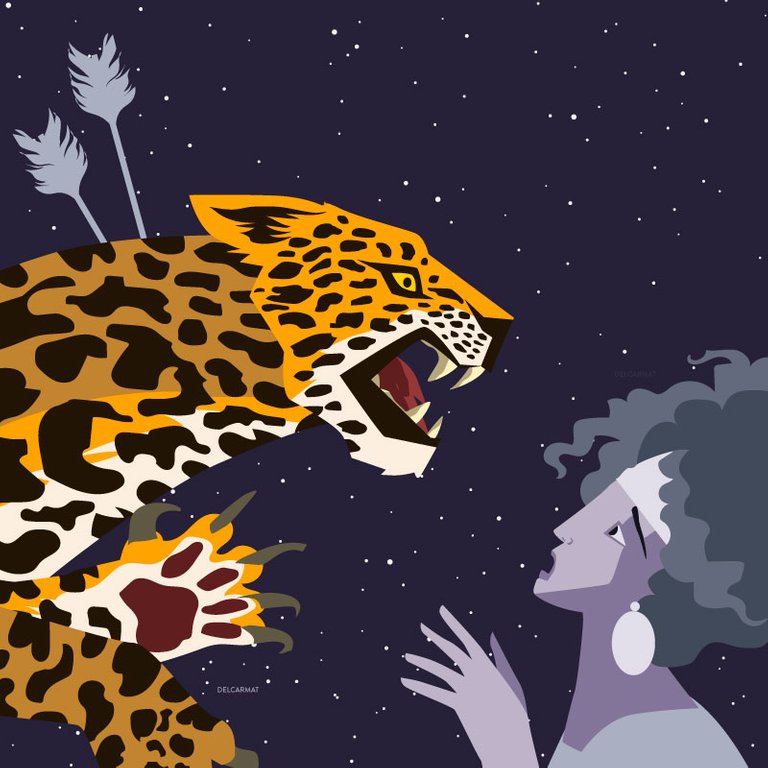 When they returned to the sky, the moon and the cloud, grateful, decided to give a gift to the hunter who had saved them.
In the morning, upon awakening, the hunter found some strange plants that had suddenly grown in front of his house. He remembered a message from the moon that he had received in his dreams, and prepared the first mate infusion with the plant.
Cuando regresaron al cielo, la luna y la nube, agradecidas, decidieron darle un obsequio al cazador que las había salvado.
Por la mañana, al despertar, el cazador encontró unas extrañas plantas que habían crecido repentinamente en frente de su casa. Recordó un mensaje de la luna que había recibido en sus sueños, y preparó el primer mate con la planta.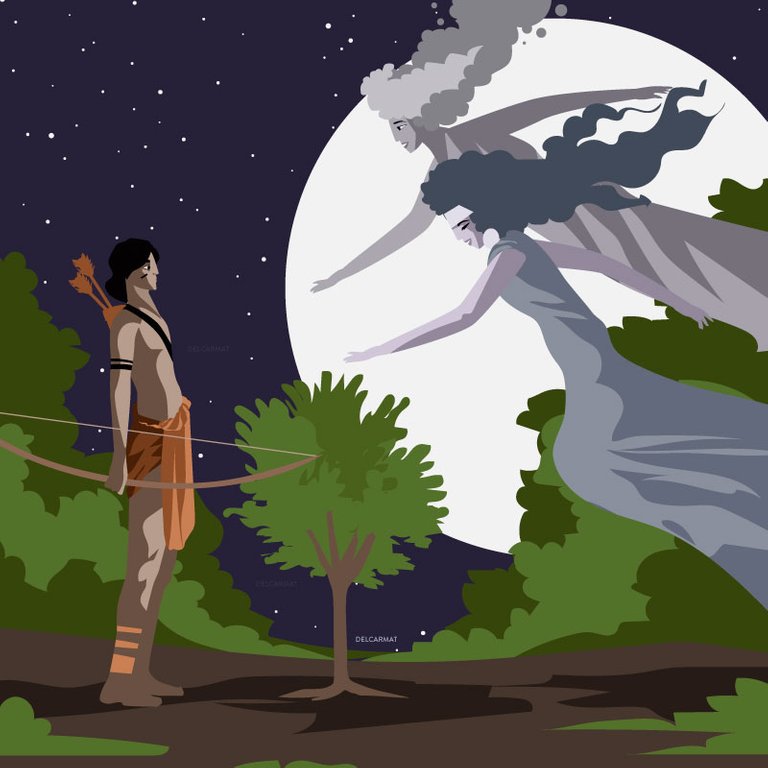 Yerba mate is an infusion that is made by heating the green leaves of yerba, it has a bitter and intense flavor (imagine a green tea but much more bitter), it is a very stimulating drink, like drinking several coffees. Traditionally it is prepared over a container (the "mate"), and drunk with a metal straw (the "bombilla"), it represents friendship and trust, since it is usually recharged with hot water and passed from person to person and everyone drinks from it (although due to the pandemic we no longer share it haha).
La yerba mate es un brebaje que se hace al calentar las hojas verdes de yerba, tiene un sabor amargo e intenso (imagina un té verde pero muchisimo más amargo), es una bebida muy estimulante, como tomarte varios cafés. Tradicionalmente se prepara sobre un recipiente (el mate), y se bebe con un sorbete metalico (la bombilla), representa la amistad y la confianza, ya que se suele recargar con agua caliente y se pasa de persona en persona y todos beben del mismo recipiente (aunque por la pandemia ya no lo compartimos jaja).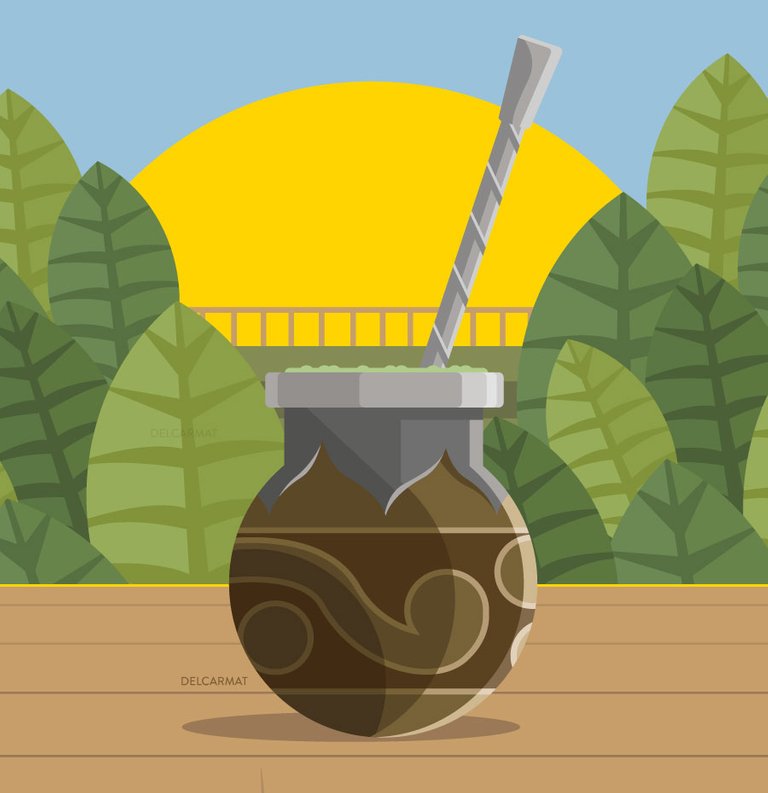 I hope you liked my drawings and the story.
Follow me if you like to see drawings and folklore tales! :) it encourages me to create more content here. Thank you!
Espero les haya gustado mis dibujos y el relato.
Síganme si les agrada los dibujos y las leyendas! :) me anima a crear más contenidos aquí. gracias!