Hola, como va todo amiwos de Hive.
Espero que todo muy bien
Hello, how is everything hive readers?
I hope everything goes well!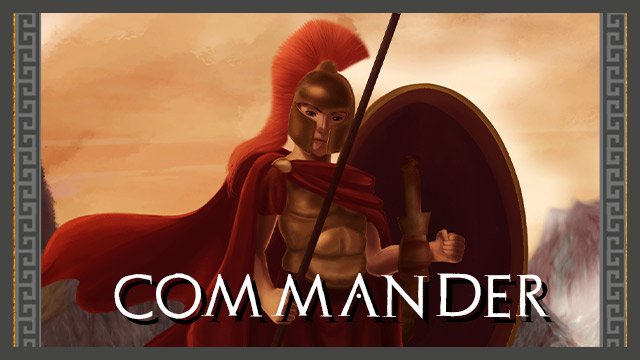 ▫️

Hoy les quiero compartir una pieza que hice hace ya un tiempo. Se trata de un comandante griego. Este personaje no representa ninguna deidad como tal, representa más bien una figura de autoridad o de alto rango.

▫️

I want to show you today I worked some time ago. It is about a greek commander. This character doesn't represent a specific god or deity, it is mostly a high range figure or an authority.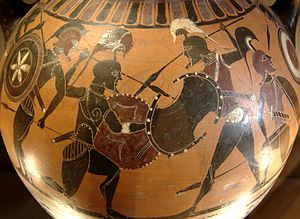 Fuente/Source: Wikipedia: Prometheus Painter - User:Bibi Saint-Pol, own work, 2007-06-01
Leyendo en la Wikipedia especificaba que los comandantes y generales eran los que tenían las armaduras más elaboradas y el yelmo curioso que representa aquella época.
Me base en esas condiciones para hacer el personaje de esta pieza.
Reading Wikipedia it specified that the commanders and generals were those who had the most elaborate armor and the characteristic curious helmet that represents that time.
I base myself on those descriptions to make the character of this piece.
🏺 ☀️ ⚔️ ☀️ 🏺
La pose de este personaje la cambié varias veces de su pose a lapiz.
Cuando terminé la obra homologa a esta, el general, me di cuenta que la pose que habia usado era muy similar y no me servía. Este personaje debía lucir más importante que el de la otra carta. Asi que se la tuve que cambiar.
I changed the position of this character from its original pencil sketch concept.
When I finished a piece homolog to this one, the general, I noticed the pose was quite similar. I needed for this artwork an outstanding difference from the other piece, this one should look more important than the other card. So I made some modifications.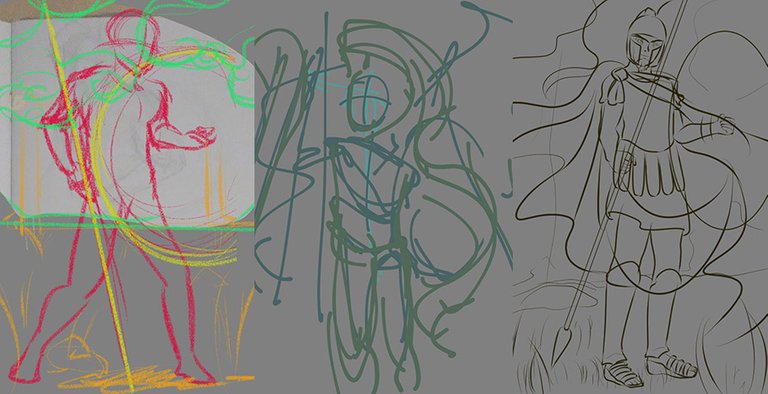 Cuando me decidí por la pose nueva. Comencé a hacer el fondo.
Para darle dramatismo, se me ocurrió hacerlo en un atardecer porque quería el cielo naranja y que tuviese tonos cálidos y sombras fuertes.
When I decided on the new pose. I started with the background.
To make it more catching, I thought in a orange sky like a twilight, warm tones, and strong shadows.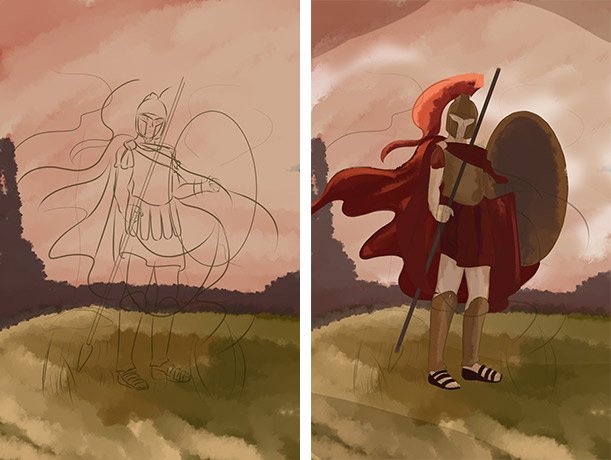 Me ayude un poco de referencias de fotos para hacer las montañas del fondo y el pasto.
I helped myself a little with photo references for the background mountains and the grass.
Este es el resultado final / This is the final Result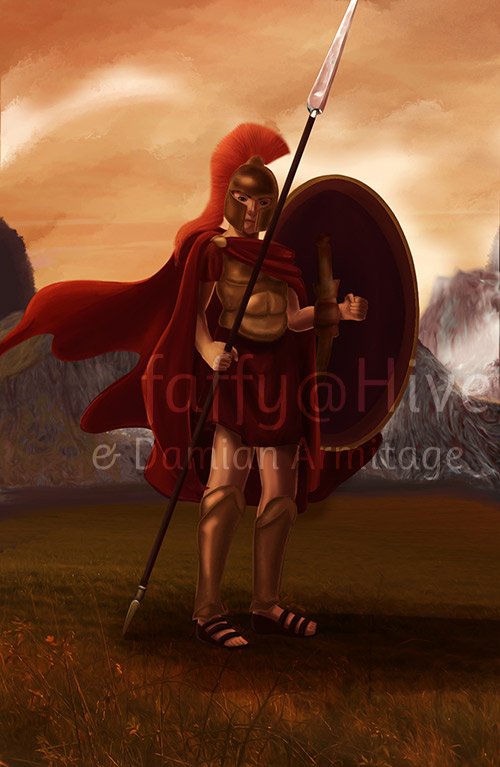 Acá les dejo un GIF compilatorio paso por paso
Here I left you a step by step process of the artwork.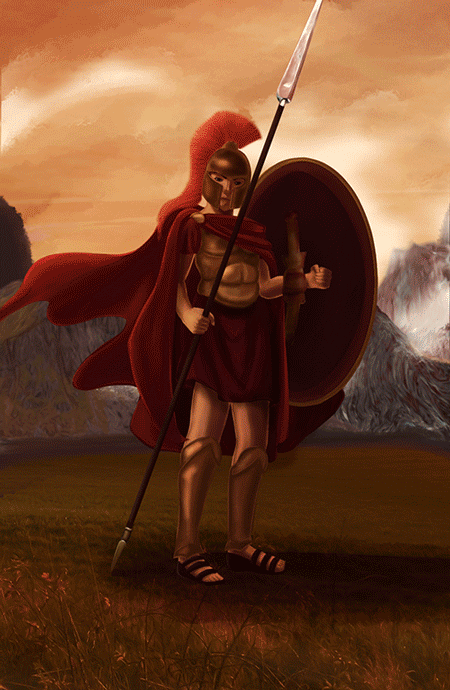 Esta es una de esas pinturas estilo "no tengo idea de cómo lo hice pero salió bien".
This was one of those paintings where "I have no idea what I was doing but it turned out well".
Fuente/Source
🏺 ☀️ ⚔️ ☀️ 🏺
Espero que les haya gustado mi obra tanto como a mí. Muchas gracias por pasarte por mi blog, haber leído y votar mis dibujos e ilustraciones n_n
Tengo tanto tiempo publicando que ya va siendo hora de colocar un banner y uno que otro link a mis redes sociales.
Cuando tenga banner nuevo lo voy a colocar sin ninguna falta.
Mientras tanto, ¡nos vemos en un próximo post!
I hope you liked my work as much as I did. Thank you very much for stopping by my blog, having read and vote my drawings and illustrations n_n
I have been publishing frequently; it is time to place a banner and the proper links to my social networks.
When I have a new banner I will place it without doubting.
In the meantime, I hope to see you again soon!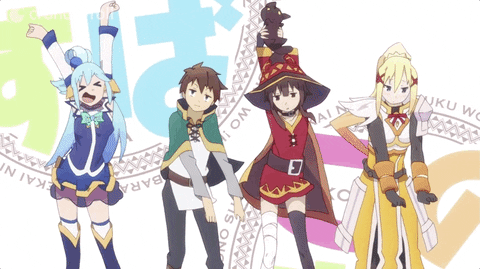 Fuente/Source
---
---
Flag icons by: http://www.famfamfam.com