Hola de nuevo lectores de Hive, espero que todo estén muy bien.
Hello again Hive readers, I hope you all are well.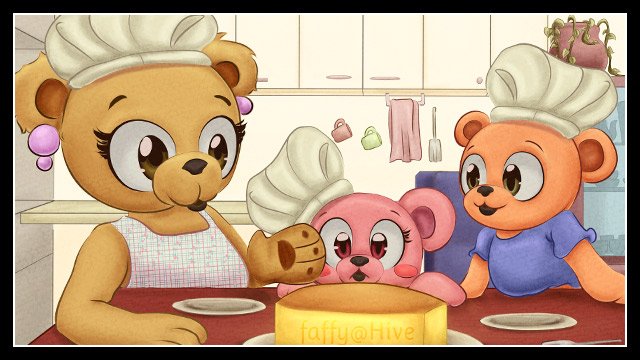 Quiero enseñarles algo lindo y distinto en esta ocasión. Fue una pieza que hice para una caja de pasteles y es algo colorido que quiero compartir.
I want to show you something different and cute this time. It is a piece I did for a cake box cover and it is colorful and sweet I want to share.
🍮 🍰 👩‍🍳 🍰 🍮
El señor que solía pedirme dibujos sobre los osos volvió, con otra temática de osos pero esta vez, no están de viaje, de hecho, están en casa. Qué coincidencia considerando todo lo que ha pasado.
The man who used to commission me the bear drawings came back, but with another topic; this time they are not traveling, actually, they are at home. Such a coincidence considering the last events.
Este dibujo es parte de un diseño más grande para una caja de pastel cuadrado, muy parecido a los videos de comida callejera taiwanesa. Pero solo voy a mostrar la ilustración principal que es la más bonita.
This drawing is part of a bigger design for a box cake, it is pretty similar to the Taiwanese square sponge cake food street videos, but I'll only show you the main illustration I did, which is the cutest.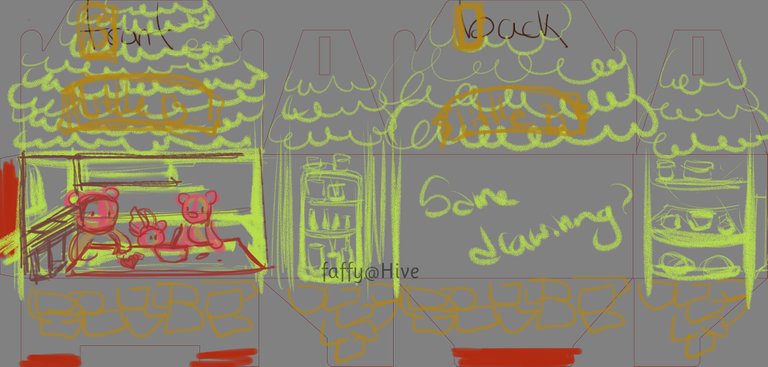 Diseño de la caja completo pero en bosquejo / Sketch design of the whole box
🍮 🍰 👩‍🍳 🍰 🍮
El cliente me pidió que hiciera una escena estilo familiar de los osos en una cocina cocinando algo juntos, a mí se me ocurrió la idea de hacer a un adulto con dos niños, haciendo referencia a una experiencia de cuando era niña cuando cocinaba pasteles con mi hermano y mi tía, el cliente le gustó la idea y la aceptó.
The client wanted me to do a family-style scene of bears in a kitchen cooking something together, I came up with the idea of painting an adult with two children, referring to experience when I was a child when I cooked cakes with my brother and my aunt, the client liked the idea and accepted it.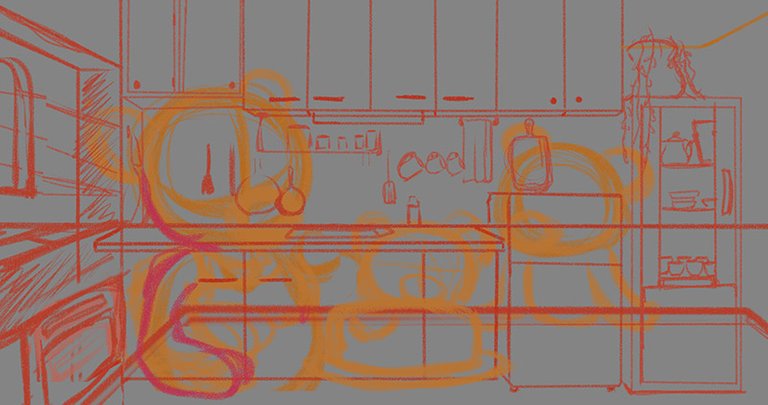 Después de aprobado, seguí con el bosquejo y el lineado.
When the sketch was approved, I followed with the line art.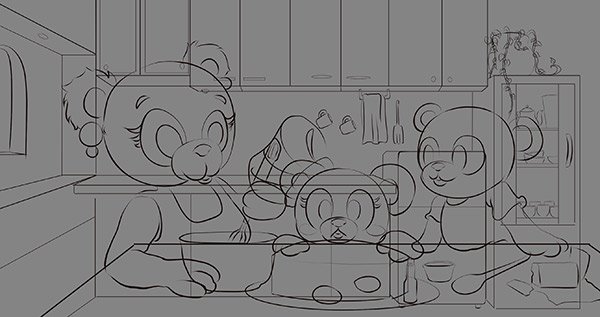 Hice este para probar los valores y que elementos destacaran más y cuáles deberían destacar menos. La idea es que tenga un tono de gris diferente también para separar los elementos.
I made this for testing the values and notice which elements will pop up over the others. The idea is, each element should have a different tone of grey.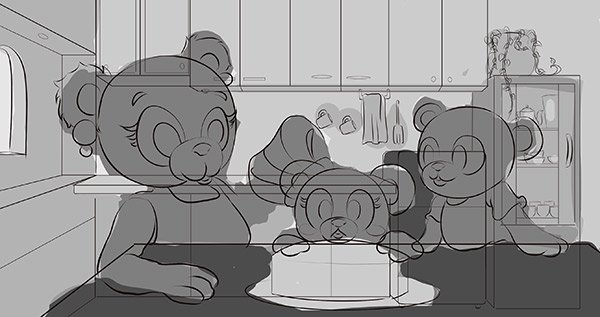 Con los colores planos se ve bien, pero quería ponerle más cositas para darle forma que se vea como más 'suave'.
With all the colors set, it looks good enough, but I wanted to make it look a little softer and add some depths.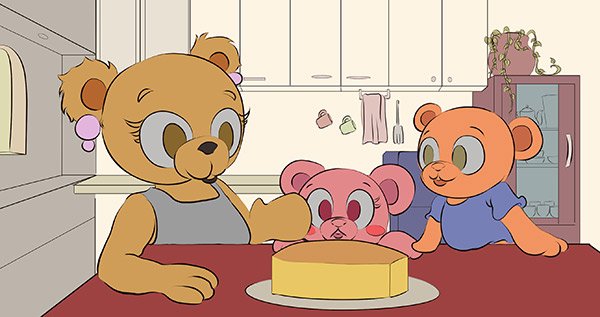 Ya después lo que hice fue pintar, buscando el pincel más apropiado para dar ese efecto de suavidad.
After this point what I did was just painting, searching for the proper brush to make the effect I was looking for.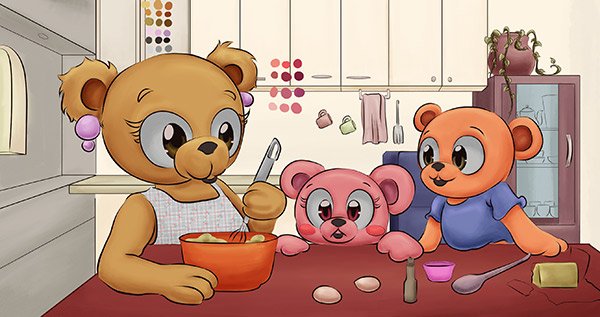 A la final el cliente me pidió que le añadiera unos sombreros de cocina para que se vieran más "profesionales" pero a mí no me gustó mucho XD los prefiero sin ellos.
¿Ustedes que opinan?
¿Con sombreros o sin sombreros?
When the image was done, the clients requested a version with a chef hat to make the bears look more "professional" I didn't like this version too much, I prefer the picture without them.
What do you think?
With or without hats?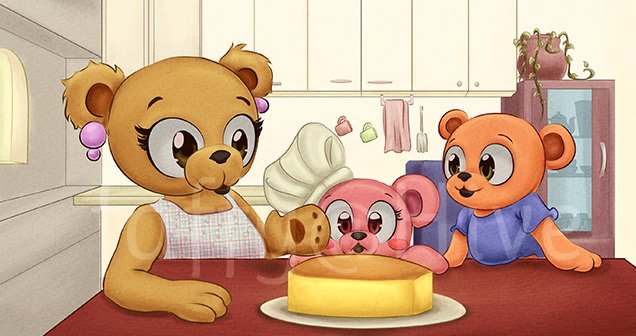 Version sin sombreros/Version without hats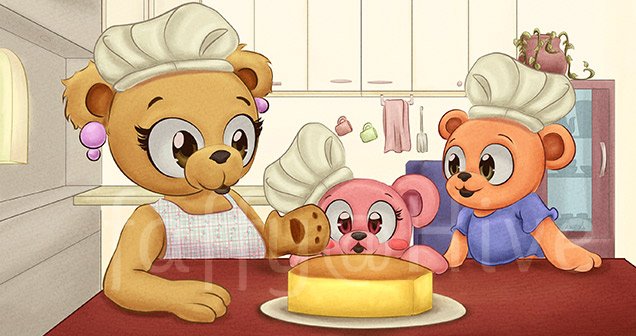 Version with hats/version with hats
Dejenme sus ideas abajo en los comentrios
you can leave your thoughts down in the comments.
🍮 🍰 👩‍🍳 🍰 🍮
Espero que les guste tanto como a mí esta Ilustración. Muchas gracias por haber leído y por apoyar mis ilustraciones y dibujos.
Nos vemos en un próximo Post!
I hope you like this Illustration as much as I do. Thank you very much for reading and supporting my illustrations and drawings.
I hope to see you again soon!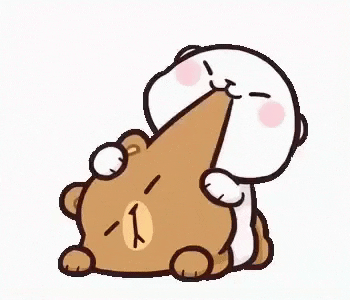 • Fuente/Source •
---
---