Buen día amiwos de Hive. Espero que este todo muy bien.
Good day Hive friends. I hope everything is going well.
Hoy les quiero compartir una pieza personal. Es algo que tengo bastante tiempo queriendo terminar y este año he podido.
Today I would like to share a personal piece. It is something I have been trying to finish for a long time and I could finish it this year.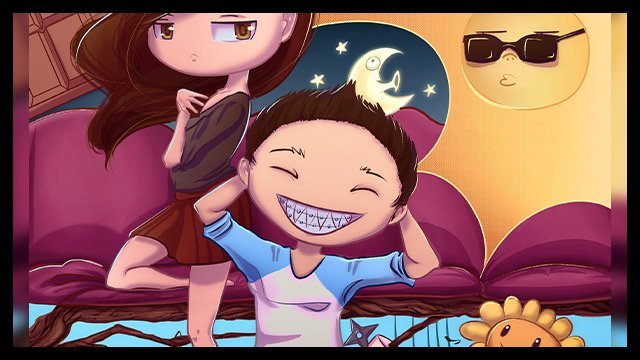 ✒️ 🌱 🍂 🌱 ✒️

Esta es una pieza que hice hace unos años, la hice inspirada en una canción de un juego arcade que me gusta mucho. Por si no lo saben, soy muy fan de los arcades de baile, me apena saber que Buenos Aires, que es una capital, no tenga ninguno.
This is a drawing I made some years ago, I made it inspired by a song about an arcade game I like a lot. in case you don't know I'm a big fan of dance arcade games, it makes me sad in a city like Buenos Aires doesn't have one of those machines.
Si alguien que llegue a leer esta publicación y es de buenos aires, ¿podría indicarme un sitio donde encontrar uno de estos?
If someone who reads this blog lives in Buenos Aires, could you let me know where I can find one of these?
◊ Fuente / Source ◊ :
Prosigamos. La canción que me ha inspirado ha sido la de Norazo, llamada Superman. Esta aparece en el Pump it up Fiesta ex 2011.
Ok well, let's proceed. The song that inspired me is Superman by Norazo. This appears in the Pump it up Fiesta ex 2011.
Fuente / Source: Official NORAZO Youtube Channel
✒️ 🌱 🍂 🌱 ✒️
Volviendo a la pieza, este es el dibujo original que hice en aquel momento.
Recuerdo que cuando terminé las lineas en su momento, decidí que quería colorearla.
Returning to the piece, this is the original drawing I made at that moment.
I remember when I finish the lineart, I decided to give it colors.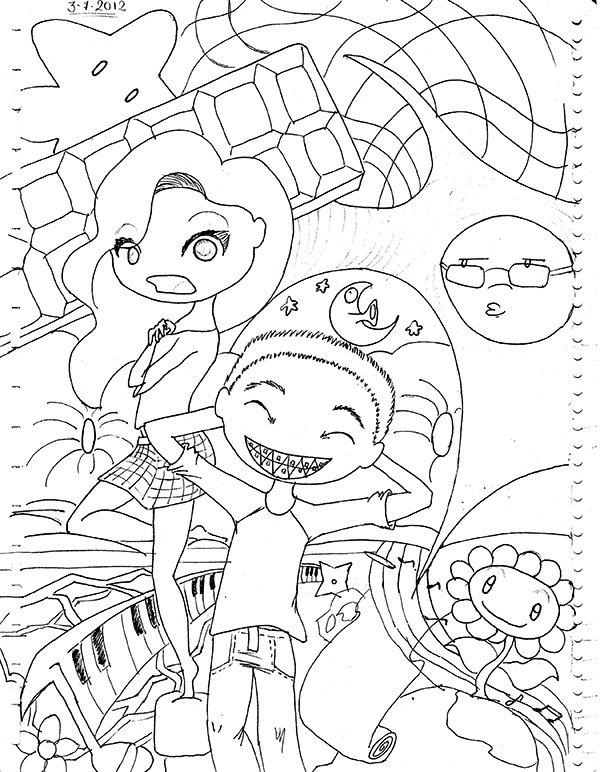 Pero por algún motivo lo más que llegue a colorearla fue esto, y la dejé abandonada.
But for some reason I don't remember, this was the maximum progress I made in the colors.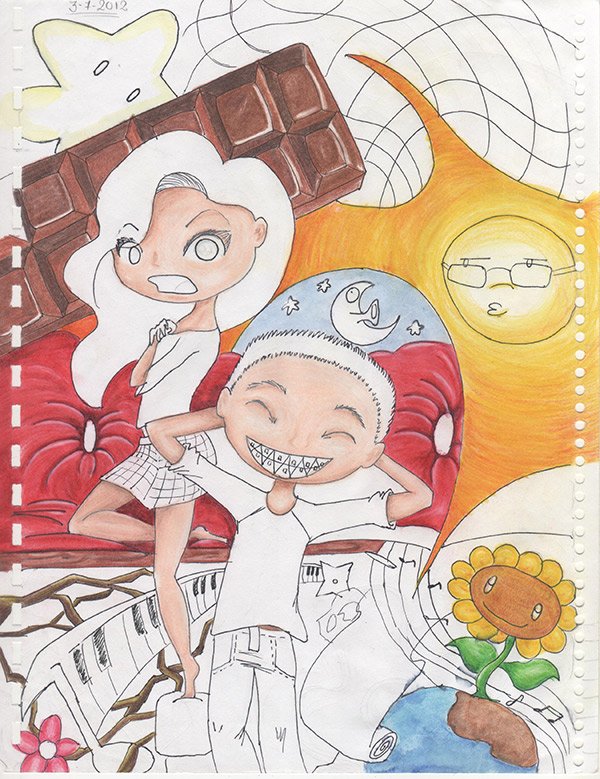 Siempre que la veía pensaba en terminarla pero por algún motivo nunca lo hacía. Me mudé y no me traje la pieza conmigo.
Every time I saw the drawing I always wanted to finish it but for some reason I never did it. I moved and didn't bring my piece with me.
Un día decidí que debía terminarla y me propuse a hacer el dibujo de nuevo.
One day, I proposed to finish it, but I made the sketch and the lineart again.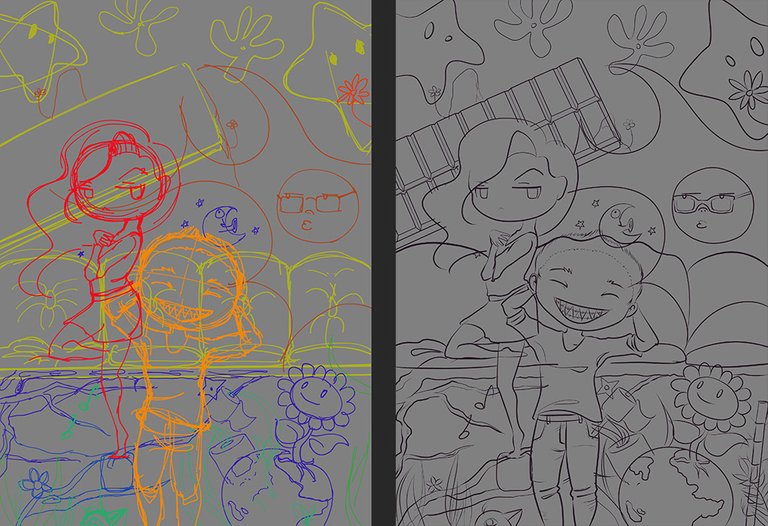 Cuando hice las líneas, agregarle los colores planos fue un poco complicado por la cantidad de cosas que le puse, pero con calma pude colorear todo.
When I made the lines, add the flat colors were kind of difficult mostly for the many things I added, with patience, I could color all of them.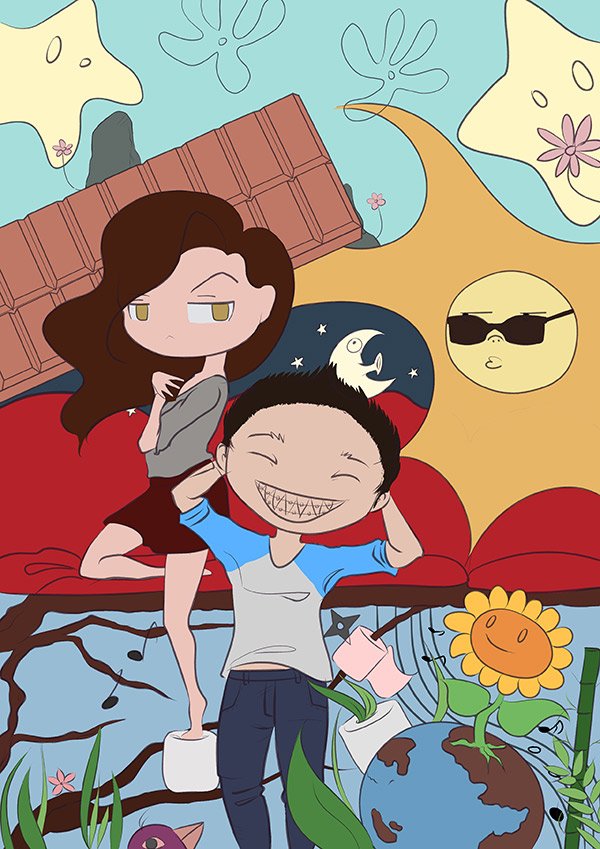 De la canción que me inspiré en el juego, cuando la ponías, de fondo aparecían unos personajes de colores vibrantes así que me decidí por usar un coloreado estilo cel-shading para esta imagen.
Quería que luciese brillante y divertido, que era lo que tenía pensado cuando la hice.
From the song that I was inspired by, in the arcade dance game, when you choose the song, it appears a video of vibrant colors as a background so I decided to use a colored cel-shading style for this image.
I wanted it to look bright and fun, which was what I had in mind when I made it at the time.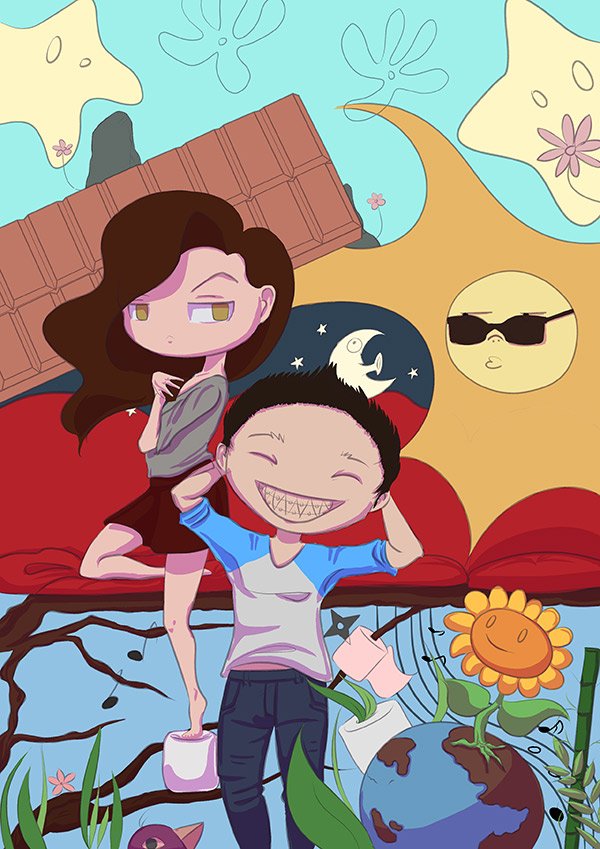 Así luce finalizada / This the final version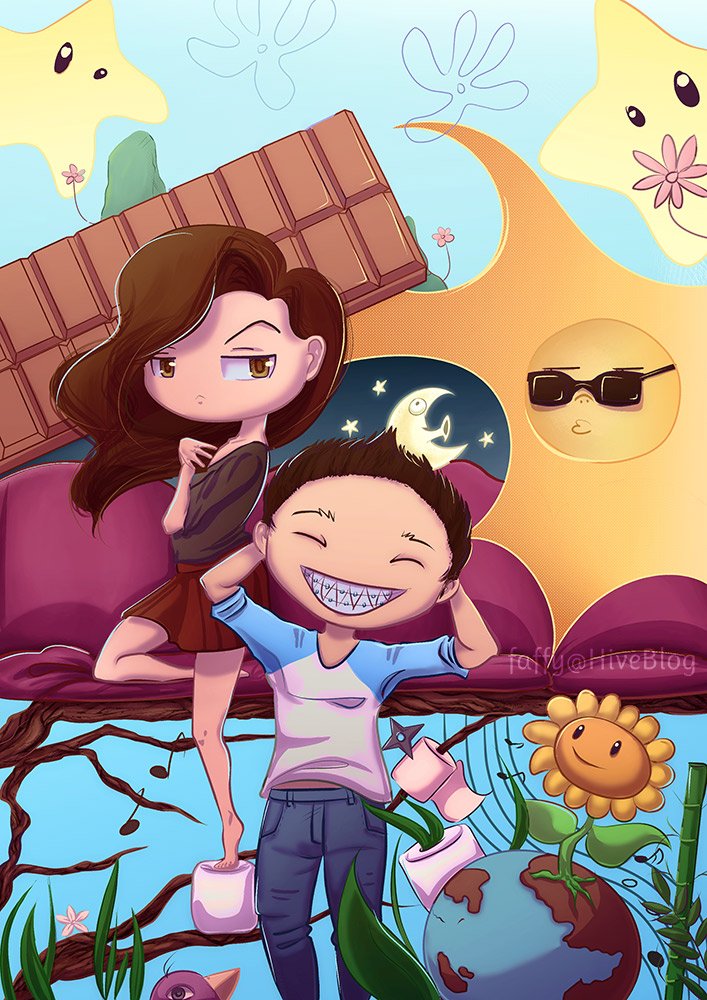 ✒️ 🌱 🍂 🌱 ✒️
Comparison 2012 vs 2020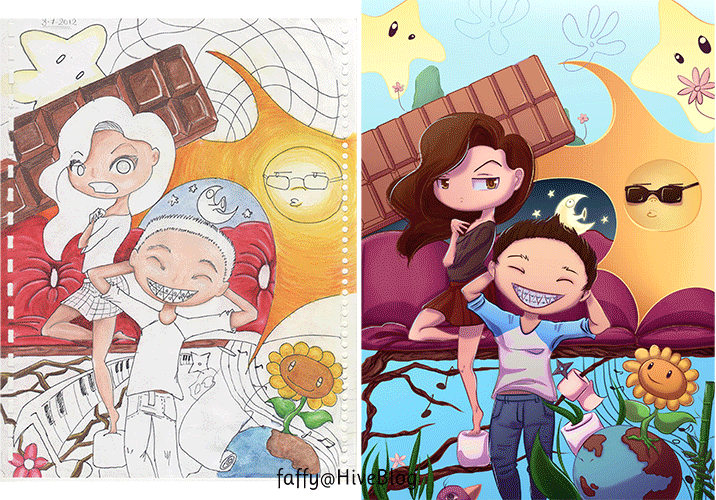 Materiales
Original: papel blanco de copias nulas y lápices de colores.
Final: digital usando Clip Studio Paint, el best program ever.
tamaño
Original: hoja carta
Nuevo: A4
Materials
Original: simple bond paper, color pencils, and pen.
Final: Digital using Clip Studio Paint, best program ever.
Size
original: Letter
New: A4
✒️ 🌱 🍂 🌱 ✒️
¿Qué les ha parecido, les gusta el cambio? Espero que les guste mi obra tanto como a mí. Muchas gracias por haber leído.
Muchas gracias por apoyar mis ilustraciones y dibujos con tu voto, eso me ayuda un montón.
Nos vemos en un proximo post!
What do you think, do you like the new or the old one? I hope you like my piece as much as I do. Thank you for stay by in my publication.
Thank you for support my illustrations and drawings with your upvote and curation, that helps me a lot.
I hope to see you again soon!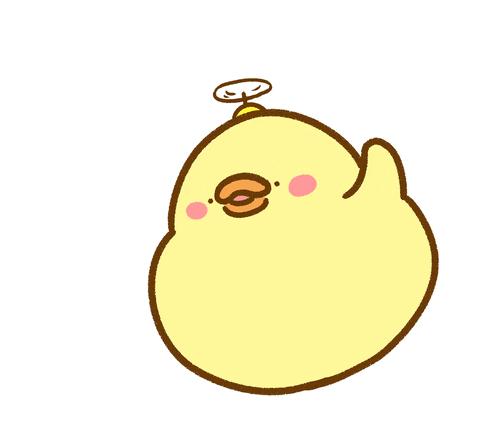 ◊ Fuente/Source ◊
---
---
Si quieres ver más cosas así, puedes seguir mi blog, por acá en hiveblog o seguir mis redes sociales.
If you want to watch more stuff like this, you can follow my blog here on Hiveblog or follow my social media.