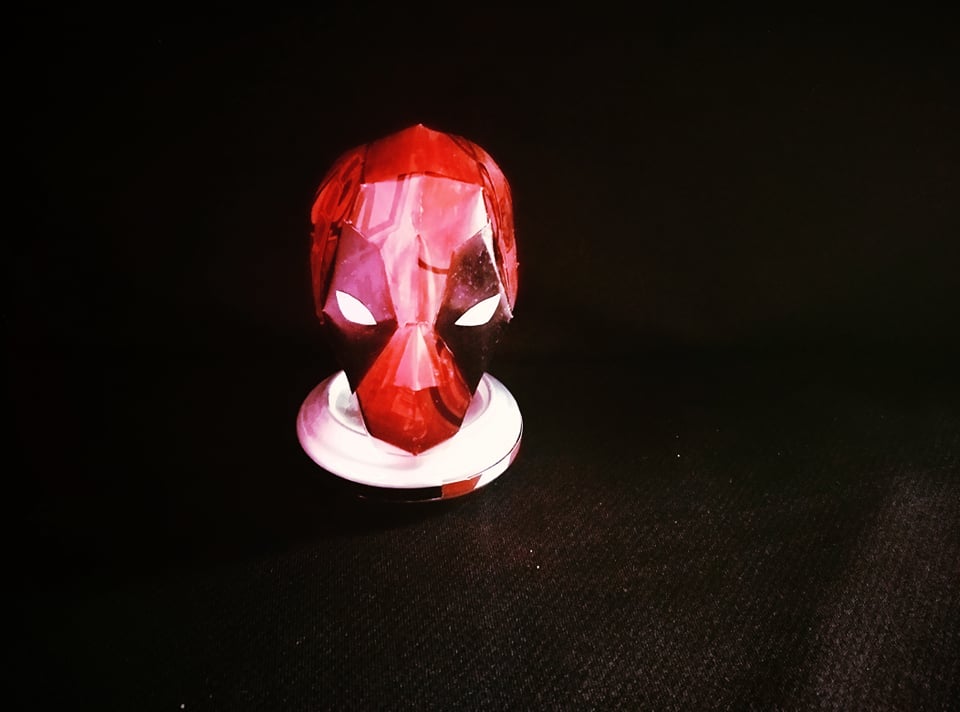 Hello hive friends I hope you have a good start to the week. Today I want to show the community my latest work in recycling art, it is a mask made with soda cans of the Marvel character Deadpool, the antihero who can never keep his mouth shut. We all saw how actor Ryan Reinolds embodied the character, giving him great acceptance and making more fans who no longer only know him from comics. I loved the deadpool movie and from there I have made drawings and figures of this special character. I want you to see my work and how I did it and I hope you like it.
Hola amigos de colmena espero que tengan un buen comienzo de semana. Hoy quiero mostrarle a la comunidad mi ultimo trabajo en arte de reciclaje, se trata de una mascara hecha con latas de soda del personaje de Marvel Deadpool, el antiheroe que nunca puede mantener cerrada la boca. Todos vimos como el actor Ryan Reinolds encarnó al personaje dandole una gran aceptacion y logrando hacer mas fanaticos que ya no solo lo conocen por los comics. A mi me encanto la pelicula de deadpool y desde ahi he hecho dibujos y figuras de este personaje tan especial. Quiero que vean mi trabajo y como lo hice y espero sea de su agrado.
Process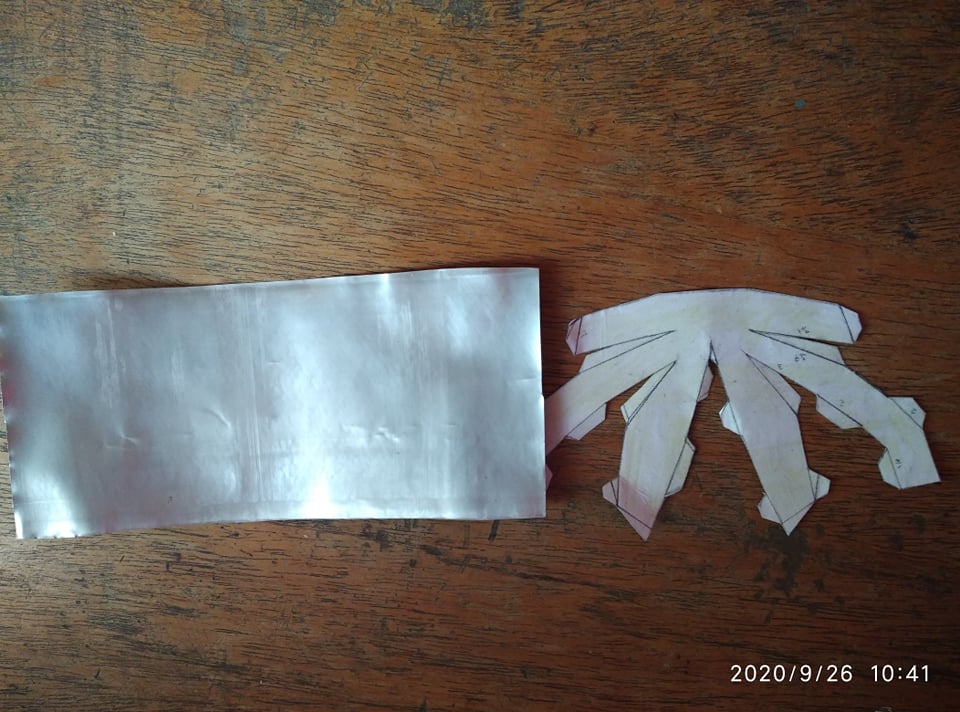 T
o make the part of the face we need to make a template that gives us the shape of the face and that is easy to mold. This you see here was the last template I made because the ones I did previously failed. Instead of leaving Deadpool I was going to get the hunchback of Notre Danme hehehe. This was the template that I could do the best and it helped me get results.
Para hacer la parte del rostro necesitamos hacer una plantilla que nos de la forma de la cara y que sea facil moldear. Esta que ven aqui fue la ultima plantilla que hice porque las que hice anteriormente me salieron fallidas. En lugar de salirme Deadpool me iba a salir el jorobado de Notre Danme jejeje. Esta fue la plantilla que mejor pude hacer y me ayudo a conseguir resultados.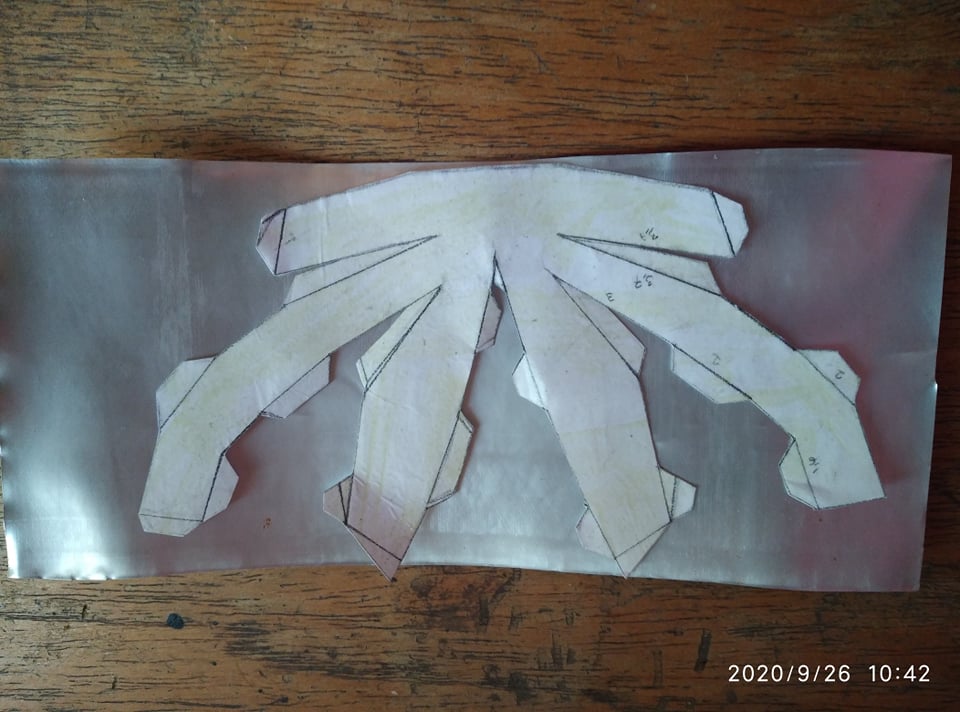 We take the template and put it on the can, we can put it and press with our hands or we can also put a little glue to hold it to the can and thus achieve a more exact cut.
Tomamos la plantilla y la ponermos sobre la lata, podemos ponerla y presionar con las manos o tambien podemos echarle un poco de pegamento para sujetarla a la lata y asi conseguir un corte mas exacto.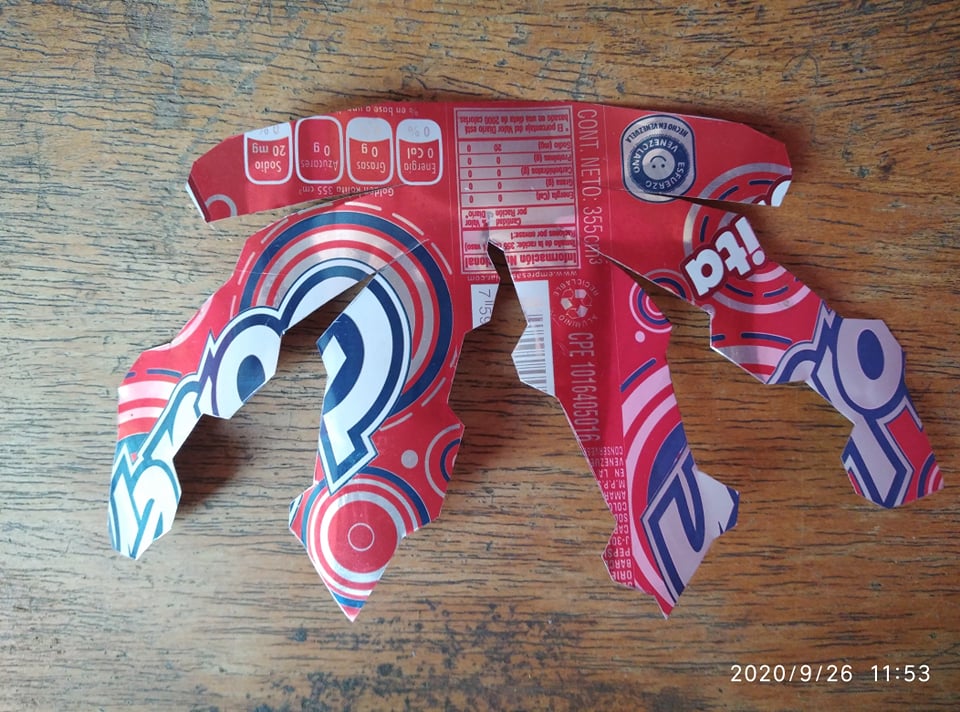 This is how our piece remains once we have cut it following the pattern of the lines of the template we made. You always have to try to be very precise so that when joining the parts it is well adjusted.
Asi nos queda nuestra pieza una vez la hemos cortado siguiendo el patron de lineas de la plantilla que hicimos. Siempre hay que tratar de ser bien precisos para que al unir las partes nos quede bien ajustado.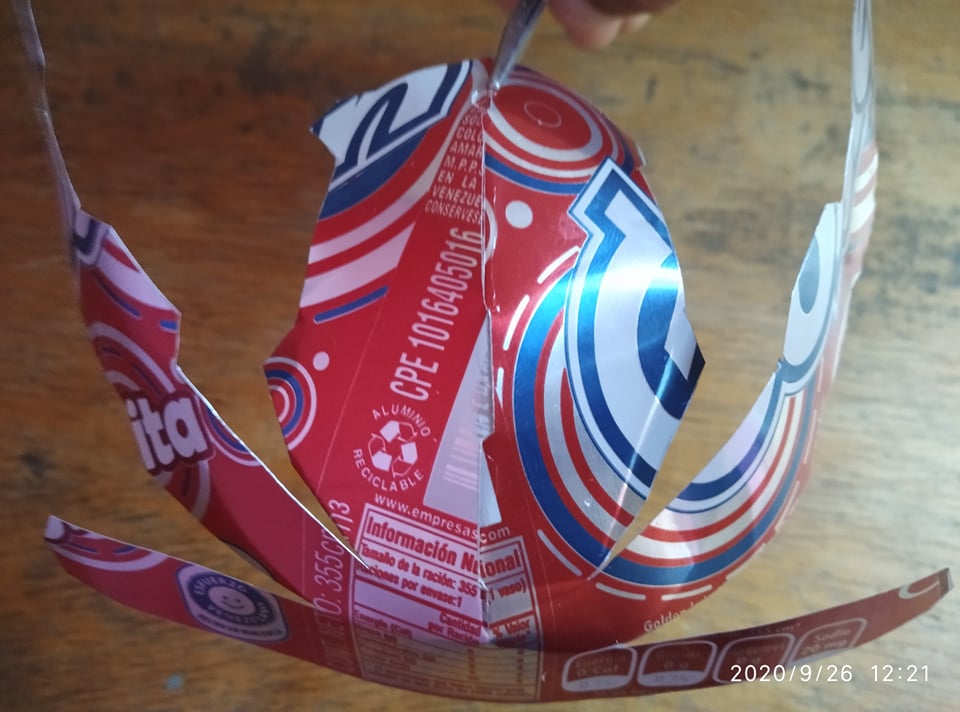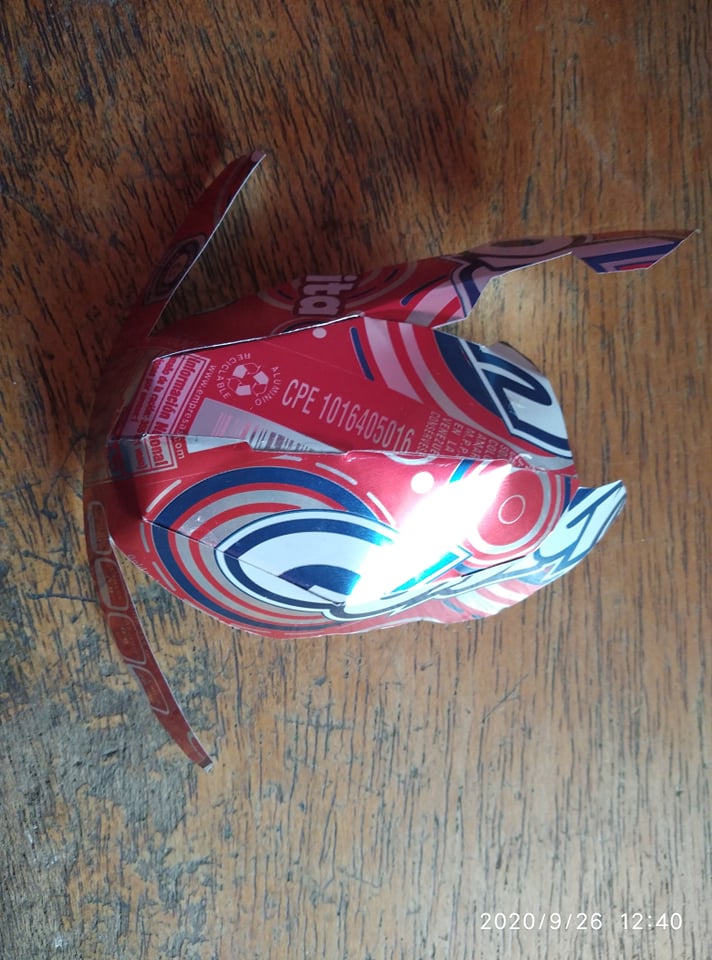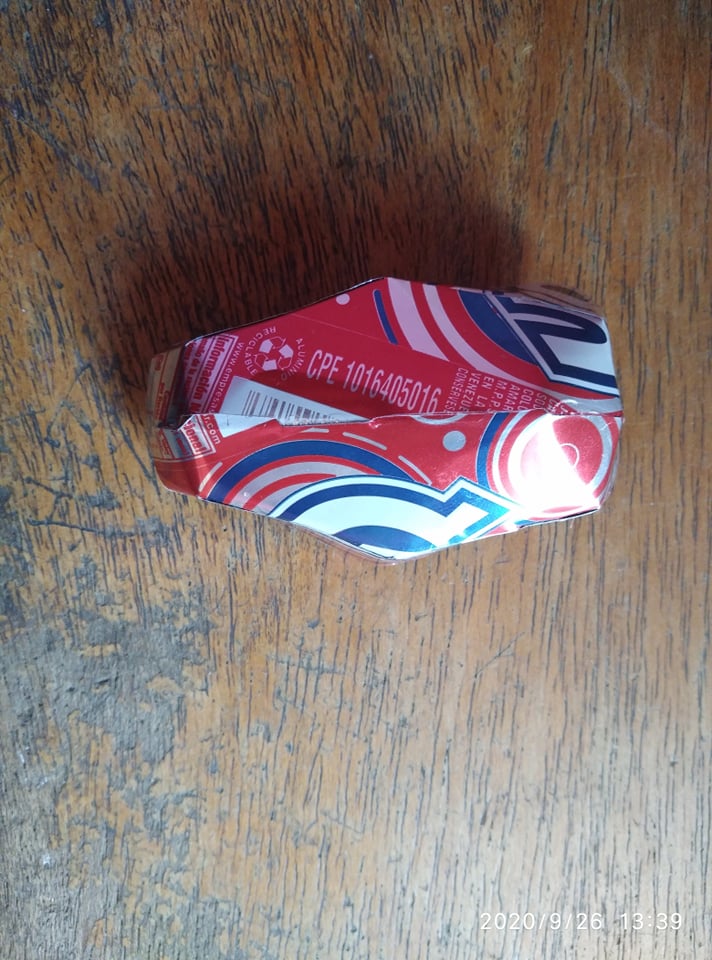 The next step is to fold the tin sheet and start joining the parts. We can do this step with the help of tweezers, these will allow us to be more precise and that when folding the sheets it does not come out crooked. By joining the parts we would have most of the face done.
El siguiente paso es doblar la hoja de lata y comenzar a unir las partes. Podemos hacer este paso ayudandonos con unas pinzas, estos nos dejara ser mas precisos y que al doblar las hojas no nos salga torcido. AL unir las partes ya tendriamos la mayor parte del rostro hecho.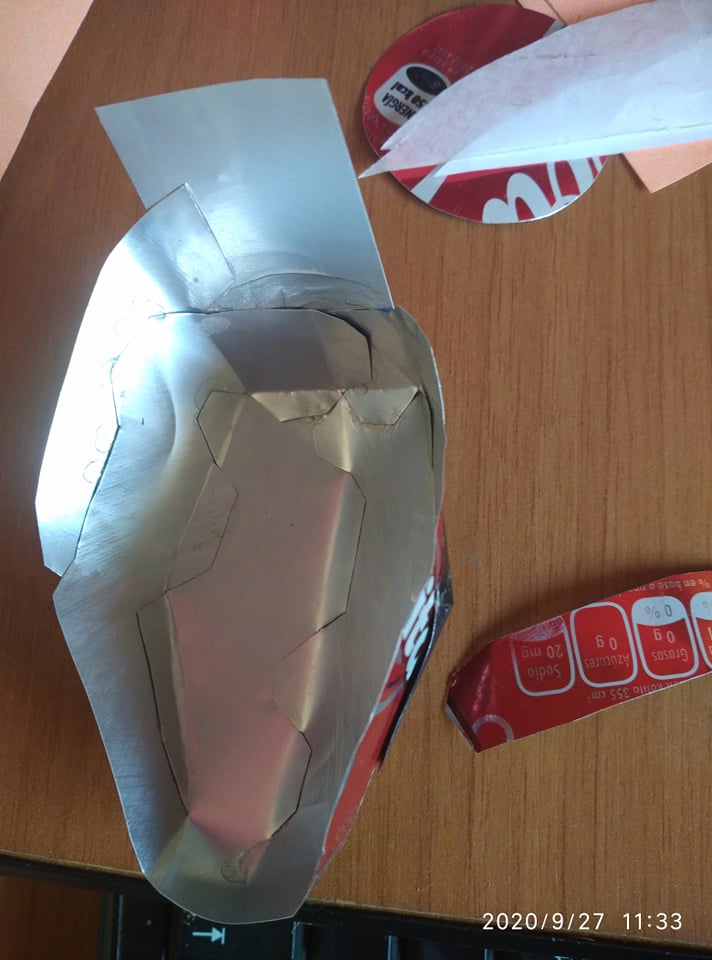 Then we can complete the back of the mask with some small tin cuts. Here I did it without a template to be able to give it the shape I wanted. Sometimes not following an established pattern is the best option. In this way we finish the upper part of the head and on both sides that protects the ears. I also made a small cut to shape the nose. A small triangle.
Despues podemos completar la parte trasera de la mascara con unos pequeños cortes de lata. Aqui lo hice sin plantilla para poder darle la forma que yo queria. A veces no seguir un modelo establecido es la mejor opción. De esta forma terminamos la parte superior de la cabeza y hacia ambos lados que protege los oidos. Tambien hice un pequeño corte para darle forma a la nariz. Un pequeño triangulo.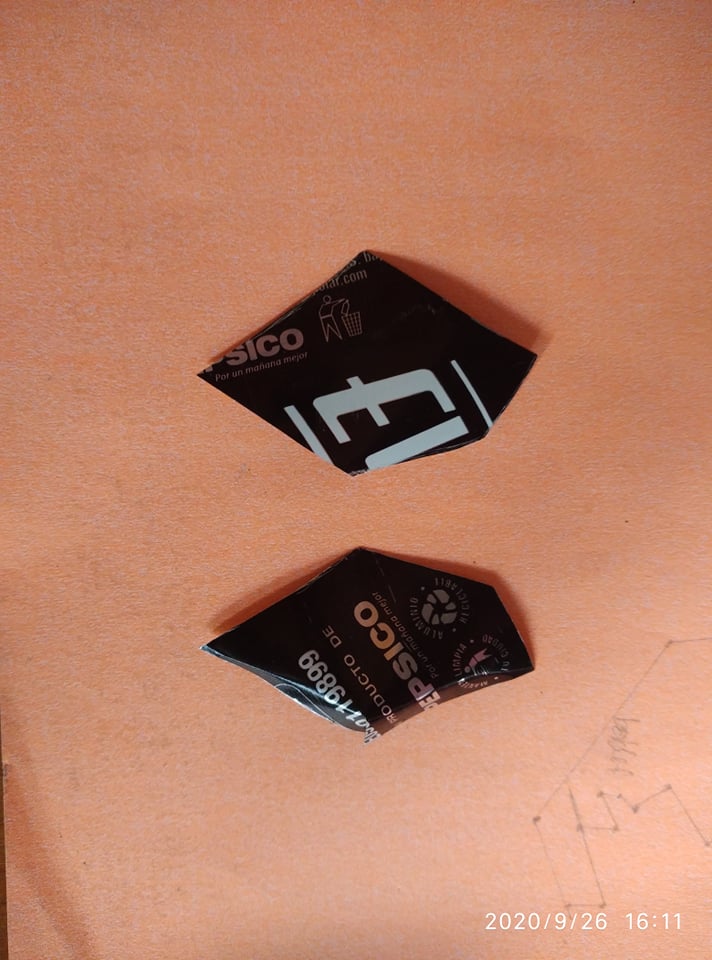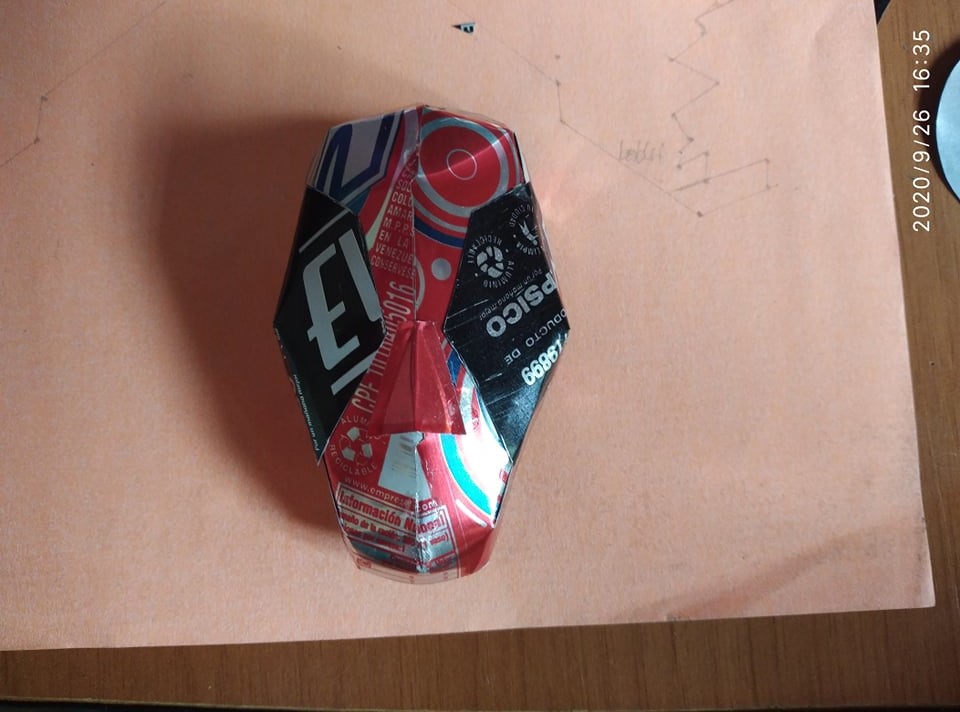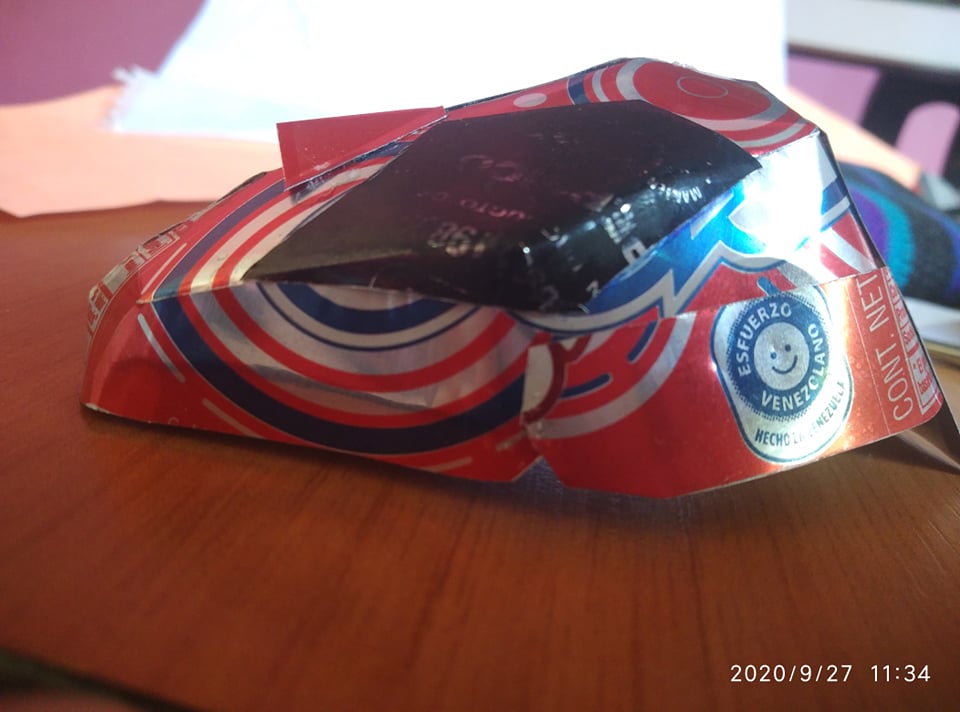 The next step is to make the dark part of the mask that surrounds the eyes. We make a small template to cut this part and look for a black tin. Once cut and molded, we glue it to the face and we obtain this result.
El siguiente paso es hacer la parte oscura de la mascara que rodea a los ojos. Hacemos una pequeña plantilla para cortar esta parte y buscamos una lata de color negro. Una vez cortadas y moldeadas la pegamos al rostro y obtenemos este resultado.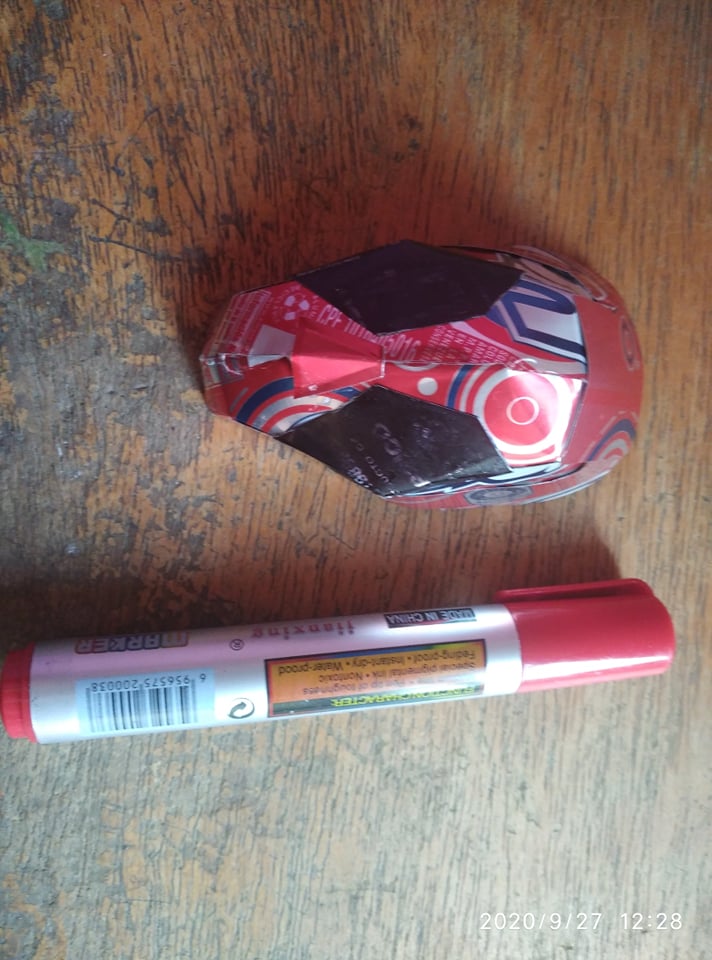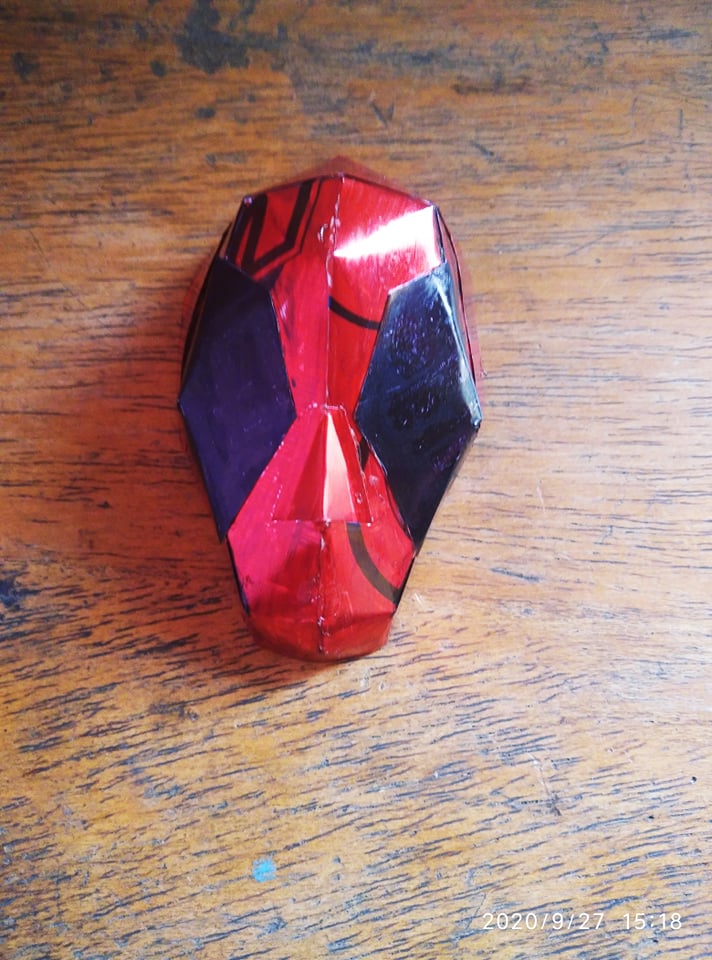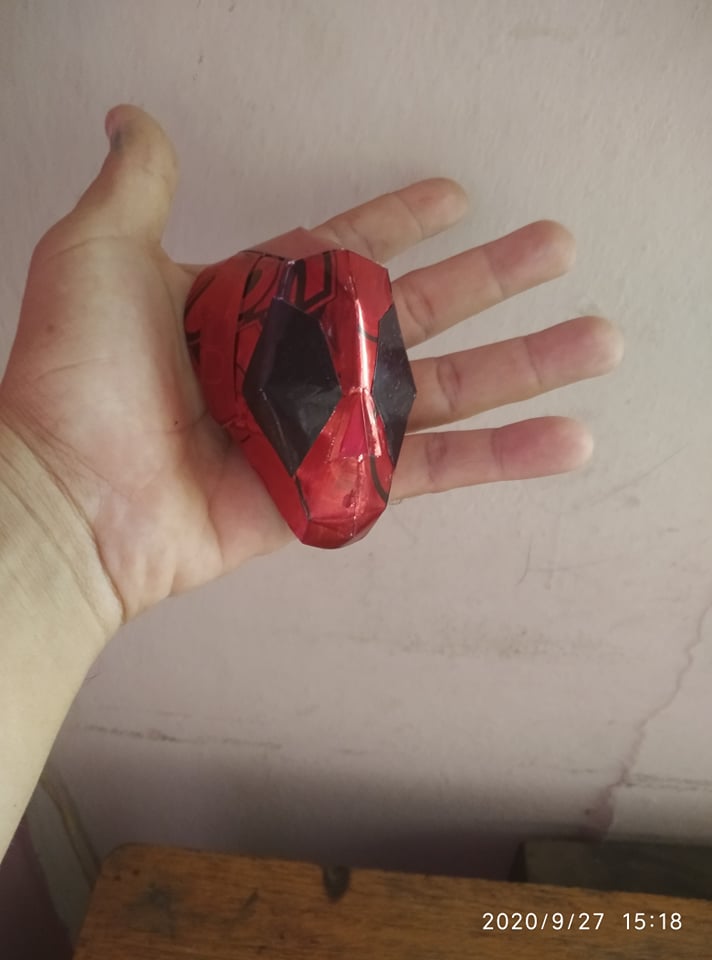 Now to better decorate the mask we can paint with a red marker to achieve a better effect.
Ahora para decorar mejor la mascara podemos pintar con marcador rojo para lograr un mejor efecto.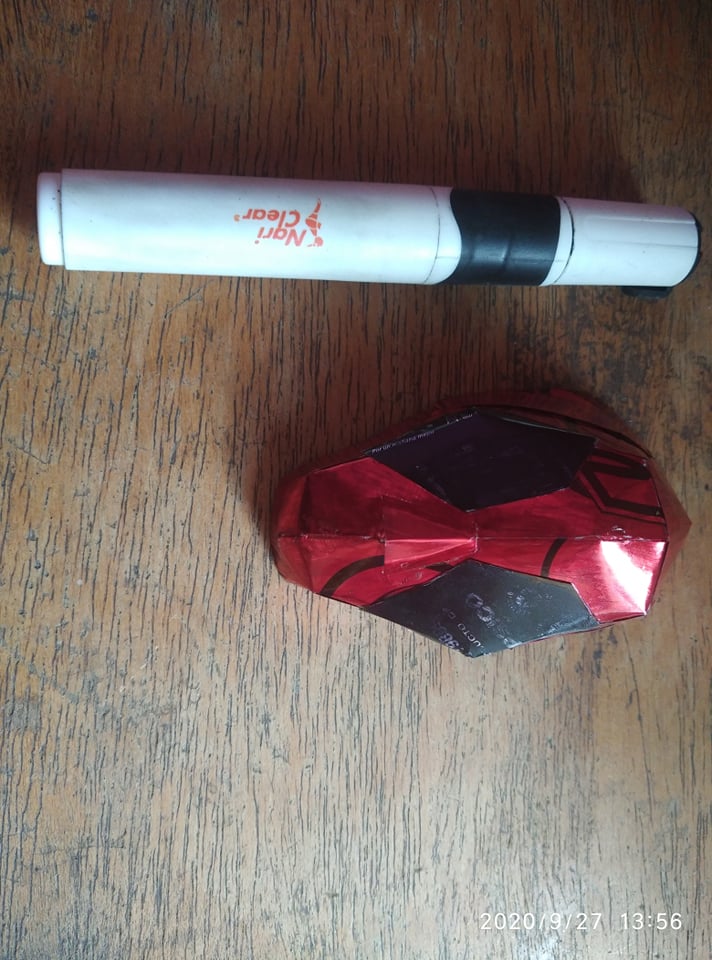 We also put a black marker on the dark part to cover the letters on the can and make it look better and with a better finish. I wanted to use spray paint but I had already glued this part to the face and it could ruin it, so I decided to use the marker.
Tambien le ponemos marcador de color negro a la parte oscura para tapar las letras de la lata y que nos quede de una mejor manera y un mejor acabado. Quise usar pintura en spray pero ya habia pegado esta parte al rostro y podia arruinarlo, asi que decidi usar el marcador.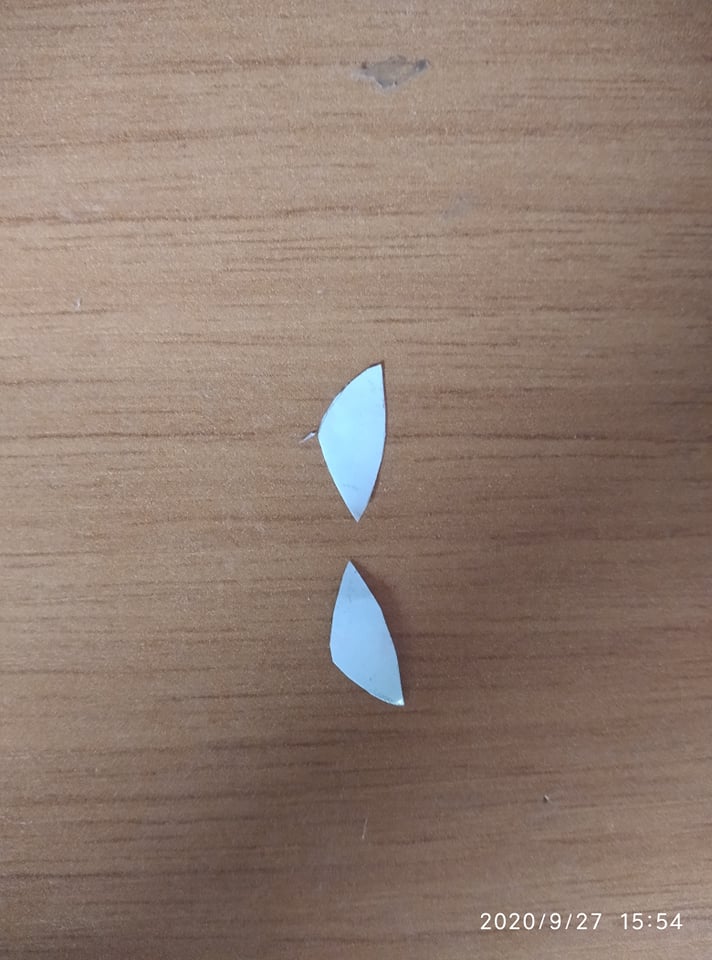 Now we make the part of the eyes, for that we look for a can that has a white color, it can be the part where it brings the letters or also where the bar code comes from, which always comes in white. We make the shape and glue it to the rest of the mask.
Ahora hacemos la parte de los ojos, para eso buscamos una lata que tenga color blanco, puede ser la parte donde trae las letras o tambien por donde viene el codigo de barras que siempre viene de color blanco. Hacemos la forma y la pegamos al resto de la mascara.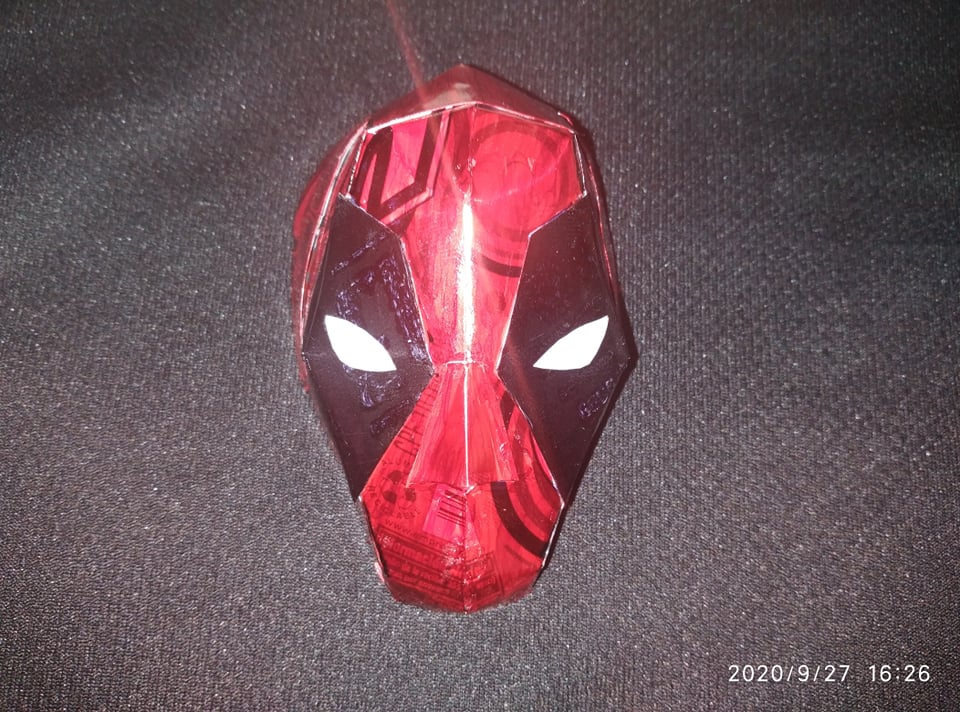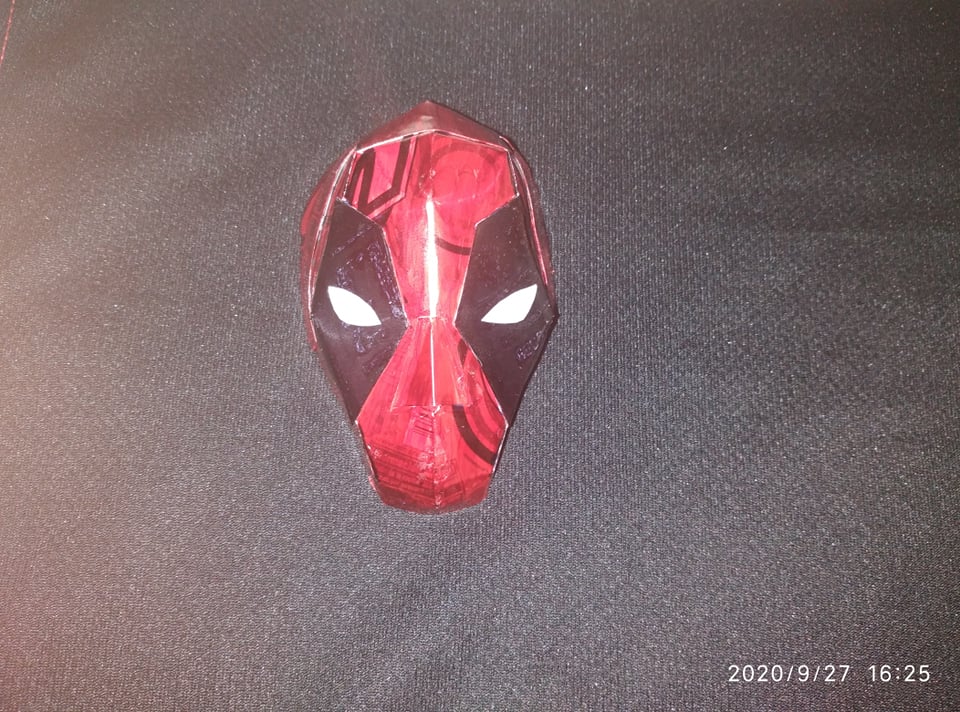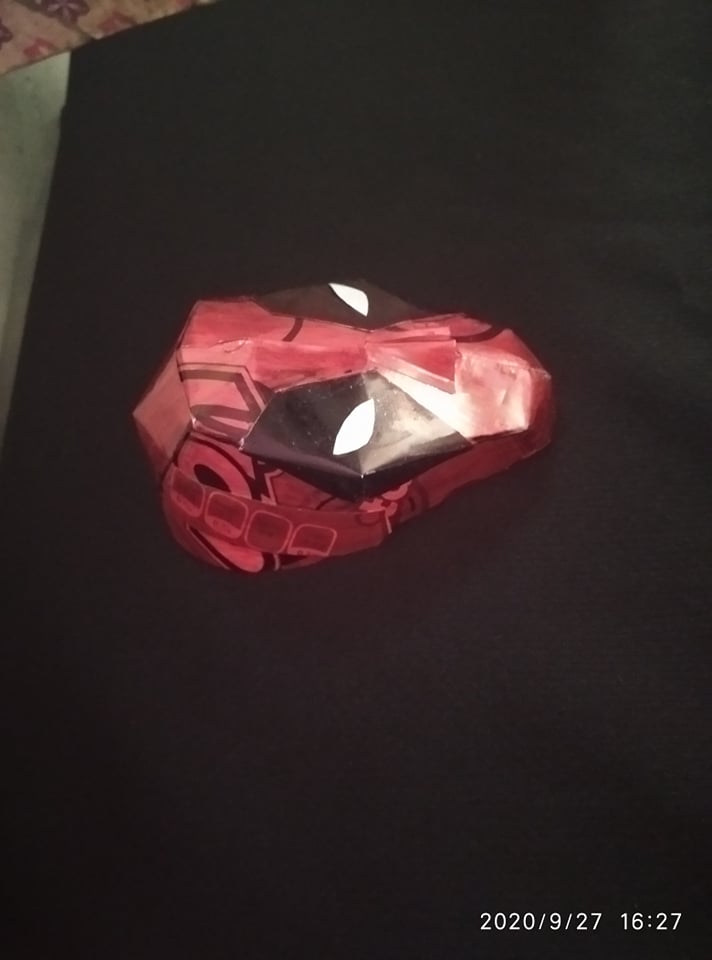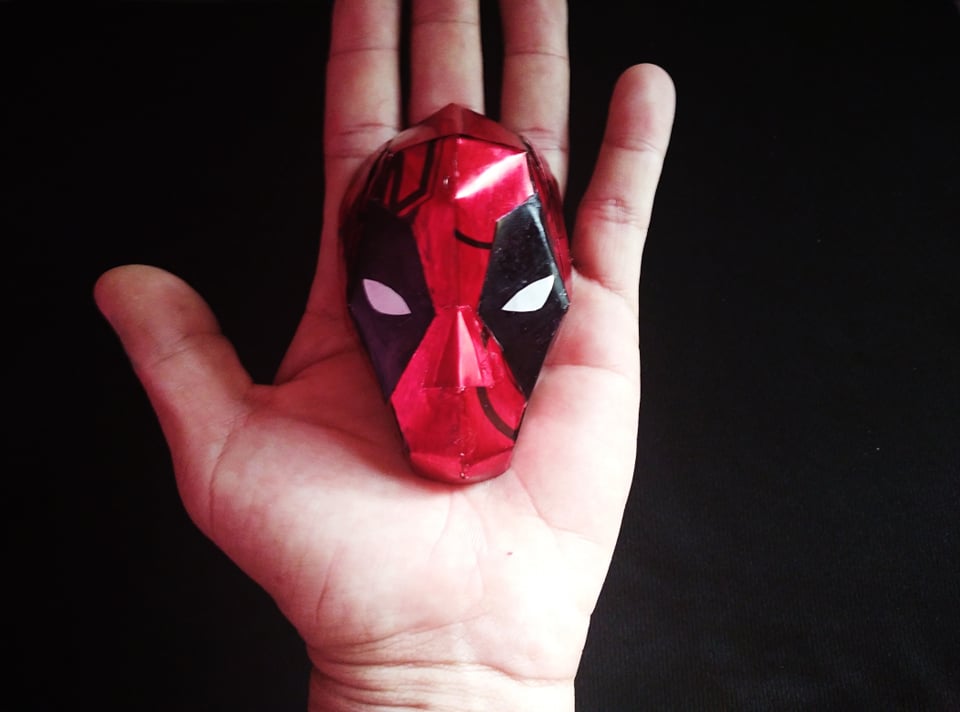 So we have the mask, a big step to put the eyes. I. I was very happy to see this result and was about to finish.
Asi nos queda la mascara, un gran paso el colocarle los ojos. Me. sentia muy contento al ver este resultador y estaba apunto de terminar.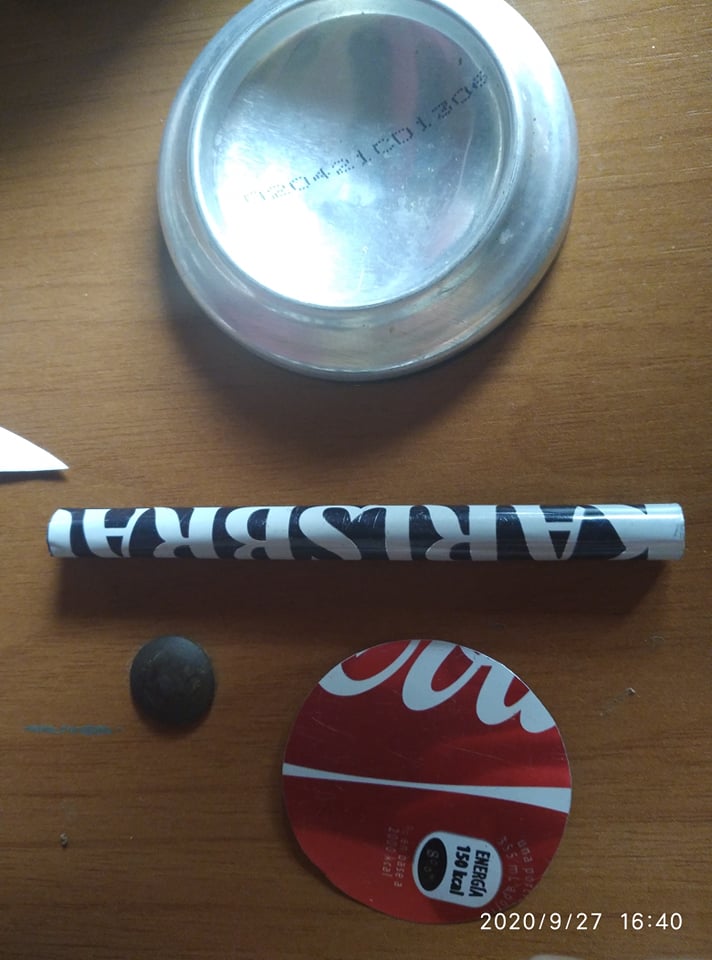 As a last step we make a base where we can hold the mask and we can use it as a souvenir on our desk or wherever we like.
Como ultimo paso hacemos una base donde podamos sujetar la mascara y la podamos usar de souvenir en nuestro escritorio o donde mas nos guste.
Final work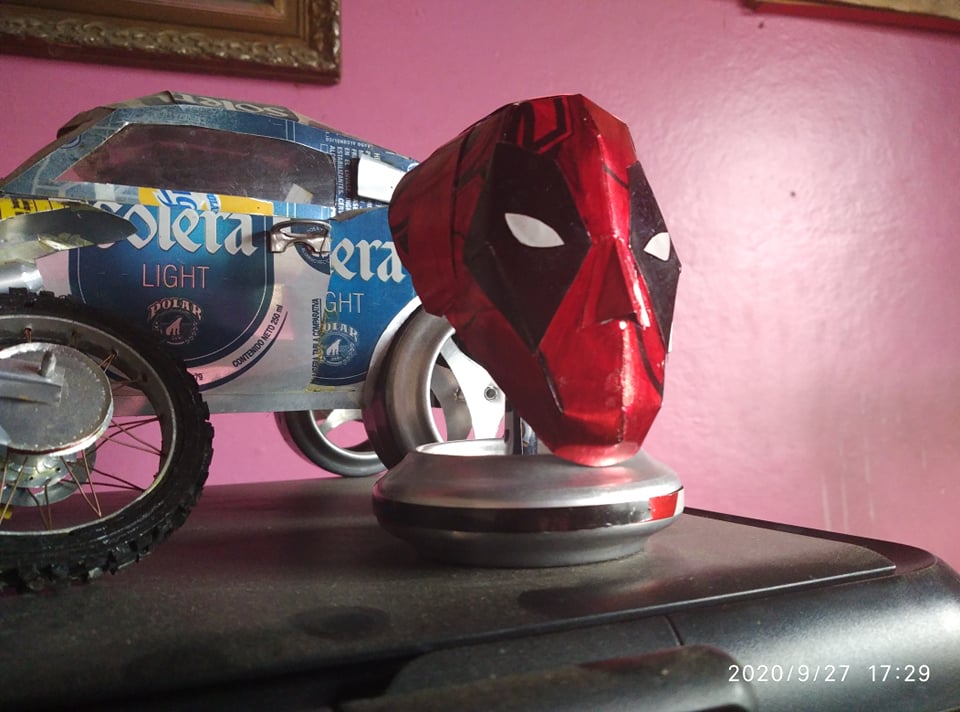 This is how our mask remains when we put a base on it.
Asi nos queda nuetsra mascara cuando le ponemos una base.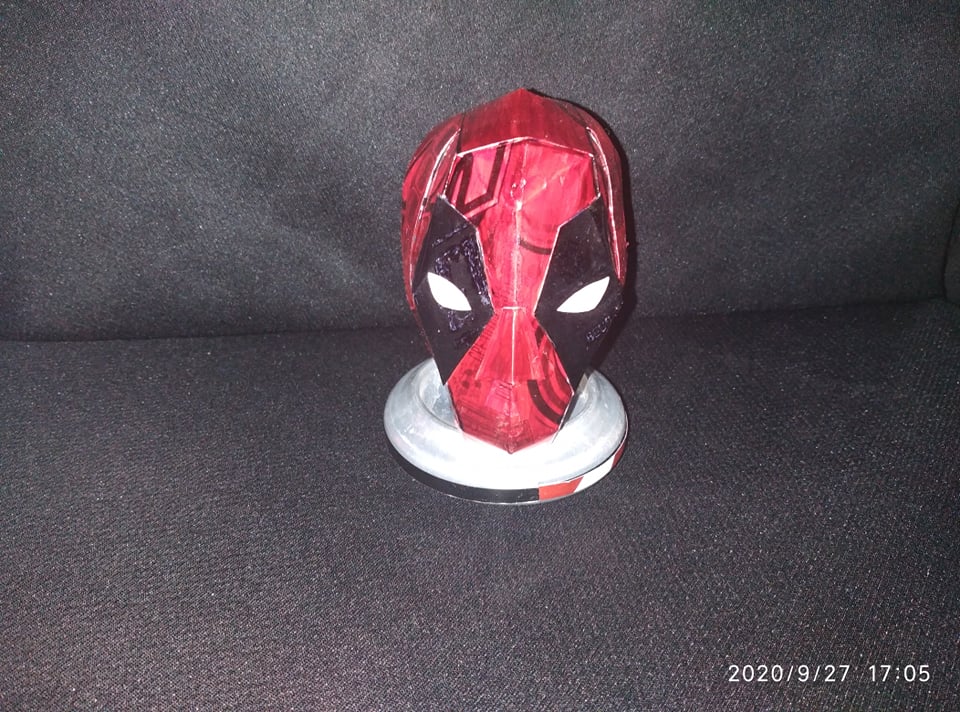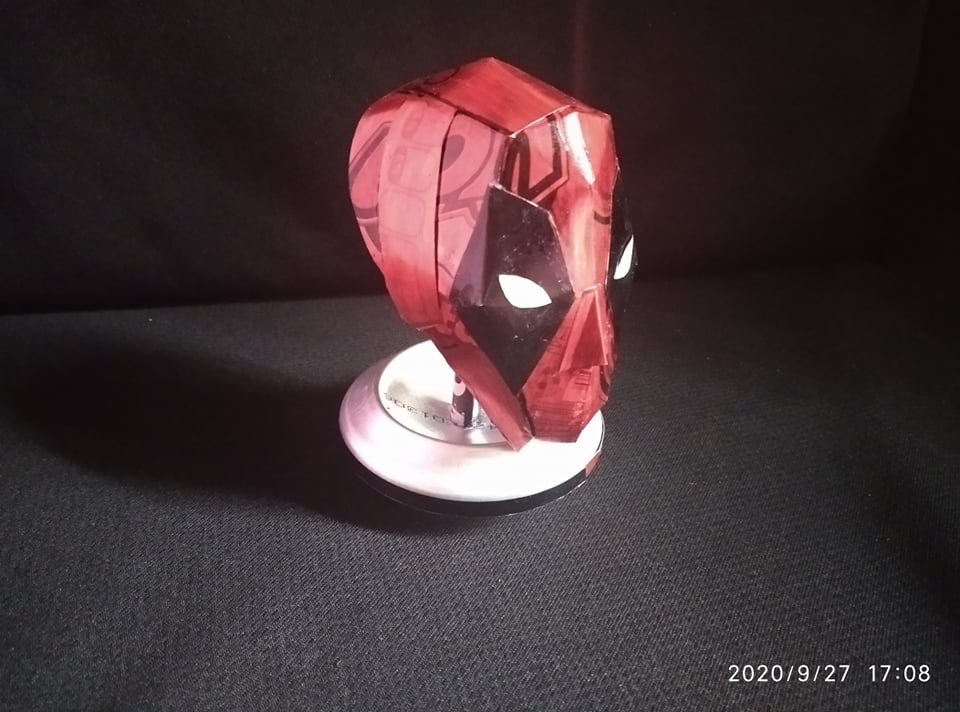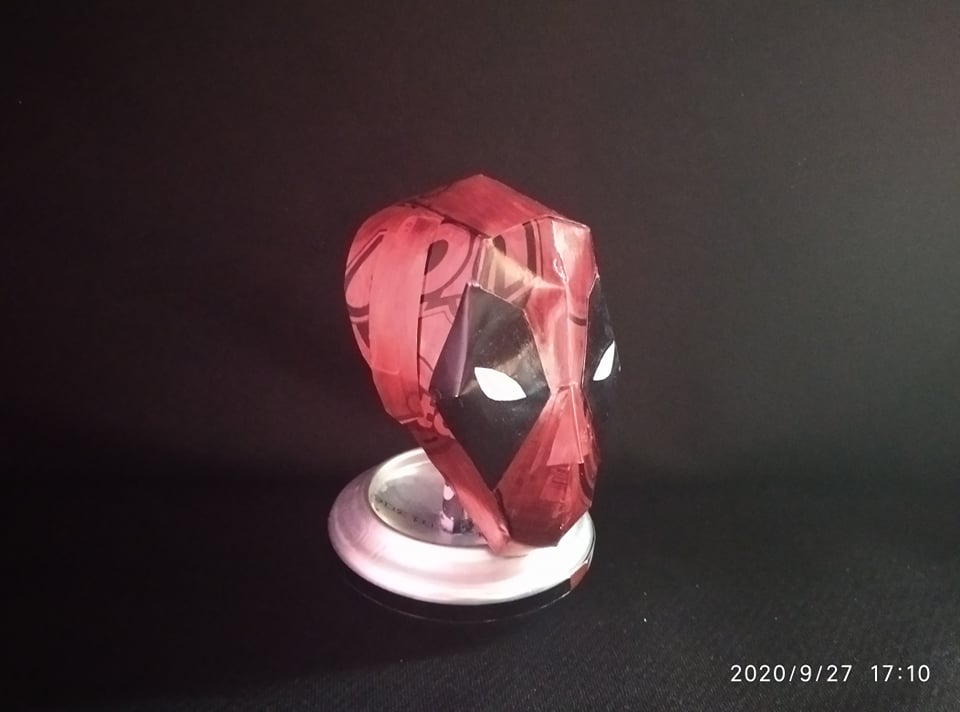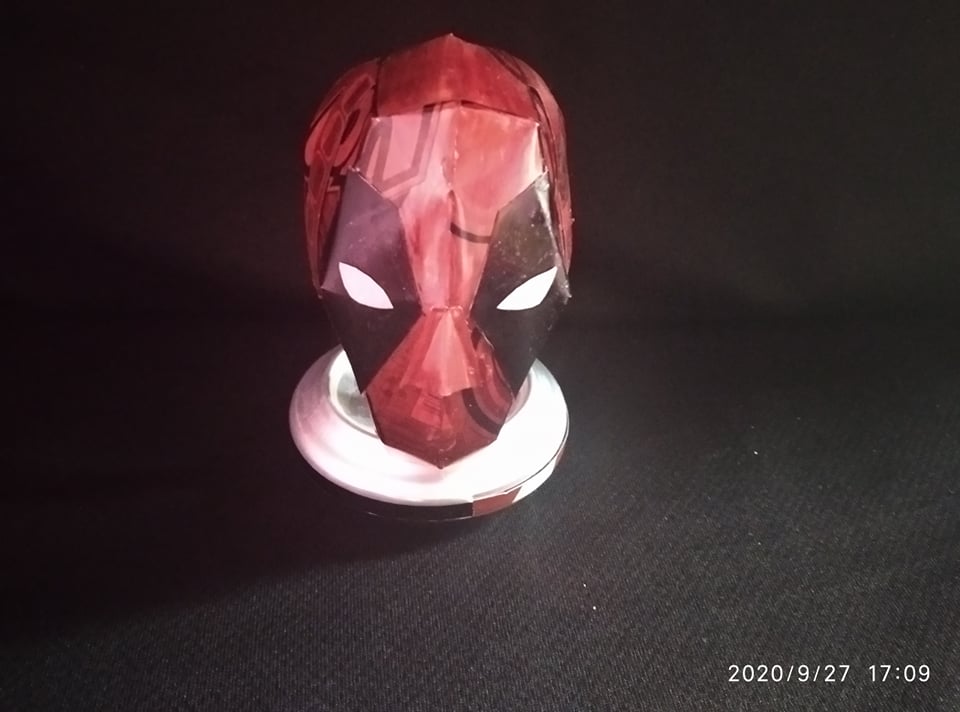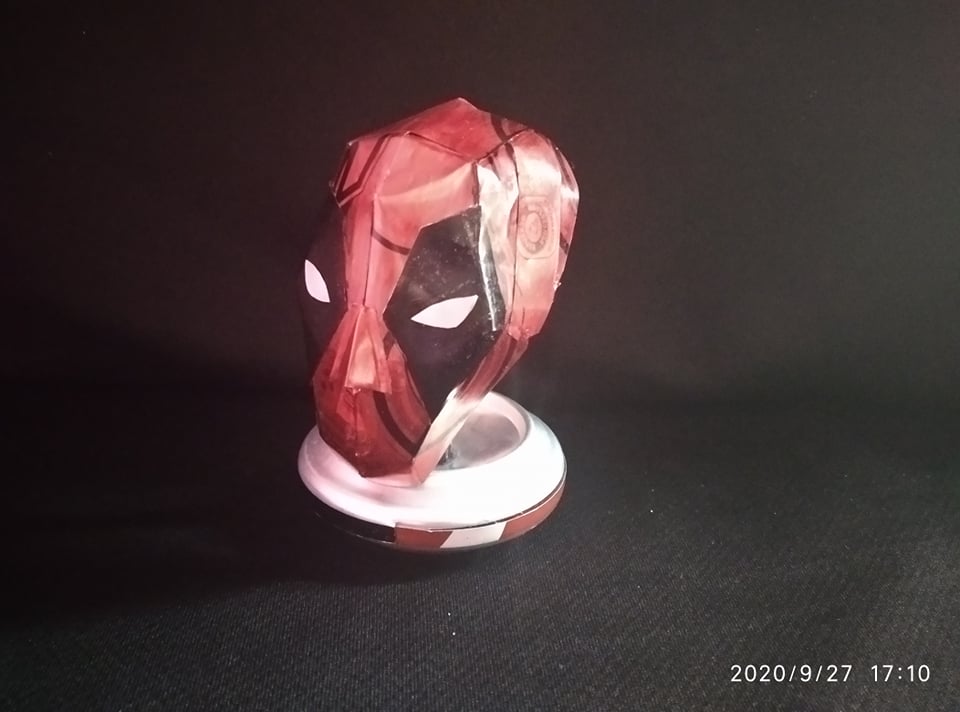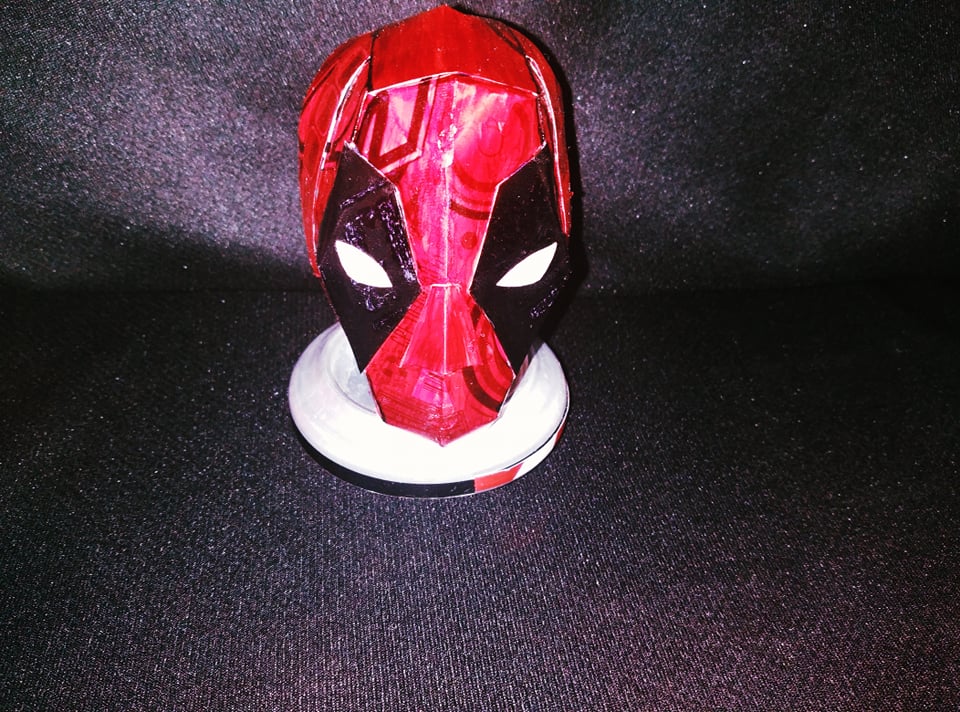 This has been my final work. It has been a great job just like the previous ones. I like to make figures of my favorite characters. My goal is to make a large collection of masks and full characters, that is, to make them full body. It's a stronger job but it's something I want to achieve. One of the parts I like the most about the Deadpool movie is when he is looking for the one who left him disfigured. I always found it very funny when he said: Where is Francis? haha it was great .. I hope you liked it and if you are a fan of Marvel I also know you will like it. If you like, you can follow me and see my previous works and my future works. Greetings and see you soon.
ZEste ha sido mi trabajo final. Ha sido un trabajo genial igual a los anteriores. Me gusta hacer figuras de mis personajes favoritos. Mi meta es hacer una gran coleccion de mascaras y de personajes completos, es decir, hacerlos de cuerpo completo. Es un trabajo mas fuerte pero es algo que quiero lograr. Una de las partes que mas me gusta de la pelicula de Deadpool es cuando el esta buscando al que lo dejo desfigurado. Siempre me parecio muy gracioso cuando decía: Dond eesta Francis? jaja fue genial.. Espero que les haya gustado y si eres fan de marvel tambien se que te gustará. Si gustan pueden seguirme y ver mis trabajos anteriores y mis futuros trabajos. Saludos y hasta pronto.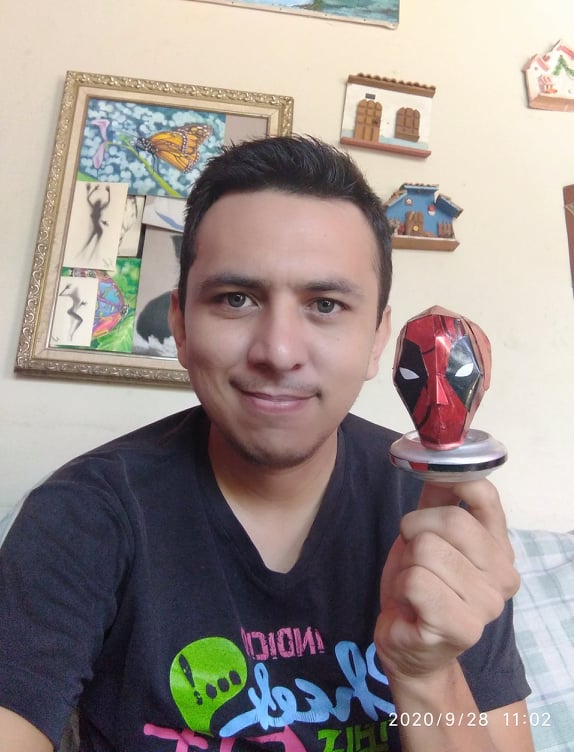 INSTAGRAM