Hello friends!
Welcome back to my blog.
First of all I want to inform that there is a new member in Hive, she is
@yasmynlp
, she is a great friend, and I am very happy that she is finally here, imagine a person with a lot of talent and nobody knows she exists, she did not believe in her talent , not even his family knew about it, and in one day talking about some topics he shows me what he does, and my impression was woao, this has to be known by everyone! And she still did not believe, but I managed to encourage her to take that step, to start focusing on her true talent, and that is why she is here, I hope you also like what she does.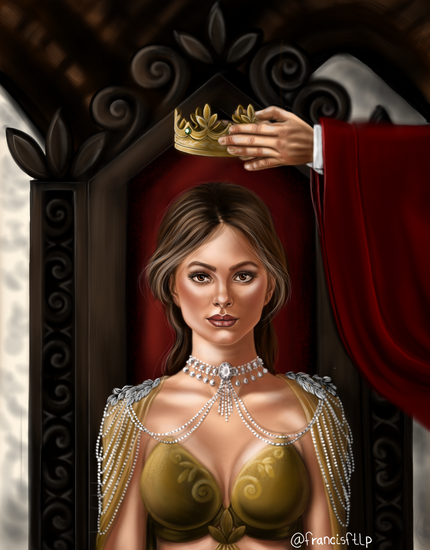 Very good, today I present to you the beautiful Queen Nala at her coronation, this digital drawing was hard work although the application says it was 24 hours, the truth is that, I was working more than a week on it, the drawing turned out to have many details than I imagined, or well actually I imagined it like that but in my mind it didn't seem so complicated and well I had to take a few pauses to think about how to paint each element. I also had to paint the eyes, the nose and the mouth twice, because it was a disaster, I erased and started again, but it is because I used a lot of time drawing and did not take breaks that are essential for the human being, and that made me more tired. I know it is my fault, I will have more precaution for the next one, the good thing is that I finished it and I could regain my energy lol.
I'm turning the story into a graphic novel, I lack more depth but I'm working on it.

The Fallen Kingdoms.
Part III: Coronation of Queen Nala.
The day of the coronation of Queen Nala, receives two news Magnus warrior. One of the news was; that the men he sent to investigate who killed his father returned without response. The other; that the priestess agreed to talk to her and that she would tell her what she wanted to know.
Although the first news did not take it very well, the second rewarded her, but she did not manage to speak with the Woman, since she was stopped by a group of women and men who were waiting for her to go to the central room of the castle for what he was going to have a great ceremony.
No, Nala did not want to be queen that way, after seeing her father dead, her soul was destroyed, she was no longer a girl, she had to understand it, she was the Queen by substitution, she dreamed of that day, but having her father I play her. She had already lost her mother years ago to a fatal disease, and now without both of them there it was terrible.
Later he would go talk to the Woman he needed to know who the ascecino is, and she could tell him. Meanwhile, she had no choice but to go to the great hall, there she walked among the people, some looked at them with joy, others with sadness, also with respect and compassion. At her side was her cousin whom she had not seen for a long time, for missions she had to fulfill, she was sent to other lands, she is a soldier with high combat honors, tall corpulent and with black hair. On the other side was Magnus as the main guardian of royalty, it was his turn to be in that place. Everything was happening normally. But his heart was beating so fast he felt like he was going to faint and when he saw the throne in front of him, he knew the time had come.
Nala sat on her father's throne, longingly felt the presence of the Great King Dilan in her thoughts, and closed her eyes for a moment, remembering his voice and his personality, always strong and brave, sure of everything he did. and when he opened his eyes, they were full of anger and revenge. and was crowned.
—Long live Queen Nala— was heard in unison from all the people who were in that place. Applauding your new Royal leader.
She looked at the hall with disdain and with a great breath she rose from the throne officially turned into the Queen of Leaves.

Technical information:
I use the IbisPaint X application. I work with an Adroid 4.4 tablet.
Drawing Dimensions: 888x1135pixels
Working hours according to app: 24 hours.
Photographic process of drawing:
Finished Drawing: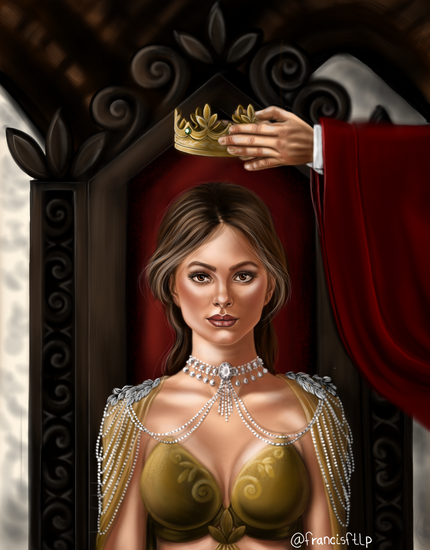 Here I leave the process in GIF animation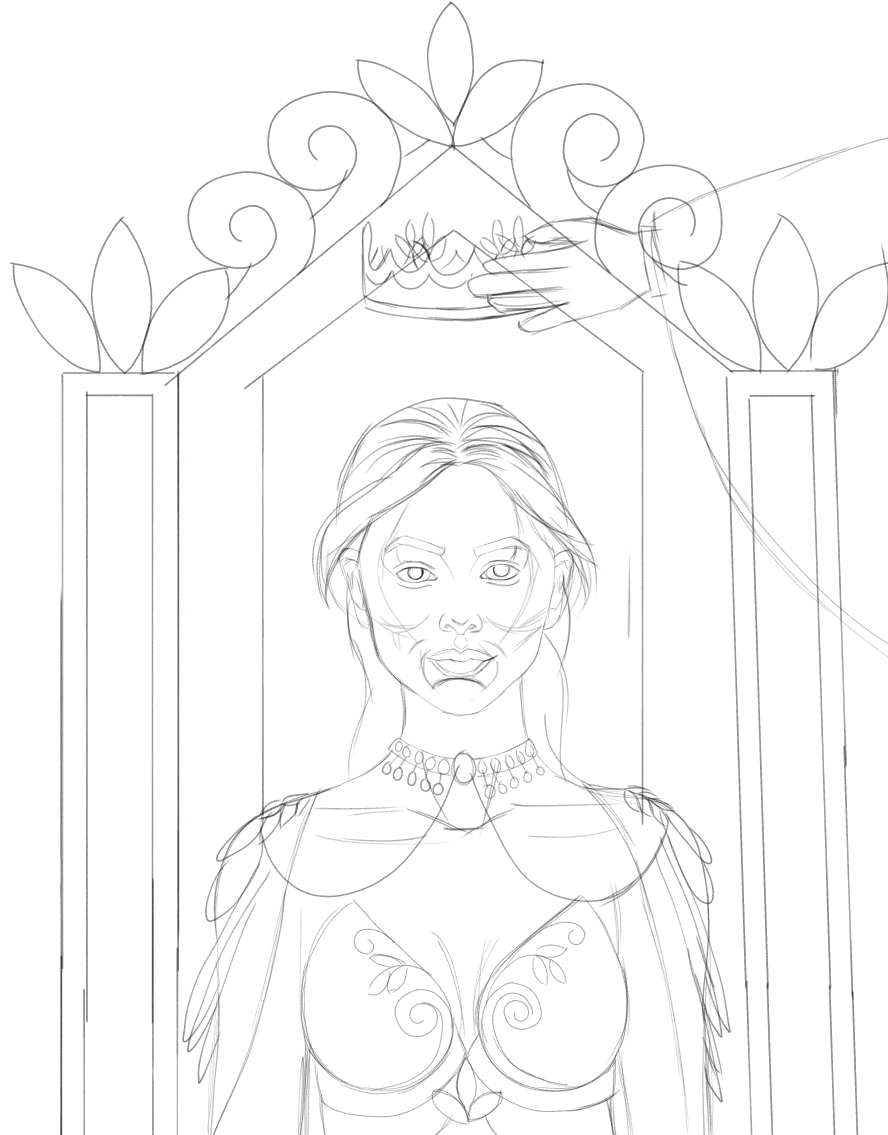 Copyright @francisftlp - All rights reserved.
If you want to read the first and second part of the story, here are the links:
Part I: Priestess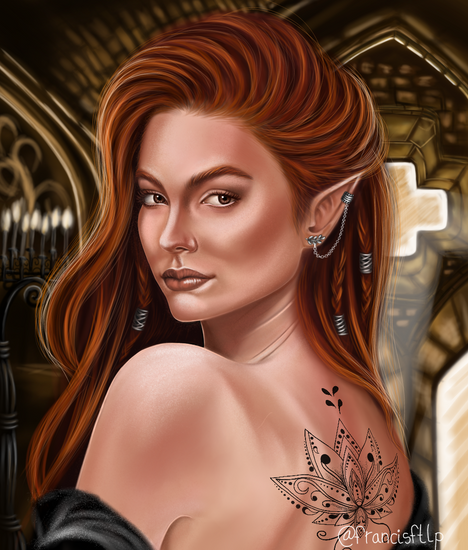 Part II: Magnus, The Warrior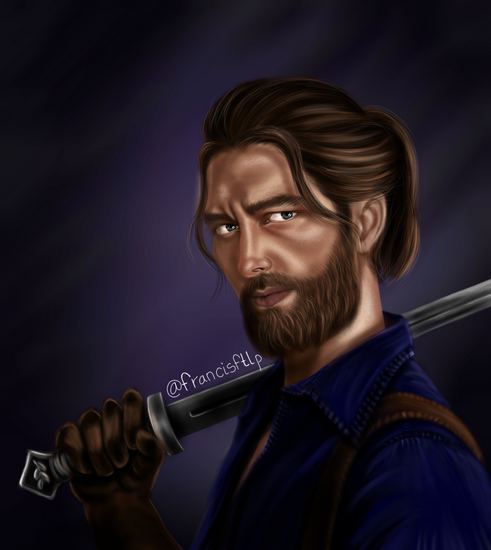 If you like what I do, you can continue enjoying my work on the following Social Networks:
Instagram
Twitter
Facebook
Pinterest
I say goodbye not without first thanking you for being here and supporting my work. I sincerely hope that you liked the drawing.
Until next time!
Blessings!
✌