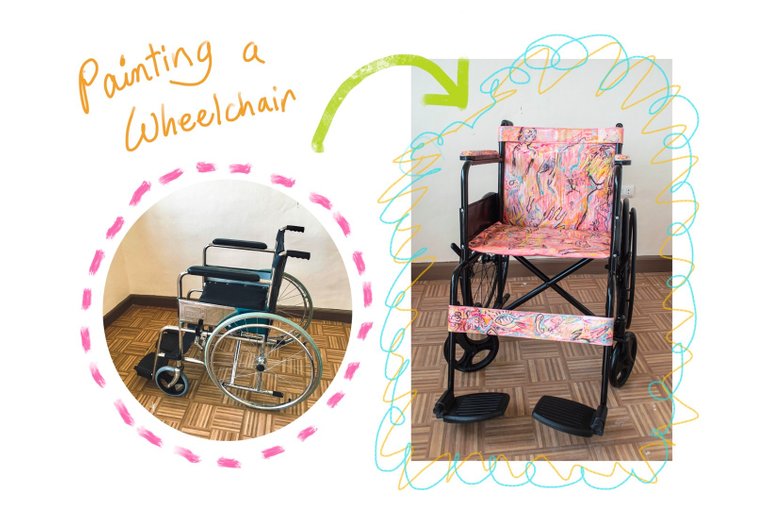 A few months back I wrote this post. I don't know if some of you have guessed it during that time, but yes, I painted a wheelchair!
As said there, this is something that I really wanted to do since 2018. I had a few months of preparation lol. Back in March, I did my research and bought this Leather paint and this is what I used for the art! :D
The Wheelchair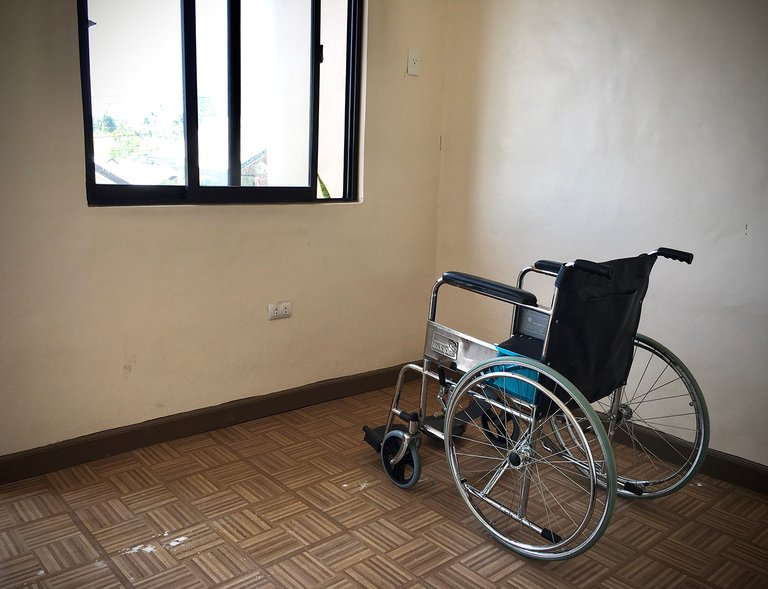 I bought this from a group who sells and rents medical supplies just in my city. I assume they work in the medical field as they were 'frontliners'. This is a seconhand wheelchair but was really in a great condition as they said it was only used a few times and I'm lucky I didn't have to buy a new one.
I've seen new ones being sold here (just the standard non-brand one) as well but it was still twice the price of this one that I bought even though this secondhand is branded. I've seen some cheaper ones which are being sold online but ships from Manila as well, but the shipping fee costs almost the same as the price of the wheelchair. Hahaha. So, I got so lucky being able to find this and bought it in a good price!
The Process
I'm not gonna talk about why I painted it or whatever yet cos the post is not about that so I'll just show the process. :D
1. Deglazing the leather
Normally, a leather would have some kind of top coat that protects it and before we can paint on it, we have to remove that coat first. Otherwise, you're just painting on the top coat and not on the leather itself and the paint won't stick to the material.
There were some deglazers being sold but they were quite expensive and I wasn't ready for that kind of investment yet cos I'm still experimenting so I just used Acetone, put it on a cotton and rubbed it on the leather to remove the top coat. :D Once it was removed, it was time to paint.
2. "Priming" the leather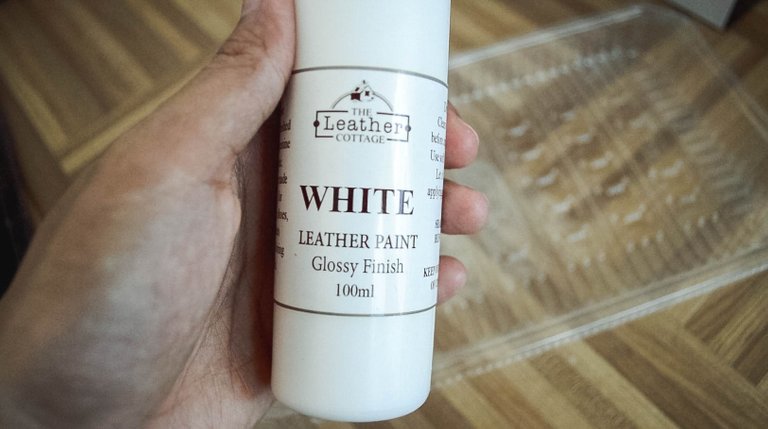 The leather was dark and I wanted to paint it all in white first before painting it with colors cos it will be so hard to paint on a black material especially when I want my painting to be light. I just used the white leather paint instead of an actual primer since I don't know if a primer exists and I bought lots of white paint for this purpose.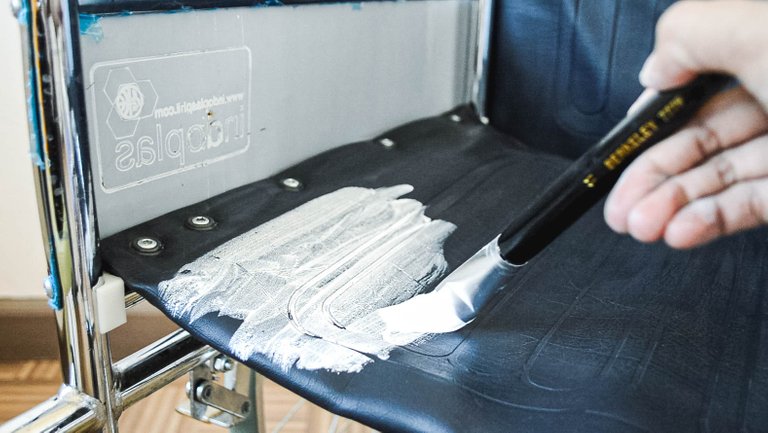 Yeah, that's the biggest/widest brush I have brought lol. The paint held on to the leather nicely tho, which was nice!
3. Painting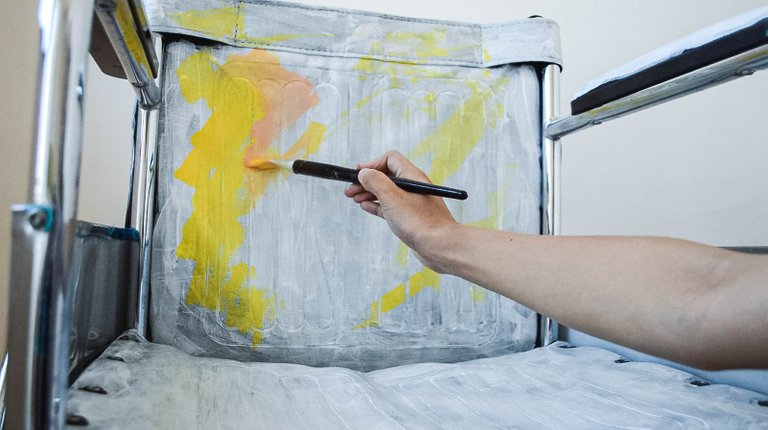 After a few layers of the white paint, I started putting in some colors. The paint that I'm using is not that opaque so I have to put on a LOT of layers but it was fun anyway, since each layer is a different color and it gave it some nice dimension or something.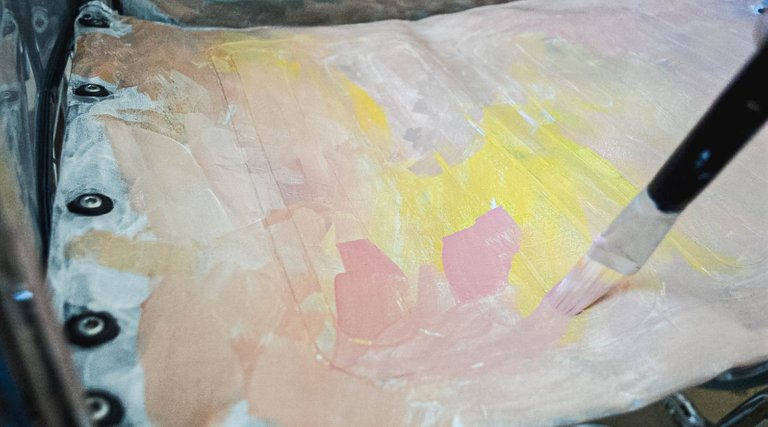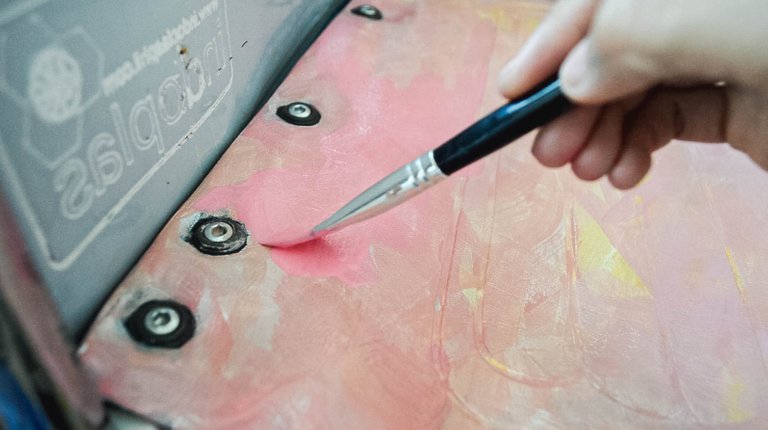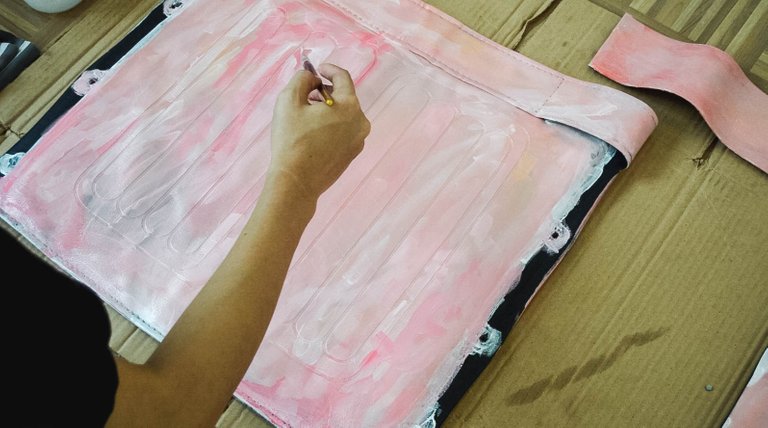 After a few hours, I realized it was hard to paint on a leather being assembled on the wheelchair so I just removed it and painted on the floor. Haha genius.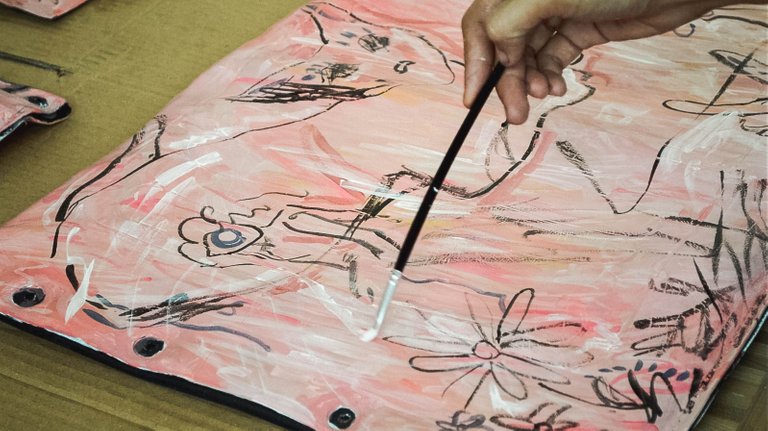 After painting the background, I started doodling. Literally anything that comes to my mind I just painted it there. It was so spontaneous. That being so random is part of my concept tho.
I felt so FREE when I was doing it. No worries, no anxieties, no stress, no whatsoever. Just being me and being free cos I wasn't afraid of mistakes. Like, I really didn't care how it would turn out but all I care about is being happy with what I'm doing.
4. Painting the skeleton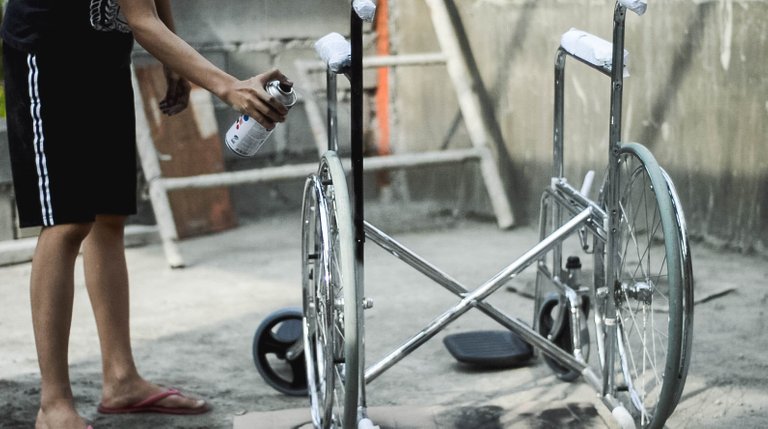 I felt the skeleton (or the metal part of the wheelchair) to be so boring if it looks just like metal so I decided to paint it black using spray paint. It took me quite a few trips to the store because I suck at estimating and I kept on running out of paint LOL. I painted everything, even the rubber part of the wheels. Surprisingly, the paint stuck on the rubber like glue even after a few rolls on the concrete haha.
5. Assembling the leather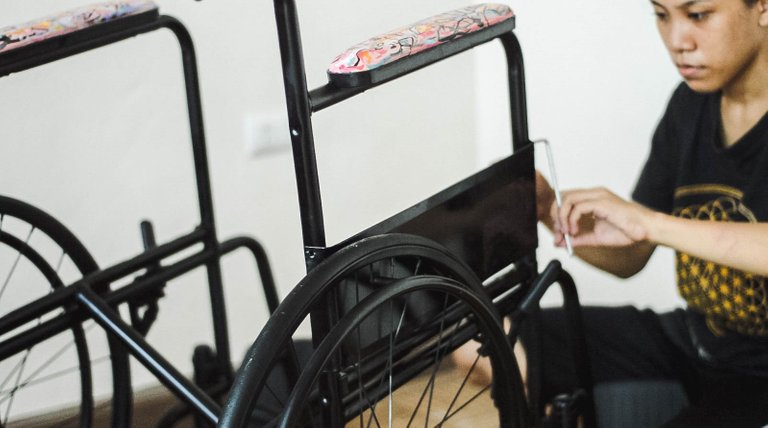 After I finished painting everything and letting it dry, it was time to put the leather back to where it belongs. I was so excited to see how they will look like together as I like black and pink! * - *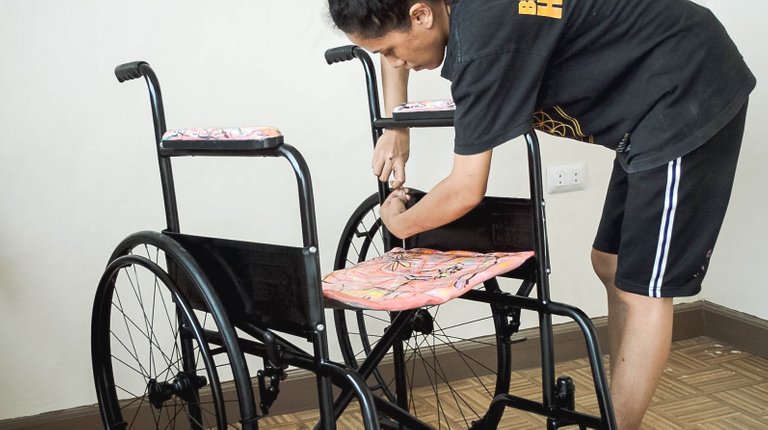 It also gave me an idea of how the wheelchair is assembled (kinda) so I'll have some reference in the future if ever I want to make a mini wheelchair or something similar, idk.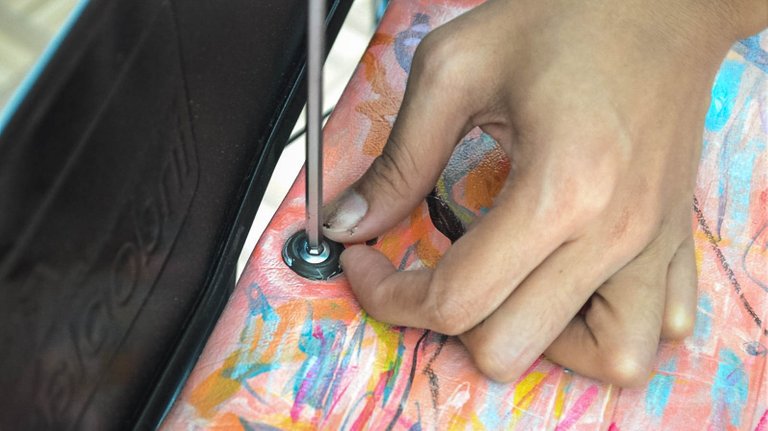 See, it's easier this way (removing the leather and painting) than trying to paint around those screws lol. Really a genius idea. XDDD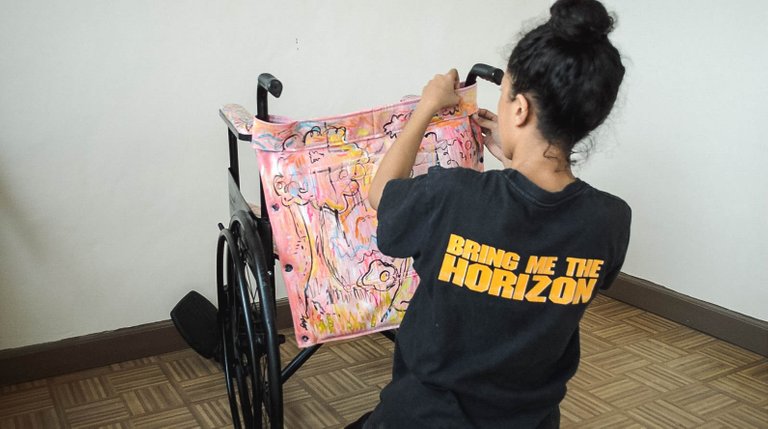 6. Finishing coat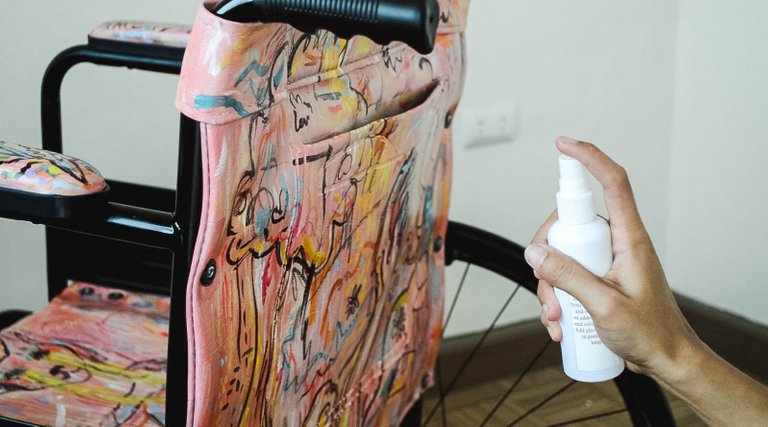 After assembly, I finished it with a top clear coat that I also bought from The Leather Cottage. It says it's for leather to stick or whatever, I don't know what this is made of but it smells like the same material found in a clear spray paint. I don't know lol but it definitely gave it a shine and protection!
And the result!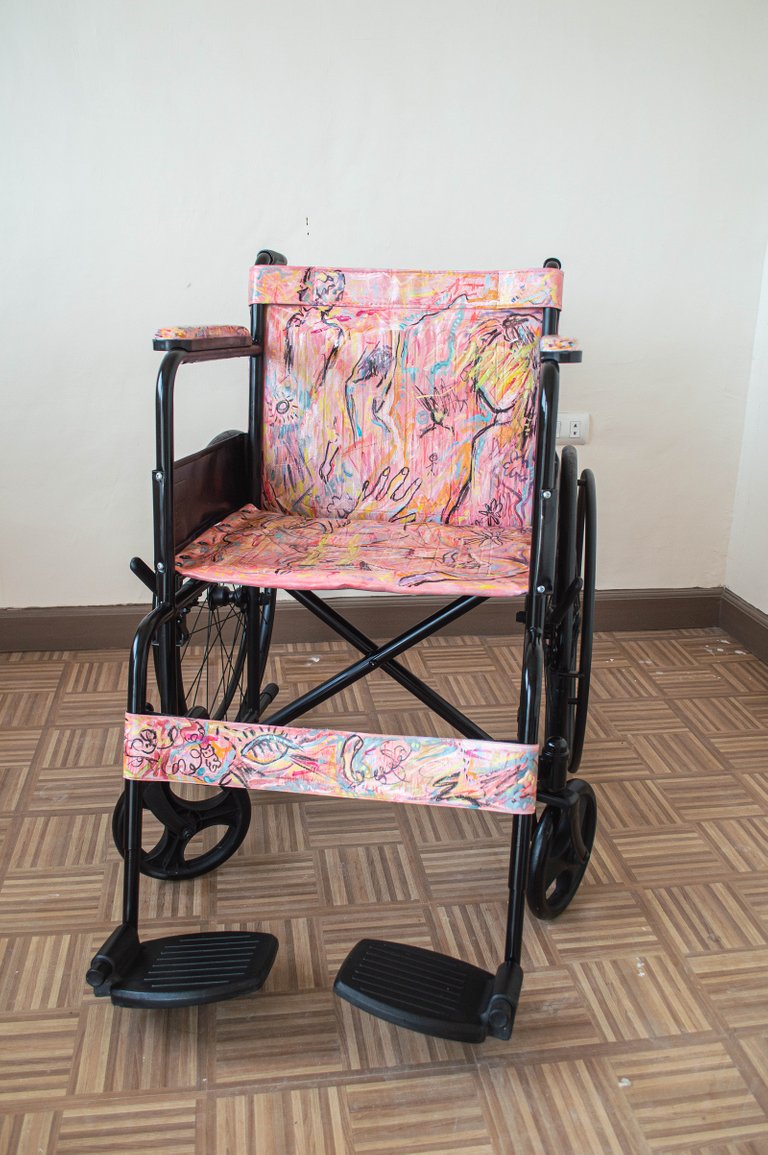 Wallaaahhh! It looks so cute and beautiful <3 I'm so proud of this work and really happy with the result. It looks badass haha and it is still functional! Like dayuumm imagine using this work of art that reminds you of being... yourself and keep on going on :o
---
It was a beautiful experience and I'll definitely try it again sometime in the future! I really love how it turned out! Next, I will post about the whole work together with the mannequin and how they mean to each other!
Thanks for stopping by!