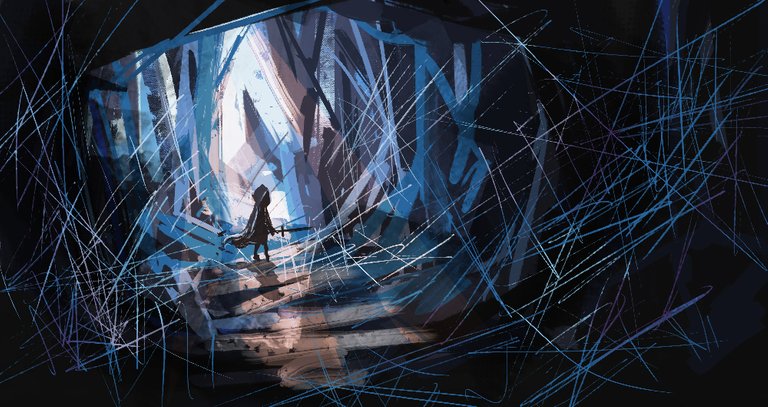 Hi guys! So my Speedpaints project has evolved into something new. Drawing completely random unrelated themes was fun for a while, but I want something more out of the project.
You can see the full sized image and details here:
https://knownorigin.io/edition/197000
There you can also read a bit of the story.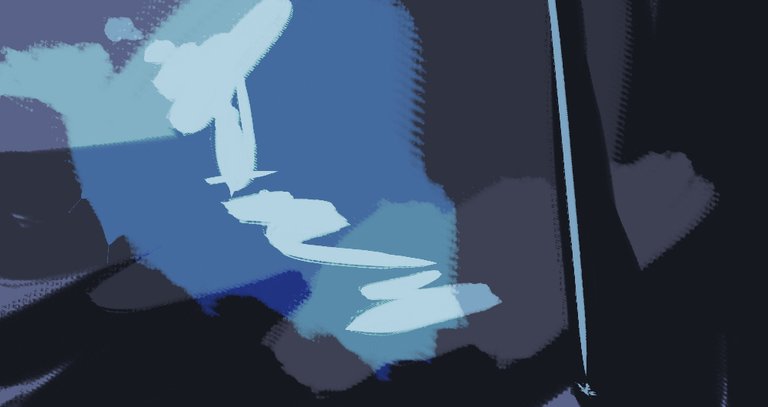 This is another continuation of the Forest Dungeon artwork. I'm slowly but surely figuring out the story and more about the main character. I want it to be about adventure and self discovery. There certainly needs to be some conflict, even though I personally prefer to run away from conflict (maybe I should include that in the story). For now I'm going with the inspiration, since I love where it has taken me. The next few drawings from this series area already some of my favorites ;)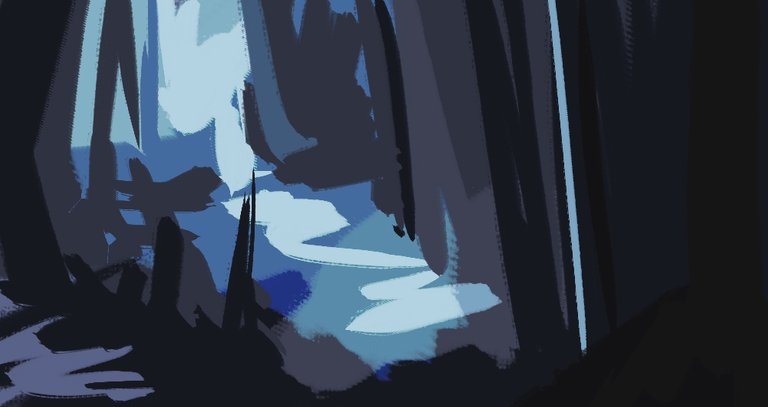 The inspiration for the drawing was the "black and blue" daily spitpaint theme. It's a fb group that provides daily themes and the time limit is 30min. This drawing in the end took me more than 30min, the last image in the post is the 30min mark. I initially started drawing a cave, but I didn't want to repeat the crystal cave that I drew recently.
I considered adding some monument or a totem like statue, but the values and contrast wasn't working out as I liked. However, I ended up drawing a big stone rune in one of the following paintings, inspired by this idea.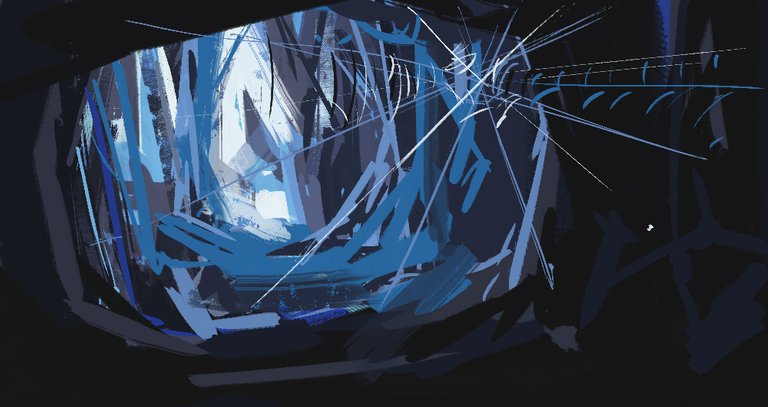 Spiderwebs are incredibly fascinating, especially their shapes. I initially started with a cliché web shape, but it feel natural enough and it didn't fit my style in general.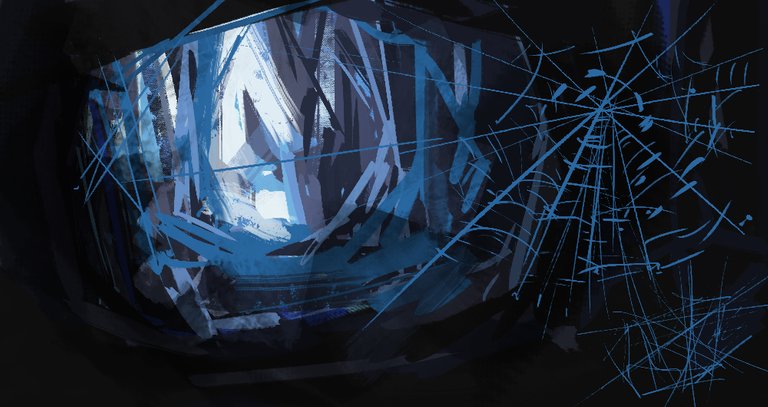 I scrapped the web and started again, this time inspired by sort of scrapes you see some artists do in oil paints. I always found those so fascinating, revealing the colors underneath. Last but not least I added some warmth in the scene, the sunlight shining into the cave. This also provided a perfect backdrop for the character's silhouette. I love how mysterious she looks and I'll probably keep it that way for some time in the other paintings.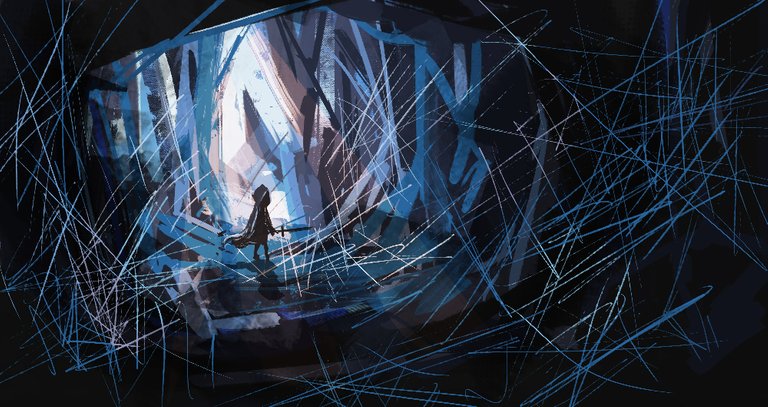 Dragon Head winner: @cesarisaad
https://peakd.com/hive-156509/@kristyglas/collectable-dragon-heads-nft-showroom-o-o
Also a few days ago I got accepted on Makersplace :D Not sure what I want to post there yet, either my mixed media watercolors, like cherry blossoms, maybe the zodiac dragons or even my pixelart. I'd like to keep each portfolio consistent and separate, since I do so many styles, it's weird to share them all together. I've considered just tokenizing mostly on Knownorigin out of convenience and since I already sold some art (but not pixelart). For now I'm tokenizing more cheap and small art on NFT showroom as that's in high demand, maybe later my more expensive art would sell too. Any suggestions would be much appreciated. Making decisions like this just stresses me out unnecessarily, so I just end up procrastinating xD
Previous art in this series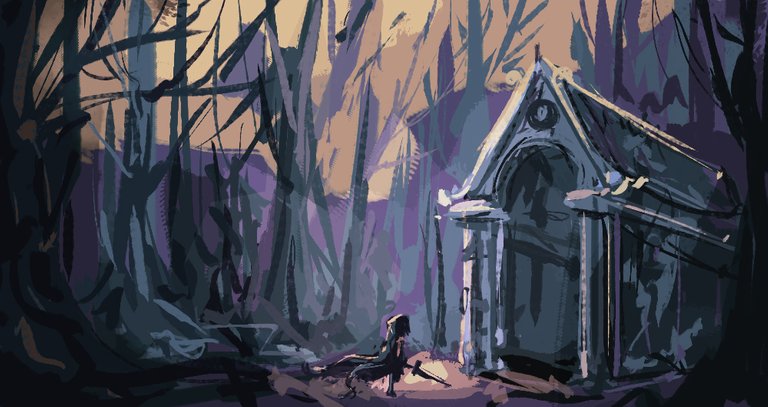 Forest Dungeon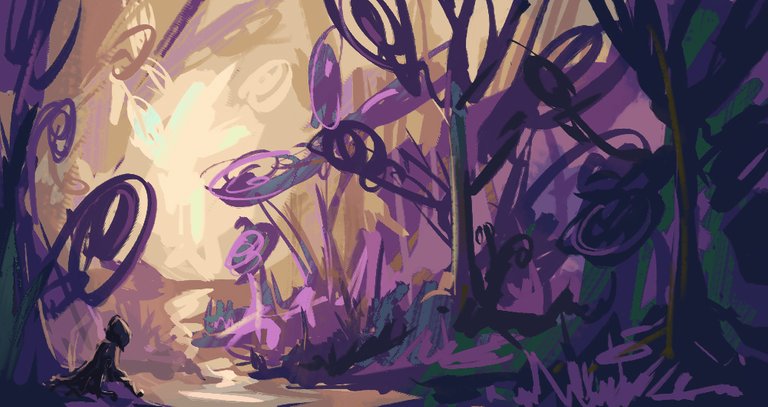 A many more coming soon (4 more are already painted), but I need to mint them and write out the posts.
Thank you for checking out my post ^_^