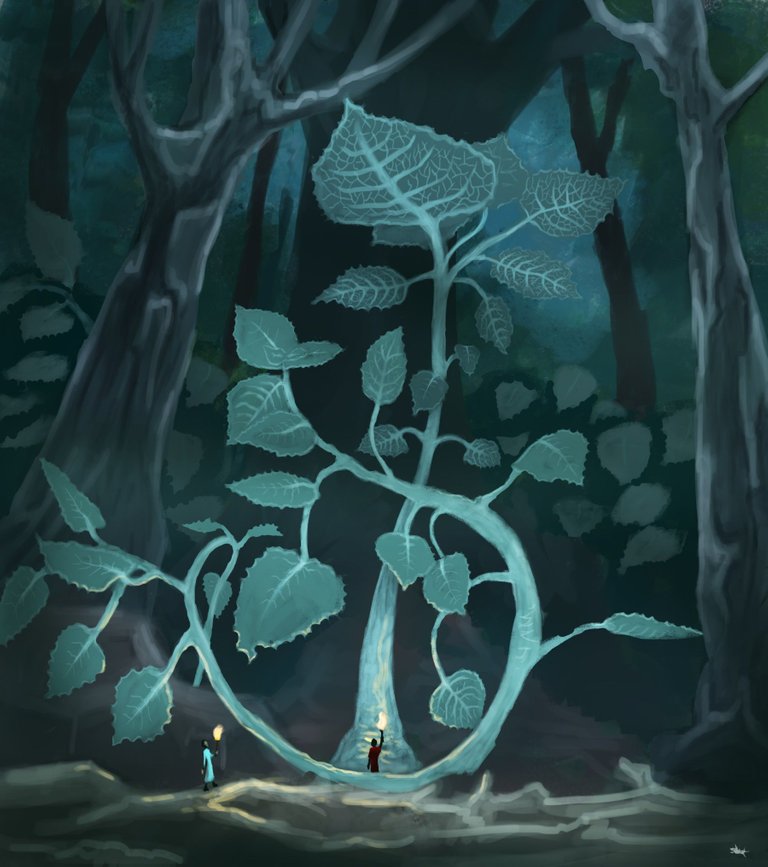 ¡Hola mis queridos artistasos! He caminado por el patio de la casa y me he tropezado con un bloque de cemento y al ver mi pie bellamente lastimado vi que a su alrededor habían sembrados una pequeña planta muy curiosa por su textura y materia, que refracta la luz dejando la superficie áspera, me gusto su forma ¡y bueno! me antojé de realizar una composición de esta plantita particular y curativa para los problemas gastrointestinales y ostros males de nuestro organismo. Es el orégano (en la región conocido como orégano orejón) el protagonista de esta composición, es el descubrimiento de lo que era una pequeña planta para el jardín, sería en cambio un ser excedente para las proporciones humanas en este dibujo. He querido crear tal maravilla porque el arte me lo permite.
Hello my dear artists! I have walked through the patio of the house and I have come across a cement block and when I looked at my beautifully injured foot I saw that around it it planted a small plant very curious for its texture and material, that refracts the light leaving the rough surface, I liked its shape and I wanted to make a composition of this particular and curative plant for gastrointestinal problems and male other parts of our body. Oregano (in the region known as oregano orejón) is the protagonist of this composition, is the discovery of what was a small plant for the garden,it would instead be a being surplus to human proportions in this drawing. I have wanted to create such a wonder because art allows me to.
---

---

Antes de crear una composición mi cerebro tenía que internalizar la forma y textura de esta planta, por eso decidí realizar algunos bocetos de su hoja y en conjunto como están compuestas.
Before creating a composition, my brain had to internalize the shape and texture of this plant, so I decided to make some sketches of its leaf and as a whole how they are composed.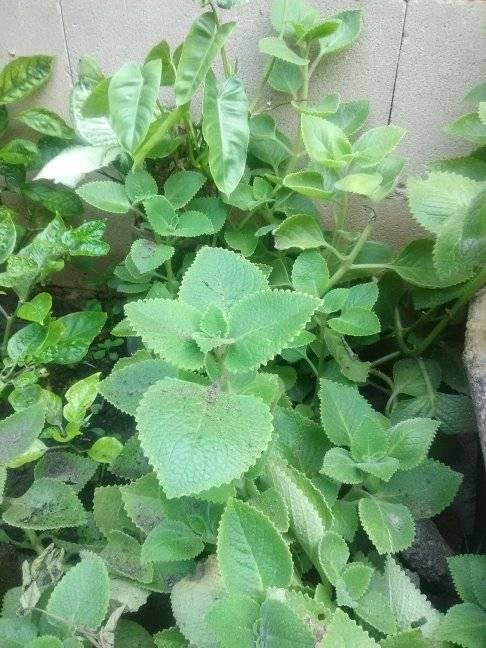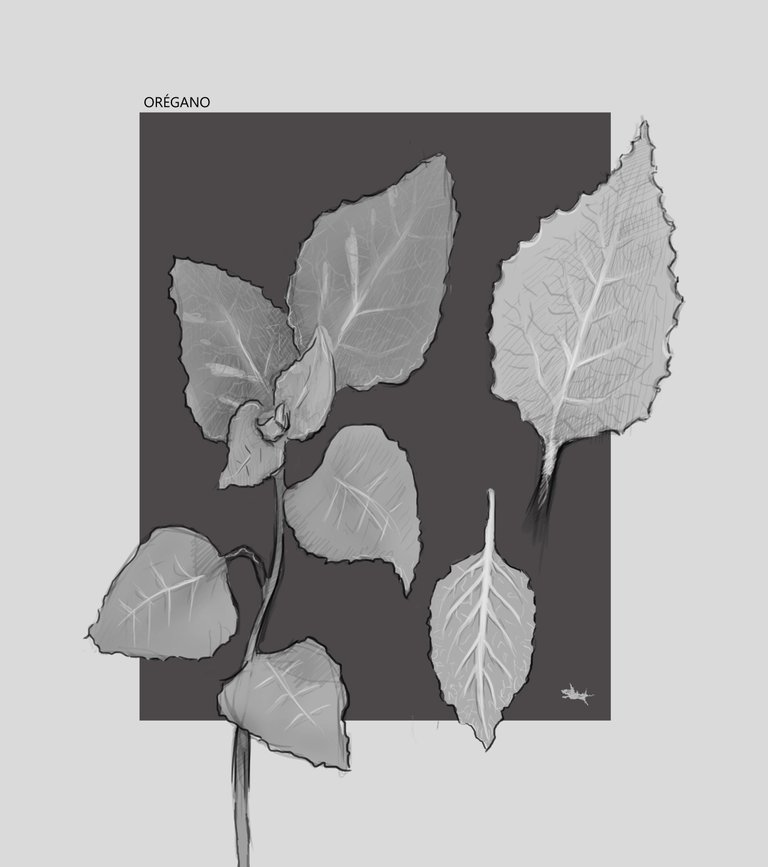 ---
Después te conocer la planta, procedí a realizar el boceto general de la composición, Si que me ha costado pues no suelo darme mucho tiempo para el boceto inicial, pero el orégano es muy dinámico y exigía reflexionar mucho.
After knowing the plant, I proceeded to make the general sketch of the composition, that has cost me because I do not usually give myself much time for the initial sketch, but oregano is very dynamic and required a lot of thought.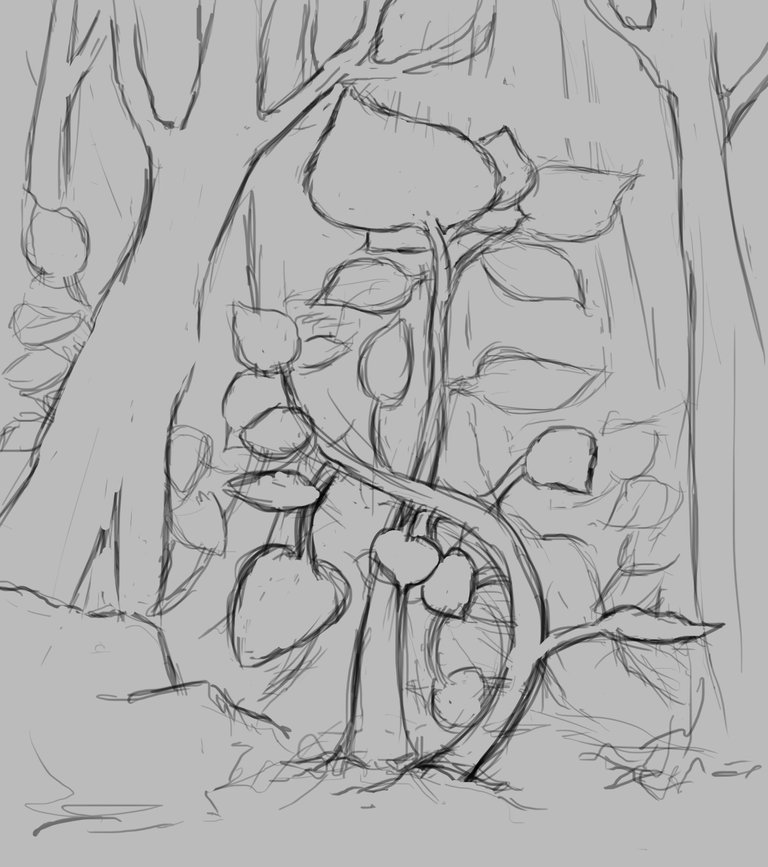 El arte final no es precisamente lo que habíamos bosquejado, en el proceso iba creando el entorno que sea coherente a las intenciones de este dibujo, pues yo quería que el orégano sea el elemento principal en la composición, no podía colocarle elementos muy llamativos a su alrededor porque el enfoque se derrumba.
The final art is not exactly what we had sketched, in the process I was creating the environment that is consistent with the intentions of this drawing, Well, I wanted oregano to be the main element in the composition, I couldn't place any flashy items around it because the focus collapses.

---

---
El formato original de este proyecto es de:
4400 px Alto
3900 px Ancho
Si quieres ser propietario del NFT entra al siguiente enlace:
https://mintable.app/art/item/Discovery-the-oregano-2D-scenarios/_9mo_NifA6JWlNP
The original format of this project is:
4400 px Height
3900 px Width
If you want to be the owner of the NFT, go to the following link:
https://mintable.app/art/item/Discovery-the-oregano-2D-scenarios/_9mo_NifA6JWlNP
---
Espero que les guste el descubrimiento del orégano yo tratare de sanar mi pie…
I hope you like the discovery of oregano I will try to heal my foot ...