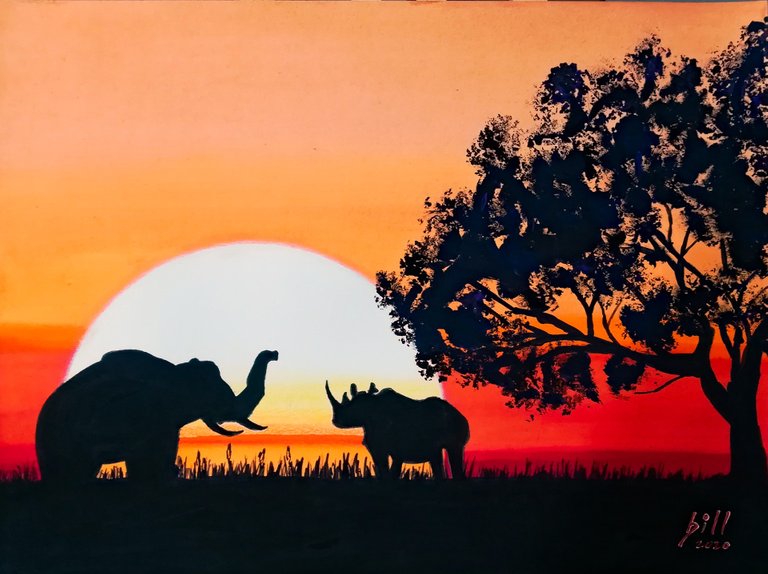 "Elephant and Rhino"
watercolor on paper
40 x 30 cm (15 ¾" x 11 ⅞")
 
 
As many of you know, I have been pretty busy those last months, converting a Renault Trafic panel van into my personal "Corona-Camper". It's quite a challenge to make a cozy home for two out of a tiny vehicle that fits standard European inner city parking, especially for a guy of 6'5" with commensurate bulk :-)
I completed about 80% of the work, but since I'm waiting for the upholstery (a trade I have zero talent for) I managed to find a little painting time. It's not likely the Renault will ever get to see the African continent, but it doesn't hurt to phantasize about what adventures one might encounter there. A nice subject for a painting, anyway...
Before you ask, of course I will show you the camper in an upcoming post. For today, thanks for looking, and please don't forget to upvote and reblog if you liked my art. Until next time!
 
 
Wie viele von euch wissen, war ich in den letzten Monaten hauptsächlich damit beschäftigt, einen Renault Trafic Kastenwagen zu meinem persönlichen "Corona-Camper" umzubauen. Es ist eine ziemliche Herausforderung, aus einem winzigen Fahrzeug, das auf einen europäischen Innenstadtparkplatz passt, ein gemütliches Zuhause für zwei Personen zu machen, besonders für einen 1,91-m-Mann mit dazugehörigem Körpervolumen :-)
Ich bin zu etwa 80% fertig, aber da ich auf die Polsterung warte (ein Handwerk, für das ich null Talent habe), habe ich es geschafft, ein wenig Zeit zum Malen zu finden. Es ist unwahrscheinlich, dass der Renault jemals den afrikanischen Kontinent zu sehen bekommen wird, aber es schadet nicht, davon zu träumen, welche Abenteuer man dort erleben könnte. Jedenfalls ein schönes Motiv für ein Gemälde...
Bevor ihr jetzt fragt, natürlich werde ich euch den Camper in einem zukünftigen Post zeigen. Für heute, danke fürs Anschauen, und vergesst bitte nicht das Upvoten und Rebloggen, wenn euch mein Beitrag gefallen hat. Bis zum nächsten Mal!