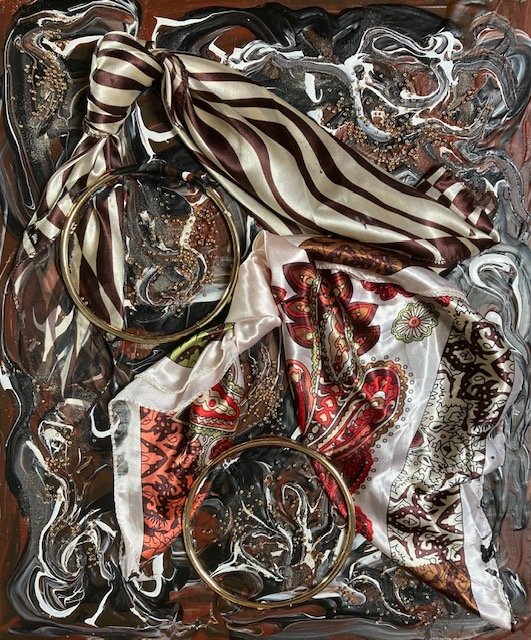 (ENG)
This is my original artwork.
"Agony"
Mixed Media,38x45.5cm,2021
In the past, I used to be plagued by life-draining afflictions, but in the past few years, I've seen less of that. I'm not saying it's completely gone. I still have agony, but it's mainly agony for moving forward, for rising to a higher level. So I'm going to try my best to draw pictures every day and live through the suffering.
I painted this picture using colors that give a sense of bitterness, as if it were anguish. However, I used soft cloth and other materials to express the idea of moving forward in spite of suffering.
---
Akiko Yada's solo exhibition "Let your cerebral cortex be your guide
Period: 26(Tue) October - 31(Sun) October, 2021, 11:00 - 20:00
Venue: Room_412
(Room 412, Takagi Building, 15-8 Sakuragaoka-cho, Shibuya-ku, Tokyo)
---
(JPN)
これは私が創った作品です。
「苦悩」
ミクストメディア、38x45.5cm、2021
昔の私は、生命力を削ぐ苦悩にさいなまれていたのですが、ここ数年はそういうのが少なくなりました。全くないとは言いませんが。今も苦悩はありますが、主に前進するための、高みに上るための苦悩です。だから、毎日頑張って絵を描いて苦悩を乗り越えて生きていこうと思います。
私はこの絵をいかにも苦悩という感じの、苦みを感じる色を使って描きました。しかし苦悩はありながらも前進する、ということをふわりとした布などで表現しました。
---
★矢田明子 個展「大脳皮質をあそばせて」
会期:2021年10月26日(火)-10月31日(日)11-20時
会場:Room_412
(東京都渋谷区桜丘町15-8 高木ビル412号室)
---