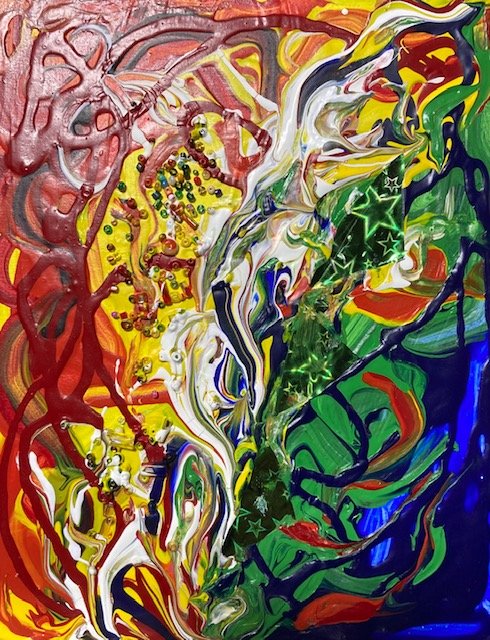 (ENG)
This is my original artwork.
"Air Currents in Space"
Mixed Media,24.2x33.3cm,2021
I drew something like an air current, an air flow, which involved stars in the universe. It rotates like a screw in the center, and the stars are shining as if they keep away from it. The stars are expressed by attaching beads and metallic colored paper with star patterns.
Come to think of it, I received mail art today too. See https://blurtter.com/art/@yadamaniart/mail-art-from-belgium-20210429-20210429-eng-jpn for details. I am still looking for mail art. The application requirements are at https://ydart.exout.net/mailart.html .
(JPN)
これは私が創った作品です。
「宇宙気流」
ミクストメディア、14x18cm、2021
宇宙の星々を巻き込んだ気流、空気の流れのようなものを描きました。中央でスクリューのように回転し、そこから離れまいとするように星々が輝いています。星々はビーズと、星の模様入りのメタリックな色紙を貼り付けて表現しました。
そういえば今日もメールアートを頂きました。詳細は https://blurtter.com/art/@yadamaniart/mail-art-from-belgium-20210429-20210429-eng-jpn をご覧ください。まだまだメールアートは募集中です。募集要項は https://ydart.exout.net/mailart.html にあります。
---
Akiko Yada Solo Exhibition "waxing and waning of mind"
Date: Wednesday, May 12, 2021 - Monday, May 17
11 : 00 - 19 : 00 (Last Day 17: 00)
Venue: Art Gallery Kitano
(439 -4 Ebisu-cho, Kawaramachi Higashi-iru, Sanjo-dori Street, Nakagyo-ku Ward, Kyoto City)
---
矢田明子個展「こころの満ち欠け」
日時:2021年5月12日(水)~5月17日(月)
   11:00~19:00(最終日17:00まで)
会場:アートギャラリー北野
   (京都市中京区三条通河原町東入ル恵比須町439-4 コーカビル)
---