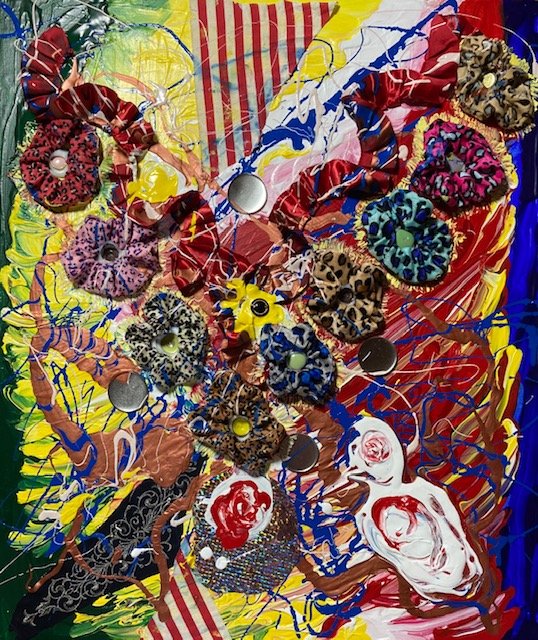 (ENG)
This is my original artwork.
"Ambition"
Mixed Media,60.6x72.7cm,2021
I want to live humbly, but there is nothing more glaring than ambition, but there is a goal. It is to devote my life to art as a leading painter. I can't say it's a first-class one yet, but I think it will be a first-class one, and the pictures will be sold a lot. But for me, ambition is not suitable because I can somehow feel the nuance of pushing others off and making them rise, but I thought it would be interesting to show such a person or something like feeling in a picture, so I drew it.
(JPN)
これは私が創った作品です。
「野望」
ミクストメディア、60.6x72.7cm、2021
私はつつましく生きていたいとは思いますが、野望というほどぎらぎらした物はないけれど目指すものはあります。一流の画家として生涯をアートに捧げることです。今はまだ一流とは言えないけれどきっと一流になる、絵がいっぱい売れるほどになる、と思っています。でも私にとって野望というのは、なんとなく他人を蹴落としてでものし上がってやるというニュアンスが感じられて似合わないと思っているのですが、そういう人、というか気持ちみたいなものを絵に表すのも面白いかなと思って描いてみました。
---
Akiko Yada Solo Exhibition "waxing and waning of mind"
Date: Wednesday, May 12, 2021 - Monday, May 17
11 : 00 - 19 : 00 (Last Day 17: 00)
Venue: Art Gallery Kitano
(439 -4 Ebisu-cho, Kawaramachi Higashi-iru, Sanjo-dori Street, Nakagyo-ku Ward, Kyoto City)
---
矢田明子個展「こころの満ち欠け」
日時:2021年5月12日(水)~5月17日(月)
   11:00~19:00(最終日17:00まで)
会場:アートギャラリー北野
   (京都市中京区三条通河原町東入ル恵比須町439-4 コーカビル)
---