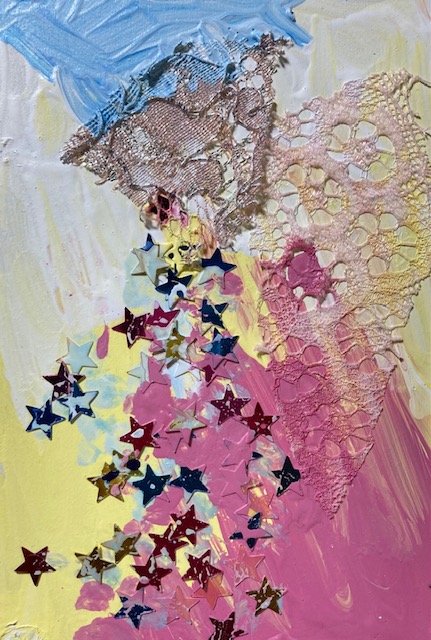 (ENG)
This is my original artwork.
"Angel Clad in Stardust"
Mixed Media,10x15cm,2021
I thought I would draw romantic pictures once in a while. I drew a soft pastel picture. I had "stardust" in my head from the beginning, and I actually used star-shaped spangles and pasted more and more, and when I finished it, the word "Angel Clad in Stardust" came to mind, so I made it the title of this picture.
(JPN)
これは私が創った作品です。
「星くずをまとった天使」
ミクストメディア、10x15cm、2021
たまにはロマンチックな絵も描こうと思いました。パステル調で柔らかい感じの絵を描きました。最初から「星くず」が頭にあって、実際星型のスパンコールも使って、さらに色々貼り込んで、完成したところで「星くずをまとった天使」という言葉が思い浮かんだのでそれをこの絵のタイトルにしました。
My website / 私のウェブサイト
https://ydart.exout.net/
Call for Mail Art! / メールアート募集中!
https://ydart.exout.net/mailart.html