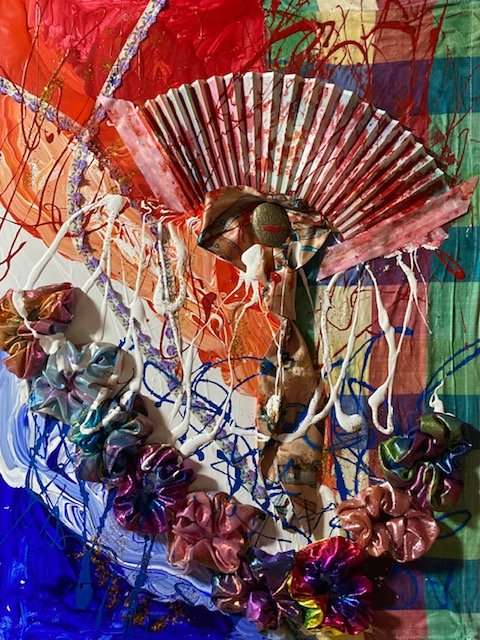 (ENG)
This is my original artwork.
"Beauty"
Mixed Media,45.5x60.6cm,2021
They pasted a paper fan and expressed a beautiful person dancing while waving a fan. I heard that the people who performed songs and dances from the end of the Heian period to the Kamakura period were called "Shirabyoshi", and many of them were beautiful men dressed in men's clothes, so I imagined that, but the title was "Beauty", which I liked.
This is a picture drawn on a wooden panel with a canvas I wrote yesterday. I like it.
Come to think of it, I received mail art today too. See https://blurtter.com/art/@yadamaniart/mail-art-from-usa-20210325-20210325-eng-jpn for details. I am still looking for mail art. The application requirements are at https://ydart.exout.net/mailart.html .
(JPN)
これは私が創った作品です。
「麗人」
ミクストメディア、45.5x60.6cm、2021
扇子の紙を貼り付けたりして、扇を振りながら舞う美しい人を表現しました。平安時代末期から鎌倉時代にかけて起こった歌舞を演じる人を「白拍子」というそうですが、その多くは男装の麗人だったそうでそういうのも想像しましたが、タイトルは字面が私の好みの「麗人」にしました。
これは昨日書いたキャンバスを貼った木製パネルに絵を描いたものです。私としてはこれを気に入っています。
そういえば今日もメールアートを頂きました。詳細は https://blurtter.com/art/@yadamaniart/mail-art-from-usa-20210325-20210325-eng-jpn をご覧ください。まだまだメールアートは募集中です。募集要項は https://ydart.exout.net/mailart.html にあります。
---
Akiko Yada Solo Exhibition "waxing and waning of mind"
Date: Wednesday, May 12, 2021 - Monday, May 17
11 : 00 - 19 : 00 (Last Day 17: 00)
Venue: Art Gallery Kitano
(439 -4 Ebisu-cho, Kawaramachi Higashi-iru, Sanjo-dori Street, Nakagyo-ku Ward, Kyoto City)
---
矢田明子個展「こころの満ち欠け」
日時:2021年5月12日(水)~5月17日(月)
   11:00~19:00(最終日17:00まで)
会場:アートギャラリー北野
   (京都市中京区三条通河原町東入ル恵比須町439-4 コーカビル)
---