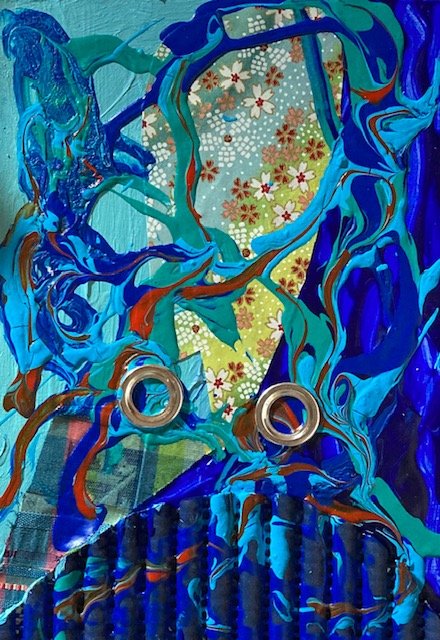 (ENG)
This is my original artwork.
"Blue Ogre"
Mixed Media,15.8x22.7cm,2021
I drew this and thought it looked like a blue ogre, so I titled it "Blue ogre". Speaking of Oni, next month, February 2 is Setsubun. Oh, you might think it's February 3. It's February 2 this year. If you try to apply 1 year to 24 sekki and operate regularly, errors will appear little by little in 1 year and there will be a gap. As a result, this year's first day of spring is February 3, and the day before that, February 2, is Setsubun. By the way, Setsubun is 2/2 and Risshun is 2/3 for the first time since Meiji 30 (1897) in 124 years.
Speaking of Setsubun, I thought it was just an event to throw beans with Oni out and Fuku in. However, after I came to Kyoto, I learned that it is a big event where festivals are held in many temples and shrines. There are stalls and many people. But I don't know what to do with the Corona disaster this year.
Today I will also upload a picture of plum blossoms. Surprisingly, the plum trees planted nearby had already bloomed. It was the first time that flowers were blooming so quickly since I moved 5 years ago.
The temperature is very low in Kyoto. Is it because there were many sunny days?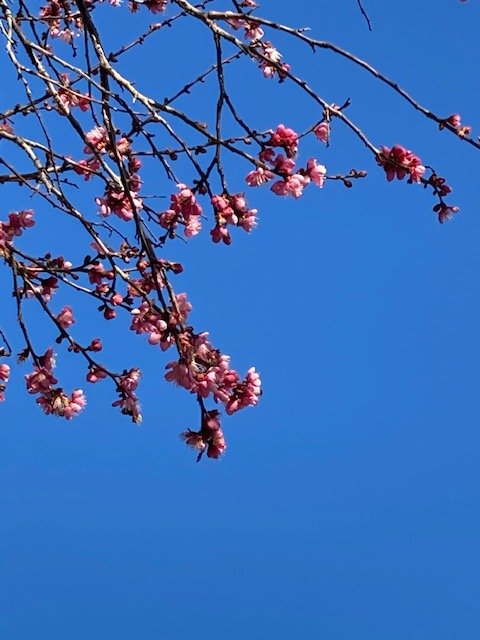 (JPN)
これは私が創った作品です。
「青鬼」
ミクストメディア、15.8x22.7cm、2021
これは描いてみて青鬼のようだと思ってタイトルを「青鬼」にしました。鬼と言えば来月、2月2日は節分です。あれ、2月3日じゃないの、と思った方もいるかもしれません。今年は2月2日なんです。1年間を二十四節気に当てはめて定期的な運用をしようとすると、1年に少しずつ誤差が出てきて、ずれが生じるわけです。その結果今年は2月3日が立春で、その前日である2月2日が節分となります。ちなみに2/2が節分、2/3が立春になるのは、明治30(1897)年以来124年ぶりだそうです。
節分と言えば、私は鬼は外、福は内と豆をまくだけの行事だと思っていました。ところが京都に来てからあちこちの社寺でお祭りをする盛大な行事だということを知りました。屋台も出るし、たくさんの人出があります。しかし今年はコロナ禍でどうするのかわかりません。
今日はおまけに梅の花の写真もアップしておきます。なんと近くに植えられている梅がもう花を咲かせていました。こんなに早く花を咲かせていたのは私が5年前に引っ越して以来初めてです。
気温はいくら京都でもすごく低いのですが。晴れの日が多かったからでしょうか。
---
My Website / 私のウェブサイト
https://ydart.exout.net/
My Artwork sales site / 私の絵の販売サイト
https://ydart.stores.jp/