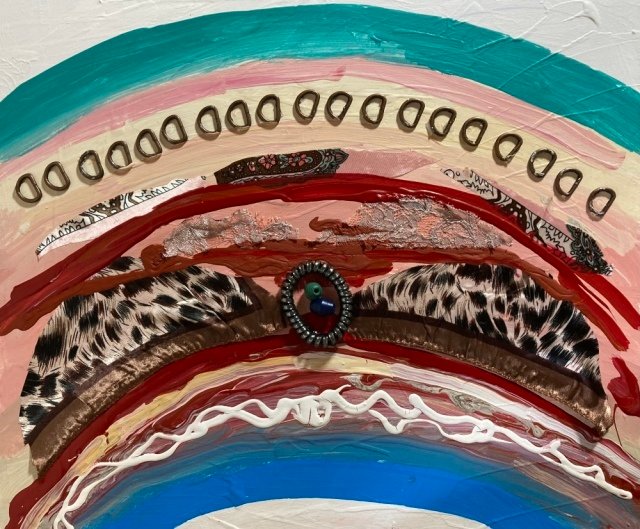 (ENG)
This is my original artwork.
"Bridge"
Mixed Media,45.5x38cm,2021
Once upon a time, when I learned that there were various shapes and types of bridges (girder bridges, suspension bridges, arch bridges, etc.), I drew a picture of various bridges on a sheet of paper. It was about 20 years ago, so I lost the picture, but later I drew the Akashi Kaikyo Bridge when I was sketching a fishing port. When I go from my home to Kagawa Prefecture, where my ancestors' graves are located, I cross the Seto-ohashi Bridge by JR or the Akashi Kaikyo Bridge and Onaruto Bridge by highway bus. It's definitely a cool bridge, but I wish there was a small bridge that looked as fairy-tale as this picture.
Now, there are only today and tomorrow left for this year. My contribution to Hive for this year ends today (My day off will be tomorrow). I'll start posting on New Year's Day in 2022. Have a Happy New Year, everyone!
(JPN)
これは私が創った作品です。
「橋」
ミクストメディア、45.5x38cm、2021
むかし橋にも色々な形、種類があるのを知って(桁橋、吊り橋、アーチ橋など)色々な橋を1枚の紙に収めた絵を描いたことがあります。もう20年ぐらい前のことなので、絵は紛失してしまいましたが、その後漁港のスケッチをした時にちょうど明石海峡大橋が入るので描いたりもしました。自宅からご先祖様のお墓のある香川県へ行く時は、JRで瀬戸大橋を渡るか高速バスで明石海峡大橋・大鳴門橋を渡ります。確かにかっこいい橋だと思いますが、小さな橋ならこの絵のようなメルヘンチックな橋もあるといいなと思います。
さて、今年も残すところ今日と明日のみとなりました。私の今年のHiveへの投稿は今日までです(明日はお休みをいただきます)。そして2022年は元旦から投稿しようと思います。それでは皆様、よいお年をお迎えください!
---
My Website / 私のウェブサイト
https://ydart.exout.net/
My Art shop / 私のアートショップ
https://yadamaniart.com/