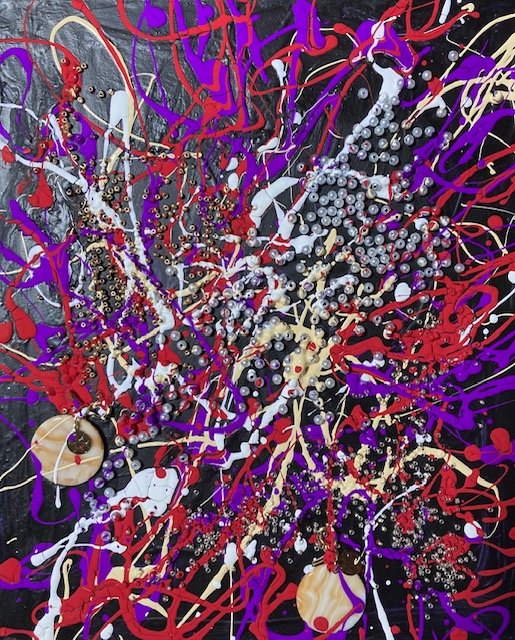 (ENG)
This is my original artwork.
"Catch the Radio Wave!"
Mixed Media,22x27.3cm,2021
This is a drawing inspired by yesterday's post. I drew this picture with the hope that the future of radio and the fact that I still love radio will reach far into space if I can send a radio wave.
Today, I went to a frame store in the center of Kyoto City to pick up the frame. I also went to the post office. However, the post office in Takashimaya department store in Shijo Kawaramachi, Kyoto, was open, so I went there to pay my bill and do some other things. It was around noon when I got home, but it was already blazing hot.
---
(JPN)
これは私が創った作品です。
「電波を受け止めて!」
ミクストメディア、22x27.3cm、2021
これは 昨日の投稿 に着想を得て描いた絵ですが、とにかくラジオの未来や、それでもラジオが好きであるという思い、もし電波を飛ばせるならば宇宙のはるか彼方まで届いてほしいという願いをこめて描きました。
今日は京都市中心部にある額縁店へ行って額を取りに行きました。それから郵便局へも行きました。今日は今年に限っては祝日なので普通は郵便局は開いていないのですが、京都・四条河原町にある高島屋というデパートの中の郵便局は営業していたのでそこまで行って、支払いとか色々用事を済ませて来ました。帰宅したのは正午頃ですが、もう燃えそうに暑かったです。
---
この夏参加する展覧会
★Graphic Art exhibition <2021.August>~クリエイティブ表現の現在~
日時:2021年8月3日(火)-8月7日(土)※日・月・祝日休廊 
平日(火曜日 ~ 金曜日)12:00~18:00、最終日(土曜日)12:00~15:30
会場:RECTO VERSO GALLERY(東京都中央区日本橋茅場町2-17-13第2イノウエビル401)
参加作家:矢田明子/ヤマナカ ハルナ/希美/SASANA
---
My website / 私のウェブサイト
https://ydart.exout.net/
抽象画のオーダー承ります。
https://ydart.exout.net/order.html
Call for Mail Art! / メールアート募集中!
https://ydart.exout.net/mailart.html