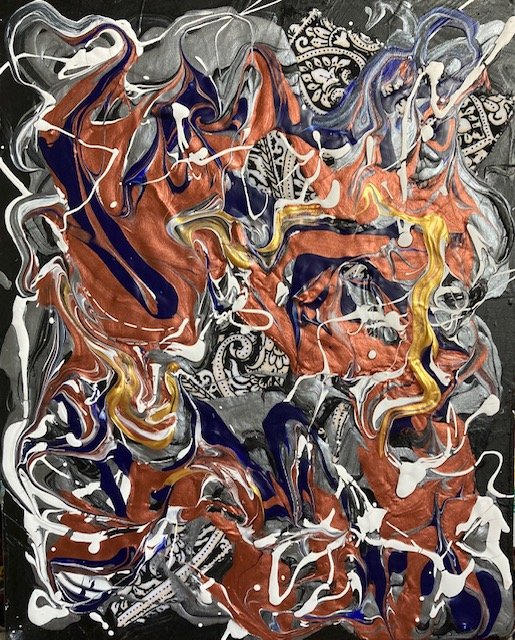 (ENG)
This is my original artwork.
"Cave"
Mixed Media,22x27.3cm,2021
I don't paint mainly in black, but this time I wanted to paint in black, so I made a collage of black and white cloth and poured in metallic colors. I think it was my painting but it had a slightly different atmosphere. The title is "Cave". I drew it remembering the strange-shaped stone pillars in the cave where I used to go and the ruins where ancient people lived in the cave.
(JPN)
これは私が創った作品です。
「洞窟」
ミクストメディア、22x27.3cm、2021
私はあまり黒を主にした絵を描かないのですが、今回は黒で描いてみたくて、コラージュした布も白黒の布にして、メタリックな色の絵の具を流し込みました。私の絵でありながらも少し雰囲気の違う絵になったと思います。タイトルは「洞窟」。昔行った洞窟の中にあった不思議な形の石柱や、古代の人が洞窟の中で暮らしていた遺跡などを思い出して描きました。
---
Akiko Yada Solo Exhibition "waxing and waning of mind"
Date: Wednesday, May 12, 2021 - Monday, May 17
11 : 00 - 19 : 00 (Last Day 17: 00)
Venue: Art Gallery Kitano
(439 -4 Ebisu-cho, Kawaramachi Higashi-iru, Sanjo-dori Street, Nakagyo-ku Ward, Kyoto City)
---
矢田明子個展「こころの満ち欠け」
日時:2021年5月12日(水)~5月17日(月)
   11:00~19:00(最終日17:00まで)
会場:アートギャラリー北野
   (京都市中京区三条通河原町東入ル恵比須町439-4 コーカビル)
---
Call for Mail Art! / メールアート募集中!
https://ydart.exout.net/mailart.html