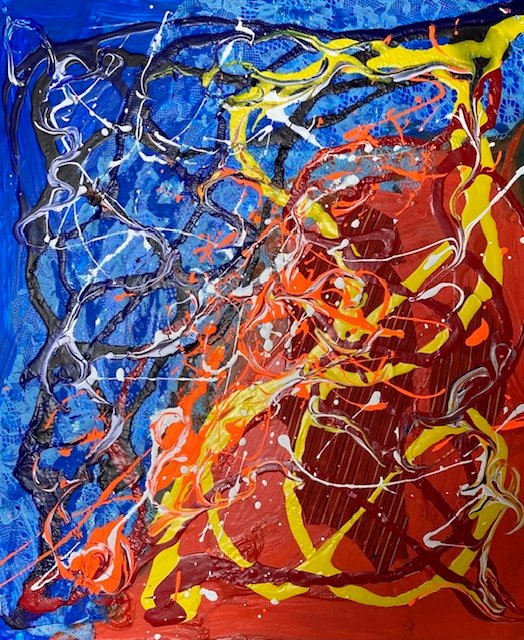 (ENG)
This is my original artwork.
"Chemical Reaction"
Mixed Media,38x45.5cm,2021
I drew it by imagining that different substances are mixed, sparks are scattered from the boundary, and new substances are produced. The term "Chemical Reaction" is not only used literally in the field of chemistry, but it is also an interesting term because it is also used, for example, when people from different cultures meet, when people from different industries meet and work.
I drew 2 works in parallel today. I finished drawing one, but there are a lot of corrections and it will take about 3 more days.
Exhibition this summer
"Dohjidai Exhibition" https://www.dohjidai.com/gallery/exhibition/dohjidaiten/
"Abstract Exhibition" https://be-lab-gallery.com/gallery/abstract2021/
"Graphic Art exhibition" 2021.August http://www.recto.co.jp/verso/
(JPN)
これは私が創った作品です。
「化学反応」
ミクストメディア、38x45.5cm、2021
異なる物質が混ざり合い、その境目から火花が散って、新しい物質が生まれる様子を想像して描きました。「化学反応」という言葉は文字通り化学の分野で使われるだけでなく、例えば人間関係、異文化の人が出会った時や、異業種の人が出会って仕事をした時にも使われるので、興味深い言葉です。
今日も2作品を並行で描いていました。1つは描き上げましたが、もうひとつは色々と修正がたくさんあってあと3日くらいはかかりそうです。
この夏参加する展覧会
「同時代展」 https://www.dohjidai.com/gallery/exhibition/dohjidaiten/
「抽象展」 https://be-lab-gallery.com/gallery/abstract2021/
Graphic Art exhibition 2021.August クリエイティブ表現の現在 http://www.recto.co.jp/verso/
My website / 私のウェブサイト
https://ydart.exout.net/
Call for Mail Art! / メールアート募集中!
https://ydart.exout.net/mailart.html