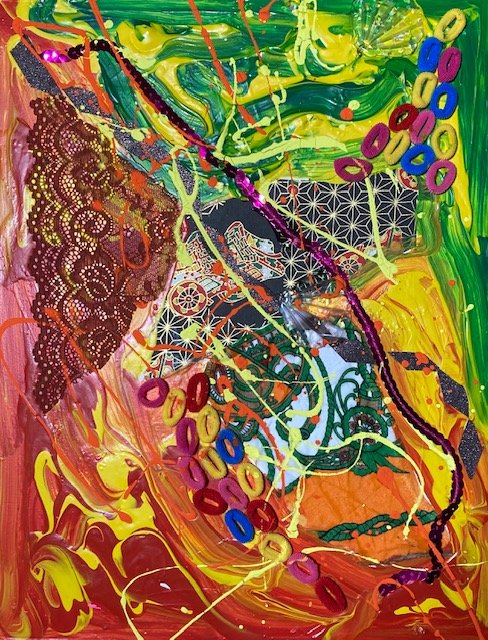 (ENG)
This is my original artwork.
"Children's Land"
Mixed Media,31.8x41cm,2021
I used a new rubber band-like material here and there, imagining children's land, a place where children can play happily. This is a place where adults are not allowed to enter alone. I drew a place where children can play in a safe and relaxed manner and interact with their friends and family.
I am currently working on a painting that I received an order for, but the rainy season and continuous rainy weather is making it difficult to move forward. I'm trying to make good use of the time while preparing for the group exhibition and painting for my solo exhibition in the fall. It helps that I feel better than yesterday.
Translated with www.DeepL.com/Translator (free version)
Exhibition this summer
"Dohjidai Exhibition" https://www.dohjidai.com/gallery/exhibition/dohjidaiten/
"Abstract Exhibition" https://be-lab-gallery.com/gallery/abstract2021/
"Graphic Art exhibition" 2021.August http://www.recto.co.jp/verso/
(JPN)
これは私が創った作品です。
「こどもの国」
ミクストメディア、31.8x41cm、2021
新しい輪ゴムのような素材を所々に使い、こどもが楽しく遊べる場所、こどもの国を想像して描きました。ここは大人だけで入ることは禁止されています。こどもが安心して伸び伸びと遊び、友達や家族と触れ合えるような場を描きました。
今、注文を受けた絵を描いていますが、梅雨で雨続きの天候のためなかなか前に進みません。グループ展の出品準備や秋の個展に出す絵を描くのと並行して時間を上手く使って作業しようと思います。昨日より気分がすっきりしているのが救いです。
この夏参加する展覧会
「同時代展」 https://www.dohjidai.com/gallery/exhibition/dohjidaiten/
「抽象展」 https://be-lab-gallery.com/gallery/abstract2021/
Graphic Art exhibition 2021.August クリエイティブ表現の現在 http://www.recto.co.jp/verso/
My website / 私のウェブサイト
https://ydart.exout.net/
Call for Mail Art! / メールアート募集中!
https://ydart.exout.net/mailart.html