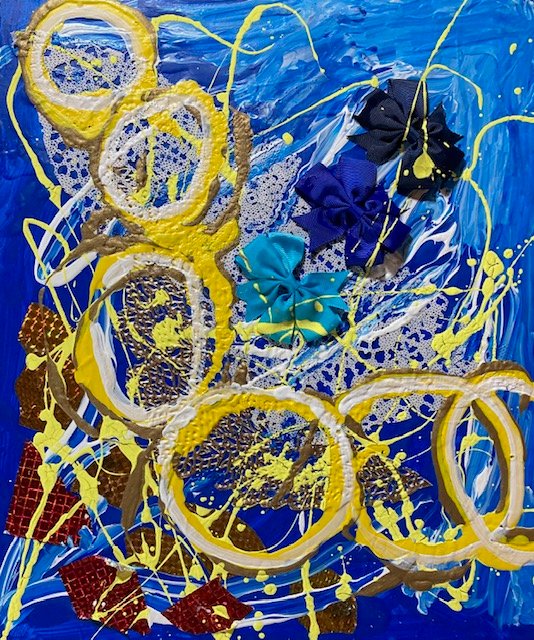 (ENG)
This is my original artwork.
"Circle Up"
Mixed Media,38x45.5cm,2021
Small grains of light formed a circle, and then the circle called out to each other and connected, and flew off into the sky to create a large pattern. Such is the picture. I pasted cloth, glowing colored paper, and ribbons to add color.
Yesterday, I heard the autumn insects buzzing. I think autumn is finally approaching. Autumn is the season when the blue sky looks so refreshing. It makes me want to fly in the sky.
---
⭐Akiko Yada's solo exhibition "Let your cerebral cortex be your guide
Period: 26(Tue) October - 31(Sun) October, 2021, 11:00 - 20:00
Venue: Room_412
(Room 412, Takagi Building, 15-8 Sakuragaoka-cho, Shibuya-ku, Tokyo)
---
(JPN)
これは私が創った作品です。
「輪になって」
ミクストメディア、38x45.5cm、2021
小さな光の粒が輪になって、輪が輪を呼んで繋がって、大空へ飛び立って大きな模様を描きました。そんな絵です。布や光る色紙、リボンなどを貼り込んで彩りを加えました。
昨日秋の虫が鳴いていました。いよいよ秋が近づいているなと思います。秋は青空がひときわ爽やかに見える季節です。私も大空を飛んでみたくなります。
---
★矢田明子 個展「大脳皮質をあそばせて」
会期:2021年10月26日(火)-10月31日(日)11-20時
会場:Room_412
(東京都渋谷区桜丘町15-8 高木ビル412号室)
---