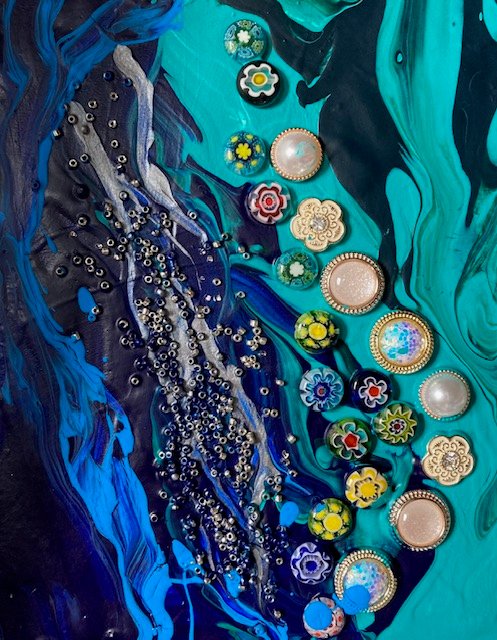 (ENG)
This is my original artwork.
"Clear River"
Mixed Media,14x18cm,2021
I would like to visit a clear, cool river again in the near future. The river near my house is quite wide, so I would like to go to a river closer to the source. I would like to visit a river where clean water flows and living creatures shine. I drew this picture with these thoughts in mind.
I attached beads and buttons to this picture. The trial and error process continues with the collage materials and how to paste them.
---
Akiko Yada's solo exhibition "Let your cerebral cortex be your guide
Period: 26(Tue) October - 31(Sun) October, 2021, 11:00 - 20:00
Venue: Room_412
(Room 412, Takagi Building, 15-8 Sakuragaoka-cho, Shibuya-ku, Tokyo)
---
(JPN)
これは私が創った作品です。
「清涼な川」
ミクストメディア、14x18cm、2021
また近いうちに清涼な川を訪ねたいなと思いました。自宅近くを流れる川はかなり川幅が太いですから、もっと源流に近い川へ行きたいです。きれいな水が流れ、生き物たちも輝く川を訪れたいです。この絵はそんな思いを込めて描いた絵です。
この絵にはビーズやボタンなどを貼り付けています。コラージュの素材や貼り方など、試行錯誤は続きます。
---
★矢田明子 個展「大脳皮質をあそばせて」
会期:2021年10月26日(火)-10月31日(日)11-20時
会場:Room_412
(東京都渋谷区桜丘町15-8 高木ビル412号室)
---