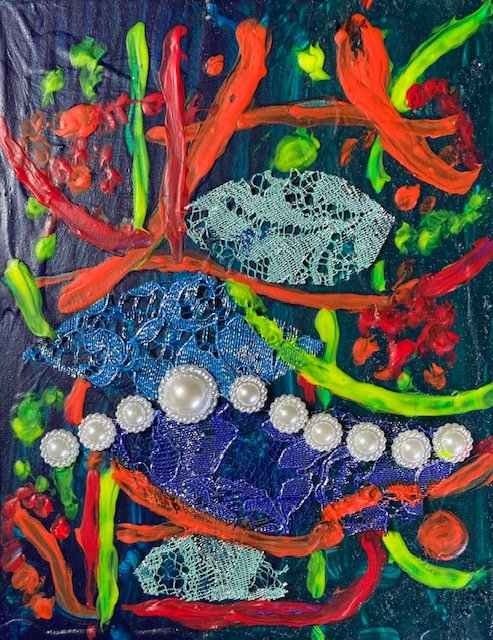 (ENG)
This is my original artwork.
"Crossing Neon Signs"
Mixed Media,14x18cm,2022
There is an unintentional danger of being sucked into the city at night. When I was young, my friends and I used to walk through the entertainment district where neon signs crossed the street at night. Indeed, the dazzling lights of the city at night made me want to dive in. And I used to dance until late at night. Now that I am older, I have lost touch with the pleasure quarters. I have come to think that it is better to play quietly in my dreams.
I used a lot of fluorescent colors and brush strokes in this painting.
---
Akiko Yada Solo Exhibition "Next Phase 2"
Friday, May 13 - Wednesday, May 18, 2022, 10 - 18 p.m.
Gallery Q (1-8-8-8 Chuo, Otsu City, Shiga Prefecture, JAPAN)
---
(JPN)
これは私が創った作品です。
「交差するネオンサイン」
ミクストメディア、14x18cm、2022
夜の街を歩いていると、思わず吸い込まれるような危うさがある。若い頃は友人と夜な夜なネオンサインが交差する歓楽街を歩いたものだ。確かに夜の街の灯りのまばゆいことと言ったら飛び込みたくもなる。そして深夜まで踊り明かしていたものだ。今はもう年をとって、歓楽街とも無縁になった。ひとり静かに早く夢の中で遊んでいる方がいいと思うようになったのだ。
私はこの絵で蛍光色を多用し、筆を走らせた。
---
矢田明子個展"Next Phase 2"
2022年5月13日(金)~18日(水)10~18時
ギャラリーQ(滋賀県大津市中央1丁目8-8)
---