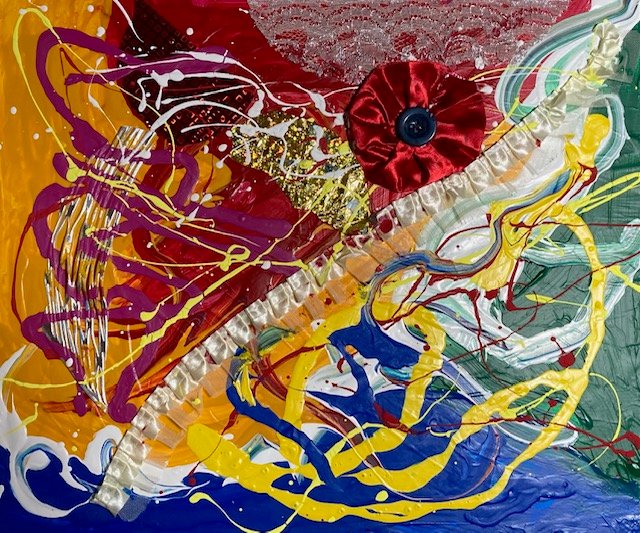 (ENG)
This is my original artwork.
"Defy Gravity"
Mixed Media,45.5x38cm,2021
As the title suggests, the red round object is climbing a hill. If you obey gravity, you will slide down the slope and end up at the bottom of the abyss. To avoid that, let's climb the hill to a higher level. It's the same for me. If you let yourself be carried away by inertia, you will fall into the abyss. I'm not getting any younger, so I want to spend the rest of my life aiming high.
---
⭐Akiko Yada's solo exhibition "Let your cerebral cortex be your guide
Period: 26(Tue) October - 31(Sun) October, 2021, 11:00 - 20:00
Venue: Room_412
(Room 412, Takagi Building, 15-8 Sakuragaoka-cho, Shibuya-ku, Tokyo)
---
(JPN)
これは私が創った作品です。
「重力に逆らう」
ミクストメディア、45.5x38cm、2021
タイトルの通り、赤く丸い物体は坂を登っています。重力に従えば坂を滑り落ちて、そこは奈落の底です。そうならないように、高みを目指して坂を登っていきましょう。私だってそうです。惰性のままに流されたら、奈落の底に落ちます。私はもう若くはないですから、残りの人生をひたすら高みを目指して生きていきたいものです。
---
★矢田明子 個展「大脳皮質をあそばせて」
会期:2021年10月26日(火)-10月31日(日)11-20時
会場:Room_412
(東京都渋谷区桜丘町15-8 高木ビル412号室)
---