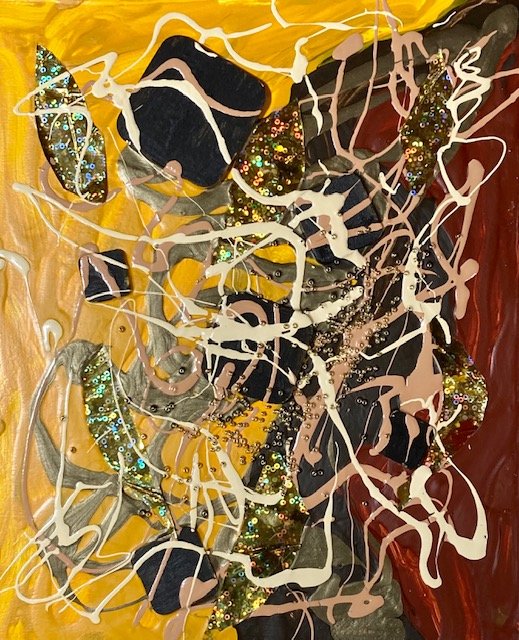 (ENG)
This is my original artwork.
"Enrich the Soil"
Mixed Media,22x27.3cm,2021
Dead flowers and leaves are piled up and mixed with the soil, which is a collection of small grains of crushed minerals, and the soil is decomposed by earthworms and various microorganisms to become rich. The soil will surely yield many beautiful flowers, green leaves and fruits. I tried to express a part of this series of natural activities.
Dohjidai Exhibition and Abstract Exhibition will end tomorrow, so I will go to carry out Dohjidai Exhibition tomorrow. And from Monday, we will start to prepare to exhibit in the group exhibition called "Graphic Art exhibition 2021. August Current state of creative expression" and finish the painting we received the order. I'm going to be busy, but I'll do my best.
Exhibition this summer
"Dohjidai Exhibition" https://www.dohjidai.com/gallery/exhibition/dohjidaiten/
"Abstract Exhibition" https://be-lab-gallery.com/gallery/abstract2021/
"Graphic Art exhibition" 2021.August http://www.recto.co.jp/verso/
(JPN)
これは私が創った作品です。
「土を肥やす」
ミクストメディア、22x27.3cm、2021
鉱物が砕かれた小さな粒の集まりである土に、枯れた花や葉などが積もって混じり、ミミズや色々な微生物によって分解されて土が肥えていく。その土からは、きっとたくさんの美しい花、緑の葉、そして実りがもたらされるだろう。そんな一連の自然の営みの一部を表現してみました。
明日で同時代展と抽象展が終わるので、明日は同時代展の搬出に行きます。そして月曜日からは「Graphic Art exhibition 2021.August クリエイティブ表現の現在」というグループ展に出品する準備と注文を受けた絵の仕上げにかかります。忙しくなりそうですが、頑張ります。
この夏参加する展覧会
「同時代展」 https://www.dohjidai.com/gallery/exhibition/dohjidaiten/
「抽象展」 https://be-lab-gallery.com/gallery/abstract2021/
Graphic Art exhibition 2021.August クリエイティブ表現の現在 http://www.recto.co.jp/verso/
My website / 私のウェブサイト
https://ydart.exout.net/
抽象画のオーダー承ります。
https://ydart.exout.net/order.html
Call for Mail Art! / メールアート募集中!
https://ydart.exout.net/mailart.html