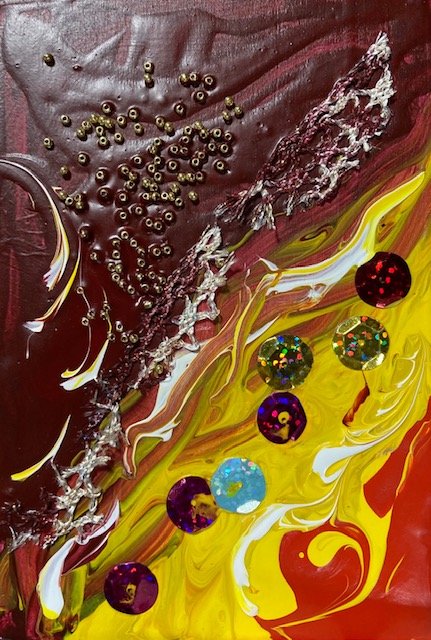 (ENG)
This is my original artwork.
"Ferruginous Spring"
Mixed Media,10x15cm,2021
I like to relax in a hot spring and I often went there because there was a hot spring nearby. However, I became afraid of infection and couldn't go because of the coronavirus. But I wanted to go there again someday, so I drew a picture in the image of a hot spring.
There are many kinds of hot springs, but in my experience, I had an image that hot springs with hot water in red color are really like hot springs, so I drew a picture focusing on dark red. A hot spring with red water is called a ferruginous spring, and when it comes into contact with air, it oxidizes and turns red. In Japan, there are ferruginous springs such as Arima Onsen (Hyogo Prefecture).
(JPN)
これは私が創った作品です。
「含鉄泉」
ミクストメディア、10x15cm、2021
私は温泉に入ってリラックスするのが好きですし、近所にも温泉が出ていたのでよく入りに行っていました。ところがコロナ禍になって、感染が怖くなり行けなくなりました。でもいつかまた行きたいと思い、温泉をイメージした絵を描きました。
温泉には色々な泉質のものがありますが、私の経験では赤い色をした湯が出る温泉が、いかにも温泉らしいなあというイメージを持っていたので、暗赤色を中心とした絵を描きました。赤い湯が出る温泉は含鉄泉と言って、空気に触れた時に酸化して赤くなるそうですね。含鉄泉は日本では有馬温泉(兵庫県)などがあります。
My website / 私のウェブサイト
https://ydart.exout.net/
Call for Mail Art! / メールアート募集中!
https://ydart.exout.net/mailart.html