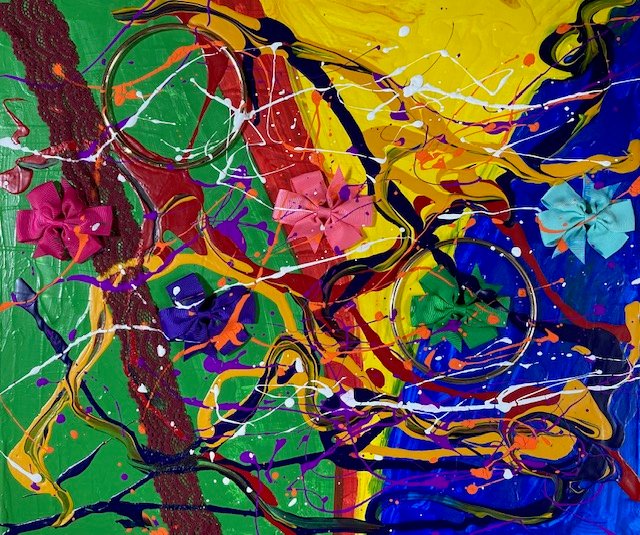 (ENG)
This is my original artwork.
"Floating Feast"
Mixed Media,53x45.5cm,2021
Floating, flower-like objects, glowing ring-like objects, and substances that meander on the surface of the water. He drew a picture that entertains the eye of the spectators by showing subtle movements of whether each of them entangle or not. You can get a lot of materials for collages, but you use them right away.
The pain from the vaccination has completely gone, and I was able to draw pictures today. I want to be more enthusiastic about painting on weekends. I really want to enjoy art.
---
Exhibition this summer
"Graphic Art exhibition" 2021.August http://www.recto.co.jp/verso/
---
(JPN)
これは私が創った作品です。
「浮遊の宴」
ミクストメディア、53x45.5cm、2021
浮遊する、花のようなものや光る輪のようなもの、そして水面を蛇行する物質たち。それぞれが絡むか絡まないかの微妙な動きを見せて観る人の目を楽しませる、そんな絵を描きました。コラージュに使う色々な素材が次々入手できるのですが、こうしてすぐ使ってしまうのです。
ワクチン接種による痛みもすっかり消え、今日は存分に絵を描くことができました。週末はより熱心に絵に打ち込みたいですね。アートは真剣に楽しみたいものです。
---
この夏参加する展覧会
Graphic Art exhibition 2021.August クリエイティブ表現の現在 http://www.recto.co.jp/verso/
---
My website / 私のウェブサイト
https://ydart.exout.net/
抽象画のオーダー承ります。
https://ydart.exout.net/order.html
Call for Mail Art! / メールアート募集中!
https://ydart.exout.net/mailart.html