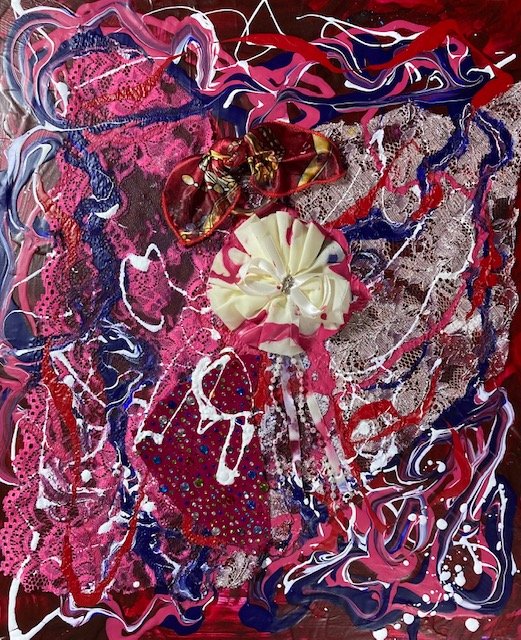 (ENG)
This is my original artwork.
"Footsteps of Angels"
Mixed Media,38x45.5cm,2021
I can hear the footsteps of angels ...... Oh, the angels fly because they have wings? But if they get tired, they have no choice but to walk. Take a rest for a while, then take off to bring happiness.
I was thinking about this at night, relaxing.
I usually draw on a wooden panel with a sealer and a jesso base, but today I drew on a canvas panel with a designated support. It was very expensive to order such a panel from the manufacturer because it was dirty if I put it on by myself, so it was hard to draw without making mistakes.
(JPN)
これは私が創った作品です。
「天使の足音」
ミクストメディア、38x45.5cm、2021
天使の足音が聞こえる……えっ、天使は翼がついているから飛ぶんじゃないの? でも疲れたら歩くしかないんだよ、きっと。しばらく休んで、また幸せを運びに飛び立ってね。
夜のひととき、くつろぎながらこんなことを考えていました。
いつもはシーラーとジェッソで下地を作った木製パネルに絵を描くのですが、今日は支持体に指定があってキャンバスを貼った木製パネルに絵を描きました。自分で貼ったら汚いのでメーカーにそういうパネルを注文したら大変高価だったので、失敗しないように描くのが大変でした。
---
Akiko Yada Solo Exhibition "waxing and waning of mind"
Date: Wednesday, May 12, 2021 - Monday, May 17
11 : 00 - 19 : 00 (Last Day 17: 00)
Venue: Art Gallery Kitano
(439 -4 Ebisu-cho, Kawaramachi Higashi-iru, Sanjo-dori Street, Nakagyo-ku Ward, Kyoto City)
---
矢田明子個展「こころの満ち欠け」
日時:2021年5月12日(水)~5月17日(月)
   11:00~19:00(最終日17:00まで)
会場:アートギャラリー北野
   (京都市中京区三条通河原町東入ル恵比須町439-4 コーカビル)
---
Call for Mail Art! / メールアート募集中!
https://ydart.exout.net/mailart.html