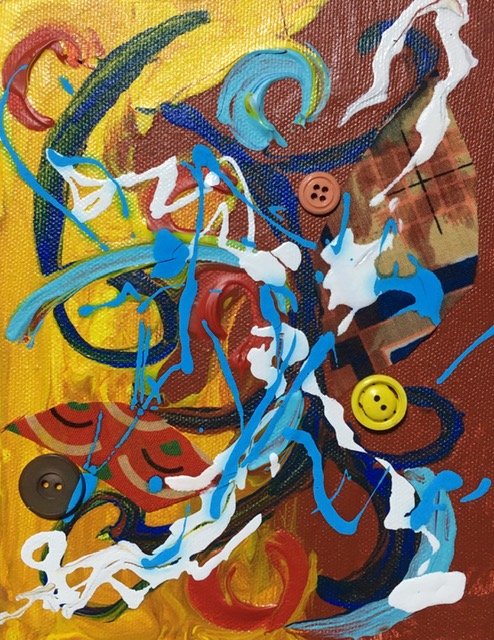 (ENG)
This is my original artwork.
"Human Power Generation"
Mixed Media,14x18cm,2020
Three or four years ago, I became interested in generating electricity by myself. A charger with solar cells, a flashlight with a hand-driven generator, or a radio. In a familiar place, you can turn on the light by pedaling a bicycle. I also bought a wind power generation kit for about 500 yen, connected a windmill made of PET bottles and played with LED lights. You played a lot at that time. I remembered such a thing after a long time.
Now, I want a device that can generate electricity on foot. Kansai University is developing a friction generator that can generate electricity just by walking. I heard that a generator is built into shoes. Walking will be more fun if the performance of this generator improves.
(References (Japanese): https://www.kansai-u.ac.jp/global/guide/pressrelease/2017/No64.pdf )
(JPN)
これは私のオリジナル作品です。
"人力発電"
ミクストメディア、14x18cm、2020
私は3、4年前に、自分で出来る発電に興味を持った時がありました。太陽電池がついた充電器とか、手回し発電機がついた懐中電灯とかラジオとか。身近なところでは自転車をこいでライトをつけるというのがありますね。あと500円くらいの風力発電キットを買ってきて、ペットボトルで作った風車をつないでLED灯をつけて遊んだりもしました。あの時はよく遊んでいましたね。そんなことを久しぶりに思い出しました。
今なら、歩いて発電できる装置が欲しいですね。関西大学が歩くだけで発電できる摩擦発電機を開発しているそうです。靴に発電機を組み込むのだそうです。この発電機の性能が上がればウォーキングもより楽しくなりそうですね。
(参考資料(日本語): https://www.kansai-u.ac.jp/global/guide/pressrelease/2017/No64.pdf)