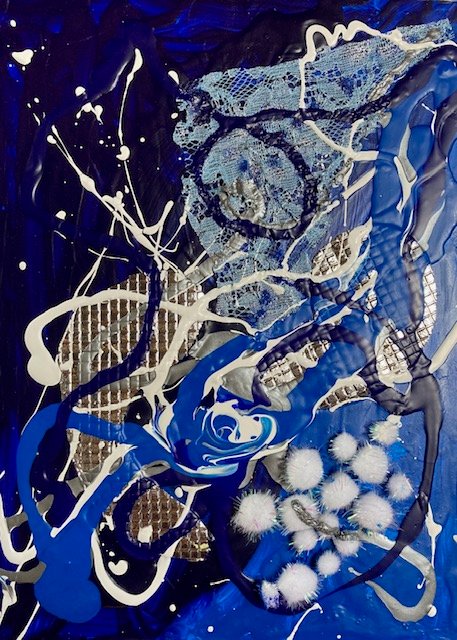 (ENG)
This is my original artwork.
"I Can't Stop Crying"
Mixed Media,24.2x33.3cm,2021
I used to be a child who could not stop crying once I started. When I saw a sad movie or read a book. And most of all, when my parents were angry with me. Once I started crying, I would cry for half an hour.
Then, about 12 years ago, when my mental illness was in a worse state than it is now, I was yelled at about my work, which led to me crying from morning till evening, and I was admitted to a psychiatric hospital for two weeks.
Now, I try not to cry as much as possible. Also, I think I have learned to stop crying immediately when I do cry.
In this picture, I drew a picture of large tears filling the panel.
---
Akiko Yada's solo exhibition "Let your cerebral cortex be your guide
Period: 26(Tue) October - 31(Sun) October, 2021, 11:00 - 20:00
Venue: Room_412
(Room 412, Takagi Building, 15-8 Sakuragaoka-cho, Shibuya-ku, Tokyo)
---
(JPN)
これは私が創った作品です。
「涙が止まらない」
ミクストメディア、24.2x33.3cm、2021
昔の私は、泣き出したらなかなか涙が止まらない子でした。悲しい映画を見たり、本を読んだりした時。そして何より、親に怒られた時。一旦泣き出したら30分は泣いていました。
そして12年ほど前、精神疾患が今より状態が悪かった時に、仕事のことで怒鳴られたことがきっかけで、朝から夕方まで泣いて、精神科の病院に2週間入院させられました。
今は、なるべく泣かないようにしています。また、泣いてもすぐ泣き止むようになったと思います。
この絵は、大粒の涙が画面いっぱいに溢れ出る様子を描きました。
---
★矢田明子 個展「大脳皮質をあそばせて」
会期:2021年10月26日(火)-10月31日(日)11-20時
会場:Room_412
(東京都渋谷区桜丘町15-8 高木ビル412号室)
---